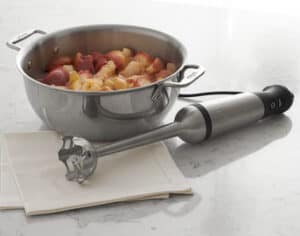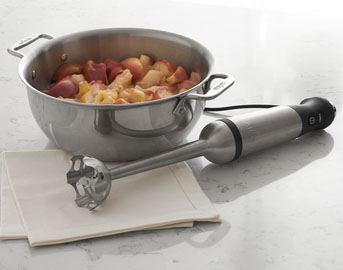 All-Clad KZ750D Immersion Blender comes from a very reputable US brand with an excellent reputation that produces a range of kitchen essentials from cookware to small appliances. This is the corded premium immersion blender that recommended by many well-known reviewers.
Are you interested if we have the same high opining about this kitchen tool read our comprehensive review below?
Functionality
Though the All-Clad KZ750D comes with a blending shaft only, it is a powerful blender and able to perform a wide range of tasks:
Puree soup – with 9.25 inches blending shaft it is perfect for blending soups even in the pot; it is also powerful enough for making broth;
Blending smoothies – while most of the immersion blenders handle only soft ingredients blending smoothies, this machine has enough power to tackle some tough ingredients such as apples, spinach, yogurt, nut butter, it can handle even pre-crushed ice cubes and may pulverize the frozen blueberry, It also very good at making milkshakes;
Bulletproof coffee – this blender is more than capable of mixing hot coffee with butterfat to make delicious and creamy bulletproof coffee drink;
Make baby food – it is ideal for pureeing any pre-cut fresh or cooked fruits and veggies into tasty and smooth baby food;
Mashed potatoes – this blender has a lot of power and extra-wide head that are perfect for mashing potatoes and other cooked root veggies;
Mix cake batter – it has more than enough watts to mix the faultless batter for cakes, cookies, and other recipes;
Salsa, dips, and sauces – it is easily will chop the veggies and herbs for your salsa, sauces, and dips recipes, just remember running it on low speed;
Mayonnaise – whip up fresh mayo is a no-brainer task for this powerful beast;
Omelets – even the blender set does not include the whisk attachment, the all-clad blending shaft is also capable to mix the whites and yolks for perfect fluffy omelet recipes.
Motor Unit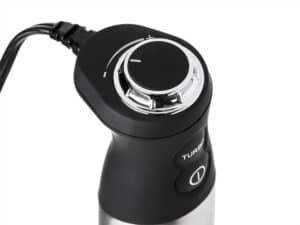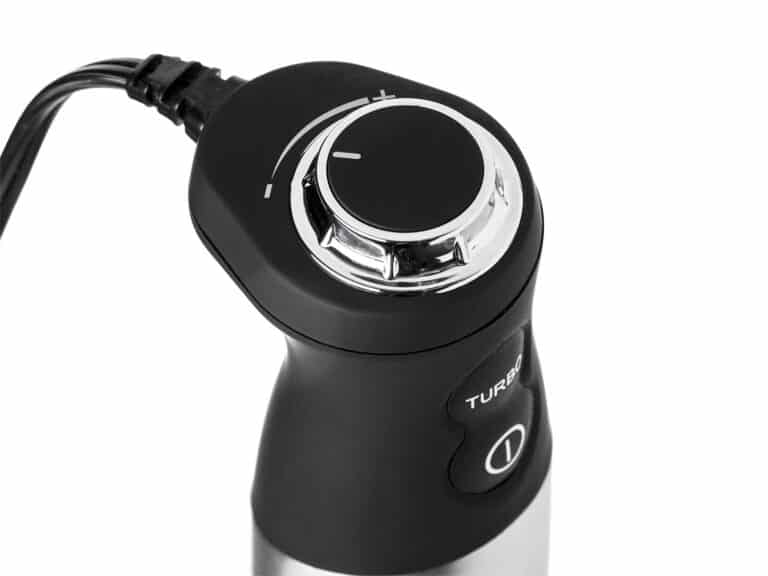 The All-Clad KZ750D Immersion Blender motor unit has a beautiful design and features stainless steel body which changes smoothly into the soft rubber grip part. The grip is ergonomic and easy to hold which has two control buttons.
The motor body houses a very powerful 600 watts motor that twice as powerful as a typical hand blender. The blender is designed for 1 min of continuous running and then it should be cooled before continuing operation.
The body also features two locking buttons for connecting the blending shaft.
Weak Point: The mechanism that locks the motor to the blending shaft has a poor design and tends to break easily. The motor unit also comes with a plastic drive.
Speed Settings
This blender comes with a variable speed dial, the turbo speed, and Power buttons. The speed dial is located on the top of the handle and the turbo and power buttons on the handle. The power button can also be used as a Pulse function. This all together, the variable and turbo speeds plus the Pulse functions allow a lot of flexibility to the user over the blending process.
Attachments and Accessories
Blender shaft – the blender comes with an extra-long stainless-steel 9.25 inches blending shaft that makes it very convenient to use in a deep pot. You also will not burn yourself by steam when blending the hot soup.
The blending shaft head also features a superb design, having cavities and a shaped rim it creates a flawless vortex with any ingredients and at the same time prevents the splattering and splashing ingredients around.
Weak Point: Despite the very good first look design, the blending shaft comes with few faults. Its blade and driveshaft assembly tends to fall out even during your first use. And it sucks the fluid inside the shaft where it is impossible to clean and where it accumulates unsanitary build-ups.
Optional Accessories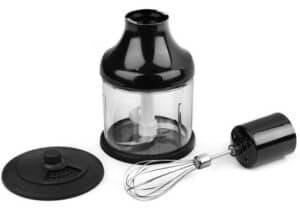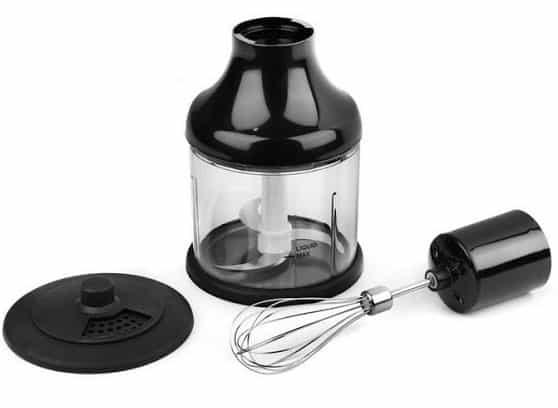 Although the All-Clad immersion blender comes with only a blending shaft attachment, you can buy separately All-Clad XJ700042 Immersion-Blender Mini Chopper and Whisk Attachment Set.
Mini Chopper – The mini chopper is comprised of the 10-ounces chopping bowl, gearbox, the chopping blades, and an extra lid. With the lid, you can use the chopper bowl as a shaker cup or storage container.
The All-Clad mini chopper is designed for chopping nuts, veggies, mincing onion and garlic, grated cheese or crumbs, and many others.
Balloon Whisk – The whisk comes in 2 parts – a gearbox that fixes to the blender motor body and a whisker itself that connects with the gearbox.
The whisk is intended for making whipped cream, whipping egg whites, integrating dry ingredients into wet ones such as in muffin or cake batters, and many more.
Cleaning: The chopper and whisk attachments gearboxes should not be immersed into the water and could be wiped with dump clothe while the chopper bowl, lid, blades, and whisker are dishwasher safe.
Warranty: An entire All-Clad XJ700042 Immersion-Blender Mini Chopper and Whisk Attachment Set are backed by a manufacture lifetime warranty.
Weak point: The chopper attachment looks cheap and the whisk attachment is wobbly during the operation.
Assembling, Dissembling, Using and Cleaning
Assembling /Disassembling: It is extremely easy to assemble and disassemble. Align the motor body with the blending shaft and screw them together clockwise.
Using: You have to select the desired speed before activating the blender with the dial on the top of the motor unit, and then start running it by pressing the turbo speed or power trigger button for pulsing fiction. The blender will run as long as you hold the power or turbo button.
Cleaning: For cleaning, you have to unscrew the blending shaft from the motor body and you can clean the blending shaft under the running water or on the top rack of a dishwasher. You must clean the motor body only with dump clothe and never submerge it in the water or exposed it to the running water.
Warranty
The All-Clad KZ750D Immersion Blender is equipped with the Limited Lifetime Warranty From the date of purchase in the US or Canada.
However, customer service is not very responsive when customers were reporting about the poor quality of the KZ750D blender.
Country of Production
Even though it is advertised that all All-Clad products are manufactured in the USA, the All-Clad KZ750D Immersion Blender is made in China.
Dimensions
The All-Clad KZ750D Immersion Blender is a large tool with the total length of the motor body connected with a blending shaft of 17.25 inches. Only blending shaft itself is 9.25 inches long and has an extra-wide head of 3-inch in diameter. It is a heavy machine that weighs 2.8 pounds (motor unit and shaft), while with the long 5-foot power cord it is easy to maneuver.
Reviews
Unfortunately, a large number of customers report this blender the locking mechanism failure, shaft assembly collapse, and sucking of food inside of shaft that makes it non-durable and unsanitary.
Set Includes
Motor unit with 600 watts motor;
Blending shaft;
User Manual.
Price
The All-Clad is a premium blender and is available at a premium price with most of the retailers. However, you can find it often at a discounted price.
All-Clad KZ750D Immersion Blender, via Amazon
Pros and Cons:
Pros:
Powerful 600 Watts motor;
Extra-long 9.25 inches blending shaft;
Nonsplatter and low suction blending shaft head;
Variable and a turbo speed settings;
Cons:
The blending shaft to motor body locking mechanism is not durable;
Drive to blade assembly may fall apart after a few uses.
Summary
Although the All-Clad KZ750D Immersion Blender seems very well made, shows great performance, no overheating issue and has a range of attractive features – a very powerful 600 watts motor, variable speeds, an extra-long 9.25 inches shaft, large and well-designed non-splatter blending head, stainless steel body, and beautiful exterior design – it has a few major constructions falls that make it non-durable and unsanitary in use. Even it comes from a very reputable The USA brand with a flawless reputation we cannot recommend buying this blender.