The celery is a fleshy vegetable with 95% moisture content. Not surprising that all major types of juicers such as a single auger, twin gear, centrifugal, and a manual can handle it and produce the high celery juice yield.
Yet, it is not the easiest vegetable (grass) to juice. The long and strong fiber strings along the celery stalk may cause jamming with some types of juicers.
In this article, we will investigate which juice extractor is most suitable for juicing celery. Even though all types of juicers can extract celery juice, the quality of extracted juice will differ not only across the different juicer types but also within the same type.
Here we outlined the parameters which are important when deciding on selecting the best machine for juicing celery:  
Celery juice yield;
Ease to feed;
Prone to jamming;
Ease to clean;
Juicer price.
In this article, we will not list the machine illustrate how the different types of juicers perform when processing celery and advice on the supposedly best juice extractor for this task within each juice extractor type, so you will decide yourself what suits you best.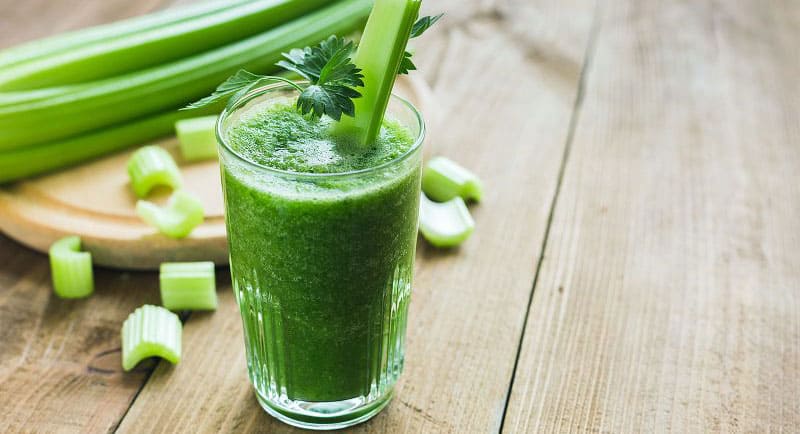 #1 Horizontal Single Auger Cold Press Slow Masticating Juicer
Horizontal single auger juicers are the ones that have a rod-shaped auger that rotates with slow 80 RPMs speed in horizontal directions chewing the ingredients against the stainless steel or plastic perforated screen and cold pressing the juice via it. So, any horizontal single auger juicer technically is a slow and cold press juicer and thus outputs the high-quality low oxidation juice.
It has a vertical narrow ingredients feeding chute and it appears to be very efficient, fast, and easy to feed the celery stalks. Remarkably, it does not jam celery long fiber even if you feed the whole stalk without cutting it into smaller pieces. They are quite fast to feed and process the celery and usually able to juice about 2 pounds of celery take in under 3 minutes.
The single auger juicers usually show not the best celery juice yield. However, the Omega MM900HDS Celery Juicer with the special end cap that is designed for the better celery yield outputs one of the highest yields for the celery among all types of juicers.
Omega MM900HDS Low-Speed Masticating Celery Juicer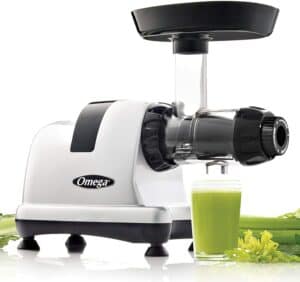 Omega MM900HDS Masticating Celey Juicer is the single auger horizontal slow masticating juicer. It is recommended as the best juicer for processing celery juice by the Medical Medium Anthony William who is the initiator of the worldwide celery juice movement. He even licensed his name for this model, so the MM abbreviation at MM900 stands for the Medical Medium.
Although, MM900HDS comes with the Omega 8006/8008 (5th generation single auger juicers) housing body design but belongs to the 6th generation single auger juicers with upgrades and new features for the best yield when juicing celery.
Set Includes:
Motor Housing;
Drum with Chute;
Removable Hopper;
Outlet cap with 2 adjusting knob (celery knob and juicing nob);
Juicing Screen/cone;
Auger;
32 oz. Juice and Pulp Container;
Accessories (pusher, cleaning brush).
Chute and Produce Feeding: The Omega MM900HDS Masticating Celey Juicer is equipped with a removable round 1.5" in diameter chute (identical to 8006/8008 models. Although, it is quite narrow and the latest Omega juicers come with the wider chute (NC 800/900/1000 models) but it still allows the user to feed complete celery stalk into it without pre-cutting.
Motor unit: Omega MM900HDS comes with 200 Watts motor that runs with 80 RPMs speed. The motor housing has the design identical to the Omega 8006/8008 Juicer.
The gadget is equipped with a thermal cut-off system to protect the motor from overheating and under the motor base, it has a reset switch to reset the juicer if it is overheated. Generally, the juicer is should not overheat as it is designed to operate up to 30 min without stopping.
Gears/Auger: The Juicer auger also has specially designed features. It has a slightly longer size and a modified edge at the auger narrow end.
The same as 5th and 6th generation models its auger is made of heavy-duty GE Ultem material, which is 8x stronger than other juicers augers. GE Ultem resin is a very safe material and used in medical and chemical equipment due to its resistance properties to solvents, heat, and flame.
The MM900HDS auger process celery very well without any jamming and clogging.
Juicing Screen: The Omega MM900HDS Masticating Celey Juicer is equipped with 2 stages juicing screen that features the stainless still meshes at the beginning of the auger and near the cap of the juicer what allows to extract juice in two zones of produce processing and thus provides the larger juicing screen area.
The juicing screen near the outlet cap comes with a silicone flap that keeps pulp in a juicer for longer and thus able to squeeze more juice.
End Cap and Adjustment Knobs: The juicer comes with two pressure adjustment knobs – 1) the standard juicing knob with 3 pressure setting and 2) the dedicated celery juicing knobs with 3 pressure setting that is specifically designed to maximize celery juice output and extraction. The celery knob has narrower than any other knobs outlet and has a green silicon inset retain the pulp for longer for maximum juice squeezing.
Containers: The Omega MM900HDS Masticating Celey Juicer is equipped with basic 32 oz. plastic juice and pulp containers.
Functionality: Although, the gadget is marketed as the celery juicer it is very well processing other juices also, so it suites for juicing:
Celery juice;
Leafy greens and pine tree needles;
Wheatgrass, barley grass, and other grasses;
Sprouts;
Citrus;
Vegetable;
Hard Fruit.
However, it is not good for stringy fruits like pineapple and other soft fruits and berries.
The celery adjustable pressure knobs will also work for the leafy greens, sprouts, and grasses, you just have to select the proper setting for each produce.
The Juicing knob will work for citrus fruits and veggies, the tighter setting will suit hard produce while loosening the setting for soft ingredients. For some of the soft ingredients, it is even better to completely remove the adjustable knob.
Cleaning and assembling/disassembling, operating: It is probably the easiest juicer to assemble/disassemble and clean. You just have to connect the hopper to the chute, attach the chute/drum part with the locking collar to the juicer motor housing, fit the auger and the juicing screen to the housing, connect the outlet cap, and adjusting the knob and it is ready to use. To dissemble is the same in opposite orders.
Operating is easy, it has only one switch that has ON/OFF/REVERSE positions.
The cleaning is also a breeze, the juicing screen, however, will require some efforts to clean with provided with the set special brush. All disassembling and cleaning procedures will take no longer than 2 minutes for experienced users.
Warranty: The gadget is equipped with the industry-leading 15-year warranty for USA / Canada covering parts and performance. However, a 1-year commercial and international warranty.
Dimensions: 6.5" W × 14.5" D × 15.5" H (165mm W × 368mm D × 394mm H), weight 13.0 lb/ 5kg. 
Average juice yield from 1 kg of celery: 700ml – 730 ml
Summary: The Omega MM900HDS Masticating Celey Juicer yields 10-15% more celery juice than other Omega single auger extractors and approximately the same as twin gear masticating juicers. The high yield is achieved due to special celery juicing design features. The juicer also outputs high yield for other leafy greens and wheatgrass.
However, this juicer does not include any extra attachments such as a blank screen/cone and bland end cap or nozzles used for making nut milk, nut butter, frozen desserts, salsa baby food, grinding, pasta extrusion, and other food processing tasks (like similar Omega juicers).
Nevertheless, this machine is still one of the easiest in the type to clean and assemble/disassemble. And if you plan to juice a lot of celery and other leafy greens celery and want the juicer that is very easy to clean and use than Omega MM900HDS will be the best. It addition it does not clog and feed the entire stalk into the juicer chute without cutting. Keep also in mind that the high juice yield saves money on your grocery bill.
Omega MM900HDS Masticating Celey Juicer Pro and Cons for Juicing Celery
Pro:
Very high celery juice yield and dry pulp due to the special celery attachment;
Quick feeding, the whole celery stalk could be fed into chute;
No need for pre-cut;
Fast processing, similar to the twin gear juicer;
The easiest to clean, assemble and disassemble;
No clogging and jamming with celery stringy produce;
High juice quality;
Reasonable price for reputable brand Juicer;
Cons:
It does not include a blank screen and knob for food processing tasks thus compromises on functionality.
Check here today's best price for the Omega MM900HDS Slow Masticating Celery Juicer
If Omega MM900HDS Slow Masticating Celery Juicer is unavailable then the best alternative will be Omega J8008C Nutrition Center Juicer (5th generation), the Omega NC800/NC900 is not as efficient as 5th generation Omega models with stainless steel screen. While the J8008C model will deliver almost similar celery juice yield as dedicated (same or 2-3% less yield and NC800/NC900models will underdeliver almost 10% of celery juice yield).
Check here today's best price for the Omega J8008C Slow Masticating Juicer
#2 Twin Gear Masticating Slow Cold Press Juicers
The Twin Gear which is also known as Triturating Juicers employs the two horizontal counter-rotating jumbo gears with slow 110 rpm speed that chew produces down to the small fragments and cold press those fragments alongside stainless steel holed juicing screen. Thus, the Twin Gear Juicers are also technically slow (110 rpm) cold press Juicers which are known to deliver the highest juices yield and the best juicer quality with the longest shelf life among all juicers types for the majority of production.
The downside of Twin gear juicers is the price, they are the most expensive across all juicer types. However, we selected the Tribest GSE Greenstar Elite Twin Gear Juicer which is priced reasonably and known as one of the best in the industry. The Greenstar Elite also does not clog celery and is fed with entire celery stalk easily.
Tribest Greenstar Elite Cold Press Masticating Juicer (GSE-5000/5010/5050)
The Greenstar Elite is a Twin Gear Masticating/Low Speed/Cold Press Juicer. It is available in 3 models that differ by the color only – white (GSE5000B), black (GSE5010B), and chrome (GSE505B) – and have identical technical parameters and selection of accessories in the package.
Motor unit: The Juicer equipped with the 200 Watts motor that rotates two stainless steel gears with a slow 110 RPMs speed. So this machine is a truly Cold Press Slow juicer.
The juicer is designed for 30 minutes of continuous operation, after each 30 min, it must be stopped for 10 min and then could be resumed again. It is convenient as you can make more juice within a minimal time interval.
The controls for operating the gadget is very simple. It has only one toggle which regulates On, Off, and Reverse functions (to prevent clogging and jamming).
Set includes:
The Motor Base Unit with controls and power cord;
Jumbo Twin gears;
Twin Gear Housing with Feeding Chute;
Juice and pulp Outlet;
Feeding Chute Housing with safety hood, safety tray and safety tray lid;
Juicing, Breadstick and (optional) Knobs;
Fine, Coarse, Homogenizing Blank, and Breadstick Blank Filter Screens;
Glass Juice Pitcher and Drip Tray;
Plastic Plunger and Wooden Plunger;
Stainless Steel Strainer;
Cleaning Tool with Brush and Scraper Heads with Handle and Regular GS Cleaning Brush
Four different filter screens expand the versatility of the machine. The fine screen is used for minimum pulp juice consistency; the coarse screen is for a more pulpy juice consistency; the homogenizing blank is for food processing tasks (baby food, sorbet, nut butter, and others); the breadstick (mochi) maker set is for raw breadsticks and rice cakes.
The pasta maker and soft fruit outlet adjusting knob (orange and tomato) are not included in the set and available to buy separately.
Gears/Auger: The Greenstar Elite comes with stainless steel twin gears that have a unique 3 stage mastication design to replicate the human mastication system that allows users to maximize the nutritional value and yield of extracted juice.
The augers also separated from each other by nylon safety buffer to prevent any leaking from shaving off the gear metal during operation to the juice and pulp.
The gears also have inbuilt into their core a usual for twin gear masticating machines bio-ceramic and magnetic technology that allow to pull more enzymes and minerals into the juice, reduce oxidation and extend the shelf life of the Green Star Elite juice for up to 5 days.
Chute and Produce Feeding: The Green Star Elite comes with a 1.5" wide square feeding chute that is typical for the horizontal masticating juicers (usually 1.25" -1.85").
The width of the chute and gears design allows you to feed the whole celery stalk without the need of cutting it, the juicer does not jam or clog the celery stalks.
Containers: The machine is equipped with a premium and durable 24 fluid ounces (680 ml) glass juice pitcher and stainless steel pulp container.
Pressure Adjustment Juicing Knob: The Greenstar comes with two adjusting knobs/valves that are designed to regulate the pressure for the pulp squeezing before it pushed out through the pulp outlet. The tightly adjusted juicing knobs when used with fine and coarse filters will squeeze more juice from firm fruit and veggies like celery, carrots, or apples. While looser juicing knob pressure is more suitable for soft fruits and vegetables like wheatgrass or cucumber.
There are also two other optional knobs available – soft fruit knop and pasta knob.
Functionality:
With Fine Screen and Coarse Filter Screens and Juicing Knob:
Awesome for juicing celery, outputs excellent quality, and best celery juice yield. The twin gears 3 stage masticating process tears effectively the celery strings without any clogging;
Perfect for all leafy greens and fibrous vegetables like kale, broccoli, chard, ginger, spinach, turmeric, parsley, and others;
Excellent with beets, carrots, and other roots;
Awesome with apples, pears, and other firm fruits;
Handles well softer veggies like cucumbers, zucchinis, and peppers;
Process well oranges and lemons;
Suitable for wheatgrass juicing;
With Breadstick Screen and the Breadstick Knob:
Makes raw breadsticks, nut butter, frozen desserts, sauces, baby food, mock meat, and pates.
For the best result, you can also buy optional soft fruits accessory as well as pasta making accessories for making pasta.
Cleaning and assembling/disassembling: There is a learning curve to study an assembling and disassembling procedure for the machine. However, all parts come apart easily.
Although it has 12 part to clean, it is not as complicate as seems at first, an experienced user can do it within 3 -4 minutes. The most complicated is filter screen cleaning. The Juicer set comes with a cleaning brush.
Warranty: Produced by reputable Tribets Company in South Korea, specializing in the production of juicers. It is equipped with the outstanding 12 years warranty that covers the plastic parts, motor, and twin gears and does NOT cover the juice pitcher, tampers, brushes, and sieve.
Customer service is easy to reach and very helpful.
Dimensions: 18.6″ W x 6.8″ D x 12.4″ H, weights 17lb.
The average yield from 1 kg of celery: 760ml – 790ml
Summary: The Tribest Greenstar Elite Cold Press Masticating Juicer is a very solid well-made gadget and one of the best Twin Gear/Triturating Juicers on the market. Though the Super Angel Juicer is widely thought to be the best it is very expensive while The Tribest costs Greenstar Elite will cost you around $500-600. Although, this juicer could be laborious to assemble and disassemble its functionality and the ability to extract exceptionally high juice quality must outbid all minor inconveniences.
The new 3 stage processing technology includes the most sophisticated stage 2 which mixes the juice and pulp and makes it consistent with the Gerson theory for the best quality and nutritional value juice.
The pressure adjustment feature allows you to achieve a very high celery juice yield, the stainless steel gears cut the celery strings well and do not clog. The bioceramic and magnetic technology provide the best quality juice with low oxidation, the highest level of nutritional value, and the longest shelf life. The entire machine design allows you to feed the whole celery stalk without cutting it.
Besides, the Tribest Greenstar Elite Cold Press Masticating Juicer is multitasking and able to juice a wide range of ingredients delivering the high yield not only juicing celery but almost any ingredient this juicer will process. While this juicer will not perform its best with regards to yield when extracting the juice from only a limited selection of soft fruits and veggies.
Tribest GSE Greenstar Elite Cold Press Masticating Juicer Pro and Cons for Juicing Celery
Pro:
The highest celery juice yield;
The best juice quality due to magnetic system (however, by test not noticeably different to horizontal and vertical single-auger juicers);
Second fast after centrifugal juicer to process celery;
The whole celery stalk may be fed into the chute, no special preparation for celery;
No celery pre-cut needs;
It does not clog and jam celery fiber.
Cons:
Clean-up is most laborious and time-consuming, has many parts and juicing screen is fairly large;
Tricky to assemble/disassemble;
Most expensive.
Check here today's best price for the Tribest Greenstar Elite Juicer
#3 Vertical Cold Press Slow Masticating Juicer
Vertical Cold Press Slow Masticating Juicers have a very similar design to horizontal single auger juicer but they have a much fatter auger size which located and rotated in the vertical direction instead of the horizontal direction. The latest generations of vertical slow auger juicers come with a speed 43 RPMs and are known to be slowest among all the masticating juicer machine.
Although, the vertical single auger juicers are known to be very efficient with a wide range of products they are not ideal for juicing celery. The celery long fiber strings tend to clog the vertical single auger machines, so celery needs to be cut into smaller parts (0.5-1 inches) before they fed into the vertical slow cold press masticating juicers feed chute.
We selected the Omega VRT843 vertical juicer, which is very efficient for juicing a variety of ingredients and delivers high yield and quality celery juice.
Omega VSJ843QS Vertical Slow Masticating Juicer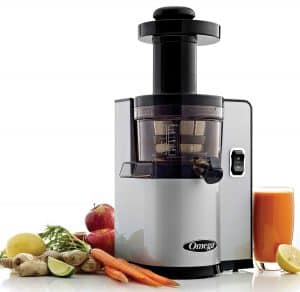 Omega VSJ 843 is a single auger vertical masticating juicer with the common name (rather marketing term) slow juicer. It was released in 2014 however and improved in 2018 with a new motor. The Juicer is available in 5 models – VSJ843QS (square shape in silver color), VSJ843QR (square shape in red color), VSJ843QW (square shape in white color), VSJ843RS (round shape in silver color), and VSJ843RR (round shape in red color). All models have similar all technical parameters but differ by colors and shape.
Set includes:
Motor Base
The upgraded dual-stage juicing screen
Upgraded spinning brush
Juicing Bowl with attached extraction plug and upgraded pulp outlet
GE Twin Wing Ultem Auger
Self-cleaning screen holder
Two 32 ounce juicing cups
Pulp Container
Accessories: Pusher, Cleaning Brush
Chute and Produce Feeding:
The Omega VSJ 843 Juicer features oval shape feed chute with size 2.5" X 1.5". Although the entire celery stalk will fit into the Juicer chute, this type of juicer tends to clog stringy ingredients and leafy greens, so they must be pre-cut before juicing with this machine. The celery must be cut into 0.5-1 inches pieces before feeding into the Omega VSJ 843.
The hard ingredients like carrot do not need pre-cutting, however, apple will not feed into the chute and must be cut before feeding.
Motor unit: It comes with a strong 150 watts motor (equivalent to 2 HP) and operates with a very slow 43 RPMs speed that allows minimal oxidation and produces high nutritional value juice. 
Starting from 2018 Omega VSJ 843 comes with improved motors that produce a better torque, so it can process for efficiently hard ingredients like carrots. Single-Phase induction type motor.
Gears/Auger: The VSJ843 comes with a new patented twin-wing auger design that is made of very hard GE's ULTEM material. The unique twin-wing auger cuts up and grinds produce more efficiently than the standard augers. It also handles the grinding job much better and able to make superior nut milk recipes.
Juicing Screen: It has a dual-stage patented innovative juicing screen. It is not only made of good quality fine mesh stainless steel but also introduces the Automatic Wiping System (AWS) for the screen. To be precise, it adds to the screen a silicone wiping blade to clean and wipe the screen during processing from an excess of pulp, so it ensures that pulp is processed to the finer consistency that results in higher juice yield, the juice with the low pulp consistency in the juice and much easier screen cleaning experience.
The dual-stage screen allows the juice to be extracted via the first crushing stage and in the area just before the pulp ejection, which results in more juice, and drier pulp.
Juicer Tap: It also has the innovative and patented no-drip Juice Tap that holds the juice in the juicing camber until you release it that makes sure the drink is mixed well with pulp before it goes into the juicing cup, which provides more nutritional juice.
The no-drip juice tap also allows the faster Juicer clean up, you just fill the machine with water and run it for a short time.
Containers: It comes with 32 oz. plastic juicing cup and pulp container.
Functionality:
Celery juice;
Leafy greens;
Wheatgrass;
Hard veggie like carrot, beet and other roots;
Oranges and other citrus fruits;
Firm fruits like apple and pears;
Soft fruits and veggies like pineapples, melons, grapes, tomatoes, and cucumbers;
Makes nut milk;
Soybean milk;
Frozen sorbets without a separate "blank" attachment;
Although the juicer handles a wide range of the produce, most of them must be cut before feeding into the relatively narrow chute (beets, apples). Also, grass and veggies with sinuous fibers like celery and ginger need to be cut into smaller pieces, otherwise, the long fibers will entangle the auger and clog.
Cleaning and assembling/disassembling: The Omega VSJ843 juicer is easy to assemble, it simply requires set vertically down all parts into place. Disassembling just require to repeat the procedure in the opposite order.
Cleaning this juicer is the more challenging task. Although this machine is designed for a self-cleaning mechanism, it is more suitable for cleaning the machine between different juicing sessions or pre-cleaning procedures before manual cleaning. The juicing screen and spinning brush are quite laborious to clean and will require some effort and time for it.
Controls: The juicers have only one switch that controls all of the juicer's functions – forward (On) and reverse (Rev) function.
Warranty: The Omega VSJ843 is equipped with the 15-year parts & labor Warranty for USA / Canada which guarantees you many years of trouble-free service. 
Dimensions: 7" W × 8 1/2" D × 15 1/2" H (178mm W × 216mm D × 394mm H), weighs 11.5 pounds.
Average juice yield from 1 kg of celery: 700ml – 730ml depending on the produce.
Summary: The Omega VSJ 843 Vertical Slow masticating Juicer comes with a bunch of patented innovations that make this machine one of the best among the Vertical Slow Juicers. The unique twin-wing auger, new juicing screen and wiping blade, the no-drip tap, and an upgraded the motor that delivers better torque make this machine not only very efficient with processing ingredients and delivers very high yield with minimum pulp for most ingredients but also easiest to clean among the vertical slow juicers. 
Although this juicer is slowest to process celery because of the need for pre-cut, it makes high-quality juice and this juicer is also multitasking that able to process almost any ingredients available for juicing.
As an extra benefit, this machine has a very modest footprint so it will not take much space at your counter.
Omega VRT843 Vertical Slow Masticating Juicer Pro and Cons for Juicing Celery
Pro:
Very high yield;
Clean up is the second easiest after single auger;
Easy assemble/disassemble and use;
Good juice quality;
Multi-functional and could be used for a wide range of produces types;
Cons:
Needs pre-cutting for celery juicing, otherwise will clog;
It is the slowest among all juicer types to process celery juice due to extra time taken for pre-cutting;
Narrow pulp outlet prone to clogging;
Expensive.
Check here today's best price for the Omega VSJ 843 Slow Masticating Juicer
#4 Centrifugal Juicer
Centrifugal juicers are the simplest juicer type. They use a juicing screen that consists of a grating disc and perforated drum that spins at a very high speed of over 10,000 RPMs. The grating disc rips apart and chops the produce that is pushed with centrifugal force towards the perforated screen where the liquid content of the chopped produce is released through the meshed screen. The high-speed centrifugal process aerates the juice and delivers very oxides and watery output. So, the centrifugal juicers deliver the lowest quality juice with the shortest shelf life.
Although the centrifugal juicers are not as multi-functional as the types above and process a limited range of ingredients they are perfectly capable to process a celery juice. The centrifugal juicers are the fastest and easiest to use and generally, they are much cheaper than all the juicers above.
We selected a very affordable L'Equipe Centrifugal juicer that is known for its high juice yield.
L'Equip Centrifugal Juicer with Extra Wide Feeder Mouth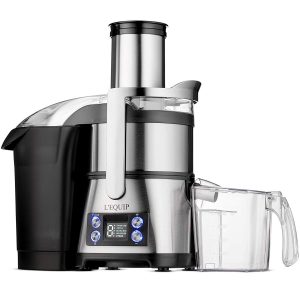 This machine is an upgraded version of the L'Equip XL215 model with an array of new and improved features. This Juicer is truly the best value for money centrifugal juicers on the market. It is manufactured in South Korea by L'Equip Company specialized in Kitchen appliances that were USA- South Korea co-established in 1998 and now became a well-known global brand. 
 Set includes:
Motor base;
Top housing;
Juicing basket;
Juicing Bowl with juice spout and pulp ejection outlet;
Pulp container;
Juicing container.
Pusher;
Motor unit: L'Equip Juicer comes with sleek, made from a heavy-duty is BPA-free polymer that is built to last base unit. It houses heavy duty and strong 800-watt, 110-120 volts dual speed motor that runs at 11,000 RPMs speed.
The base unit housing uses a lever arm for connecting/fixing top housing, if it is not closed properly for safety reasons machine will not operate.
Chute and Produce Feeding: The Juicer features an extra-wide 7.5 cm/3 inches Extra Wide Feeder Mouth/chute that allows you to feed whole fruits and veggies, so you do not need to prepare and cut any ingredients.
Juicing Basket/screen with blades: Juicing basket that is made of stainless steel comprises of juicing screen walls and bottom with the razor-sharp blades. The basket during the operation of the juicer rotates at the high speed of 11,000 RPMs, the blades grate the produce which then pushed to the spinning screen where the juice is separated from the fiber and sacked via the screen meshes down to the juicing bowl and juicing spout.
Juicing Bowl: Juicing bowl contains all the major parts that are involved in juicing processing. L'Equip juicing bowl is made entirely of stainless steel that means it is very well made and durable. It also features a patented anti-clogging pulp ejection system that provides an uninterrupted juicer operation and allows it to efficiently process large bunches of produce. Besides, L'Equip has improved the pulp collection basket, adding a handle to make it simpler to remove and clean.
Containers: It comes with 34 ounces (1 L) clear plastic (BPA-free) juice container with the measurements up to 800ml. It is also has specially designed and attached to the juice container a froth separator to remove the foam from coming into its juice.
It also features a black plastic huge nearly 70 ounces large pulp container that is attached to the juicer body.
Cleaning and assembling/disassembling: The centrifugal juicers do not have many parts to assemble/disassemble and it is a very easy task. All parts are easy to remove and ready for hand wash, most of the parts are also dishwasher friendly. The only labroid part to clean is the juicing screen.
Control panel and using: L'Equip Centrifugal Juicer comes with really sophisticated for the juicer control panel.  It has a digital display and four buttons, On/OFF, Pulse, and 2 buttons to set pre-one of the 5 pre-sets:
Hard Vegetable,
Apple,
Mix Blend,
Regular Vegetable,
Citrus
Functionality:
Although the centrifugal juicers are better juicing hard fruits and veggies, surprisingly they are good at handling celery. Overall, centrifugal juicers are not a multifunctional machine and L'Equip is not an exclusion, so it is able for juice the following produces:
Celery juice,
Firm fruits like apple and pears,
Firm veggies like carrots and beets,
Averagely perform juicing oranges and citruses because of eject very wet pulp.
The centrifugal juicers are not suitable for juicing leafy greens like kale, cilantro, or wheatgrass, and other grasses.
The juice it delivers is rather watery and heavily oxidized, so it must be consumed immediately. It produces the lowest quality of juice compared to other types of juicers but still tasty and acceptable.
Warranty: The L'Equip Juicer features 10 years warranty on the machine and 3 years warranty on a juicing basket. The company has a very good reputation and stand behind their products.
Dimensions: 15.2 x 9 x 16.1 inches (31 x 19.7 x 38.5cm). Unboxed weight is 8.7lbs.
The average yield from 1 kg of celery: 680-730 ml
Summary: The L'Equip is the best centrifugal juicer not only for juicing celery but for all other juicing tasks centrifugal juicers can perform – juicing hard fruits and vegetables, citrus and mixed juice. It is an impressive budget machine with one of the best juice yields among the centrifugal juicers available on a market, a very impressive 10 years warranty, and an array of other remarkable feature such as a very wide chute where you can fit even whole apple without cutting it, the froth eliminating feature, innovative control panel with 5 pre-set programs and besides, this machine is very easy to assemble/disassemble and clean that is not common for centrifugal juicers.
L'Equip Centrifugal Juicer Pro and Cons for Juicing Celery
Pro:
Fastest to process celery for juicing;
Good yield;
The whole celery stalk fed into the chute;
No pre-cut needed;
Very affordable juicer price.
Cons:
Lowest juice quality due to high juice oxidation;
Watery juice taste;
Very wet pulp s sprayed all over the pulp container;
Juice must be consumed immediately as it has a very short shelf-life;
Loud.
Check here today's best price for the Omega VSJ 843 Slow Masticating Juicer
How to Select the Best Juicer for Juicing Celery
Surprisingly, all four types of juicers – horizontal single auger, twin gear, vertical single auger, and centrifugal – produce nearly similar yield for celery juice. That means any type of machine can juice celery efficiently. So, while selecting a juicer for celery processing you have to consider other parameters such as juice quality, how easy it is juicer to assemble/disassemble, use, and clean, and price.
We assigned the first position to the Omega MM900HDS Low-Speed Masticating Celery Juicer because it is easiest to use and clean (has the least number of parts), does not require any celery pre-cutting for juicing, it delivers good quality juice (as any other masticating slow juicer) and it has a reasonable price. As a bonus, it is an Antony Williams favorite juicer who is the initiator of the global celery juice movement.
It should be mentioned, the majority of single auger juicers (excluding the Omega MM900HDS) usually delivers lowest celery juice yield across all the type of juicers but it is still favorite for the majority of people to juice celery because it is easy to use, clean and it is the cheapest option amongst the cold press slow masticating juicers. So if you plan to make celery juice every day and do not want to put any effort into it than this machine the best option.
We assigned the second position to the Tribest GSE-5000/5010/5050 Greenstar Elite Cold Press Masticating Juicer for extracting celery juice only because it is the most expensive juicer in our list. However, it delivers the highest juice yield (though marginal), it produces the juice with the highest nutritional value and longest juice shelf life (up to 48-72 hours). As a downside, it is most laborious to assemble/disassemble and clean because it has the largest number of parts. Although, it is most difficult to use it is the best juicer for juicing devotees as it delivers the best juice quality not only for celery but for most of the products and shows the best yield for most of the leafy greens and wheatgrass.
Although the Omega VSJ843QS Vertical Slow Masticating Juicer performed very well processing celery juice it was placed on the third position just because the juicer is not able to process celery without pre-cutting. However, it produces high-quality juice, delivers high yield, and not difficult to clean and use. It addition, it is a multi-functional machine and able to process the widest range of produce. So, if you are planning to juice only 50% of celery and 50 % of other produce including soft fruit and veggies than it this juicer is a great option to consider.
The L'Equip Centrifugal Juicer is also showed quite a good result and excellent celery juice yield. However, it placed fourth because of juice quality. It is believed and confirmed by few scientific studies that the centrifugal juicers deliver 50% less nutritious juice than twin auger juicers which are lost due to high-speed processing and thus high oxidation. However, juice made with a centrifugal juicer is consumed immediately after processing is still very acceptable. So, if you want to receive all the health benefits from juicing with minimum fuss you will appreciate L'Equip Centrifugal Juicers power, speed, and ease of use.
Just to summarise, the best means different for different people, we explained you pros and cons of each juicer type with the best-representing machine for the celery juicing. However, the choice is yours.
Other Products to Think About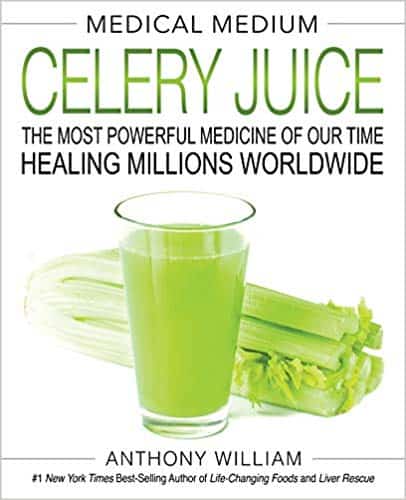 The Medical Medium Celery Juice book by Anthony William.