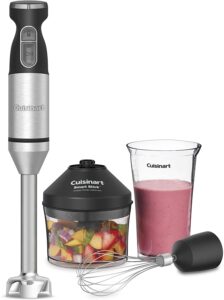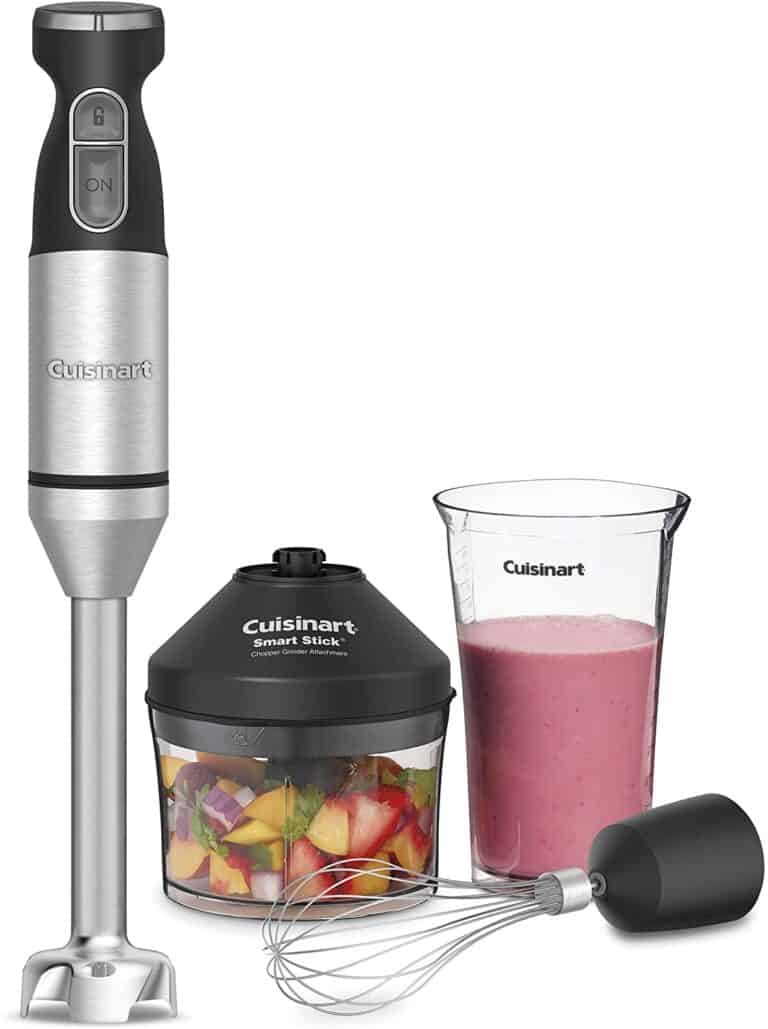 The Cuisinart CSB-179 Smart Stick Hand Blender is a very recent model that was released in 2019 as an upgrade to the CSB-79 by a famous brand. The Cuisinart brand is famous for its best food processors and no doubts it makes a quality immersion blender.
Do you wonder if this immersion blender could be a good contribution to your kitchen appliances collection? Here is our honest review for this mid-range immersion blender.
Functionality
Blender Shaft is the most versatile attachment for any hand blender, the Cuisinart blender comes with extra-long 8 inches blending that can most suitable for blending:
Soups – the blending shaft is more than suitable for liquidizing the cooked veggies, meat and fish for your soup, the extra-long shaft allows to perform this job directly in the deep cooking pot; however, you have to be careful to use it with non-stick cooking surfaces because the shaft head is not equipped with any protective guards;
Dressings, Salsas, Sauces, Dips, and Gravies – the blender is equipped with a variables speed and pulse function, that allow to use it for light mixing recipes; this blender comes with 3-cup/24 ounces mixing cup for easy mixing dressings, sauces, and other;
Frothing Milk – this attachment also more than capable of frothing milk for cappuccino or lattes by using pulsing functions and keep the blending blade guard fully submerged;
Smoothies – when blending into the mixing cup, for example, when making a fruit smoothie, cut most solid foods into 1/2-inch pieces for easy blending. Do not attempt to blend fruit pits, bones or other hard materials, as these are liable to damage the blades;
Baby food – blending baby food do not require much power and could be done almost with any blender, you can use blending shaft or chopper for making almost any baby food recipe;
Mash Potatoes – the blending shaft is usually capable of mash potatoes, while you should be aware that this particular blender does not come with blending head protector and could scratch you cookware coating easily;
Whisk Accessory is designed for whipping cream, egg whites, and other delicious recipes:
It is excellent for whipping air into a mixture;
It also meant for beating egg whites for meringues and other recipes, since it easily creates desired peaks form;
Beating heavy cream is another task that whisk attachment is designed for, you will get a better result with the chilled cream;
The whisk also will make it easier for you to mix eggs for omelets, or make crepe or cookies batter;
Chopper Accessory Attachment is designed for chopping, mincing, and grinding tasks:
Chopping nuts, bread crumbs, hard cheese, chocolate, and others;
Mincing garlic, onion, and ginger;
Chopping vegetables like carrots;
Grinding herbs spices like coriander, clove, and anise;
Making compound butter, but you should allow to come it to the room temperature before blending the ingredients;
Grinding raw and cooked meat, remember to cut it into 1/2 and 1 inches pieces.
Motor Unit
The blender features a comfortable easy-grip ergonomic handle, beautiful all stainless steel body with the rubberized handle. The handle has variable slide speed control on the top of the motor body, two soft buttons – the safety and On/Off (or pulse function) – on the front of the handle. It has a button on the back that press to attach/detach the blending shaft.
The stainless steel body houses a powerful 300 watts and quiet DC motor, which is designed for a maximum of 1 minute of continuous run with blending shaft and whisk and for 30 sec for chopper attachment.
The only problem, it has the plastic motor to drive coupling that reduces the blender durability.
Speed Settings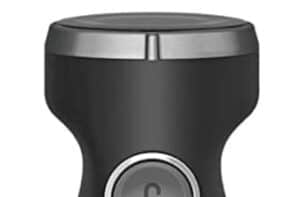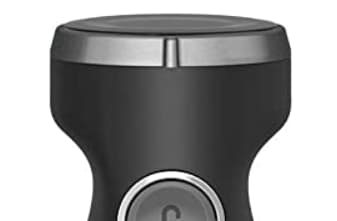 The blender controls are comprised of Variable Speed Slide on a top of the handle and two buttons – LOCK/UNLOCK and ON/OFF – on a front part of the body unit. To start operating the blender, the user first has to adjust the variable speed slide to the required setting, press the LOCK/UNLOCK button with thumb finger, release it and finally press the ON/OFF with the pointer finger button for blender running, it runs while the user holds the ON/OFF button and stopes ones it released.
The ON/OFF button also could be used as a Pulse function. To activate a Pulse function, you have to repeatedly press and release the ON/OFF button to PULSE, while holding down the LOCK/UNLOCK button. Few customers complain about the complexity to use the blender because of the safety button. However, ones you figure out how to do it and get used to it, the blender works beautifully.
Attachments and Accessories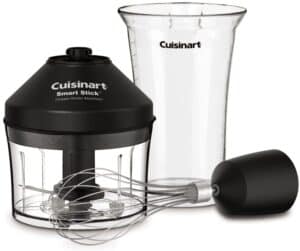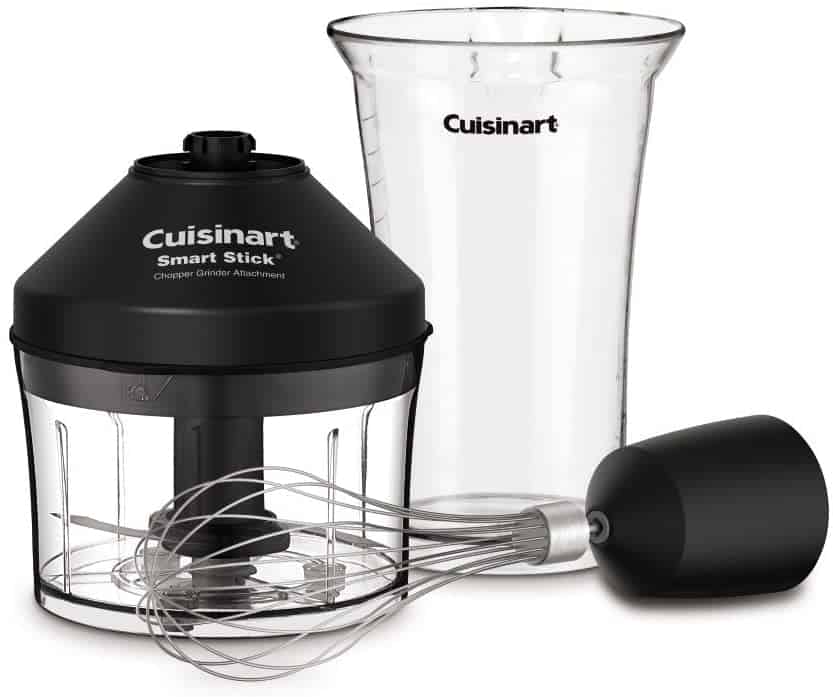 Blender Shaft – Detachable 8-inches long stainless steel blending shaft with a stainless steel blade, and a stainless head to keep splatter to a minimum. The head openings near ensure for no clogging blending.
Whisk Accessory – It comes in two parts, the plastic detachable gearbox and metal whisk balloon.
Chopper Accessory – This attachment comes with a reversible blade, sharp on one side, and blunt on the other. Users can turn over this blade to select one of the sides for particular tasks.
Mixing Cup – it is 3-cup (24 oz.) BPA-free plastic cup with an easy gripping and drip-free pouring spout.
Assembling, Dissembling, and Cleaning
The blender is very easy to assemble/disassemble and clean.

Blender Shaft: For assembling the blending shaft simply align it with the motor body and push together until you hear the click. To disassemble just press the release button on the back of the motor body and remove the shaft.
Whisk Accessory: For assembling whisk, you have attached the whisk gearbox and whisker balloon first and then snatch the motor body and gearbox together until you hear the click. To disassemble simply remove the whisker balloon and then press the release button to detach the gearbox from the motor body.
Chopper Accessory: Fit the chopper blade into the center of the chopper bowl over the metal blade shaft.
Attach the motor body to the bowl cover by sliding them together until you hear a slight click. Place the motor housing with bowl cover on top of the bowl and rotate clockwise to lock into place. Now it is ready to use. You disassemble it in the opposite order.
Cleaning: The blending shaft, whisk balloon, chopper bowl, and measuring cup are could be cleaned under running water with the soap or on the top rack of the dishwasher. The motor body, whisk gearbox, and chopper cover with gearbox should be cleaned only with a damp cloth and never immerse into the water. You also must be careful handling the sharp blades while handling them.
Warranty
It comes with a limited three-year warranty for the USA and Canada only.
Dimensions
The Cuisinart CSB‑179 Stick Blender is easy to handle as it weighs only 3.3 pounds, it comes with extra-long 8 inches blending shaft and 13 inches long with the motor body and blending shaft assembled.
Country of Production
This immersion blender was manufactured in China.
Set Includes
CSB-179 Motor Housing Unit;
Detachable Blending Shaft;
Chopper/Grinder Attachment with reversible Blade;
Detachable Whisk Attachment;
3-cup/24 oz. Blending Cup;
User Manual with a decent number of recipes.
Pros and Cons:
Pros:
A powerful blender featuring the 300 Watts motor;
Well build and easy to use with one hand;
Has the variable speed to handle a variety of tasks;
Includes whisk and chopper attachments;
Comes with 3 years warranty;
Cons:
Could be awkward to turn the safety button on and use pulsing function;
Comes with a plastic drive gear;
The chopper bowl is quite small.
Price
The Cuisinart CSB‑179 Stick Blender is an affordable kitchen tool and available at a low price for such a functional machine.
Cuisinart CBS-179 Smart Hand Blender, via Amazon
Summary
The Cuisinart CSB-179 Smart Stick Hand Blender is the gadget worth to consider. It has a nice design, variable speeds, a quality non-splash blending stick that perform many tasks, and coms with an additional whisk and chopper attachments. It also backed with long enough for an immersion blender 3-years warranty.
Some people do complain about problematic safety functions, while other customers appreciate this safety feature and easily learn how to use this button.