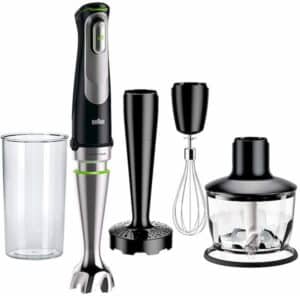 An Immersion Blender or also known as Hand and Stick Blender is the best compliment every modern kitchen requires. They eliminate all the hustle and bustle involved when dealing with large and noisy appliances. It is not until you purchase a stick blender that you realize how vital it can be in your home.
It has moderate dimensions and can be stored easily in any drawer and fairly light you can use it with one hand. Besides, it has a simple design that allows users to perform a variety of blending tasks directly in a cooking pot, bowl, or any other convenient container. And of course, it is far simpler to clean than the countertop, personal blender or most of the other kitchen appliances
It is worth noting that not all hand blenders found in the market are effective and convenient. Therefore, there are some essential qualities you need to reflect on before purchasing a stick blender. As long as you need a great immersion blender, you should take into account some important parameters this immersion blender buying guide specifying.
Functionality
Functionality is the crucial factor to consider when buying stick blenders. Typically, they need to be there in the kitchen to prepare your hearty recipes, for instance:
Making creamiest Soup directly in the cooking pot;
Besides, you can blend any hot ingredients with it including a Bulletproof Coffee;
Within five minutes, you can comfortably make homemade salad dressing, easily prepare a variety of sauces, dips, and pesto, or mayonnaise and it is perfect for light blending tasks;
Emulsifying a Tomato Sauce;
Making Baby food is another task where an immersion blende excels;
Mashing potatoes and puréeing vegetables can be easily done in under a minute without any efforts from the user side;
Whenever you think of whipping up creams and the immersion blender makes this possible, several whips of foamy beverages do this with little effort;
You can still reach your hand blender when beating eggs to make omelets or whenever you need a fluffy egg as part of your cooking;
Essentially, you can mix up pancake batter if your recipe demands it;
Besides, it can surprise you when you require to make milkshakes and smoothies, just remember it will handle only softer ingredients;
Chopping cheese, breadcrumbs, and even small portions of meat.
Wattage
The immersion blenders are designed for the light blending, whisking, mashing, and chopping tasks and this determines the wattage of immersion blenders, which are usually ranging from 150W-600W.
Generally, you require a stick blender for light blending, a 200-350 watts blender will serve the purpose, while heavy-duty immersion blenders will feature up to 1000 watts. However, some commercial-style immersion blenders come with moderate wattage of 200-400 watts and they are perfect for what they designed for, some other constructional parameters allow them to perform the heavy-duty tasks.
 Maximum Running Time
It is also very important to know before buying the hand blender that the majority of Immersion blenders are designed for 10 seconds to 1 minute of continuous operation and must be cooled for few minutes before you start operating them again. This running time is generally enough as this type of blender is intended for light and the quick task where you can conveniently use them in the cooking pot or the glass.
Attachment and Accessories
For efficient working of a hand blender, the attachments or accessories are vital complements. These are the basic attachments that accompany a typical immersion blender:  
Blending arm with a bell-shaped head which is suitable for most of the homogenizing such as making soup or preparing variety dressing and sauces recipes;
Whisk head is designed for whisking and whipping task and also for mixing basic cake recipes;
Masher is used for mashing potatoes and other cooked vegetables and fruits;
The mini chopper is the standing bowl with fitted into it the main blender unit, it is designed for light chopping dry tasks;
Food processor very similar to chopping attachment but has a bigger bowl and stronger blades and performs heavier tasks such as making hummus and thick dips;
The frothing blade head is intended for frothing milk and can mix basic batter;
Star blade head (s-blades) is used for shredding and mincing meat;
Beaker is a container where you can blend your recipes.
Similarly, other minor attachments might not be very essential but can still be included in the stick blender's pack:
Splash guard this fitted on the arm of the blender and guards the splashing against the beaker;
Beaker lid makes the beaker a storage container;
Pan guard is a plastic rim that fitted with the metal bell head to the nonstick pans from scratching.
It is typically the more expensive stick blender that comes with a greater selection of attachment and accessories. Nevertheless, whenever the minimal selection of attachments or accessories is used skillfully, a high-quality food product can be made.
Speed Settings
The basic Immersion blender may have only one speed which is activated with a press-and-hold button. The more sophisticated models come with 2 and more speeds including variable and turbo speed selections.
Operating
Stick blenders are easy to assemble and use. For example, if you need to prepare food or a drink, an immersion blender can easily reach cooking pots or bowls conveniently. Most of the stick blenders are automated hence enabling you to prepare your recipe with precision. For instance, when you increase the pressure on the trigger of some immersion blenders, they automatically increase their speed.
Others go to the extent of warning you against blending hot food and drinks. Anti-suction technology has also been applied in most modern blenders. This technology helps to prevent the food content from spilling out of the cooking pot or a bow when blending.
Cleaning
Most of the stick blender has a removable shaft, which is about 8-12 inches. The main advantage of the removable shaft is to clean the blender. Thorough cleaning is possible since the shaft can be removed from the blender's body and cleaned separately. Besides, a hand blender has a removable blending head, heads, and other attachment parts. Most of the removable immersion blender parts are dishwasher safe.
Corded and Uncorded
Most immersion blenders are hard-wired but some of them come with a removable cord and rechargeable batteries. Although the cordless blenders have better maneuverability but are heavier and have less wattage. While corded blenders are stronger and more powerful.
The Material It Is Made
The immersion blenders are made of stainless steel blades and heads and plastic body. The commercial types of immersion blenders may have metal shafts. The steel material increases the durability of the hand blender. The containers usually are plastic and sometimes glass.  Also, steel material is easy to clean because you only need hot or warm water and a mild detergent to make it clean. Similarly, plastic or glass material is also easily cleanable without a problem. Whenever you are working on hot or even boiling soup using a hand blender with steel material, you need not worry. The safety of your stick blender is guaranteed since the steel part can't melt. Such durable materials protect the stick blender from cracking or even warping.
Brands
There is a large variety of Immersion blenders are available on the market nowadays. Some of the most trusted hand blenders in the market include KitchenAid, Braun, Cuisinart, Breville, Smeg, Bamix, Waring, All-Clad, and Hamilton Beach, they usually well-made come with a warranty, and demonstrate excellent performance. The brands which you never heard before are usually produced in China, they usually much cheaper than reputable brands but they usually do not last for long and we will not advise buying them.
However, some KitchenAid and Braun models are easily affordable, and they are known for their high performing level. If you go for a reputable stick blender brand, you are guaranteed to get its accessories in the market easily and their warranty will be served. For instance, if one accessory breaks down, you can easily replace it instead of purchasing a new hand blender.
Price
Whenever a customer thinks of buying an item, the first question that hits his/her mind is the cost. Worry not, if you are planning to purchase an immersion blender. There are countless affordable brands available in the market. With your tight budget, you can easily buy one according to your choice. Their prices are determined by design, motor power, number of accessories, and the material used to make them. With as low as $59, you can get a quality model. While the premium models may cost over $200 but they usually will have a stylish stainless steel construction, a wider variety of attachments, and the commercial blender level performance.
Summary
Finally, if you look for the appliance that performs a variety of the light-duty blending task then an immersion blender is the right option. It may replace a few kitchen appliances, it is very easy and convenient to use and they are more affordable than full-size blenders. As long as you buy a quality immersion blender, your cooking will be defiantly made easier. Before going for a stick blender, carefully consider the above buying guides for you to purchase the specific blender that will serve your purpose.