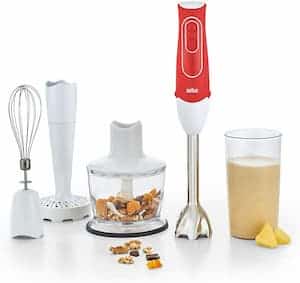 Braun Mul­ti­quick 5 Hand Blender is an entry cord­ed lev­el Braun immer­sion blender that is avail­able in two mod­els, MQ505 and MQ537,
which have absolute­ly sim­i­lar tech­ni­cal para­me­ters by dif­fer­ing only by the selec­tion of attach­ments and acces­sories the set includes. The Braun Mul­ti­quick 5 Hand Blender is engi­neered in Ger­many and man­u­fac­tured in Poland.
Read our com­pre­hen­sive review to find out if this blender is what your kitchen will be ben­e­fit­ed from
Dis­clo­sure: As an Ama­zon Asso­ciate, we may earn an affil­i­ate com­mis­sion for pur­chas­es you make when using the links on this page.
Functionality
The Blender comes with four (4) dif­fer­ent acces­sories that excel at var­i­ous tasks.
Blend­ing Shaft (includ­ed in MQ505 and MQ537 mod­el sets) is able to per­form the fol­low­ing functions:
Mak­ing Soup is a pri­ma­ry func­tion of the blend­ing shaft attach­ment; you can mesh boiled veg­gies such as toma­toes, broc­coli or oth­ers, puls­es, beans, and even meat; this blender is pow­er­ful enough even to blend the meat, fish, and oth­er pro­tein ingre­di­ents in the soup;
This attach­ment is per­fect for prepar­ing dips, sauces, sal­ad dress­ings, and may­on­naise; the blender bell is pret­ty small, so the min­i­mum liq­uid you can blend with it is about 2 inch­es above the bot­tom of the container;
This attach­ment is very good for mak­ing Bul­let­proof Cof­fee;
The attach­ment will homog­e­nize soft and not stringy fruits and veg­gies well and make smooth­ies, pro­tein, and milkshakes;
The Blend­ing Shaft bell is con­struct­ed with the patent­ed suc­tion tech­nol­o­gy that pre­vents splashing.
Whisker Attach­ment (MQ505 and MQ537 mod­el sets) is designed for the fol­low­ing functions:
Whip­ping cream, whip­ping beat­ing egg whites, yoks;
It is more than capa­ble of whisk­ing egg whites into per­fect stiff peaks to pro­duce meringue;
It is also able to mix sponge cakes and ready-mix desserts, whip heavy cream into but­ter, and make may­on­naise whisk;
Puree Shaft (comes with MQ537 mod­el ONLY) is designed to per­form the fol­low­ing tasks:
Mash­ing only cooked veg­eta­bles and fruits such as pota­toes, sweet pota­toes, toma­toes, plums, and apples; the attach­ment has a wide flat base with holes on the top where the mashed veg­gies and fruits are pressed through and out of the attach­ment that allow the per­fect tex­ture of processed products;
Chop­per Acces­so­ry (comes with MQ537 mod­el ONLY) is suit­ed for the fol­low­ing tasks:
How­ev­er, chop­ping meat, hard cheese, onions, herbs, gar­lic, veg­eta­bles, bread, crack­ers, nuts, and nuts can process only in small amounts, and the bowl must be filled not more than half; this attach­ment is not suit­able for mix­ing liquids.
You can use the Blend­ing Shaft attach­ment (505 and 537 mod­els) for mash­ing cooked pota­toes. Still, the result is not per­fect because you have to be care­ful with the stain­less steel bell head that can dam­age the saucepan Teflon, and the shape of the head is not designed to per­form this task per­fect­ly; for this pur­pose, you should go for the MQ537 option which includes Puree Shaft.
The Blend­ing Shaft is in gen­er­al not suit­able for pro­cess­ing ice and frozen ingre­di­ents; it may han­dle small chunks of ice (crushed before pro­cess­ing) and small frozen fruits, like black­ber­ries, blue­ber­ries, or crushed frozen rasp­ber­ries; how­ev­er, for prop­er pro­cess­ing of frozen ingre­di­ents, you bet­ter use a full-size pow­er­ful blender.
The Chop­per Acces­so­ry is not suit­able for mak­ing nut but­ter for this pur­pose; you have to buy a High-End blender, pow­er­ful food proces­sor, or hor­i­zon­tal sin­gle auger juicer with nut but­ter mak­ing attachment.
Motor Unit

The Braun Mul­ti­quick 5 blender's main body is made of rub­ber­ized plas­tic; thus, it is very light­weight. It also has a com­fort­able grip han­dle and a very con­ve­nient speed set­ting loca­tion arrange­ment, so you can eas­i­ly oper­ate it with one hand only. It is made of mold­ed plas­tic and hous­es the motor part. The main body also fea­tures two tabs on the sides to release the attach­ment parts.
All Braun Mul­ti­quick 5 Hand Blender comes with a high-qual­i­ty, pow­er­ful 350 Watt Ger­man-engi­neered motor. How­ev­er, it has one draw­back – the plas­tic dri­ve gear that is not as durable as if it were the met­al one.
This blender is designed for a max­i­mum of 1 min con­tin­u­ous run­ning time; it must be cooled then for 4 min before resum­ing the operation.
Speed Settings
Both mod­els are oper­at­ed at two speeds. The body fea­tures two (2) but­tons, the speed «I» and speed «II» (Tur­bo). The but­tons are con­ve­nient­ly locat­ed on the body and are eas­i­ly oper­at­ed with one hand; you can press the speed «I» with the index and the speed «II» fin­ger with the mid­dle finger.
Attachments and Accessories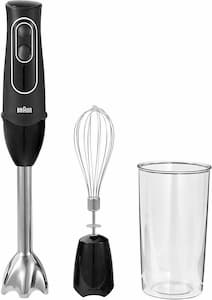 Blender shaft – it is con­struct­ed as a one-piece acces­so­ry and includes the blend­ing shaft, bell, and blades with an approx­i­mate length of 6.5 inch­es; the entire shaft, bell, and blade are made of stain­less steel, although the inside bell part looks a bit dif­fer­ent than oth­er parts it is stain­less steel, there is no part that con­tact with food made of plas­tic or oth­er material;
Whisk acces­so­ry – it comes into pieces, the Gear­box, and Whisker, and you have to assem­ble them before using; the length of the assem­bled whisker and gear­box is 6.5 inches;
Beaker - the set includes a BPPA-free plas­tic beaker with a max mea­sur­ing line of 20 oz., so the liq­uid does not shoot up over the rim when you blend;
Puree acces­so­ry (the MQ537 mod­el only) – the acces­so­ry set comes in 3 parts the Gear­box, Puree shaft, and Pad­dle; the pad­dle has a hole on the top of it where the ingre­di­ents are pushed out when it works; the shaft, gear­box, and pad­dle are made of plas­tic, and only the blades are stain­less steel, the blade is flat and kind of S‑shaped on the edges;
Chop­per Acces­so­ry (the MQ537 mod­el only) – the set fea­tures the 2‑cup / 500 ml chop­per bowl, Chop­ping blade, Lid with gear, and anti-slip rub­ber ring going under the bowl to pre­vent it from moving.
All acces­sories of Mul­ti­quick 5 and Mul­ti­quick 7 mod­els a not interchangeable.
Assembling, Dissembling, Using, and Cleaning
Assem­bling /Disassembling: The Braun blender is very easy and intu­itive to assem­ble, dis­as­sem­ble, oper­ate, and clean. For exam­ple, the Blender Shaft came in one piece and assem­bled just by con­nect­ing it to the motor unit until clicked and dis­as­sem­bled by releas­ing the Easy-Click but­tons on the motor unit to remove the shaft.
The Whisk Acces­so­ry comes in two parts, so you have to attach the whisk first to the gear­box, then align the motor unit with the gear­box part and push them togeth­er until they click after use, just dis­con­nect the gear­box from the motor unit by releas­ing the Easy-Click and pulling the whisk out of the gearbox.
The Puree Acces­so­ry (the 537 mod­els only) com­pris­es three (3) parts – the shaft, the gear­box, and the pad­dle with blades. First, you have to con­nect the gear­box to the shaft by turn­ing it clock­wise and then fit in the pad­dle to the oth­er side in the same way by turn­ing it in a clock­wise direc­tion. Then, you dis­as­sem­ble all parts the same way but turn the oppo­site order.
The Chop­per Acces­so­ry (the 537 mod­els only) also con­sists of three parts — the bowl, the blade, and the lid with gear. To assem­ble the chop­per, you place the blade on the spe­cial pin of the chop­per bowl, press it down, and turn it to lock it into place, then align the chop­per with the motor unit. Now it is ready to oper­ate. Dis­as­sem­bling is very intu­itive and is done in the oppo­site order.
Using: All blender attach­ment is oper­at­ed by hold­ing one of the two speeds, and it stops oper­at­ing once you release the speed button.
Clean­ing: Clean­ing blender parts are also a breeze; just rinse them under run­ning water, or you can wash all the blender parts, exclud­ing the motor unit, whisker, and chop­per gear­box­es, in the dish­wash­er on the top rack. The motor unit and gear­box­es should be cleaned with wet clothes only.
Warranty
The Braun Mul­ti­quick 5 Hand Blender comes with a 3‑year lim­it­ed War­ran­ty and very help­ful Cus­tomer Sup­port. It is well built and engi­neered in Ger­many and, accord­ing to the cus­tomers, is most like­ly to last over 10years.
Dimensions
It is an extra light blender that weighs only 1.6 lbs with a motor body and blend­ing shaft, has very com­pact sizes of only 2.2 x 2.2 x 15 inch­es, and comes with a long enough cord of 58 inches.
Country of Production
The Braun Mul­ti­quick 5 Hand Blenders MQ505 and MQ537 are designed in Ger­many and man­u­fac­tured in Poland.
Set Includes
Motor unit with 2‑speed settings;
Blender shaft;
Whisk Acces­so­ry
Beaker
Puree Acces­so­ry (537 only)
Chop­per Accessory
User Man­u­al with recipes.
Pros and Cons
Pros:
It is a pow­er­ful blender fea­tur­ing a 350 Watts motor;
It is well built and easy to use with one hand;
The blenders are equipped with patent­ed non-splash tech­nol­o­gy that works well;
Comes with var­i­ous acces­sories for mul­ti­ple functions;
Cons:
The body is made of rub­ber­ized plas­tic and should not be merged into the hot liq­uids on the stove;
It has a plas­tic dri­ve gear;
The blender comes with a plas­tic beaker;
Price
The Mul­ti­quick 5 MQ505 and MQ537 are the bud­get Hand Blender mod­els where the MQ505 comes with the Blender shaft, beaker, and Whisk acces­sories, and the MQ537 has addi­tion­al Mash­er and Chop­per acces­sories. Both mod­els are usu­al­ly avail­able at under $100 from most retailers.
Summary
The Braun Mul­ti­quick 5 Hand Blender is a great bud­get option that pro­duces fine blend­ing results for most of the light blend­ing tasks, includ­ing soup emul­si­fy­ing, mak­ing a vari­ety of dips and dress­ings, Baby Food For­mu­la, and even soft­er ingre­di­ents smooth­ies. In addi­tion, the whisker acces­sories per­form very well in all the whip­ping and mix­ing tasks. The more expen­sive MQ537 mod­el also includes the Mash­er and Chop­per acces­sories that even expand the blender functions.
Besides, the blender is suc­cess­ful­ly oper­at­ing with­out splash­ing or suc­tion, so your kitchen will stay tidy no mat­ter what task you are per­form­ing. At the same time, the extra light­weight, ergonom­ic soft-grip han­dle allows you to pre­pare your favorite recipes with­out extra effort.
Alter­na­tive­ly, check our arti­cles The Braun MQ7035X Mul­ti­quick Immer­sion Blender: Excep­tion­al Ver­sa­til­i­ty and Reli­able Built and 8 Best Immer­sion Blenders for all Bud­gets.
To our read­ers: We would like to let you know that you can find the rewrit­ten copy of this orig­i­nal review here, the same as many oth­er reviews. For con­fir­ma­tion, you can com­pare the date of the review publication.