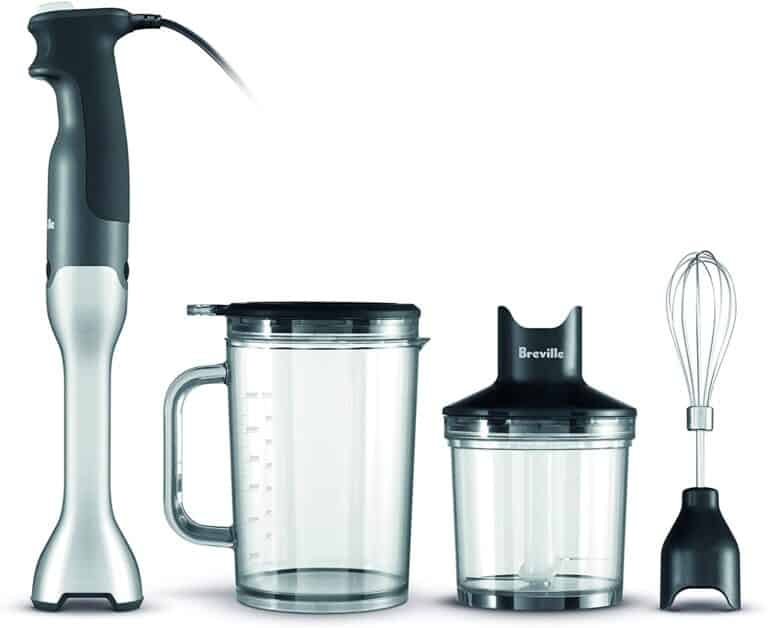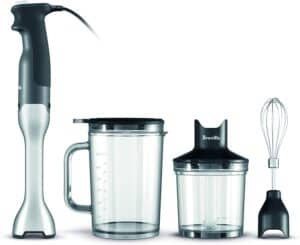 The Bre­ville BSB510XL Hand Blender is a mid-range cord­ed blender from a very pop­u­lar Bre­ville brand. The blender comes with an ergonom­ic grip design, 15 speeds, and a few attach­ments, and it is adver­tised that it is made with the con­sumer in mind.
Read our review to deter­mine if the Bre­ville is gen­uine­ly one of the best hand blenders on the market.
Dis­clo­sure: As an Ama­zon Asso­ciate, we may earn an affil­i­ate com­mis­sion for pur­chas­es you make when using the links on this page.
Functionality
Blend­ing Shaft is an excel­lent mul­ti-task­ing tool for
Blends vel­vety soups and toma­to paste; Use mid to max­i­mum speed for 30 seconds.
Emul­si­fies even thick mayonnaise;
Mix­es chunky pesto, dips, dress­ings, and salsa;
Purees baby food at mid to max­i­mum speed for 30 seconds;
Blends Milk­shakes, smooth­ies, cock­tails, and fruit frappes, and it can process ice in your smoothies;
The blend­ing shaft is more than capa­ble of mak­ing Bul­let­proof Coffee;
Whisk Attach­ment is designed to
Incor­po­rates air into egg whites and cream at mid to max­i­mum speed for 20–30 seconds;
Mix­es light batters;
Pre­pares fluffy whipped cream;
Chop­ping Bowl is designed for
Chops herbs and veg­eta­bles like car­rots, onion, or gar­lic at mid to high speed for 20 seconds;
It also grates bread crumbs, shred­ding cheese, and nuts;
Cuts cooked red meat, chick­en fil­lets, and fish fillets.
Motor Unit
This hand blender comes with an agro­nom­ic Motor Unit designed as a gun. Hence your hand grasps the han­dle part in a nat­ur­al posi­tion and ensures your total con­trol and sta­bil­i­ty dur­ing the blender oper­a­tion. In addi­tion, the grip part of the Motor Unit fea­tures a soft-touch mate­r­i­al that reduces slip­ping and pro­vides even more com­fort to the user.
Besides, the Motor Unit hous­es a pow­er­ful 280-watt motor with excel­lent torque. The blender is designed for a max­i­mum of one (1) minute of con­tin­u­ous run after rest­ing for 1 minute before rerun­ning it.
Speed Settings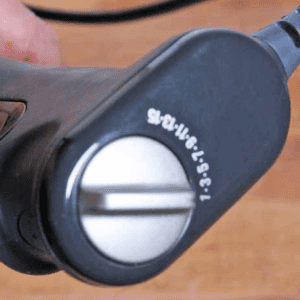 The Bre­ville BSB510XL Immer­sion Blender is equipped with a 15-speeds dial and pow­er but­ton. The speed dial is locat­ed on the top of the Motor Unit and has a straight­for­ward 15 speeds cal­i­bra­tion. The Pow­er but­ton which is called the Trig­ger switch is locat­ed on the inner part of the han­dle and is very con­ve­nient to push with your index fin­ger. To oper­ate the blender, you have to select with the dial one of the required speeds (between 1 to 15) on the top of the han­dle and push the trig­ger but­ton; the blender runs while you hold the trig­ger switch and stops oper­at­ing once you release it.
Attachments and Accessories
The Blender Shaft – is a core attach­ment of any immer­sion blender. This Bre­ville hand blender comes with a stain­less steel 8 inch­es long blender shaft. Due to its excel­lent length, it can be used with deep and shal­low con­tain­ers. The shaft bell also has an inno­v­a­tive design. It is equipped with two inter­nal ribs that ensure a per­fect vor­tex, min­i­mum splash­ing, and splat­ter for the pot bot­tom's most effi­cient blend­ing process and min­i­mum suc­tion. Unfor­tu­nate­ly, it has a broad blend­ing head and does not fit in a wide mouth Mason jar.
The Bre­ville shaft has a unique rub­ber base around the bell shaft pots to pre­vent scratching.
Whisk Attach­ment comes in two parts, the whisk and gear­box; the assem­bled gear­box and whisk attach­ment are 8 inch­es long, the same as the blend­ing shaft length.
Chop­ping Bowl com­pris­es a 25 oz./3 cups BPA-free poly­car­bon­ate chop­ping bowl, stain­less steel chop­ping blades, and a chop­per lid with the gearbox.
Extra Large Jug — the 42 oz. Extra-large BPA-free plas­tic jug is nice­ly designed and comes with a han­dle, lid that serves its direct pur­pose and cov­ers the con­tain­er for stor­ing food, and turns into a slip-proof pad to pro­tect the jug from mov­ing when it is in use.
The jug also has dual usage – you can use it as a con­tain­er for any blend­ing tasks, and you can stack the chop­ping bowl into it dur­ing the food pro­cess­ing, so you may use its han­dle to secure the chop­per bowl. At the same time, the non-slip lid will ensure the chop­per bowl extra sta­bil­i­ty. The stack­able con­tain­ers are also great for sav­ing stor­age space in your cupboard.
Assembling, Dissembling, and Cleaning
Assembling/Disassembling: Although this blender comes with few attach­ments, it is one of the eas­i­est to assem­ble and disassemble.
Blend­ing Shaft: To lock the blend­ing shaft onto the motor body, you just have to align the blend­ing shaft with the motor body and push until the ''licks,'' now it is ready to use.
To detach the shaft from the body unit, just press on the two EJECT but­tons on the side of the motor body and pull away from the blend­ing shaft, and it is ready to clean.
Whisk Acces­so­ry: To assem­ble the whisker, you have to con­nect the gear­box to the whisk first and then align the gear­box with the motor body and push until the ''licks'' are now locked with the body and ready to use.
To dis­as­sem­ble the whisk attach­ment, you have to detach the gear­box with a whisk from the body by press­ing the EJECT but­ton on the body unit sides, then pulling away from the whisk from the gear­box is ready to clean.
Chop­per Acces­so­ry: For assem­bling the chop­per, you have to place the blades onto the met­al piv­ot pin inside of the chop­per bowl, fit the chop­per lid, align the motor body with the bowl lid and press down until the motor ''licks'' it is ready to operate.
To dis­as­sem­ble, just pull the motor body by press­ing the EJECT but­tons on the side of the motor unit and remov­ing oth­er chop­per parts for cleaning.
Clean­ing: The gear­box­es and motor body should nev­er be merged in the water; you have only to clean them with a damp cloth. The blend­ing shaft, whisker, and con­tain­ers could be cleaned with soap and run­ning water or placed on the dish­wash­er's top rack.
Warranty
This immer­sion blender comes with a 1‑year war­ran­ty for all com­po­nents includ­ed in the set.
Country of Production
The Bre­ville BSB510XL Con­trol Grip Immer­sion Blender is man­u­fac­tured in China.
Dimensions
The Bre­ville BSB510XL Immer­sion Blender with the blend­ing shaft attach­ment is 18 inches/45 cm long, weighs only 3.8 pounds, and has 6 feet long cord.
Set Includes
Motor Unit;
Blend­ing Shaft;
Whisk Acces­so­ry
Extra Large Jug
Chop­per Accessory
User Man­u­al with recipes.
Pros and Cons
Pros:
It has an ergonom­ic design and a very com­fort­able grip;
It comes with pow­er­ful 280 watts motor and excel­lent torque;
It has low suction;
Equipped with a rub­ber bot­tom to pre­vent pot scratching;
It has 15 speeds for bet­ter con­trol over the blend­ing process;
Includes a few very good qual­i­ty attachments;
Able to crush small ice cubes;
Cons:
It has a plas­tic dri­ve gear;
Not all peo­ple like the speed selec­tor on the top of the handle;
The blender bell will not fit into a wide-mouth Mason jar;
Equipped with only one year warranty.
Price
Bre­ville BSB510XL Immer­sion Blender is a fan­tas­tic hand blender avail­able at a rea­son­able price from most retailers.
Summary
The Bre­ville BSB510XL Immer­sion Blender is a good val­ue for mon­ey blender that is more than worth con­sid­er­ing. It comes with a selec­tion of great fea­tures such as an ergonom­ic and com­fort­able grip, a choice of qual­i­ty acces­sories, a pow­er­ful and robust motor, and 15 speeds con­trol for cre­at­ing a vari­ety of recipes. Most impor­tant­ly, it is equipped with a low suc­tion blend­ing shaft bell and non-scratch­ing fea­tures to keep your non-stick cook­ing pots and con­tain­ers safe. In addi­tion, it has a long blend­ing shaft that ensures that you will not burn your­self with the steam when blend­ing the soup. Besides, it will hard­ly require you to break a bank to buy the replace­ment parts for this blender; they are all avail­able at a very rea­son­able price.