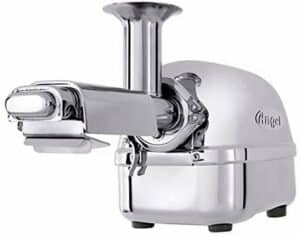 The Super Angel Juicer is the premium masticating twin gear machine and the only masticating juicer available on the market that is 100% made of the highest quality stainless steel. It is manufactured in South Korea by the company dated back in 1982 which produces only twin gear domestic Super Angel Juicer and commercial juice extractors. It currently manufactures three domestic Super Angel Juicer models – Super Angel Plus, Pro and Premium Deluxe machines – and two extra packages. The current Super angel models were upgraded in 2015 – 2016 with few features to comply with U.S. electrical specifications.
Functionality
The Super Angel Juicer is capable to process the widest range of ingredients with outstanding yield result:
This juicer outshines other masticating machines when juicing hard produce such as carrots, beets, cabbage, broccoli, ginger, and other veggies;
It also shows the same best result across masticating juicers for firm fruits like apples, pears and other;
It will double the competitors when juicing a watergrass or pine needles;
The same best yield it delivers from juicing leafy greens including spinach, kale, angelica, and others;
It can perfectly well juice grape, peeled oranges, and kiwi also showing the best result among all masticating juicers; squeeze out nearly all the juice and leave pulp totally dry. It works very well on leafy greens so that nothing is left to waste;
The Super Angel is capable to juice soft fruits like pineapple, plum (without stone), blueberry, bananas, however, shows the second-best result after the vertical single auger juicer when juicing them with standard extracting housing, it deliver the same result or slightly outperform the vertical juicer with soft fruit extracting housing;
The same applied to the softer veggies like cucumber and tomatoes, the coarse screen housing is capable to achieve a better result than juicing them with standard Fines Screen Extracting Housing;
The Super Angel is very good at making combo juice which includes nuts, buckwheat and other non-standard ingredients along with the carrot, melon, and beets;
With the optional Grinding Extracting Housing the Super Angel perform a range of homogenizing tasks such as making frozen desserts, raw soups, smoothies, sauces, baby food, grinding beans, coffee, and other ingredients;
While it can make nut butter with Grinding Extracting Housing, however, the dedicated Nut Butter Extracting Housing will show even better results.
Another good thing about the Super Angel juicer is that unlike most of the other twin gear juicers it does not produce a lot of foam (2-5% only) when juicing leafy greens and spinach in particular (the foamiest ingredient). That means that Angel Juicer gets more juice out of ingredients than other extractors because the more foam juicer produces the less juice yield it gets.
In addition, the Super Angel delivers the best juice quality juice long shelf life of up to 48-72 hours and outstanding yield for most ingredients across all twin gear machines. As a result of its state of art twin gears design, it can extract most of the nutrients out of any type of produce.
Motor Base Unit
All Super Angel models Motor Base Units are made from the FDA food-grade approve stainless steel and include the following parts – the motor, gearbox, cooling system unit, safety sensors, and control panel.
Motor: The motor boasts 180 watts (1/4HP) power which consigns a 3 HP grinding force to rotate the twin gears set with the 82 RPMs speed.
Safety Features:
The red rocker On/Off switch at the back of the unit prevents juicer activation if the user accidentally touches control panel;
The juicer will not run if not assembled the right way.
It also has an inbuilt thermostat (self-controlling motor thermal sensor), that means if the internal temperature of the juicer rises above 158 F/70C, a short beep will sound, the motor will stop running and the power indicator light will start blinking, the cooling fan will be working to drop the juicer's internal temperature, ones the internal temperature drops below 140 F/60c, the power indicator will light up again with a short beep sound and you will be able to use the juicer again;
The built-in clutch will prevent operation if you accidentally placed the hard item like a knife in the feeding chute;
The machine also protected from electric shock with isolation between engine and chassis.
The back of the unit also has a cord connector and spare fuse groove.
Control panel: The side of the Motor Base features the control panel which equipped with START, STOP, REVERSE buttons, and power indicator light. The START button is designed to start running the juicer and the STOP button stops the process.
If jamming occurs when operating the Super Angel Plus model, the user has to press the REVERSE button for 2-3 seconds and then press the start button to continue the juicing process. For Pro and Premium Deluxe models the REVERSE function will activate automatically without the need for users to touch it.
Twin Gear Set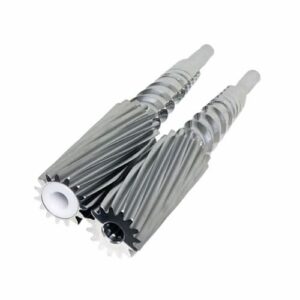 The Super Angel gears are made from solid FDA approved food-grade antibacterial stainless steel (sus304 for Plus and Pro models and sus316 surgical grade for Premium Deluxe model) with no breakable plastic edges.
They rotate at low 82 RPMs using a speed reducer device that exerts the torque enough for processing even the most difficult ingredients such as fibrous plants, stringy veggies, sprouts, and wheatgrass.
The Super Angel gears twin gear set is constructed with two interlocking gears that have a mere 0.1 mm (4/1000 of an inch) space between them that allow extracting most of the nutrients from the plans by crushing even the 5 micron-sized bits. They also have the largest length size across all twin gears – 8 ⅜ inches /212.7mm long and 1⅜ inches /34mm in diameter.
The Super Angel features a three-stage twin gear system for efficient juice extraction. (1) Stage one is the first part of gear steep crannies section that applies concentrated pressure on ingredients, this stage is responsible for 60% of juice yield. (2) Stages two has a flatter angle spiral crannies, it is grinding and mixing ingredients imitating Norwalk presser level 1, and this stage is responsible for 30% of juice yield. (3) Stage three has even the flatter angle spiral crannies, it will also grind ingredients and squeeze all the last drops from the pulp and add final 10% to yield.
Extracting Housing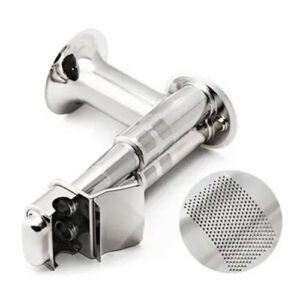 Unlike any other single auger or twin gears juicers, Super Angel encompasses few parts into one Extracting Housing while with other juicers it will be 2-6 separate parts. So, it features one solid piece that – juicing drum, feeding chute with a funnel and juicing screen.
Feeding Chute and Funnel: Although the Super Angel Juicer comes with a is a wider than most of the horizontal masticating juicers feed openings – 1.7 inches/43 mm in diameter – it still requires pre-cut most of the ingredients.
The pre-cutting is standards pre-juicing procedure for all horizontal machines. It is the best practice to feed the horizontal masticating juicer with a small amount of ingredients piece by piece. Otherwise, you may overload the chute and it will jam or deliver the lower yield than usually because the slow rotating twin gears are not designed to grab a lot of food at a time and thus will not be able to process it efficiently the cellulose fiber and extract all the nutrients locked in the fruits and veggies cells.
Juicing Screen: The juicing screen section of Extracting Housing has three-stage screen filters that correspond to each of the three helical gears stages and allow to maximize pure juice yield resulting in almost 20 to 30% more juice extracted compared to other juicers. The three (3) stage screen features the coarse holes at the first stage and finer to the third one.
Juice Guide: The Super Angel Juicer has a unique construction with the guide (slide panel) at the end of the juicing screen which directs the juice flow down to the juice container and does not allow to splash it around.
O-Rings: The set also includes a silicone O-Ring (plus 2 extra) that goes between the housing and the motor shaft for the better sealing, it prevents liquid leaking from the connecting part.
Magnetic sensor: This another Super Angel unique feature is located at the bottom part of the extracting housing and serves for safety reasons, it does not allow the juicer to start operation if it is not assembled properly.
No Pulp Adjustment Knob Needed: It does not have any pressure adjustment option for the pulp, the Angel process efficiently all types of food without this it.
Splash Guard
It is simply a cover plate that fitted to the top of the Extracting Housing and prevents juice splashing around. It is not necessary to fit Splash Guard when juicing fibrous fruits and veggies, leafy greens, and wheatgrass. However, it is better to use Splash Guard for juicing carrots, beets, apples and etc.
Containers
 All models of Super Angel Juicer come with a premium Pyrex round-shaped Glass Juice Container with a capacity of 1 Quart/4 cups/32 oz./1000ml and a square-shaped plastic pulp collection container with a capacity of 48 fl. oz./1400 ml.
Accessories and Replacement Parts
The Super Angel manufacture offers a few optional attachments that expand the Juicer functionality:
Super Angel Soft Fruit Extracting Screen Housing (available SUS-304 Food Grade S.S. and SUS-316 Surgical Grade S.S. versions) – this housing replaces the standard Super Anger extracting housing, it has a coarse screen hole instead of fine in standard housing and is used for juicing soft fruits and veggies, such as citrus, grapes, strawberries, pineapples, tomatoes, and cucumbers.
Super Angel Nut Butter Grinding Housing (available SUS-304 Food Grade S.S. and SUS-316 Surgical Grade S.S. versions )- This solid stainless steel housing without the screen, it operated at a higher pressure than standard housing and is used for processing nut butter. Although this housing is perfectly capable of producing also like frozen treats, sauces, hummus, and more you can also buy dedicated grinding housing.
Super Angel Grinding Housing (available SUS-304 Food Grade S.S. and SUS-316 Surgical Grade S.S. versions) – this housing is designed for a variety of homogenizing tasks such as making sorbet, sauces, hummus, salsa, and more.
There all replacement parts are available to buy from the manufacture and other retailers including twin gears, standard housing, pulp, and juice containers, etc.
Assembling/Disassembling and Cleaning
The Super Angel Juicer is constructed from only 4 main parts. Thus it is super easy to assemble/disassemble and not very laborious as most of the twin gear triturating juicers to clean.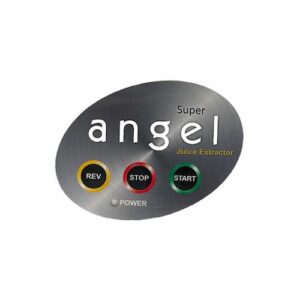 Assembling/Disassembling: Insert the twin gears into driving shaft carefully aligning the shaft teeth with gear teeth, slide the Extracting Housing over the twin gears and connect it to the Motor Base Unit by tightly securing down the Locking Clamp inbuilt into the motor unit. Fit the Splash Guard on the top of the Extracting housing when needed. Place the juice container directly under the juice guide panel and pulp collector under the pulp outlet. Connect the power cord into the Motor Base and plug it to the electrical outlet. Turn the red Power Rocker Switch on the back panel of the Motor Base Unit to the ON position.
Now The Super Angel Juicer is ready to operate.
Control Panel and Operation: The Angel Juicer like any other juice extracting machine has a very simple control panel. It comprises of the REVERSE, STOP, and START buttons, and red POWER indicator light. When you switched the power switcher on the back of the base unit, the juicer must be indicated by lighting the red light on the control panel. Now push the Start button and slowly start to insert the ingredients into the feeding chute helping with the food pusher. If your machine jams just push the Reverse button. When you finished juicing push the Stop button.
Cleaning: The Super Angel Juicer must be cleaned immediately after using it, otherwise, it may accumulate screen clogging that may cause the juice yield drop ratio.
The Super Angel Juicer has only two (3) – Extracting Housing and 2 Gears – or three (4) parts (if you use Splash Guard) to clean and it is, no doubt, the easiest Twin Gears machine to clean. Twin Gears and Splash Guard are very easy to clean, you just have to rinse them under the running water, while the Extracting Housing is more complicated to clean, and actually its screen part is the most labors part which requires about 4-5 minutes. You will need to use a cleaning brush and screen scrapper provided in the package and it will take about 4-5 minutes.
You may also pre-soak the screen area of the Extracting Housing for easier cleaning, however, you must not ever soak the sensor area otherwise it may compromise the Super Angel Juicer operation ability.
Noise
The Super Angel Juicer is a very quiet machine and releases only 66 dB noise during operation which is comparable with the sound from a normal conversation or operating dishwasher.
Set Includes
Motor Base Unit;
Twin Gear Set;
Standard Extracting Housing (fine holes);
Soft Fruit Extracting Housing (ONLY Deluxe model and Premium Deluxe with soft fruit Extraction Housing package);
Splash Guard;
Glass Juice Container and Plastic Pulp Container;
Set of food pushers: Standard Wooden Pusher, Wooden Pusher with Silicone Seal (for soft fruits);
Accessories: Cleaning Brush, Screen Scraper, Scrubbing Bristle, Silicone O-Ring plus 2 extra;
Power Cord;
Instruction Manual.
Warranty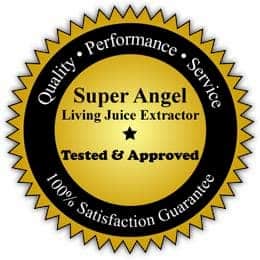 The Super Angel Juicer comes with 10 years Limited Warranty for Motor, Switch Panel, Control Panel, Fan, Splash Guard, and a 5-year warranty for Twin Gears, Extracting Housing, Screen Scraper, and Power Cord. There is no Warranty for Juice and Pulp Containers, Wooden Pusher, Pulp, Fuse, Silicone O-Ring, and others.
The Limited warranty applied for personal, family, and household use only and covers only the original purchaser (non-transferable if purchased second hand). The Limited warranty means that if you send the machine for the repair you have to cover the shipping costs.
You have to contact Customer Service directly no matter which retailer you purchased your machine from. The Customer Support Desk by tel.: 714-731-0045, email: info@superangeljuicers.com, or online.
Dimensions
The Super Angel Juicer is a big machine and with dimensions of 19.5 x 7.75 x 10.5 inches/488 x 194 x 263 mm it will occupy a large space at your counter and storage. Being made 100% from stainless steel weighs 28.7 pounds/9.5 kg and not very easy to move around.
Pros and Cons of the Super Angel Juice Extractor
Pros:
The juicer entirely made of the stainless steel, therefore, it is durable and sturdy and will not wear out easily;
Made from highest quality stainless steel it ensures that no harmful chemical will leach into the juice;
The Super Angel Juicer handle the widest variety of the ingredients across all types of masticating juicers;
The Super Angel Extractor outperforms its compatriots in terms of extracted yield by 20-30%;
The unit is very easy to assemble/disassemble and clean;
It is equipped with few safety features that ensures smooth machine operation and durability of the unit;
It has a sleek design;
Cons:
The Super Angel is heavy and does not have any handles for easing the moving it around;
It may have some balance problems and juicer may tilt forward a bit during the processing of the tough ingredients;
As all horizontal masticating machine it requires ingredients pre-cutting;
It is expensive a very expansive machine.
Angel Plus vs Angel Pro vs Angel Premium Deluxe vs Angel Deluxe Juicers
In the Super Angel range, there are three (3) different models and (two) 2 extra packages. They all come with identical interior design, motor, auger design, same controls, and Extracting Housing. The functionality and yield are also the same for all three Super Angel models while 2 extra packages come with extra Extracting Coarse Screen Housings.
Super Angel Plus Juicer (known as 5500 in Europe and Australia) is a based Super Angel model. It is 100% made of SUS-304 high-quality food-grade stainless steel and comes with a Manual Anti-Jamming Auto-Reverse system. In the event of a jam, it will beep, then stop automatically, the user has to push and hold for 2 seconds the REVERSE button on the control panel that will move jammed food backward, then release REVERSE and press the FORWARD button to start machine operating again.
Super Angel Pro Juicer (known as 7500 in Europe and Australia) is also made of SUS-304 high-quality food-grade stainless steel, however, it has an Automatic Anti-Jamming Auto-Reverse feature. When the jamming occurs, the juicer will beep, then the automatic Auto-Reverse system will stop the motor, reverse it, and set it FORWARD again automatically without the user touching the control panel.
Super Angel Premium Deluxe Juicer (known as 8500in Europe and Australia) is made of high-quality food-grade SUS-304 (Motor Base Unit exterior) and surgical-grade SUS-316 stainless steel (Extracting Housing, Twin Gears, and Splash Guard). It comes similar to the Pro model with Automatic Anti-Jamming Auto-Reverse feature, where in the event of jamming the juicer will reverse and put forward again automatically.
Both SUS-304 and SUS-316 stainless steel grades do not rust, do not react with food, and do not leach out any chemical. But they differ in the stainless steel alloy formula where the SUS-304 contains 18.0-20.0%, Chromium and 8.0-11.0% Nickel while SUS-316 contains 16-18% of Chromium, 10-14% of Nickel, and 2-3% of Molybdenum. The additional Molybdenum contains to make the stainless steel even more resistant to chemicals such as sea salts or chlorides.
Super Angel Deluxe Juicer is a Pro model (7500) + additional Extracting Housing with Coarse Screen for juicing soft ingredients.
There is one more package available which is the Super Angel Premium Deluxe + Extracting Screen Housing for Soft Fruits.
Super Angel Juicer Price
The Super Angel Juicer is the most expansive masticating machine available on the market and it worth every penny of its price. The manufacturing engineers and produces the same machine for over 50 years and it is still a peak of juicing technology. It is priced in a range of $1100-$1700 depending on the model and package (models – Super Angel Plus/Pro/Premium Deluxe – and packages – Deluxe and Deluxe Premium with soft fruits Extracting Housing).
The price is pretty similar across different retailers and the discounted price is almost never available for this machine.
Check here today's best price for the Super Angel Plus Juicer
Check here today's best price for the Super Angel Pro Juicer
Check here today's best price for the Super Angel Premium Deluxe Juicer
Summary
If you are looking for the best juice extractor available on the market then the Super Angel is the right one. There is no other juicer that comes close to it in terms of quality and juicing performance. Yes, it comes at a hefty price tag of $1100-1700, however, the extra 15-30% yield you can extract from most of the ingredients with the Super Angel versus any other masticating or centrifugal juicer will justify its high price over few years since you can save on buying fewer ingredients and squeezing more juice.
In addition, Super Angel has an awesome design, very easy to assemble/disassemble and clean, 100% made of stainless steel that ensures not only the machine's incredible durability but also that it will not leak any harmful chemicals into your drinks.