The KitchenAid kitchen appliances are renowned for their high quality and performance and the KitchenAid 5-speed Blender is not an exclusion. It comes in 3 models and available in multiple colors which also makes it incredibly attractive to consumers. To evaluate the real value of KitchenAid 5-speed we will compare to it another very popular blender the Oster 1200 Pro.
Thinking about the alternative option? Check here our article Best Countertop Blenders under $100.
KitchenAid 5-Speed Dimond Blender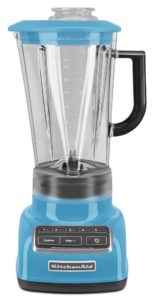 KitchenAid 5-Speed Diamond comes in 3 packages that are absolutely identical but differ by capacity and selection of pitchers – (1) 60 oz. diamond-shape pitcher, a (2) 56 oz. simple rounded pitcher and (3) rounded 56 oz. rounded pitcher and 20 oz. milling container.
It is equipped with only 670 watts at peak and 550 watts of effective power motor. The machine base unit interior design looks nice and solid but the motor to blade coupling system is not so reliable and partly made of plastic what is obviously is a weak side of this gadget.
KitchenAid 5-Speed Dimond gadget containers made of heavy-duty and shatter-resistant plastic and designed to handle liquids up to the 180F. The blade system is irremovable and permanently inbuilt into the pitcher what makes this blender quite easy to use and clean. The blades are made of good quality stainless steel, however, the spline on the bottom of the pitcher that connects the blades system to the motor drive is made of plastic.
The KitchenAid 5-speed control panel is equipped with 5 speeds, one Ice Crush pre-set program, and pulse function. What makes this machine quite versatile and allow the user to create an array of various recipes.
Although, this The KitchenAid 5-Speed Diamond machine comes with quite a low power motor its overall construction still makes this machine quite powerful, so it is designed to perform the following functions:
Makes decent quality drinks including greens smoothies but requires extra time for pulverizing hard ingredients;
Crushes ice cubes for snow cones, process ice in drinks but will not make ice creams or frozen yogurts;
Makes nut milk and with a lot of efforts it is possible to produce nut butter on this machine but it also will require adding the considerable amount of water for this task;
Chops veggies for salsa, marinades and salad mixes;
Pureeing food but requires a lot of liquid for smooth consistency;
Grinds coffee beans, herbs into decent quality powder, but able to mill only soft grains like oats.
KitchenAid 5-Speed comes with the only 1-year limited warranty. The customer service is quite supportive and easily replace the faulty units within the warranty period. However, the motor does not handle overloads well and not very durable. The plastic parts in the coupling system also do not add strength to this gadget.
Check here today's best price for the KitchenAid 5-Speed Dimond Blender
Oster Pro 1200 Blender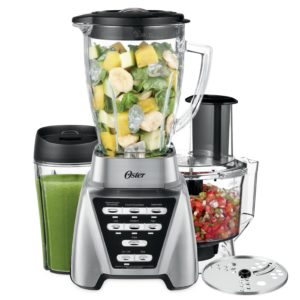 The Oster Pro 1200 is available in two packages – (1) with the main pitcher and single-serve cup and (2) with the main pitcher, single-serve cup, and an additional food processor attachment.
The Oster Pro 1200 equipped with 48 oz. the pitcher made from shatterproof and temperature resistant glass, 24 oz. polycarbonate single-serve cup and 5 cups polycarbonate food processor container (the package with the food processor attachments). It also has the all-metal high-quality blade that serves both the main jar and single-serve cup. The additional food processor container also includes shredding and slicing blades.
This Oster Pro 1200 machine comes with quite powerful 1200 watts at peak and 900 watts effective power motor that well built and has an all-metal blade assembly and motor coupling system. The Oster 1200 control panel equipped with low, medium, and high speeds, Green/Frozen Smoothies, Food Chop/Salsa, and Milkshake pre-set programs and pulse mode what makes in total 6 speeds and pulse function and allows some flexibility over the blending process.
So, The Oster 12000 Pro is designed to perform the following tasks:
Make smooth drinks including the excellent quality green smoothies, it also pulverizes well blueberry and other seeds in the drink;
Crushes ice well in smoothies, iced drinks, makes snow cones, ice cream, and frozen desserts;
Makes nut milk;
It is able to process nut butter, but requires some efforts;
Purees well raw or cook ingredients and even able to make smooth consistency humus without any liquid added;
Handles easily hot liquids and process boiled temperature ingredients for soup or perfectly suitable for making bulletproof coffee;
Chops food for salsa, marinades and salad dressings, shreds veggies for coleslaw;
Grinds and mills herbs, chop nuts or mill soft grains like but will not produce baking quality flour from wheat or other hard grains;
Knead the dough with food processing attachment ONLY.
The Oster Pro 1200 comes with 3-years limited warranty on blender and 10 years on motor. It also well known for its very polite and helpful customer service.
Check here today's best price for the Oster Pro 1200 Blender
KitchenAid 5-Speed Diamond Blender and Oster Pro 1200 Blender Differences and Features
 
KitchenAid 5-Speed Diamond
Oster Pro 1200  
Motor
670 watts at peak and 550 effective power with a partly plastic motor-blade connection;
1200 watts at peak and 900 watts of effective power with the all-metal motor to the blade couplings;
Blades
Non-removable quality 4-prongs stainless steel blade inbuilt in the pitcher;
Removable all-metal blade assembly with high quality 6 –prongs stainless steel blades; blade assembly is not necessary to remove after each use but advisable for thorough cleaning;
Containers
High-quality stress-resistant polycarbonates containers with temperature tolerance up to 180F;
Laboratory quality shatter and temperature resistant glass container, good quality polycarbonate personal blender cup and food processor container;
Using & Cleaning

Very easy to assemble/disassemble for operating, straightforward to operate; safe for cleaning in a dishwasher and with the self-cleaning procedure;

Easy to use if not requires assembling the machine, however removing blades system for cleaning or for using it with a single-serve attachment will need some efforts;
Control panel
Equipped with 5 speeds (1) stir, (2) mix, (3) chop, (4) puree, and (5) liquefy), Ice Crush pre-set program and pulse function;
Equipped with 3 speeds (low, medium, high), 3 pre-programmed settings (Green/Frozen Smoothies, Food Chop/Salsa, Milkshakes) and pulse mode;
Warranty

1-year Limited Warranty. Helpful Customer Service with an easy replacement for faulty units within the 1 year warranty  period;

3 -year Limited Warranty for blender parts and 10 years for the motor. Helpful Customer Service.
Performance

Produce good smoothies including green ones, although with some efforts;
crushing and shaving ice, able to make snow cones, but not able to produce ice creams and frozen desserts;
Make nut milk and possible nut butter with liquids and a lot of efforts;
Does not handle hot ingredients;
Puree cooked vegs but with liquid added will not handle very thick mixer;
Chops and minces veggies grind coffee beans and herbs and mills only soft grains;

Outputs good quality drinks including green smoothies;
Crushes ice in drinks shaves it for snow cones, ice creams, frozen yogurts, and other iced desserts and drinks;
Output smooth puree from soft and hard food;
Designed to process hot liquids;
Chops veggies for food prep tasks;
Makes nut milk and nut butter;
Grind herbs, coffee beans and soft grains into powder;
Kneads the dough with special attachment ONLY.

Dimensions
Come with 7 x 9 inches footprint, 18 inches profile height with the pitcher on a top of the base unit, so will NOT fit under the standard cabinet. Weight is 9.4 pounds.

Comes with 8.5 x 10.2 inches footprint, 14 inches profile height is with the 48 oz. pitcher on the top of the base unit. Weight is 13.4 pounds.
How to Choose Between the KitchenAid 5-Speed Diamond and Oster Pro 1200 Blenders
Although these two machines are both quite versatile and well-made the Oster 1200 Pro outperforms the 5-Speed Diamond Blender. The Oster produces slightly better quality smoothies and needs less blending time to achieve the best result compared to what requires for the KitchenAid. The Oster also better handles ice and able to produce iced drinks, snow cones, ice creams, and frozen desserts while KitchenAid only processes ice in drinks and shaves it for snow cones only.
The Oster 1200 Pro handles hot ingredients up to the boiling temperature, so it will process soup veggies straight from the oven and perfectly suitable for making bulletproof coffee. While the KitchenAid is able to handle only liquids heated up to the 180 F.
The Oster Pro 1200 also has a much stronger and powerful motor, so it produces smooth purees, hummus, and even quite a decent nut butter while for the KitchenAid these tasks are so challenging that they often overload the motor and cause the machine halt.
In addition, the Oster 1200 Pro has a much better built and strong motor and reputation of durable machine that is reflected 10 years motor warranty.
Summary
Although the KitchenAid 5-Speed Diamond looks very solid and powerful machine in fact, Oster Pro 1200 is a better built and much more durable machine. It also designed to perform more tasks than KitchenAid. In addition, it is on average $30- 70 cheaper than KitchenAid and comes with better warranty that confirms its durability. So the Oster better option when choosing between those two machines for customers who are looking for a durable, reliable, and versatile blender but do not want to break a bank.