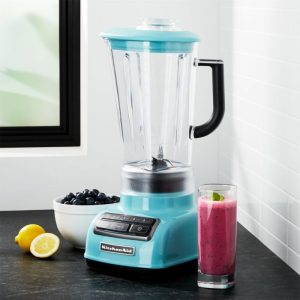 The KitchenAid brand has an exceptional reputation and is for years a synonymous for quality and design. The KitchenAid KSB1575 Diamond 5-Speed Blender is no exception, however, it is also available in two other less popular models to KSB1570 and KSB655. All three models have an identical base unit design, motor, and other parts but differ by the design and selection of jars and control panel design. It is available in the 21 different colors with the price ranging from $80 to $160 depending on the package, color, and retailer.
Thinking about the alternative option? KitchenAid KSB4027 K400 Countertop Blender Review, Check here our article Best Countertop Blenders under $100 and KitchenAid 5-Speed Diamond Blender vs Oster Pro 1200 Blender.
Functionality and Versatility
Smoothie: The KitchenAid Diamond 5-Speed Blender makes excellent smoothies from soft fruit and vegetables but outputs a bit grainy drinks from hard ingredients like carrots or leave some small green flecks when processing leafy food like kale, spinach, and others. It takes another 2-3 minutes to blend them into the decently smooth consistency. So, it takes some effort to process quality green smoothies using the KitchenAid machine.
This machine will well homogenize nicely nuts or ginger root added to the smoothies. However, it will not handle well strawberry or blueberry partly processing it and partly leaving them intact.
In addition, it is not powerful enough to easily deal with thick mixers when it becomes thick the machine tends to form air pockets, slow down the speed, and make whirring sounds. So, the user always has to add a sufficient amount of liquid to keep mixture watery.
Juicing: No blender is designed to make a textbook juice by separating fiber and liquid. However, if blender makes a smooth smoothie than sometimes it called whole Juice. The KitchenAid is able to make "whole juice" with some efforts and needs to blend for 2-3 minutes in total.
Frozen ingredients/desserts: This machine can turn ice cubes into snow. The Ice automatic setting will do it perfectly well by pulsing content for 30 seconds or the manually used pulse function also might be used for this purpose. It is perfect for snow cones or moonshine slushies. However, blending frozen fruits in smoothies could be a bit challenging for this blender, it needs a sufficient amount of liquids for this purpose otherwise, it will stall due to air pockets forming and had to be stopped to stir up content manually because it comes without any tampers or similar tools.
So, this machine hardly will prepare ice cream or frozen yogurts easily, however, the user can try to perform this task with extra efforts applied.
Soup/ hot ingredients: The KitchenAid Diamond 5-Speed machine will prepare hot soup from scratch because it does not heat any liquids via friction and it either does not have any heating elements. If you want to process already heated food then the user manual advice to cool the liquids before use if possible or when blending boil hot ingredients it requires to remove the cup from the insert in the middle of the lid and cover it with the towel to regulate the pressure the hot food may create inside of the container. Although it is not straightforward but seems clear that this machine is not really designed for blending hot liquids. Some consumers who used the machine for tasks like bulletproof coffee complain that the pitcher sealing gasket wearied out soon after using it for hot liquids. However, this machine is perfectly capable of pureeing cooled down ingredients for soup.
Pureeing: This KitchenAid Diamond 5-Speed Blender can successfully puree cooked and raw vegetables with some liquids added. It is able to make delicious hummus with a decent amount of liquid, however, it requires to scrap down the sides in between purée pulsing, but it came out well blended.
Chopping/food prep: Mayonnaise, salad dressings, mayonnaise, guacamole, sauces, and salsa is what this blender does the best. It is capable of emulsifying various dips however the thick ones like hummus with some efforts and enough liquids added. It is also perfect for veggies or nuts chopping. However, it is not powerful enough for chopping meat or fish.
Nut milk: The KitchenAid Diamond 5-Speed Blender will make decent nut milk, it easily pulverizes nut in liquids into homogeneous consistency.
Nut butter: This machine will be able to make nut butter from the soaked for few hours or roasted nuts (although not perfectly smooth) with stopping the machine a few times and mixing it with the spatula. Be prepared to add some oils and liquids also when processing your nut butter.
Grinding/milling: The KitchenAid Diamond 5-Speed Blender will grind the coffee, nuts, flax seeds, and grated cheese. The machine will also mill the oats and other soft grain but not suitable for making baking quality flour from the hard grains like wheat or rice.
Dough/batter: This machine is not designed to knead dough however it is perfectly capable of making delicious crepes or cookies batter.
Although KitchenAid Diamond 5-Speed is simple and not expensive blender there is a learning curve to learn how to use it most efficiently. For example, to blend the decent green smoothies you have to pulse it, then apply chop speed and puree at the end, it involves few steps, so in few minutes and few steps, you will be able to achieve a good result.
Speed Settings and Programs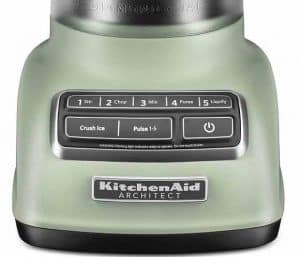 The KitchenAid Diamond 5-Speed Blender is equipped with 8 buttons the power – Pulse, Ice Crush pre-set program, and 5-speed buttons – 1) stir, (2) mix, (3) chop, (4) puree, and (5) liquefy.
To start blender operating the user have to press the power button and then choose the speed, Ice Crush pre-set, or Pulse functions. If the user wants to use the pulse then after choosing the pulsed it also requires selecting the exact pulse speed from 5 available ((1) stir, (2) mix, (3) chop, (4) puree, and (5) liquefy).
The Crush Ice button is pre-programmed to pulse at different speeds for 30 seconds. The control panel design for KitchenAid KSB1575 Dimond, KSB1570E, and KSB655 model differs slightly only by the shape of buttons and absolutely identical in functionality.
So, the blender's choice of speed is quite good and allows the user to make a good array of nice recipes. All the buttons are slightly raised providing a little tactile feedback, so the user will never wonder if the button actually was pushed or not. Overall, the control panel looks very sleek and solid.
Ease of Using and Cleaning
Operating: The KitchenAid Diamond 5-Speed machine is very easy to assemble and use. Since it has the blade inbuilt into the pitcher it requires only put the pitcher on the base and turn pitcher clockwise until you hear the sound. Add ingredients, close the lid. And it is ready for running.
To disassemble the blender the user has to rotate the pitcher counterclockwise to unlock and remove it. Some people complain that it is hard to disassemble but it happens not very often just with some units. It has a great, secure locking mechanism and very easy pour with no drips.
Cleaning: The user manual indicates that the KitchenAid Diamond 5-Speed Blender is dishwasher safe for easy cleaning up. However, many consumers prefer to follow the self-cleaning procedure that is quite common for the blenders with an irremovable blade system. Fill the jar with the halfway water, add few drops of soap and run it for 30-60 seconds. In order to keep blender clean, it is advisable to rinse it immediately after use, so it will not build up the accumulation. After the rinse it may, e cleaned in the dishwasher or with the self-cleaning procedure.
Base Unit and Motor Power
The interior build quality of the KitchenAid Diamond 5-Speed Blender seems great and heavy duty because it comes with the heavy die-cast base that looks sturdy and solid. However, it is equipped with quite low power motor of only 0.9HP (671 watts) what is typical for cheaper blenders under $50. Nevertheless, KitchenAid 5-speed blender definitely will outperform functionality of $50 machine and competes with the machines that cost under $100 and equipped with the power up to 1100 watts. Thus the motor has a good design although the power is rather low for this price range.
But the KitchenAid Diamond 5-Speed Blender motor construction still has one drawback. The gear that affixed to the bottom of the pitcher is made of plastic. The plastic gear is located at the place of high-speed spinning thus exposed to high loads and may disintegrate quickly what considerably reduces the durability of the machine. 
Containers
All KitchenAid models come with the same quality BPA–free plastic containers that are designed to handle liquids heated up to 180 F. The jars are heavy duty and seem quite durable there are no reports of cracking and breaking of it even when it accidentally was dropped.
However different models this machine equipped with different capacity and shape containers:
KSB1575 Diamond comes with 60 oz. soft grip and diamond-shaped container;
KSB1570 has a simple rounded shape and 56 oz. capacity;
KSB655 has also simple rounded 56 oz. container and additional 24-oz. culinary jar for grinding and milling the smaller amount of ingredients.
Blades
The KitchenAid Diamond 5-Speed machine comes with the blade permanently inbuilt into a machine that replicates the design of heavy-duty commercial type blenders like Vitamix or Blendtec. The blades are very sharp, made of stainless steel, and seem to be a good quality. However, some consumers report that they may become dull within 1 year if use.
Special Features
Colors: KitchenAid KSB1575 Diamond is available in 21 colors –black, white, cappuccino, purple, and few shadows of metallic, red, pink, blue, yellow, green.
The KSB1570 with the 56 oz. pitcher is available in 4 colors – black, red, white, and silver.
The KSB655 model that comes with 56 oz. Pitcher and culinary jar available only in two colors – red and black.
The different color units also sold at different prices.
Certified Refurbished: All three models are available in certified refurbished condition. The price for refurbished units sometimes twice cheaper than for original units.
Use in countries outside of USA/Canada: The units sold in the USA and Canada come with a 110-120 voltage system only. This machine is also available in many countries around the world and it is better to buy it locally otherwise, the voltage transformer will be needed to operate in countries with a 220-240 voltage system.
Check here the best price for the KitchenAid 5-Speed Diamond Blender
Noise
The KitchenAid Diamond 5-Speed BlenderiBlender is the quietest one, especially considering its low power. The usual advice to reduce the noise output is to place rubber placement underneath of the base unit.
Warranty and Customer Service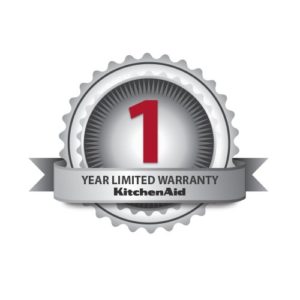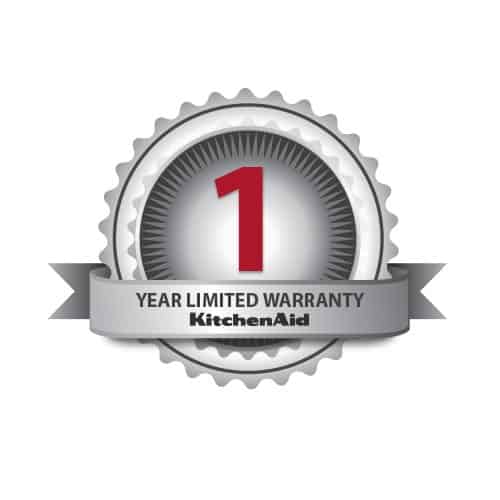 All three models usually come with only a 1-year limited warranty which usually reflects the durability of the unit. The KitchenAid customer service is usually quite helpful and replaces the faulty items without the problem.
The KitchenAid website may show the 5 years limited warranty but the price for the unit is much higher than other retailers' offers, so the warranty usually also reflected in the price. Nevertheless, it is possible to buy the extra extended warranty for kitchen appliances with Amazon and other retailers.
Optional Accessories and Attachments
The KitchenAid does not offer any extra accessories for any of the models. It is only possible to buy a replacement container with inbuilt blades from the manufacturer or from online retailers.
Set Includes
Unit base with 0.9HP power motor;
60 oz. jar for KSB1575 model, 56 jars for KSB1570 model, and 56 oz. and 24 oz. containers for the KSB655 model;
Lid with measuring cup;
Use and Care Instructions.
Dimensions
This machine has a compact footprint of only 7 x 9 inches, however, it is quite tall with the total height including the lid and cup it measures nearly 18 inches and will not fit under the standard kitchen cabinet.
The machine weighs around 9.4 pounds with a shipping weight of 12 pounds. It also equipped with 44 inches power cord. The cord does not have any storage underneath of the base unit.
Pros and Cons
Pros:
The KitchenAid Diamond 5-Speed Blender has a sleek and fairly versatile machine.
This machine makes decent quality drinks including the green smoothies.
Although the motor has only 0.9HP it quite powerful to perform many functions which similar wattage machines usually cannot do, so it can save some money on energy consumption.
Cons:
The KitchenAid Diamond 5-Speed machine comes with the partly plastic blade to motor coupling what tends to wears out the system.
Although this machine looks solid and sturdy it is not very durable and has few issues which influence its lifespan.
It has only a 1-year limited warranty which is rather small for the reputable brand.
KitchenAid 5-Speed Blender Consumer Reviews
The KitchenAid brand has a very good reputation among the customer and this blender is no exclusion. It is very popular and has a number of very positive reviews.
Amazon rating – 4.3
KitchenAid KSB1575 Diamond 5-Speed Blender Price
The KitchenAid blender price varies greatly between different retailers. The manufacturer's site selling it at around $160. Some online retailers offer a very attractive prices for this unit and Amazon often offers the best bargain (depending on unit color).
Check here the best price for the KitchenAid KSB1575 Diamond 5-Speed Blender
Summary
In general, the KitchenAid KSB1575 Diamond KSB1575/KSB1570/KSB655 5-Speed Blender is the quite good machine if you can grab it for under $100. It has some issues with drive coupling, the blade gasket, and thus durability but it quite a versatile machine with very powerful for such low energy consumption motor.
Would you like to consider a more powerful KitchenAid blender?  Read our "KitchenAid KSB4027 K400 Countertop Blender Review" article.
Thinking about the alternative option? Check here our article Best Countertop Blenders under $100 and KitchenAid 5-Speed Diamond Blender vs Oster Pro 1200 Blender.