Manual masticating juicers make up a qualified category in the juicing world that contributes to obtaining high-quality juice from a range of fresh ingredients. Although these juicers are mainly designed for extracting juice from wheatgrass and leafy greens, they are able to juice other ingredients including firm carrots and apples while it is not what they do best, they could be used successfully for many combination juice recipes that comprise of the leafy greens and firm produce types.
Besides, they are powered by the user's physical effort instead of electrical energy and use a lever or a crank to operate, thus they are silent and can be used without disturbing your home dwellers and also less expensive than electric juicers. Despite being manual this category of juicers uses masticating technology, hence able to extract high-quality juice that preserves a vast quantity of dissolved nutrients from very tricky ingredients.
Today, there are many brands of manual masticating juicers in the market. If you need to purchase one, you might go through struggles to distinguish the best model from the many varieties. Here are some of the best manual masticating juicers.
The Original Healthy Juicer (Lexen GP27)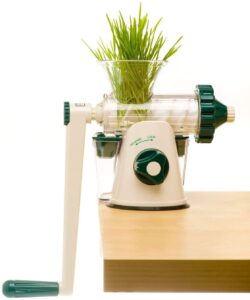 Lexen GP27 manual juicer is manufactured by Healthy Juicer Company which was established in 2003 with an idea in mind to bring to life good quality and affordable juicer so the consumers on the budget could also lead a healthy lifestyle by juicing. The juicer is manufactured in China, distributed by USA company Healthy juicers, and comes with a 1-year warranty.
Juicer design: The Healthy Juicer has mastication singles auger design and thus comes with the body, crank, auger, the chamber that covers the auger, end cap, end cap screw, and 16 oz. juicing container with a strainer.
The Juicer expels the pulp from the end cap outlet in front of the device and juice from the juice outlet at the back of the device. The juicer does not have the juicing screen, instead, the juice collection container comes with the removable strainer for separating excess of pulp from the juice. Although, it has a very simple but very efficient design that handles a range of ingredients very well.
During juicing the juicer could be attached to the kitchen counter or other surface for stability in two ways – with a very strong suction base or with the stainless steel table clamp. You can use one of the fixation method or both depending on the surface you need to fix it to. Both methods separately and together work very well and keep the juicer very stable.
Besides, the juicer comes with a plunger and doubles as a wrench for fixing the suction base mechanism, however, it is rarely needed as the juicer virtually self-feed does not require much effort for operating. There is another wrench included in the set and designed for fixing the end cap pressure.
Construction materials:  Its auger and parts that contact with food are made from BPA-Free plastic that is health-safe. The auger has its tip made of stainless steel, the end cap that contact with the contact with an auger is also has a stainless steel insert which enables it to process even the tough food ingredients.
The exterior part of the body and crank are made from very strong tough Polycarbonate (Lexan) which is practically indestructible. All materials that are used for the Healthy juicer constructions are FDA approved.
Functionality: Notably, Healthy Juicer Lexen GP27 is excellent at juicing wheatgrass and other leafy greens such as chards, kales, lettuce, and spinach and, collard greens, cabbage, sprouts, and herbs. It is squeezing a very decent juice yield from leafy greens and wheatgrass that is comparable to this electric masticating juicers. It also outputs a good juice yield when processing celery, apple, and citrus fruits (very dry pulp). Juicing other ingredients like carrots or beets can also be done but with some strains, however, you can use it for combination juicers that include firm carrots, or apple and leafy greens.
For better results keep the green end cap very tight for most of the ingredients and remove the white end cap for apples, but keep it for oranges.
It is also designed for making fairly decent nut butter and frozen fruit sorbets.
Using and cleaning:  This device is very easy to assemble/disassemble, use, and clean and almost everyone can use it to juice. Furthermore, the juicer does not come with the juicing screen that is most laborious to clean. The plastic body, auger, chamber, and container are easy to clean, all cleaning process will not take more than 30 seconds. It is not a dishwasher safe but it is not needed manual cleanings fast and simple.
Summary: Generally, this juicer is a great device if you intend to process small volumes of mostly wheatgrass, leafy greens, or combination juice with occasional juicing other fruits and vegetables. It does deliver excellent juice yield for greens and wheatgrass, very affordable, has simple design while remarkably sturdy and very easy to use and clean. The plastic body makes this juicer model one of the lightest and smallest (7.5″ x 8.5″ x 4.25″, weights 2 lbs) and therefore making it suitable when on the go.
Additionally, specialists from the Hippocrates Health Institute recommends Healthy Juicer Lexen GP27 as the best manual wheatgrass juicer.
Healthy Juicer Lexen GP27, via Amazon
Tribest Z-Star Z-710 Manual Juicer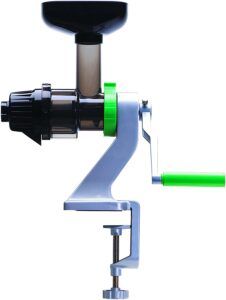 Tribest Z-710 Manual is a juicer model that has gained its popularity over time and can be classified among the best in the juicers' market. It is manufactured by Tribest Juicers' company in South Korea and has a 1-year warranty.
Juicer design: The Tribest Z-Star Z-710 Manual Juicer has a single auger design and most of the part similar to Tribest Solostar III Juicer (with an electric motor) with the only difference it is powered manually. It means it can perform all the Solostar functions but you need to use some manual efforts for this. So the juicer comes with a plastic body, extras strong auger, dual-stage strainer, plastic transparent chamber cover, end cap, and juicing container.
Additionally, the juicer comes with a homogenizing screen from food processing tasks, and 4 nozzles set for extruding pasta.
Construction materials: The Tribest Z-Star Z-710 body made from painted aluminum-plastic, juicing parts such as the auger and strainer frame is made from extras strong BPA Free GE Ultem materials that assure you longer juicing time for it is durable, the strainer perforated part is made of stainless steel. The chamber and end cap are made of a durable BPA-plastic to guarantees you a chemical-free juice. While the crank that does not contact with food made of strong polycarbonate.
Functionality:  With this model, you will are sure of extracting juice not only from leafy greens and wheatgrass, celery, citrus, and apples but also from both soft and hard veggies and fruits including fibrous ginger within minutes. Before feeding the juicer, ensure that firm fruits and the vegetable are chopped into small pieces.
Also, the juicer comes with an extra blank/ homogenizing screen for the preparation of frozen desserts, nut butter, sorbets and purees, and four (4) pasta nozzles for extruding different pasta and noodles shapes.
Using and cleaning: The Tribest Z-Star Z-710 Manual Juicer is very easy to assemble and disassemble and use, the same to a typical single auger machine with a motor.
While when it comes to cleaning it is not as easy to clean as a Healthy juicer since it is equipped with a proper juicing strainer. The manufacturer recommends cleaning all juicer parts manually (no dishwasher). Use warm water and a cleaning brush that accompanies the juicer. In case there is sticky pulp on the screen, you can put those parts in a bowl containing warm water for 1-2 hours.
Summary: Tribest Z-Star Z-710 is a versatile manual juicer that handles the widest list of produce for the manual device the same as motorized Tribest machines not only leafy greens but the full range of firm and soft fruits and veggies. Besides, it is compact (13″ x 11.5″ x 5″, weights 7.6 lbs/ 3.1 kg) and therefore can turn to be a vital appliance in your kitchen if you seeking to buy full capacity single auger juicer but powered in a manual old school way.
Tribest Z-Star Z-710 Manual Juicer, via Amazon
Handy Pantry HJ Hurricane Stainless Steel Manual Wheatgrass Juicer (BL-30)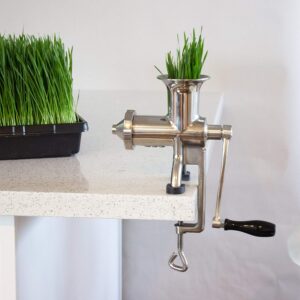 Handy Pantry HJ Hurricane juicer is another high-quality single auger masticating manual juicer that can be ranked among the best, 100% made from stainless steel, and will last a lifetime. This juicer model is manufactured in Taiwan and comes with a five (5) year warranty.
Juicer design: The juicer has a simple but typical single ager design and constructed with the following parts – juicer body, crank handle, auger, perforated screen, end cap, and plastic pusher. The juicer set does not include any juicing or pulp containers and will fit a small shot glass or coffee cup under it for juice collection. The body has a very generous circle shape feeding inlet with a size of 3.4″ x 3.4″ (86 x 86 mm) in diameter which is very easy to feed.
The device does not have any suction fixing and comes with only clamp features that keep the juicer stable during juicing, the clamp will suite the countertops less than 2 ¼ " thick and a minimum 1″ of depth for proper attaching to it.
Construction materials: Handy Pantry HJ Hurricane is a 100% made from stainless steel (grade 304) including the auger, body screen, end cap, and even crank handle which makes the device durable, ensures it will not rust, hence ensuring the user enjoys a most likely lifetime juicing service.
Moreover, this type of material is food grade and thus health-friendly, therefore you will enjoy the juice with no doubt about your health. To those who mind about the appearance, the model has a better finish which can match your modern kitchen.
Functionality: Handy Pantry HJ Hurricane Stainless Steel best juice yield on wheatgrass, barley grass, and other leafy green ingredients including kale, spinach, parsley, dandelion, sprouts, and others. It also handles perfectly stringy food such as celery and ginger. But, it can still juice other food ingredients such both tough and soft fruits and vegetables like carrot, pears, apples, pineapple, and citrus fruits but you have to cut them into smaller bites.
The juice output from this juicer is of high quality and very dry pulp. During operation, it is estimated that it can juice 1 oz. of juice per minute.
Using and cleaning: The juicer requires some efforts to crank however an average person can do it easily. In general, it is intuitive to operate the juicer for it does not require many skills.
The juicer comes with few parts and thus very easy to assemble and disassemble. You can also easily mount this juicer on a 2.25 inches thick countertop for it has a rubberized clamp. Since this kitchen device is made of stainless steel, it is will take you a very short time to clean its parts. Also, the parts of this juicer model are dishwasher safe.
Summary: Among all the manual juicer, this model is mostly preferred for juicing wheatgrass and barley grass. It is not only affordable but also has a five years warranty. Furthermore, it has a moderate size 12.6″x7.9″x4.7″ and relatively lightweight (5.7 lbs (2.6 kg)) model that will give you a superb experience. By picking it, you are sure of improving juicing and reducing the cost that you may have incurred when using an electric juicer.
Handy Pantry HJ Hurricane Juicer, via Amazon
Moongiantgo Manual Wheatgrass Juicer Extractor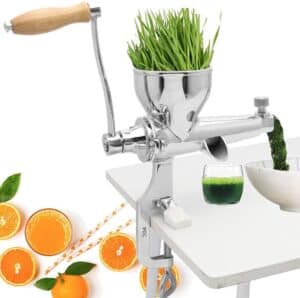 Moongiantgo is another manual masticating single auger wheatgrass juicer that is manufactured by the Moongiantgo Company specializing in commercial kitchen equipment in India. It offers a few wheatgrass crank juicer styles.
Juicer design: The Company offers 4 major juicers styles – Classic, Classic Upgraded, Detachable Slag, and Suction cap. These devices come with the following similar parts – the juicer body, auger, perforated screen, crank handle – while differing by the design of pulp pressure regulation and juicier fixation to the countertop surface.
The Classic and Classic Upgraded models coms with the clamp fixation option only and have very similar pulp regulation mechanisms, however, the upgrade one has more advanced and easier to use. These models allow the user to adjust the pressure the pulp expelled from different ingredients that ensure the better juicer yield for a wider variety of ingredients. They also have a similar juice outlet construction that has an inner drill feature, round feed port, and three juice holes where the juice dripping from. 
The detachable Slag Outlet model has the identical to the Handy Pantry HJ Hurricane juicer design with the clamp fixation only option and screw able end cap.
The Suction Cap Base also has very similar to the Handy Pantry HJ Hurricane juicer design however, comes with a suction base and fixation clamp options that allow the juicer use on a wider variety of surfaces. The suction base design is very similar to the Healthy juicer one.
Construction materials: The juicer's main body is made from a zinc alloy but this part does not come into contact with the ingredients. Instead, the ingredients contact parts are made from food-grade stainless steel (304) which is a food-safe material.
Functionality: As a matter of fact, this is a multipurpose juicer and can efficiently juice not only wheatgrass and leafy greens such as celery, spinach, kale, parsley, and others but a wide range of food product like ginger, pomegranate, apple, orange, grapes, and firm and soft vegetable. Hard ingredients like sugarcane are not suitable for this juicer.
Using and cleaning: You need no special skills to run this kitchen appliance hence, most users can intuitively operate it. Before feeding it with the ingredients, you are to clamp its body to one edge of your kitchen countertop. The countertop edge should not be more than 5.5 cm.  After juicing, the parts of this juicer can be cleaned manually or using a dishwasher. Ease of assembling and dissembling of parts makes it simple to clean.
Uses a single auger to squeeze high yield juice from juicing ingredients. To ensure that the juicer's handle rotates normally, there should be a gap between the shaft sleeve and the auger.
Summary: Moongiantgo manual juicer is your go-to model, especially if you need a multipurpose juicer. Its ease of use, ease of cleaning, durability, and the three juicing holes are some of the features that make it efficient.
Moongiantgo Manual Wheatgrass Juicer Extractor, via Amazon
Final Thoughts
Particularly, all the above manual masticating juicers are very efficient at leafy greens and wheatgrass juicing and will deliver a very similar yield that is approximately 5 ounce of juice from 0.5 lbs. (225 g) of wheatgrass. They are all more affordable than electric single auger juicers, light, compact, and produce high-quality nutrients-packed juice. Therefore, purchasing one will excel in your juicing experience. Do you wonder how to select between them?
The Healthy Juicer (Lexen GP27) is a cheap and most affordable juicer, while it can handle a few ingredients but it will be excellent entry wheatgrass and leafy greens juicer option for people on the budget. Although, the juicer is made of plastic but very stable and delivers the same wheatgrass and leafy greens juice yield from wheatgrass as the most expensive stainless steel manual juicers.
Tribest Z-Star Z-710 Manual Juicer is also made of plastic but it has a design absolutely identical to the electric Samson III single auger mastication juicers and thus is the most multifunctional juicers and delivers the excellent 5 ounces of juice from 0.5 lbs. of wheatgrass.
The Handy Pantry HJ Hurricane Juicer is the oldest manual stainless steel juicer that very popular and well known among the consumer. It is lifetime durable, handle well not only leafy greens and wheatgrass but also a variety of other ingredients, very easy to use, and comes with 5 years warranty.
While Moongiantgo Manual Wheatgrass Juicer Extractor is not very well know, nevertheless it offers four stainless steel durable single auger manual juicer designs, from which you can select the best that suits your requirement, such as with adjustable pulp outlet or with suction base.