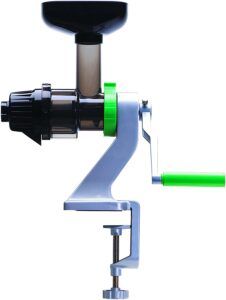 Z‑Star Z‑710 Man­u­al Juicer from Tribest is a man­u­al hand crank non-expen­sive juicer and an upgrade for the Z‑510 mod­el. It is designed for easy juic­ing wheat­grass and oth­er leafy greens in your home or on the move and man­u­fac­tured by the Tribest brand, which is known for high-qual­i­ty home appli­ances, includ­ing sprouts, juicers, blenders, food dehy­dra­tors, yogurt and soymilk mak­ers, and oth­er lifestyle prod­ucts and acces­sories that ener­gize the life and help main­tain a healthy lifestyle.
The upcom­ing review is an account of some of the Z‑Star Man­u­al Juicer fea­tures that we found pret­ty useful.
For alter­na­tive mod­els check the Best Man­u­al Sin­gle Auger Mas­ti­cat­ing Juicers — Entry Juicer Options arti­cle.
Dis­clo­sure: As an Ama­zon Asso­ciate, we may earn an affil­i­ate com­mis­sion for pur­chas­es you make when using the links on this page.
Tribest Z‑Star Z‑710 Design and Materials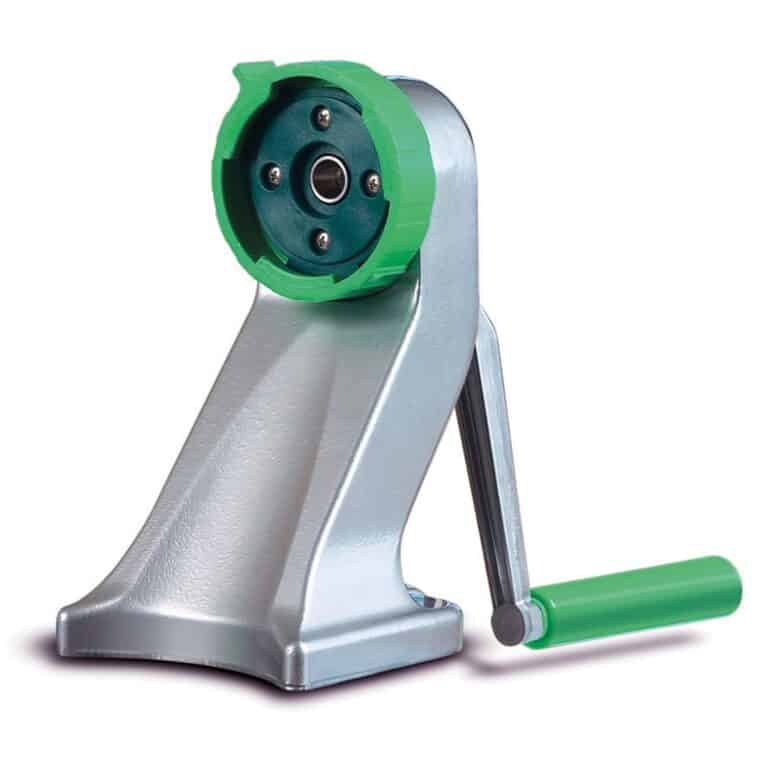 The Z‑star is a good-look­ing man­u­al juicer and does not look out of place in the most mod­ern of kitchens.
The Z‑Star man­u­al juicer fea­tures an exclu­sive sin­gle-auger design that can extract superb qual­i­ty juice with­out the need for elec­tri­cal pow­er. The exclu­sive­ness of the design comes from the fact that this machine has iden­ti­cal to the motor-pow­ered Tribest Solostar III Juicer's major con­struc­tion­al parts that include — auger hous­ing, auger, dual-stage juic­ing screen, screen lock­ing cap, and even extra attach­ments. This makes this juicer able to process a wide range of ingre­di­ents and even per­form addi­tion­al food pro­cess­ing tasks.
Base Unit: The juicer's main body is made of alu­minum, which is nice­ly paint­ed to give a rust-free juic­ing envi­ron­ment. The crank han­dle is also very strong, made of met­al, and eas­i­ly remov­able. There­fore, when you are not using the juicer, you can elim­i­nate the amount of room that the juicer con­sumes. The base unit comes with a met­al-made G‑clamp designed to fix the juicer to the work­top surface.
Hous­ing: The juicer cham­ber with the feed­ing chute is made of see-through and durable East­man Tri­tan copoly­ester BPA-free mate­r­i­al, so you can view the effect of the auger as it crush­es and press­es out the juice of the pro­duce. The feed­ing chute has a cir­cu­lar 1.8″/45 mm in diam­e­ter opening.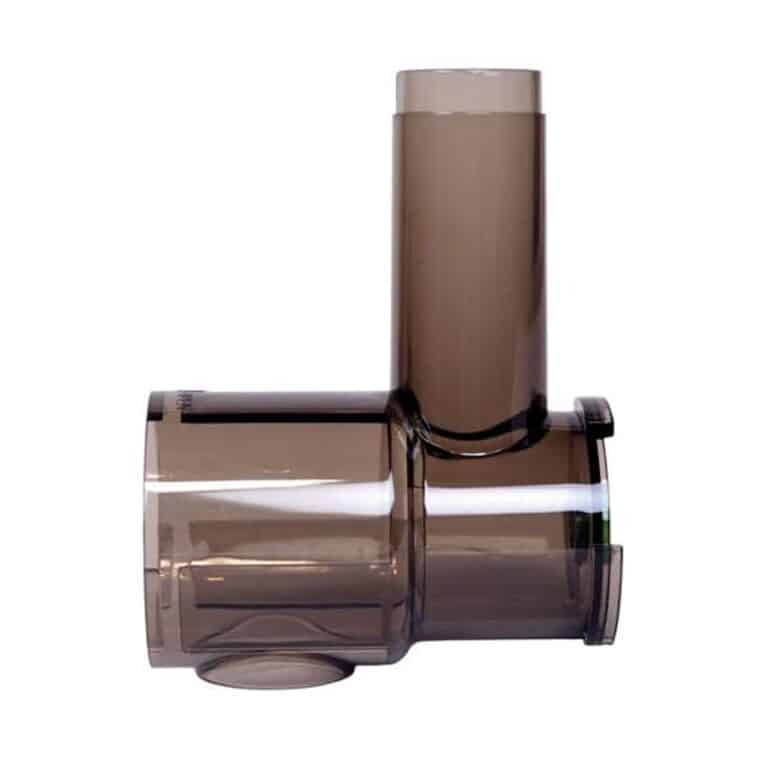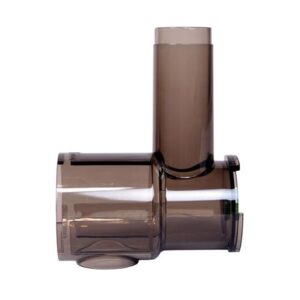 Auger: The auger has a spe­cial design for swal­low­ing ingre­di­ents easy to chew. It is made of extra strong and chem­i­cal-resis­tant GE Ultem resin to guar­an­tee a long ser­vice life.
Screen: The juicer screen is made of stain­less steel, and you are also pro­vid­ed with a tooth­brush-type screen for clean­ing the screen. The screen has a large meshed area divid­ed into coarse and fine holes that allow extract­ing max­i­mum juice yield from most of the ingredients.
Lock­ing cap: The juic­ing screens are locked to the hous­ing with the lock­ing cap; the lock­ing cap also fea­tures the adjustable end cap that reg­u­lates the pres­sure applied to the ingre­di­ents for max­i­miz­ing juice yield basi­cal­ly; for juic­ing wheat­grass or leafy greens, the user should fix it to the max­i­mum posi­tion and for soft­er ingre­di­ents to relax it more.
Extra attach­ments: The gad­get also includes in the set a range of extra attach­ments such as a homog­e­niz­ing screen and 4 noz­zles set for extrud­ing pas­ta — fet­tuc­ci­ni noz­zle, juic­ing noz­zle, spaghet­ti noz­zle, and homog­e­niz­ing nozzle.
Addi­tion­al­ly, it comes with Plas­tic Plunger to push down ingre­di­ents, Clean­ing Brush, and Fun­nel Lid.
Containers
It comes with cus­tom-made juice col­lec­tion con­tain­ers that fit nice­ly under the body. Unfor­tu­nate­ly, it does not include the pulp col­lec­tion container.
Using and Cleaning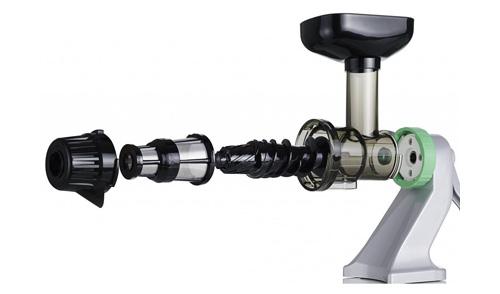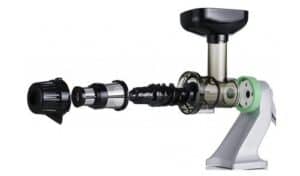 Assem­bling and dis­as­sem­bling: Set­ting up the Z‑star for use is a dod­dle, and it could be accom­plished even with­out read­ing the instruc­tions in the man­u­al. To start using it, you just fix it on a smooth, lev­el sur­face; with the G‑clamp, the juicer base has rub­ber grips to avoid any dam­age to your work surface.
Next, the han­dle should be attached to the base, and the Auger is placed in the auger hous­ing and locked in place the auger hous­ing to the base with a retain­ing ring; next, screw the lock­ing cap with the noz­zle to the auger housing.
It nor­mal­ly takes 30 sec­onds to dis­as­sem­ble the juicer.
Clean­ing: Clean­ing the device parts is com­par­a­tive­ly easy, and as with all juicer machines, if you wash imme­di­ate­ly after juic­ing, it becomes a lot eas­i­er when you have let the juice pulp dry onto the juic­ing screen, the screen with sticky pulp, you can soak in the warm water for 1–2 hours. Nev­er use water above 40 degrees C to clean the unit and parts, result­ing in defor­ma­tion or oth­er dam­ages. Remem­ber that the juicer is not dish­wash­er safe. There is a brush pro­vid­ed to clean the screen cylin­der easily.
Tribest Z‑Star Z‑710 Manual Juicer Functionality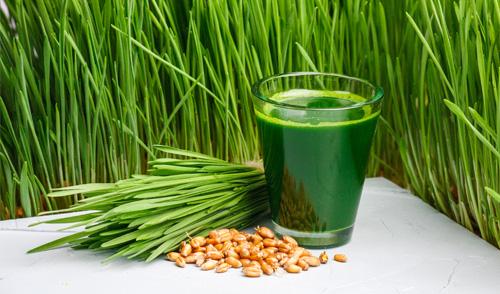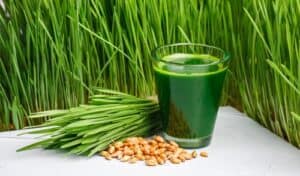 The Z‑Star man­u­al mod­el is designed for high­ly gen­tle and effec­tive ingre­di­ents pro­cess­ing. It extracts a decent amount of superb qual­i­ty juice from a vari­ety of ingre­di­ents with­out the need for elec­tri­cal pow­er. Since it oper­ates at a very slow speed, the final prod­uct comes out with low oxi­da­tion and thus has a long shelf–life. In addi­tion, the juice does not seem to con­tain a large amount of froth as pro­duced by most elec­tric-pow­ered twin juicers.
Although man­u­al crank juicers are usu­al­ly the ulti­mate wheat­grass and leafy greens device, the Z‑Star Z‑710 also han­dles oth­er ingre­di­ents well; no won­der it has the con­struc­tion­al part sim­i­lar to the elec­tric Tribest juicers. So it can process:
It will deliv­er about 5 ounces of juice out of 0.5 lbs. of wheat­grass; more­over, feed­ing wheat­grass through this man­u­al juicer takes no longer than feed­ing it through an elec­tric juicer, and also not much effort is need­ed for turn­ing the crank handle.
Leafy greens such as kale, Swiss chard, col­lard green, and dan­de­lion are also the ingre­di­ents which this juicer excels in juicing;
Beets, car­rots, turnips, turmer­ic, and gin­ger are no prob­lem fine as long as you feed them slow­ly and pre-cut thick ones; the stringy gin­ger may cause some prob­lems and need pre-cut;
Apples, pears, and even soft­er toma­toes and cucum­ber his juicer han­dles just well;
Since the juicer set includes addi­tion­al attach­ments such as a homog­e­niz­ing screen, it also makes nut but­ter, ice cream, and baby food, able to homog­e­nize and grind fresh gar­lic, onion, gin­ger, or peppers;
With the noz­zle set for extrud­ing pas­ta, it makes dif­fer­ent sorts of pas­ta, includ­ing noo­dles, and spaghet­ti, makes shapes, and makes rice cakes, and breadsticks;
Make sure you cut the mate­ri­als into small­er length­wise pieces. If the oper­a­tion is very noisy, check out if the unit is lev­eled on a flat surface.
Set Includes
Paint­ed Alu­minum Frame and Handle;
Large G‑Clamp;
Clear Plas­tic Hous­ing with Funnel;
GE Ultem Sin­gle Auger
Dual Stage Juic­ing Screen;
Blank Screen for Homogenizing;
Screen Lock­ing Cap/Juicing Nozzle;
Plas­tic Lunger;
4 Pas­ta Nozzles;
Juice Con­tain­er;
User Man­u­al.
Dimensions
With a size of only 13.2 in /335 mm x 12.6 in /320 mm x 4.9 in /125mm, the Tribest Z‑Star Man­u­al mod­el (prod­uct code: Z‑710) will con­sume less space in the kitchen than some of the oth­er elec­tric-pow­ered juicers. In addi­tion, while the weight of 6.8lbs /3.1kg, it is light and easy to car­ry, mak­ing it per­fect for trav­el­ing, and most peo­ple use it at home.
The coun­ter­top or table to clamp on to must not be more than 2.75″ thick and should be at least 2″ deep.
Warranty
The prod­uct is cov­ered under a man­u­fac­tur­er war­ran­ty peri­od of 1 year against defects in mate­ri­als and work­man­ship from the orig­i­nal date of pur­chase. Tribest is very good at accom­mo­dat­ing and hon­or­ing a war­ran­ty claim and ships the replace­ment part when need­ed quick­ly and free of charge.
Tribest Z‑Star Z‑710 Manual Juicer Price
Tribest Z‑Star Z‑710 Man­u­al Juicer is not the cheap­est man­u­al crank juicer. How­ev­er, con­sid­er­ing its qual­i­ty and com­pat­i­bil­i­ty with the Tribest Solostar 3 and 4 pow­ered motor base juicers, it has a rea­son­able price for peo­ple on a bud­get or those look­ing for a no-brain­er small-size juic­ing device.
Summary
Over­all, the Z‑Star is a bril­liant man­u­al juicer designed to juice leafy greens and wheat­grass and juice some fruits or veg­gies if nec­es­sary. The juicer per­forms exceed­ing­ly well on most of the ingre­di­ents, includ­ing the fruits and veg­gies, while it requires some mus­cle for juic­ing firm pro­duce. Since it includes a few attach­ments, it also can make nut but­ter, frozen desserts, and oth­er homog­e­niz­ing tasks.
In actu­al use, the Z‑star juicer is well built and feels quite sol­id; no won­der it has all the Tribest Solostar III elec­tric sin­gle auger mas­ti­cat­ing juicer where the hand-cranked base replaces the motor base unit. As a result, the Z‑Star is good for those who want to juice main­ly leafy greens and wheat­grass but at the same time would wish to dilute the taste with apple juice or vegetable.
You may also check our arti­cle Best Man­u­al Sin­gle Auger Mas­ti­cat­ing Juicers for alter­na­tive options.