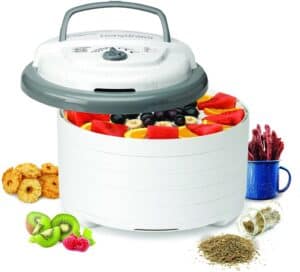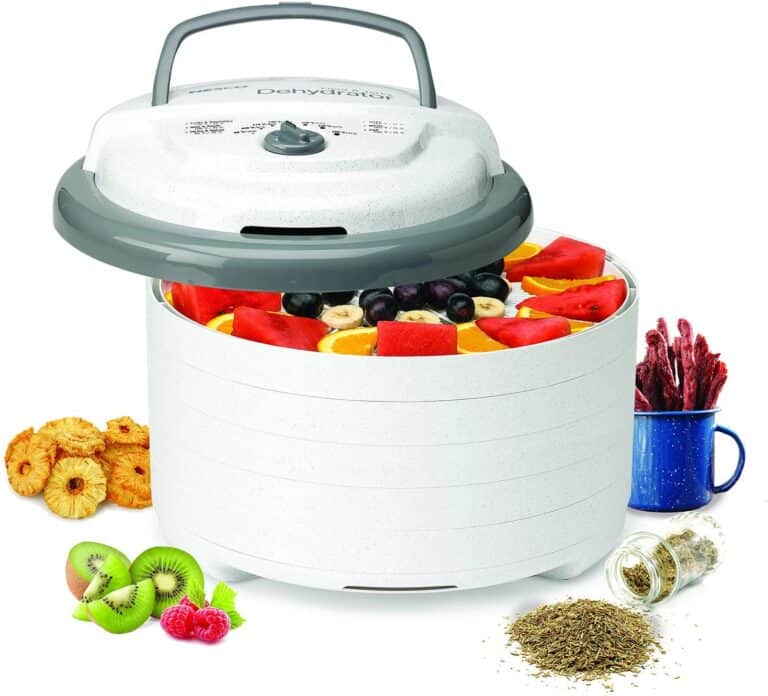 Nesco FD-75-A dehydrator is a dehydration product from the Nesco Limited Company, which belongs to the Metal Ware Corporation. This company ventures in manufacturing dehydrators and other kitchen appliances.
The Nesco FD-75A dehydrator model has various dehydrating features that make it very common in the dryer world. For example, an efficient drying system that allows quality and efficient drying of food ingredients. The presence of an adjustable thermostat that ranges from 95ᵒ Fahrenheit- 160ᵒ Fahrenheit makes it flexible to achieve the dehydration of several forms of food ingredients. It also comes with some extra dehydrating accessories, which makes food dehydration simpler.
Features and more information about this model are discussed at length.
Design and Technology
Converga-flow system: Notably, the airflow design of this dehydrator contributes significantly to increasing its drying efficiency. During dehydration, you will notice the presence of a patented design known as the Converga-flow system. Here, the hot air that originates from the top of the unit, is forced downwards via the outer shell. Afterward, the warm air moves horizontally across the food ingredients in the trays hence causing even distribution of heat throughout the unit. This Converga-flow design eliminates all the moisture drying food uniformly even if it does not specifically have a horizontal airflow design.
Vita-save Technology: It is known that exposure to dehydrating food to atmospheric light and air might affect the quality of the food. Both light and air will cause the degradation of nutrients in it.
The manufacturer of the NESCO FD-75A dehydrator has responded to this fact and used a vita-save technology for the outer shell in this dehydrator. Your food ingredients will no longer be put at risk of these two factors. The presence of the vita-save shell means that everyone can use this dehydrator model in a properly lit room, whether in the living room, kitchen, or dining room, with no issues.
Exterior Design and Wattage
Generally, this device has a contemporary design and fits perfectly into any kitchen interior scene.
From the manufacturer, you will receive five trays which accompany the dehydrator model. However, this kitchen device is stackable, depending on the quantity of food you want to dry. You can decide to expand the drying space and stack up to 12 trays. Many trays are also essential since they reduce the number of trips you need to dry certain types of food ingredients, therefore enabling you to save your time. When dehydrating a small amount of foodstuff, you can also eliminate the trays which might not require.
This dehydrator model has a fan mounted at the top of the unit. With the help of its motor, the fan initiates airflow. Particularly, it has 600 watts motor, which provides enough power to enable the generation of heat.
Trays
The five trays that come with this unit have a diameter of 13 ½ inches. All these trays are made from sturdy and health-safe BPA-Free plastic. Besides, each tray has a 0.8 sq. ft. of drying surface area, five trays – 4.5 sq. ft. Although the capacity of the unit can be added to make them 12 trays with 10 sq. ft. of drying surface.
Apart from trays, there are other additional accessories that accompany this dehydrator model that are also imperative during drying. There is two mesh (clean-a-screens) that are put on the tray to prevent small food ingredients from falling. They are essential when drying some foodstuff like blueberries and herbs. Also, these mesh screens are flexible; hence are necessary for dehydrating most sticky food like pieces of bananas.
Additionally, there are two other solid-fruits roll sheets which the user can use to dry liquids to come up with fruit leather. Only two sheets of each kind accompany the dehydrator, if you require more of such sheets, you need to pay for the extra ones.
Control Panel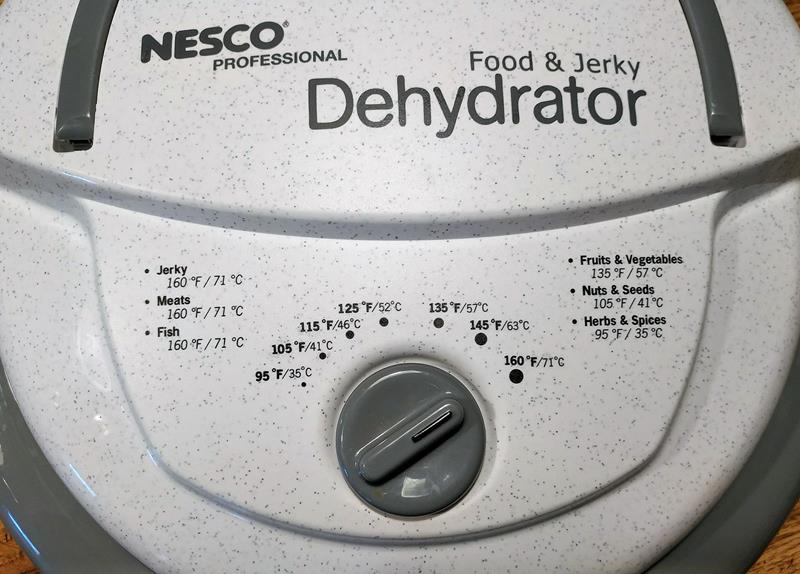 The top of the Nesco dehydrator features the control panel. In fact, it has only temperature controls.
Thermostat: The control panel of this device has temperature settings, which are quite necessary when drying varying types of food ingredients. There is an adjustable thermostat dial with a temperature range of (95ᵒF-160ᵒF) which is further divided into seven varying levels – 95ᵒF, 105ᵒF,115ᵒF, 125ᵒF, 135ᵒF, 145ᵒF, and 160ᵒF. All you need to do is utilize the recipe book that accompanies this dehydrator to know the temperature at which a particular food type should be dried. Afterward, you can set the thermostat at a suitable temperature depending on the food ingredient of your choice.
Timer: Most dehydrator users would like to dry meat and other food ingredients that take a long time to dry at night. They would like to load the food in the device and retire to bed, having set a timer to enable the device to switch off itself automatically. However, the Nesco FD-75A dehydrator does not have a timer. Whenever you require to dry certain foodstuffs, you will need to switch off the device after complete dehydration. Here, you got to be extra careful or end up damaging your favorite foodstuff by overheating.  Alternatively, you might need to buy your timing device if you want to integrate an automatic shut off feature. 
ON/Off switch: It lacks the ON/OF switch, although the power system of this device works efficiently. It would be wise to note this feature before deciding to purchase this brand so as not to find it odd. If you need to start it, you need to plug the cord in the power socket. When you are done with dehydration, unplug the power cord, and the device will automatically turn off.
Food Preparation and Functionality
That means you can comfortably dry your fruits, herbs, fish, berries, jerky, nuts, veggies, and other food ingredients like skim milk. When drying, you need to properly set your thermostat for the complete drying of a particular food type.
Any food type that requires food preparation should go through this food prep before dehydration. In most cases, meat and fruits require preparation to retain their flavor and texture. Since this dehydrator model has even circulation of warm air, it requires no tray rotation.
It is worth to know that the SnackMaster can do more than food dehydration. It can take the role of humidifier and can also be used for aromatherapy.
Using and Cleaning
Using this dehydrating model is a bit easier since no much is required for one to operate it. Both the young and the old members of the family can use it with no much effort.
Sometimes you may need to speed up the dehydrating process mostly if you have limited time, bearing in mind that this kitchen appliance lacks a timer. If you need to dry your favorite food ingredients a bit faster, you can opt to start the dehydration process at a higher temperature for a short time. For instance, fruits dehydrate correctly at a temperature range of 130ᵒ F to 140ᵒ F. To speed up this drying period; you can decide to start dehydrating them at 160ᵒF within the first hour.
Cleaning: In all honesty, to clean the trays you can use warm soapy water and a soft-bristle brush to for removing small food particles. The manufacturer also recommends you load the trays on the top rack if you are to use a dishwasher. Remember to remove the trays before the drying process since the high heat might damage them. Spread these trays out to dry. Cleaning of the blower is best done by wiping it using a damp piece of cloth, so never put it in a dishwasher. 
Dimensions
Nesco Snackmaster has an approximate weight of 9 pounds and has a dimension of 14'' by 22'' by 14''. These measurements show that most dehydrating enthusiasts can store it in their ordinary kitchen without allocating for the device a large counter or storage space. Its weight will also enable most users to move it with ease within the countertops.
Set Includes
Dehydrator unit with 5 trays;
Two (2) Fruit Roll Sheets,
Two (2) Clean-A-Screens meshed screens,
3 packs of Jerky Seasoning & Cure samples,
A 52-page recipe & instruction book.
Optional Accessories
If you are going to dry larger quantities of food you have an option to buy extra seven (7) Nesco trays to expand it up to twelve (12) and it will total an additional 12 sq. ft. of drying space. These Nesco trays re available at a very affordable price.
You can also buy additional Fruit Roll Sheets and Clean-A-Screens meshed screens.
Special Features
Color: It available in a combination with the white and gray finish only.
Operation outside of USA/Canada:  The Nesco FD-75A dehydrator model sold in the USA only comes with a 110-120 voltage system which is not suitable for regions with a 220-240 voltage system. Although the device could be operated via a voltage transformer in the countries with a 220-240 Volts system, it is not advisable as it may underperform.
Noise
NESCO FD-75A Snackmaster Pro is a very quiet device and one of the quietest among available dehydrators. It will emit approximately 55-60 dB while working.
Warranty
This dehydrator is equipped with a 1-year Limited Warranty, which includes defects in materials and workmanship.
The device is manufactured in the USA by Nesco/American Harvest Company with the motor produced in China. Nevertheless, customer service is provided by the USA based Nesco Company.
Pro and Cons
Pros:
Shows efficient performance and even food drying that does not require tray rotation;
Very compact and will not occupy much the counter space;
Can expand up to the 12 trays;
The adjustable thermostat allows various ingredients effective drying;
Easy to clean;
Low noise emission;
Affordable;
Cons:
Comes without timer;
Lack of ON/OFF switch.
Price
If you are looking for the good quality and inexpensive dehydrator that is well-built and does it jobs very well than the Nesco FD-75A dehydrator is a great value for money option.
NESCO FD-75A Snackmaster Pro Food Dehydrator, via Amazon
Summary
In spite of the existence of other dehydrator models, Nesco FD-75A Pro food dehydrator is a very popular machine since it has most of the essential feature which most users require. It can dry most of the foodstuff in your home since it provides a wide temperature range that guarantees you easy drying of foods like herbs and jerky. For you to dry large volumes of food ingredients within a short time, this dehydrator model comes with 5 trays though the user can opt to add 7 more and expand it up to 12 trays. So, you can also dry a large amount of foodstuff at a go within a short period.
To retain the nutritional value during drying, this dehydrator has a vita-save shell. Cleaning of this model is also made simpler by the top-mounted fan. This feature also increases the durability of the fan since no food drippings fall on the airflow system. The mesh screens of this model improve cleanability by preventing the sticking of food on the trays.  However, the model also lacks some critical features which some customers may prefer. These include a timer and the ON/OFF button.