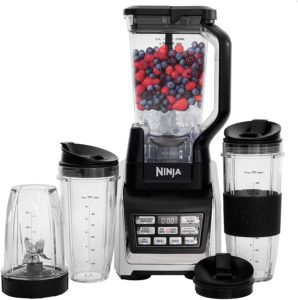 The Nutri Ninja Personal and Countertop Blender with 1200 Watts is a very popular machine that appeared on the market not a long time ago. It comes with a personal blender attachment with a selection of containers and recipe books included in the package.
Are you also interested in alternative options? Check here our articles: 
Functionality and Versatility
Smoothie: The XL 72 oz. pitcher blends quite chunky drinks even from soft fruit and vegetables no matter how many minutes it was run and what speed and settings were used. The blade constructed the way that it blends only 1-inch ingredients at the bottom. So the manual mixing is necessary helping to create the proper vortex. This machine also not able to pulverize strawberries, blackberries seeds and leave them intact as residues. No wonder, it will not handle any decent green smoothies.
However, the single-serve attachment with the pro extractor blade (single-serve blade assembly) is able to produce decent quality smoothies and will easily process hard ingredients like the carrot of leafy vegetables for green smoothies. It usually will grind strawberry and other seed without any residues left.
Juice: The Ninja Blender with 1200-Watt Auto-iQ will not make classic textbook juice as it does not include any juice attachment and will not separate fiber from the liquid. However, the single-serve attachment is able to produce decent reasonably smooth smoothies aka "whole juice".
Frozen ingredients/desserts: Both the main container and single-serve attachment are designed to shave ice producing snow cones and able to make quite decent frozen desserts like frozen yogurts. However, sometimes the low-quality plastic containers may develop cracks due to the heavy load caused by ice processing.
Pureeing: All four models of this machine are able to puree cooked vegetables quite well but will not make smooth puree from the raw ones. There is an optional Food processor attachment you can buy for this Ninja Blender model that is capable of performing a wider range of recipes such as mash potato, hummus, pâté, baby food, and others, however, some recipes will require adding some liquid for easy processing. It also may require stopping the machine occasionally for mixing the ingredients and scrape the walls for the better vortex to avoid machine overheating.
Soup/ hot ingredients: This machine is not designed to cook the hot soup from the cold as Vitamix and other high-end blenders, but it can puree the soup ingredients (a bit grainy though) if you cool them before the processing. This machine according to the user manual can handle the temperature up to 180°F/82°C. So it also will not suit for making bulletproof coffee.
Chopping/food prep: The Ninja Blender Duo with Auto-iQ will perfectly chop nuts and veggies for salsa, dips, salad dressing, sauces, and salad mixes using the 72 oz. pitcher or the single-serve cup. If you buy an optional food processor attachment you will be able to perform a wider variety of tasks such as meat grinding, grating cheese, and bread crumbs.
Nut milk: The XL 72 oz. container with total crushing blades is not suitable for making nut milk. However, the single-serve cup with the pro extractor blade is quite capable of making reasonable nut milk after sieving it through a nut bag.
Nut butter: This machine is capable of making nut butter using the XL jar, however, the lack of tamper will make this task the time and labor-consuming with the not very smooth final result. The optional Food Processor attachment bowl, although with some efforts but will produce decent quality nut butter.
Dough/batter: The BL642 models are not designed to make any cookies batter or bread dough. However, the BL682 model that comes with food processing bowl and dough hooks are perfect for kneading all type of dough and making the variety of batters and cake mixes.
Grinding/milling: The Ninja Duo with Auto-iQ is not designed for grinding coffee beans and milling grains. But it is possible to mill herbs or soft grains like oats using XL pitcher or food processor attachment. The single-serve cup will perform the task with a slightly better result.
This machine is capable of performing a variety of tasks, however, the food processor attachment only will do the food processing tasks including processing heavy mixture like dips, pates, and humus while BL462 is designed for fewer functions.
Speed Settings and Programs
The Ninja with 1200-Watt Auto-iQ BL642 machine control panel comes with 9 buttons – three speeds (Low, Mid, and High), pulse function, two pre-sets for XL pitcher (Frozen Drinks/Smoothies and Puree) and other two 2 pre-sets for single-serve attachment (Blend and Ultra Blend). The preset will automatically stop operation at the end of the cycle. The timed operation may be stopped with the press of the power button. The control is also equipped with the time which shows the time from the start of the program or from the beginning of the timed operation.
The food processor attachment is operated only using any of three speeds (Low, Mid, and High) or pulse function. For example, the food processing bowl with a kneading hook is supposed to be used on low speed for kneading dough or mixing batter. The mincing and grating tasks could be done on pulse function and chopping may be performed using any of three 3 speeds.
Ease of Using and Cleaning
Operating: Assembling this machine when using XL pitchers for operating is not really straightforward. First, the stacked blade system should be carefully placed into the pitcher onto the drive gear, the blade system is loosely fitted onto the drive gear. Then the pitcher should be aligned the right way with the base and locked properly otherwise the blender will not run. Only after these steps, the user can add food what is not very handy as the blade shaft occupies some space inside of the pitcher and make it difficult to fill with ingredients, so they must be chopped into smaller sizes to fit the pitcher. Besides, the lid on the XL container is quite complicated to lock and must be done the right way, otherwise, the blender again will not run. After completing all this complex procedure the blender is ready for running.
The blender is not equipped with the tamper, so adding extra ingredients or mixing the content of the pitcher must be done manually every time what includes also opening and closing the lid. It also must be mentioned that the XL pitcher blades are very sharp and they should be handled with extra care in order not to injure yourself.
The assembling the Nutri Ninja single-serve attachment is quite easy. The user first fills the cup with ingredients, screw the blade assembly with the cup tightly enough otherwise it may leak, and place it upside down on the base unit, then turn clockwise until it clicks. Now users can press the power button and choose the needed speed or program. The opening of the lid after operation must be done with care as it tends to build pressure during the blending and may explode content when it unscrewed (like opening a bottle of Champaign).
Cleaning: All the Ninja Blender Duo with Auto-iQ parts are dishwasher safe (although they may develop some minor damage after dishwashing), so they are easy to clean if you plan to do it in a dishwasher.
However, it is not an easy task for those who prefer hand cleaning. The stacked blade system is very sharp and could injure the user if not handled with extra care. The single-serve and food processor attachment parts are no problem to clean by hand. The single-serve cup also could be washed with the self-cleaning procedure – add halfway water in the cup with few drops of soap and run the blender for 30 seconds. 
Base Unit and Motor Power
The Nutri Ninja with 1200-Watt Auto-iQ BL642 comes with very powerful 1200 watts at peak motor and should be able to perform easily almost any heavy-duty task. However, the real power ratings of any blender depend much on overall motor design, the shape of the blade, and containers. The Ninja motor unfortunately not made very well with an average life expectancy of about 1.5-2 years.  The blade to motor drive coupling and gear shaft of this machine is made of plastic, so no wonder it does not last.
The machine is also equipped with an automatic shut off and will stop operation ones it is overloaded.
The gadget base unit is fairly lightweight but equipped with suction cups that make it stable on the counter during operation. 
Containers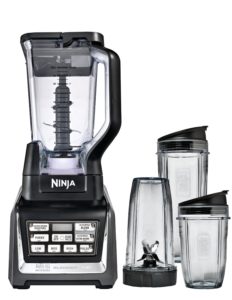 The Ninja Duo with Auto-iQ BL642 comes with 72 oz. XL main container, selection of 3 single-serve cups with a capacity of 32 oz. (jumbo), 24 oz.(regular), and/or 18 oz. (small). 
All containers are made from quite a low-quality polycarbonate material. The main pitcher often develops the cracks at the bottom of the container near the drive shaft within 1 year of use. The same problem has the single-serve cups which also have the tendency to crack due to overloads and often require replacement with 1 year of use. The single-serve cups also may be very tough to screw/unscrew when connecting to the blade assembly, otherwise, it may leak during the blending process.
Blades
The Ninja Duo with Auto-IQ comes with two sets of blade system Total Crushing Blades and Pro Extractor Blade for the BL462 model and two additional Chopping Blade and Dough Hook for BL482 and BL482Z models. All four-blade systems are removable.
Total Crushing Blades for the XL 72 oz. jar is designed as the plastic shaft with 6 very sharp stainless steel blades stacked around it. This construction is more suitable for the food processor bowl. So it is no wonder why this blade so inefficient in processing smoothies. In addition, this type of blade system makes it a bit difficult to fill the container with ingredients and reduce substantially the overall capacity of it. The edges of blades are also worn out quite quickly and become useless even more, so they need to be replaced fairly often.
Pro Extractor Blade for Single Serve cups has the standard for single-serve blade assembly design. It comes with a 6-prong stainless steel blade connected to the plastic base. The spline mechanism that connects the blade system to the motor drive is also made of plastic what does not add durability to the blade assembly. The single-serve blade has the same problems as the main pitcher blade to become dull with 1 year of regular use.
Chopping Blade and Dough Blade have a very similar design to the XL main pitcher blade assembly system. The Chopping Blade only a bit shorter but also has the metal blades staggered around the plastic spindle. The dough hook is completely made of plastic. 
If you are not sure about this blender you can alternatively check here our article 

the Best Blender Under the $200,

Dash Chef Series Digital Blender vs Ninja Blender Duo with Auto-iQ BL642/BL682/BL682Z.
Special Features
Colors: The BL642 model comes in black and silver color and the BL482 and BL482Z models include slightly more silver trimming.
Tamper: This gadget packages do not include any tamper.
Certified Refurbished: None of these machine models are available in certified refurbished condition.
Use in countries outside of USA/Canada: The Ninja Blender Duo with Auto-iQ comes with a 110-120 voltage system in the US and Canada. However, it is available in many countries around the world and locally sold with the appropriate to the region voltage. It also could be operated using the voltage transformer but not recommended for everyday use and advisable only for occasional use while abroad.
Noise
The Ninja Blender Duo with Auto-iQ is the very noisy machine that exceeds the level of noise other blenders with comparable power outputs. So it must produce a noise of around 100 decibels.
Warranty and Customer Service
The Ninja Duo with Auto-iQ BL642/BL682/BL682Z machine comes with the 1-year limited warranty. The manufacturer charges an extra fee for shipping when the unit has to be sent for repair, many replacement parts are also subject to extra charges. The Ninja customer service earns an unpleasant reputation over the last years. So recently the Ninja initiated few special offers which sold the blender with a lifetime limited warranty. However, it is hard to say how well this lifetime warranty will be undertaken.
Optional Accessories and Attachments
It is possible to buy from the manufacturer and other online retailers replacement blades, cups, and lids for all models – BL642, BL682, and BL682Z. There is also a coffee & spice grinder attachment and food processor bowl attachment kit available for this machine.
Nutri Ninja 24 oz Replacement Cups;
Nutri Ninja BL642 Blades Replacement;
Nutri Ninja Blender 64oz Food Processor Bowl;
Basically, any attachment made for the Auto IQ line will be compatible with the Ninja Blender Duo with Auto-iQ.
Set Includes
| | |
| --- | --- |
| Set Includes/Ninja Model | BL642 |
| Base Unit 1200 Watts/2HP | yes |
| XL 72 oz. (2.15 L) container with lid | 1 |
| 32 oz. cup | 1 |
| 24 oz. cup | 1 |
| 18 oz. cup | 1 |
| 64oz. Food Processor Bowl with Lid and Drizzle Hole | 0 |
| Total Crushing Blades for XL 72 oz. jar | 1 |
| Pro Extractor Blade for Single Serve cups | 1 |
| Chopping Blade and Dough Hook | 0 |
| Sip & Seal Lids | 3 |
| Instruction Book | 1 |
| Auto-iQ Program Guide | yes |
| 75 Recipe Cookbook | yes |
| 40 Recipe Inspiration Guide | no |
| Rachel Beller Healthy Living & Recipe Book (Eat to Lose, Eat to Win) | no |
Check here the best today's deal for the Nutri Ninja Blender with 1200-Watt Auto-iQ BL642
Dimensions
Ninja Blender Duo with Auto-iQ is a very big and bulky machine that demands considerable space for storage. It comes with 7 inches x 10 inches (with for a plastic guard in back) footprint and a height of 17 inches with the XL jar on the top of the base unit. This machine must fit under the standard kitchen cabinet but occupies some space on the counter because of the massive footprint. 
Pros and Cons
Pros:
The Ninja Blender Duo with Auto-iQ BL642/BL682/BL682Z is a powerful machine that includes few accessories that make this blender quite versatile especially the models BL482 and BL482Z with food processing attachments.
The single-serve attachment with a nice variety of cups allows you to make drinks and take it out which is very convenient for many busy people.
Cons:
The Ninja Blender Duo with Auto-iQ BL642/BL682/BL682Z machine with XL jar makes quite clumpy smoothies and shakes and not even able to pulverize berry seeds. Considering a very powerful motor it indicates design faults in pitcher and blade construction.
It comes with a low-quality plastic container that tends to develop cracks within 1 year of use.
Although the single-serve attachment blends good quality drinks, it has a problem with blades which become dull over time.
This gadget cannot handle hot liquids.
The construction of blades for the XL pitcher and lid makes this machine very difficult to assemble for use.
The motor to blade coupling for both XL pitcher and single-serve attachment is made with a lot of plastic that substantially reduces the durability of this machine.
The complicated system for opening the lid and lack of tamper equipment make this machine difficult to use and require often to stop it during operation for manual food mixing.
This machine is very big and bulky and requires considerable space for storing it.
Ninja Blender Duo Consumer Reviews
Even though this blender has quite a few construction flaws, professional advertising keeps this gadget among the most desirable blenders on the market. No wonder it has very good reviews and ratings at the majority of online retailers' sites.
Amazon rating – 4.6
Price
The Ninja Blender Duo with Auto-iQ price fluctuates within the $160-$250 depending on the model. Many retailers, however, often offer the gadget at discount, so it is quite possible to buy this machine at a very competitive price.
Check here the best today's deal for the Nutri Ninja Blender with 1200-Watt Auto-iQ BL642
Summary
In general, the Nutri Ninja Blender with 1200-Watt Auto-iQ BL642 is a very powerful machine with a powerful motor but overall poor construction and design. The XL pitcher and blade assembly more suitable for a food processor than a blender so it is not capable of making even decent smoothies. The single-serve attachment is quite good but has some drawbacks such as poor quality cups and the problem with tight screwing and leaking. It achieves versatility with multiple attachments and not with an impeccable design like the typical high-end machines.
Alternatively, check here our articles