Ninja Nutri Bowl DUO with Auto-iQ Boost is a fairly new Ninja blender that came to the market in autumn 2016. It is a single-serve type blender that includes extra small food processing attachment and available in 4 models – NN100, NN100A, NN101, and NN102 (differ ONLY by number and selection of containers and by a recipe book). This machine has a  few similarities with the Nutri Auto-iQ product line and comes with already known Auto-iQ control panel and selection of good quality Tritan copolyester containers.
Read here our comprehensive review to find more details about this great machine.
Functionality and Versatility
Smoothie: The Ninja Nutri Bowl DUO with Auto-iQ Boost produces very smooth smoothies from soft and tough ingredients including kale, spinach, carrots, cucumbers apples, pineapple, and other usual suspects into the fine chunk less drink. So it suits well for making green smoothies.
It usually obliterates well strawberry, raspberry, and other seedy berries, but may leave some seeds residues at the bottom.
The drinks usually will warm up a bit during the blending process, so adding the ice cubes may be a good idea.
Frozen ingredients/desserts: The blender handles ice with ease. It can crush or pulverize ice with and without liquid added using the variety of settings on the control panel. So, the machine is also able to make frozen desserts using the mixing bowl or single-serve cup, with no issues at all.
Juice: Although the manufacturer claims that the blender is able to extract juice, it is not. A juicer must remove the fiber from the liquid and leave you with the pure juice. This machine is only able to produce quite smooth smoothies sometimes referred to as "whole juice" but will still contain fiber. And you can always strain out the fiber through a strainer to obtain the pure liquid.
Soup/hot ingredients: The user manual clearly states that this machine is not designed for processing the hot liquids in either the bowl or the single-serve cup. So, when processing hot ingredients for soup user should cool them down before placing it into the blender.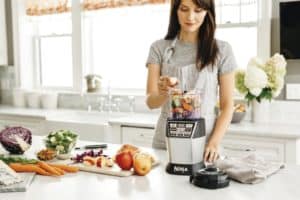 Chopping/food prep: The Nutri Bowl handles well various food processing tasks like salad chopping, cheese and crumbs grating, chopping veggies for salads, 'ricing' cauliflower, dips, pesto, sauces, salad dressings, and many other things. However, the food processing bowl holds only 3.5 cups of ingredients and thus is not suitable for family meals, but large enough for 1-2 people.
Pureeing: The machine can perfectly puree any ingredients for soup using the single-serve cup or Nutri bowl but you have to cool down ingredients before processing as it is not suitable for use with hot food. The Nutri bowl is also able to prepare mash potato or pureeing baby food.
Nut milk: This machine is powerful enough to make nut milk but you may need to soak nuts before processing and use a strainer to strain the liquid for a perfect result.
Nut butter: The Nutri bowl is powerful enough to make nut butter but rather of chunky consistency. The user will also have to stop and mix ingredients manually during the processing for creating a proper vortex.

Dough/batter: The Nutri bowl comes with the dough hook, so it is perfectly suitable for mixing various batter and dough including the bread one. However, the capacity of the bowl (3.5 cups max) is not enough for a large portion of food.
Grinding/milling: The user manual warns not to perform any grinding job with the blender and advice to purchase Ninja Coffee & Spice Grinder Blender attachment (sold separately) compatible with the Ninja Nutri Bowl DUO with Auto-iQ Boost base unit. This attachment will grind coffee beans, any herbs, nuts, and grains into flour.
This machine comes with two types of containers and 3 blades that are quite versatile and suites smoothie making and preparing many different types of dishes.
Containers
The Ninja Nutri Bowl DUO with Auto-iQ Boost NN100, NN100A, NN101, and NN102 equipped with the selection of containers (all are BPA-free) depending on model:
The 4-cup Nutri Bowl with the securely locked lid that could be used as the food processor, dough mixer or for processing smoothies (all models);
The 24 oz. single serve quality Tritan copolyester cup (all models);
The 32 oz. single serve high-quality Tritan copolyester cup (NN101 and NN100 models only);
The interchangeable between all cups Sip & Seal Lids that are spills free and allow security to take the drinks out.
It must be mentioned, that the bowl for food processing is quite small, but is great for chopping up small portions of nuts, crackers, and other food processing job. Each container seems well-made and will not break quickly.
Blades
All four models NN100, NN100A, NN101, and NN102 of the Ninja Nutri Bowl DUO with Auto-iQ Boost equipped with precision prep/quad blades for Nutri Bowl, extractor blade/single-serve cups assembly, and dough hook:
The Precision Prep/Quad assembly is constructed similarly to food processor blades with 4 stainless steel blades staggered around the plastic shaft. They are used with 4 cup bowl only;
The Dough Hook is made of plastic and fits into 4 cups bowl only for mixing dough and batters;
Pro Extractor Blades Assembly is used with any of single-serve cups. They have standards design with 4-prongs stainless steel blades attached to the plastic assembly.
Speed Settings and Programs
All four models NN100, NN100A, NN101, and NN102 of Ninja Nutri Bowl DUO with Auto-iQ Boost have an identical control panel that equipped with the timer panel (counts in seconds) and eight functional buttons –Start/Stop, Pulse, Auto-iQ function with Yes/No option ( "Yes" is for the homogeneous result while "No" is for chunkier output) and five settings – Smoothie, Extract, Mix, Chop and Dough. These five settings could be operated independently or in conjunction with Auto-IQ function. When operated independently selected function continues to run until the user press the Start/Stop button or function button again. When operated with the Auto-iQ feature the machine will stop automatically at the end of the set cycle.
The Start/Stop button runs continuously for up to 60 seconds at high speed until the user press again this button. It also is used for stopping any program before the end of a pre-set cycle.
The Pulse function operates only when it is pressed and could be useful for chopping jobs or creating vortex during hard ingredients or ice processing.
The Smoothie button is used for blending frozen fruit, ice, protein, or shake drinks.
The Extract function is processing hard, leafy, or fibrous ingredients, including fruits skins, seeds, and veggies stems.
The Mix is the pre-set function for blending food-prep tasks such as dips, sauces, and others.
The Chop button is timed with pulses and pauses that could be used for chopping veggies, nuts, salsas, grating cheese, crumbs, and meat grounding.
The Dough function is used with a dough hook for processing bread, pizza, and other dough.
Ease of Using and Cleaning
Assembling/disassembling/operation: The Ninja Nutri Bowl DUO with Auto-iQ Boost comes with two types of containers and thus the assembled/disassembled in a different way.
The 4cups Nutri Bowl is used with the precision prep/quad blades and dough hook. So to assemble them, the user should:
Place the bowl on the top of the base unit aligning the tab on the container to the tab on that motor base and turn clockwise until the click;
Place the blade assembly inside the bowl, both assemblies are not locked inside, the precision prep blades are very sharp and thus should be handled with care;
Lock the lid by pushing down the lever and seal it;
The ninja control panel will identify which container is connected by illuminating appropriate lights.
The securely locked lid is quite inconvenient during the use because it does not allow to add extra ingredients or mix food when needed without stopping the machine and opening the lid. The lid has a little kind of "add hole" but it is so tiny that it seems useless.
Assembling/disassembling a single-serve cup is a simpler task and just requires:
Add ingredients to the cup or container;
Screw tightly the Pro Extractor blade assembly;
Turn the cup upside down and place onto the motor base aligning the tabs on the cup with the motor base, rotate clockwise until you hear a click,
Once the cup is locked, the programs available for the attachment will illuminate.
The single-serve cups come with Spout Lids. The user can screw the lid and take the drink out straight away after blending.
Cleaning: Ninja Nutri Bowl DUO with Auto-iQ Boost blades, containers, and lids are all dishwasher-safe (on the top rack), so this machine is quite easy to clean.
They also could be hand washed in warm, soapy water or self-cleaned by placing some soap and water inside of the container and blend it for about 30 sec on high speed. The motor base should be cleaned by simply wiping it with a damp cloth.
Check here today's best price for the Ninja Nutri Bowl DUO with Auto-iQ Boost NN102 Blender (best deal model)
Base Unit and Motor Power
The Ninja Nutri Bowl DUO with Auto-iQ Boost NN100/NN100A/NN101/NN102 equipped with a powerful 1200W and 120V, 60Hz motor. It has a modern, sleek design with a nice-looking black and silver finish. The control panel buttons are clearly labeled with their functions and easy to press. Besides, the cool suction cups on the bottom of the blender prevent it from moving during the operation.
The machine also has a thermal system that stops machines automatically if the motor is overheated.
Special Features
Colors: The Ninja Nutri Bowl DUO with Auto-iQ Boost available only in the combination of black and silver.
Certified Refurbished: The machine is new to the market and thus has not yet certified refurbished models available for sale.
Use in countries outside of USA/Canada: This machine sold in the USA or Canada comes with a 110-120 voltage system when and also could be used in the North and South America region, Taiwan, Japan, Saudi Arabia, and other countries with the same voltage. The machines with 220-240 voltage systems are sold in the rest of the world. So, consumers should pay attention to this feature when buying the unit. Otherwise, the device will be only usable over a voltage transformer.
Noise
Ninja Nutri Bowl DUO with Auto-iQ Boost is a very noisy blender that is being confirmed by many customers. The user should be mindful of using it early in the morning unless they have very thick walls in the kitchen and no neighbors. It outputs over 100 decibels when processing soft ingredients.
Warranty and Customer Service
The Ninja Nutri Bowl DUO with Auto-iQ Boost (NN100/NN100A/NN101/NN102) comes with only a 1-year limited warranty and 90-days option to return if the user does not like the unit. The limited warranty assumes extra charges for the repair, selected replacement parts, and shipping costs.
The Ninja Customers Service does not have a very good reputation but making an effort to improve it in recent times.
Optional Accessories and Attachments
Unlike the majority of other Ninja products Ninja Nutri Bowl DUO with Auto-iQ Boost has a selection of compatible accessories available to buy over the online retailers and company website:
This machine is not compatibles with a mason jar, however.
Ninja Nutri Bowl DUO with Auto-iQ Boost Set Includes
| | | | | |
| --- | --- | --- | --- | --- |
| Set Includes/Ninja Model | NN100 | NN100A | NN101 | NN102 |
| 1200 watts base unit | yes | yes | yes | yes |
| Nutri Bowl (32 oz/4 cups/900 ml) with Lid | 1 | 1 | 1 | 1 |
| 24 oz. Tritan Nutri Ninja Cups | 2 | 3 | 2 | 2 |
| 32 oz. Tritan cup (900 ml) | 0 | 0 | 1 | 0 |
| Precision Prep Blades/ Quad Blade Assembly (for the bowl) | 1 | 1 | 1 | 1 |
| Pro Extractor Blades (for single-serve cup) | 1 | 1 | 1 | 1 |
| Dough Hook | 1 | 1 | 1 | 1 |
| Spout Lids | 2 | 3 | 3 | 2 |
| 35 Recipe Book | 1 | 1 | 0 | 0 |
| 75 Recipe Book | 0 | 0 | 1 | 1 |
| Quick start guide | 1 | 1 | 1 | 1 |
| Instruction book | 1 | 1 | 1 | 1 |
Dimensions
The blender has a compact footprint of 14.4 inches x 10.4 inches and thus will not occupy much of the kitchen space. With the profile of 16.1 inches with the 4 cups bowl and the lid on the top of the base unit, it will easily fit under the standard countertop. The 24 oz. cup on the top of the base unit has an even more moderate profile of 14.2 inches.
The base unit is quite heavy and with a weight of 6.1 pounds in stay stable on the counter during processing, moreover, it has the cool suction cup that makes it even more stable.
Although, the 30 inches cord also has storage has a storage area in the base but rather difficult to use and thus it seems almost useless.
Pros and Cons
Pros:
Ninja products Ninja Nutri Bowl DUO is a fairly versatile blender with few attachments and pre-set program choices;
The blender comes with a very good recipe book that includes several very useful cooking ideas;
The base has strong suction cups to keep it from traveling over the counter during blending;
There are a few compatible attachments available to buy for this machine separately;
This blender comes with premium quality Tritan copolyester containers that will last for a long.
 Cons:
This machine is very loud;
It comes with a moderate only 1-year warranty and not reputable customer service;
The 4 cups Nutri bowl container is small for the large household and will serve 1-2 people only;
It has common Ninja blender problem – quite difficult to assemble/disassemble before and after use or during the blending for mixing ingredients or for helping with vortex;
The Ninja blender does not have a long life expectancy and lasts approximately about 2-3 years.
Ninja Nutri Bowl DUO with Auto-iQ Boost Consumer Reviews
The Ninja Nutri Bowl DUO with Auto-iQ Boost comes with good quality durable Tritan copolyester containers. It solved the typical for Ninja blender containers durability issues. Taking into consideration a powerful motor and versatility of the blender it serves very well its purpose for a small household.
The machine has quite a few praising consumer reviews.
Amazon rating – 4.7
Ninja Nutri Bowl DUO with Auto-iQ Boost Price
The price for The Ninja Nutri Bowl DUO with Auto-iQ Boost NN100/NN100A/NN101/NN102 differs depending on the model or retailer. The most popular NN102 model (two 24 oz. cups) is available usually around $135. The N100A model (three 24 oz. cups) is sold at $145. The NN101 model (two 24 oz. and one 32 oz. cups) you can grab for $145. However, Amazon not only offers the best prices and selection of models but also often sells them at the special discounted price.
Check here today's best price for the Ninja Nutri Bowl DUO with Auto-iQ Boost NN102 Blender 
Summary
Ninja Nutri Bowl DUO with Auto-iQ Boost has not only sleek design but very functional and with a variety of containers and blade assemblies it is able to perform a variety of functions including blending, chopping, mixing, or even kneading the dough. It will be useful not only for making take away smoothies but also for small food processing tasks. So, any consumer who is looking for a versatile personal blender with food processing functions will certainly find this machine very useful for its kitchen.