Ninja Professional 1000 (BL610) is a very popular gadget in the segment of countertop blenders under $100. It is often compared to Vitamix, to be exact, the Ninja manufacturer promotes all its blenders as Vitamix competitors. Is it fair? No, the Vitamix produces an array of models with the price ranging from $250 (refurbished models) to almost $700 for the newest machines, and Ninja also has dozens of models. So which Vitamix model will be the rival of Ninja Professional BL610? To be fair, none of them. Vitamix has a long history of manufacturing blender with production located in the USA, it also invests a lot of money into research and development of their products while Ninja is the new company on the market that outsources all its products in China.
Yet, Ninja Professional 1000 (BL610) has the real competitors on the market and they are in the same price range of under $100. One of these competitors is Oster Pro 1200 which we are going to compare in this article with the Ninja Professional BL610.
Ninja Professional Blender 1000 (BL610)
This machine comes with quite a powerful 1000 watt motor that constructed with too many plastic parts including the motor to drive connection that is totally made out of plastic, thus its quality is far from the best. The machine control panel is equipped with only 3 speeds and pulse function which does not allow a lot of control to the user over the blending process.
Unusual blades design and too many different locking mechanisms make this blender quite complicated to get ready for running. The sharp and bulky blade assembly also quite insecure to use and may cause injuries to the user. In addition, 72 oz. polycarbonate container is made from a low-quality material that tends to develop stress cracks or melts when used with hot liquid or washed in the dishwasher (although the pitcher supposed to be dishwasher safe).
This gadget is not very versatile and will perform the following functions:
Smoothies but not the smooth consistency, the green smooth are very grainy;
Crushes ice well and able to make snow cones the ice cubes;
Chops veggies for marinades, salsas, salad mixes;
Pureeing food but the quality is not good at all;
Milling/grinding only soft grains like oats and will not be able to make decent flour from wheat for example.
Ninja Professional BL610 is not very durable and no wonder it comes with the only 1-year limited warranty that also is not well performed by the manufacturer, the replacement, and repair service for this machine will often be subject to extra charges.
Check here today's best price for Ninja Professional Blender 1000-Watt (BL610)
Oster Pro 1200 Blender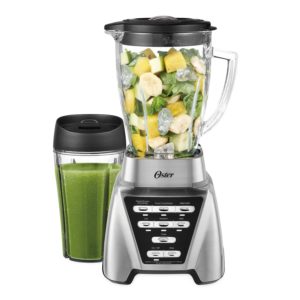 The Oster Pro 1200 comes in two packages the first includes the main pitcher, single-serve cup and the second includes an additional food processor attachment.
This machine is equipped with a powerful 1200 watts motor.  The motor built very well and solid with all-metal blade assembly and blade to drive coupling. This machine control panel equipped with 3 speeds (low, medium, and high), 3 pre-set programs (Green/Frozen Smoothies, Food Chop/Salsa, and Milkshake) with reverse action and pulse functions. In total, it has 6 speeds and pulse mode what allow some flexibility to the user over the blending process.
The Oster Pro 1200 gadget comes with very rare for such powerful gadget 48 oz. the main pitcher made from stress and temperature resistant glass, 24 oz. polycarbonate single-serve cup and 5 cups polycarbonate food processor bowl (for the package with food processor attachment only).
This machine designed with the removable all-metal premium-quality blade that is used for both the main pitcher and single-serve cup.  The additional food processor bowl also includes shredding and slicing blades.
So, this solid and well-built machine able to perform the following functions:
Smoothie of very smooth texture, it also produces excellent quality green smoothies and will even handle strawberry and other seeds in the drinks;
Crushes ice easily makes frozen desserts and able to prepare snow cones desserts;
Pureeing raw and cook food is also easily handled by this machine, it is also able to puree to very smooth consistency the tough ingredients like carrots;
Hot liquids, this blender is designed to process hot liquids up to the boiling temperatures since the main pitcher is made from temperature resistant glass;
Chopping food for salad, hummus, salsa or shredding veggies for coleslaw is now to the problem to this blender, especially the one with food processor attachment;
Nut milk is also possible to make with this machine;
This machine is even able to process decent nut butter, although with some efforts;
Grinding and milling herbs, chop nuts or mill oats is possible with this blender but it will not handle harder grains.
In addition, the Oster Pro 1200 comes with 3-years limited warranty on all parts and 10 years on motor. Oster customer service is very good and helpful.
Check here today's best price for Oster Pro 1200 Blender
Ninja Professional 1000 (BL610) and Oster Pro 1200 Differences and Features
| | | |
| --- | --- | --- |
|   | Ninja Professional BL610 | Oster Pro 1200 |
| Motor | 1000 watts with the plastic motor to the blade couplings; | 1200 watts with the all-metal motor to the blade connections; |
| Blades | Removable blade constructed as a plastic tower with 6 sharp stainless steel blades fitted around it; | All-metal blade assembly, removable but could be kept most of the time and removed only for a full cleaning. |
| Containers | Not good quality polycarbonates containers with a tendency to develop cracks; | Premium lab-quality stress and temperature resistant glass container for the main pitcher, quality polycarbonate single-serve cup and food processor bowl; |
| Using & Cleaning | Not easy to assemble/disassemble for running with a lot of clicks and locking required. Not safe to handle for cleaning due to the very sharp blade and dangerous blade assembly construction; | Very easy to use in general but removing the blade assembly for a full cleaning or using with the single-serve cup will require little efforts; |
| Control panel | Equipped only with 3 speeds (low, medium, high) and pulse function; | Equipped with 3 speeds (low, medium, high), 3 pre-set programs (Green/Frozen Smoothies, Food Chop/Salsa, Milkshakes) with reverse action and pulse function; |
| Warranty | 1-year Limited Warranty. Bad reputation Customer Service. | 3 -year Limited Warranty for blender parts and 10 years for a motor. Very helpful Customer Service. |
| Performance | Produce grainy smoothies, especially from leafy and hard ingredients, however very good at crushing ice even without liquid added and able to make a good quality frozen desserts and shaved ice drinks, not able to puree food up to the smooth consistency, but good at chopping and mincing vegs, grinds, and mills only soft grains; | Outputs good quality drinks including green smoothies, able to crush and shave ice in drinks even without liquid added to produce frozen desserts, margaritas, and other ice drinks, process very smooth quality puree from soft and hard food, designed to process hot liquids, chops veggies well for salsa, coleslaws and others, makes nut milk and even able to produce nut butter, able to grind herbs and soft grains into power. |
| Dimensions | The footprint is 10.6 x 8.2 inches, profile height is 15.8 inches with 72 oz. pitcher on top of the base unit. The weight is 9.0 pounds. | The footprint is 8.5 inches x 10.2 inches, profile height is 14 inches tall with the 48 oz. pitcher on the top. Weight is 13.4 pounds. |
How to Choose Between the Ninja Professional BL610 and Oster Pro 1200 Blenders
From the above comparison, it is clear that Oster Pro 1200 is the much better choice over the Ninja Professional BL610 for anyone who is searching for versatile and good quality blender under $ 100. It is superior in all aspects such as quality of performance, versatility, and durability. Oster performs a wider range of functions than Ninja and at the higher quality. It produces very smooth green smoothies, excellently crushes ice, purees food, well handles hot liquids, and even able to make almost perfect nut butter. While Ninja excels only at crushing ice with processing mediocre quality smoothies and not able to handle even hot liquids.
The Oster also a solidly built machine with all-metal blade assembly, drive connection, and high-quality glass pitcher while Ninja constructed with a lot of plastic parts and low-quality polycarbonate jar. In addition, Oster is famous for its durability among the consumers while Ninja Blender's average life expectancy is ranging from 1 to 1.5 years.
Summary
Products with an aggressive advertisement are so often oversold and overpraised. For example, Ninja has very enticing advertising that compares its blenders to the Vitamix and claims the same performance results as Vitamix at the price tag of a few times cheaper. But Vitamix is the established brand with an excellent reputation and long-lasting history of production. The Ninja claim is too good to be true.
The reasonable advice to the consumers, check carefully all parameters, do homework and do not buy on impulse that is completely based on infomercials because it often happens, that the infomercials representation of products could be far from reality.