Any Masticating and Centrifugal Juicer can extract the juice from such common fruits as apples and pears and output a respectable juice yield with an average difference of only 5-10%. The softer fruits are more problematic to juice and the yield from centrifugal and different types of masticating juicers will differ to a greater degree than for firmer ones.
If you intend to juice only apples and pears, then you can pick almost any proper juicer and it will do the excellent job juicing apple and pear fruits. However, if you will decide to prepare juice recipes from a combination of ingredients or simply decide to use your juicer for additional juice ingredients like pineapple, wheatgrass, or celery than you have to select the juicing extractor paying attention to a range of other important parameters.
To select a truly best machine for extraction apple pears and other fruits juice, we will look at important characteristics such as its functionality and which ingredients it can handle well, how easy the juicer to use and clean, speed of ingredients processing, the durability of the machines and others. So, you will make the decision which juicer will suit your needs best.
It should also be mentioned, that we will consider only reputable brand juicer for a simple reason, they are durable and guarantee not only the quality of construction but also the material they manufactured from is safe for use in contact with food.
Single Auger Masticating Slow Cold Press Juicers
The masticating juicers are constructed to employ a slowly rotating auger (43 – 80 rpm) which cruses ingredients while pulling through the drum, then press them out against the juicing screen to squeeze the juice. Given that the auger rotates with the slow speed and uses cold pressing technology to press the juice, any masticating machine in fact could be called a slow cold press juicer.
Besides, most masticating juicers, in addition to squeezing juice, are also able to perform additional functions such as pureeing, grinding, homogenizing ingredients, and extruding noodle dough.
The Single Auger masticating juicers come in two styles – the vertical and horizontal ones.
Vertical Slow Cold Press Masticating Juicers
The vertical masticating juicers have the auger located vertically that makes them virtually self-feeding and very easy to use. While the vertical juicers are probably the most versatile machine and handle the widest range of ingredients they considered to be ultimate fruit juicers.
They also come in two styles with the narrow chute and wide chute machines. Although both style vertical juicers – narrow and wide chute/mouth – excels at juicing fruits wide mouth are the best because they do not require much ingredients preparation for juicing and could be fed with a whole apple in one go.
Vertical Slow Press Juicers Pro and Cons for Juicing apples and pears:
Pro:
Deliver high apple and pear juice yield:
Do not need pre-cut;
Versatile and handle a wide range of ingredients;
User-friendly;
Produce low oxidation high-quality juice;
Quite;
Cons:
Expensive;
Quite elaborate to clean.
Kuvings Whole Slow Juicer EVO820CG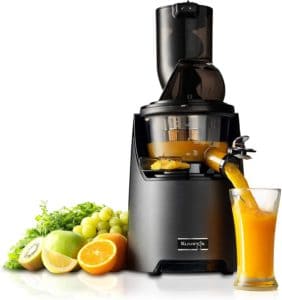 Kuvings Whole Slow Juicer EVO820CG is the latest 5th generation vertical masticating machine that was released in mid-2018 and manufactured by a reputable South Korean company that specializes in juicers production for over 40 years. This machine is different from other home use slow juicers on the market not only by the largest diameter feed chute but also that it is designed with an optional citrus juicer attachment.  
Set includes:
Base Unit,
Juicing Bowl,
Auger,
Juicing Screen, Blank Screen, and Smoothie Screen,
Rotation Wiper,
Tritan Juicing Drum with Feed Chute,
Tritan juice cup and pulp container,
Food Pusher,
Lid opener (you suppose to use it when the juicing drum is difficult to remove),
Over-sized cleaning brush, Spout Cleaning Brush and Special Screen Cleaning Tool,
Instruction manual,
Recipe Book (Full Color) 75+ Pages.
Motor and Body Unit: The EVO820 has a luxurious leather pattern body unit design and is available in Silver and Gold colors.
The machine features a powerful 120V, 240 Watts motor which rotates auger with a slow 60 RPMs speed allowing highly nutritional cold press juice extraction. The machine comes with a ventilation system to ensure efficient motor cooling. The motor is designed for 30 mins of continuous operation before it must rest for cooling.
Juicing Bowl, Drum, and Feeding Chute: The juicer features a newly designed for the Evo 820 model juicing drum with fewer bottom grooves for easy cleaning. It has a 400ml/13.5 ounces capacity and is made from BPA FREE Tritan copolyester material.
The machine is also equipped with the newly designed and largest on the market O-shape 3.2"/82 mm feeding chute diameter which allows fitting larger ingredients without pre-cutting, it can lodge a small whole apple. The feeding chute has a safe and convenient new flip feeder gate which works as a safety feature, so the user hands will not fit through the mouth.
The juice outlet has the smart cap closed, which allows mixing juice inside the drum and get more nutrition before realizing it.
Gears/Auger: The Kuvings Whole Slow Juicer EVO820CG features the single-wing auger that is designed to brute force push, squeeze and then grind the produce. It is made with the chemical resistant and very strong GE ULTEM plastic material.
The auger is designed with the deep hole at the bottom that ensures that pulp is not building up under the inside but processed properly, then smoothly extracted via the pulp outlet and ensure the higher juice yield.
Juicing Screen/Strainer: The juicer comes with 3 screens/strainers in the package – the juicing screen with fine holes for juicing tasks, the smoothie screen with larger holes for making low oxidation smoothies, and the blank screen for homogenizing tasks such as frozen treats, nut butter and pureeing food.
The juicing screen is well designed, it sits firmly inside of the juicing bowl and allows to work properly extracting maximum juice.
It also comes with well-designed wiping blades that move when the auger moves, cleans the screen for achieving higher yield.
Containers: The juicer comes with BPA-free Tritan copolyester pulp and juice containers.
Functionality:
The Kuvings EVO820 is a truly multifunctional juicer, it is not the only process all soft and firm fruits and veggies but also designed to perform a range of food processing tasks:
Firm fruits juice such as apples and pears;
Vegetable juice such as carrots and beets;
Celery juice;
Citrus juice including limes and grapefruits;
Leafy greens juice;
Wheatgrass juice;
Nut butter;
Smoothies;
Nut milk;
Baby food;
Sauces and dips.
Yield: 2lbs of apples are expected to yield approximately will deliver around 20-23 oz. of apple juice.
Cleaning and assembling/disassembling: The Vertical juicers are constructed of few parts and are not the easiest to assemble/disassemble and clean. They are certainly more complicated to clean than dedicated citrus juicers.
Nevertheless, the Kuvings Whole Slow Juicer EVO820CG user manual has very detailed instructions on assembling the machine. The Kuvings designers made their best to minimize your cleaning efforts, it comes with the 3 brushes included in the set and a special screen/strainer cleaning tool (the strainer is the most difficult part to clean in any juicer), it has very well designed pulp outlet that is very easy to clean and it has a new improved juicing bowl that is much easier to clean than other Kuvings model (but not the easiest compere to other vertical juicers). The entire cleaning process will take about 5 minutes on average.
The machine comes with the juice outlet cap so it could be pre-cleaned with a self-cleaning procedure.
Controls: The juicer is controlled with only one switch with the REVERSE/ OFF/ FORWARD functions, where the REVERSE function will dislodge the ingredients, FORWARD will start running machine, and OFF stops the operation.
Warranty: Kuvings Whole Slow Juicer EVO820CG comes with 10 year-limited manufacturers and their customer support is in Chicago, Illinois.
Dimensions: 7.9″ W x 9.44 D" x 19.29″ H, weights15.7lbs/7.1 kg.
Summary: Kuvings Whole Slow Juicer EVO820CG is a premium vertical juicers. Although it an expansive machine but it cost every penny. It does a great job juicing a wide variety of produce from apples and pears to hard fruits and veggies, leafy greens, and a variety of food processing tasks.
Most importantly, this juicer delivers very high juice yield from most ingredients, eject a very dry pulp and it has the widest O-shape feeding chute that reduces greatly the ingredients preparation efforts.
Check here today's best price for the Kuvings Whole Slow Juicer EVO820CG
Horizontal Single Auger Masticating Juicers
Single auger masticating horizontal juicers are the most popular masticating machines because they are not only like vertical masticating juicers able to process a wide range of products but also very easy to clean. However, the have the auger located horizontally and have narrower than vertical juicers feeding chute thus they require the effort to push the produce while feeding and need ingredients pre-cutting for ingredients like apple and pears because of the narrow chute opening.
Horizontal Single Auger Juicers Pro and Cons for Juicing apples and pears:
Pro:
Easy to assemble/disassemble and clean;
Produce high-quality low oxidation apple and pear juice;
Output high yield apple and pear juice;
Quite;
User-friendly;
Cons:
Need apple and pear pre-cut because of the narrow chute.
NC1000HDS Premium Juicer and Nutrition System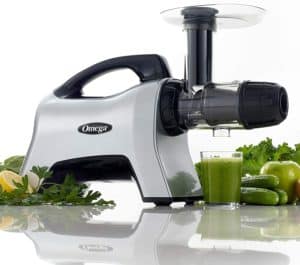 The Omega NC1000HDS is a premium single auger cold press slow masticating Omega juicer that was released in January 2020. It is the latest Omega single auger model is an update for the most popular Omega flagship single auger CN800/900 models that ware released in 2012 and were not updated since.
Set Includes:
Motor Base Unit;
Juicing chamber with chute and funnel;
Single user;
Plastic juice bowl with strainer and pulp container;
Juicing screen and homogenizing cone;
6 nozzles;
User manual.
Yield: average yield from juicing 2 lbs of apples is about 20-22oz of juice.
Motor and Body Unit: The juicer features the new body design with an ergonomic built-in handy handle. The motor unit houses the upgraded more powerful commercial type 200 Watts motor with gear reduction equivalent of 2 HP motor and with better toque to process firm ingredients like beets and carrots more efficiently. The motor rotates the juicer auger with a slow 80 rpm speed.
Drum, Chute and Produce Feeding: The Omega NC1000HDS juicer comes with the drum, chute, and irremovable hopper part made of clear Tritan copolyester plastic that is a new feature for this model. The NC800/NC900 models have a non-clear hopper and chute parts but a clear drum. The chute opening has a crescent shape and good size of 2" X 1.5" (51mm X 38mm), so it ensures easy feeding for larger ingredients.
Gears/Auger: The Omega NC1000HDS model features a slightly redesigned auger, which is made from an extra strong and solvent resistant GE ULTEM plastic which is widely used in medical and chemical instrumentation.
Juicing Screen: The machine features 2 stages juicing screen where the frame of the screen is made from extra strong Tritan copolyester with stainless steel meshed part. The 2 stage screen means that initially, it sieves the juice that comes from the smashed ingredients and the second stage squeezes the last drops of juice from the pulp before it is ejected.
The Juicer also comes with an additional blank screen for performing food processing tasks.
Nozzles, End Cap, and Adjustment Knobs: The Omega NC1000HDS gadget comes with an adjustable end cap the smaller in diameter and longer in size than previous NC800/NC900 models.
The tight cap setting is used for firm produce like apples, pears, carrots, beets, celery, and leafy greens, while the looser settings are best suited for softer produce such as citrus, pineapple, cucumber, and other, the mid setting is designed for a combination of firm and soft ingredients.
Containers: It comes with plastic 32 oz. juicing and pulp containers.
Omega NC1000HDS Functionality:
Apple and pear juice;
Leafy greens juice;
Celery juice;
Beetroot, carrot, ginger and other roots juice,
Wheatgrass juice;
Citrus juice;
Baby food;
Nut butter and nut milk;
Pasta;
Grinds spices and coffee;
Frozen desserts.
The juicer comes with the blank screen that is designed for making the frozen treats and performing pureeing tasks. The set also includes 5 pasta nozzles that allow you to make the delicious homemade pasta.
Cleaning and assembling/disassembling, operating: The machine has a small number of parts – Drum, auger, juicing screen, blank and adjustable end cap – and thus it is very easy to assemble/disassemble and clean. It is the easiest juicer to clean.
Warranty: The juicer comes with 15 years USA/Canada Warranty on parts and performance and 1-year Commercial and International Warranty.
Dimensions: 6.1" W × 18.5" D × 12.3" H (154mm × 470mm × 312mm), Weight: 20.0 lb/ 9kg
Summary: Omega NC1000HDS is a very versatile machine that also does produce the second-highest apple and pears juice yield and shows many other positive sides. First, the machine comes with few extra attachments designed to perform a range of non-juicing functions such as making sauces, nut butter is frozen desserts, baby food, and extrude pasta. Second, it is almost self-feed the firm produces like apple and pears and does not require any efforts to push them. It handles very well a wide range of ingredients from the firm fruits and veggies to leafy greens. The last, it is the easiest machine to clean.
Check here today's best price for the Omega NC1000HDS Premium Juicer
Centrifugal Juicers
The centrifugal juicers extraction process use the fast rotating basket (1500 -13000 rpm) which is constructed with blades and holed screen. The produce is ground by the tiny blades and by a centrifugal force pressed out against the basket screen to squeeze the juice.
The juice squeezed by a centrifugal machine is not as high quality as made with a masticating juicer. Because it oxidizes or aerates due to the rotation speed of the basket. As result, it delivers watery juice consistency which separates usually into thin and dense parts. The juice extracted by this style of juicer has a short shelf-life and must be consumed straight away after extraction.
Nevertheless, the juice extracted with centrifugal juicer still much better and has a much higher nutritional value than bought in the store. The centrifugal juicers are a very quick, easy, and convenient way to extract fresh juice with decent nutritional value.
The Centrifugal Juicer Pro and Cons for Juicing Apples and Pears: 
Pros:
Quick to process even high quantity of apple, pear, and pineapples juice;
Very easy to use;
Wide chute does not require produce pre-cutting;
Cons:
Limited to juicing hard fruits such as apples, pear, handle but not very well pineapples and will not able to juice soft fruits;
The lowest quality of juice with short shelf-life;
Messy;
Not easy to clean.
Breville 800JEXL Juice Fountain Elite 1000-Watt Juice Extractor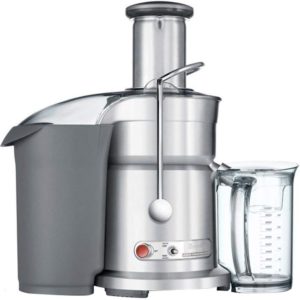 The 800JEXL is a premium Breville centrifugal machine that features a stainless steel housing and sleek and stylish exterior design.
Set includes
Die-cast body unit;
Metal and plastic juicer cover and feed chute
Metal filter basket
Juicing bowl
Juice and pulp container with froth separator and lid;
Pusher;
Cleaning brush; User manual.
Motor unit
The Breville 800JEXL juicer is very well made and sturdy. Its housing unit is made totally from Die-cast steel. An integrated Locking Arm does not allow the operation without the cover locked into place and Locking Arm lifted into a vertical operating position.
It has a heavy-duty 110-120 Volts, 1000 watt motor which rotates the basket with fast speed from 6,500 RPM to 13,000 RPM. You cannot operate the juicer for longer than a minute when juicing firm fruit and veggies on a high speed, you have to allow the motor to rest for one minute between each use.
The Juicer is fitted with an overheating protection system which automatically shuts off the machine when overloaded.
Chute and Produce Feeding
The Juicer comes with a circular 3-inch feeding tube and allows it to accommodate the whole fruits and vegetables such as apples, carrots, beets, tomatoes, and peeled oranges into the juicer without pre-cutting which will save ingredients preparation time and effort.
Juicing Basket/Filter Basket:
The Filter basket features ultra-sharp titanium reinforced cutting blades and teeth and stainless steel Italian made micro mesh filter with over 40,000 filtering pores.
Juicing Bowl
The machine features stainless steel juicing bowl with a spout.
Containers
The juicer comes with 3.2 quarts grey plastic pulp container with an integrated handle and 34 ounces/966 ml/1.1 quarts clear plastic juicing container. The juicing cup is also equipped with the lid and inbuilt froth separator.
Cleaning and assembling/disassembling
It has only 3 parts to assemble/disassemble. First place the juicing bowl on the top of the base unit, fit the juicing basket inside the juicing bowl, place the juicer cover over the bowl, raise the Locking Arm and lock the vertical position. Now it is ready to operate.
The cleaning must be done immediately after you finish juicing, otherwise, the juicing filter may clog and impossible to clean in the Future. The cleaning is not complicated, moreover, all the juicer parts are dishwasher safe but still, it is better to clean it with hands to prolong the juicer life expectancy. The juicing basket is the most time-consuming to clean, however, it is better to soak it for 10 minutes in warm water and then scrub its little meshes with the brush included in the juicing package.
Control panel and using
The base unit has the red OFF button and high and low switch to regulate low 6,500 RPM and high 13,000 RPM speeds. A low speed (6,500rpm) is designed for juicing softer fruits and vegetables while the High speed (13,000rpm) is for harder produce like apples, pears, carrot, and beets.
Functionality
Apples, pears and other firm fruits juice;
Beet, carrots, fennel, Brussel sprouts, broccoli, and other juice;
Celery Juice;
Peeled oranges;
Pineapples;
Cucumber, tomatoes
Mangoes, grapes, melons
This machine can deliver high yield for firm fruits and vegetables while the softer produce will not produce a high yield.
The Juicer tends to generate a lot of foam and will make a lot of mess splashing the pulp all over the place.
Warranty: The machine comes with an ONLY 1-year limited warranty, which rather short for an expensive juicer.
Dimensions: 16.5 x 9 x 16 inches it does take up a fair bit of counter space, the juicer also very heavy and weighs about 17 lbs.
Yield: from 1 lb of apples the Breville extracts on average 11.9 and sieved 11.4 oz. of apple juice. However, the juice separates on watery and pulpy parts if it sits a bit so it must be consumed immediately after extracting. 3 layers after 1 hr in the fridge, foam, juice, and water.
Summary: The stainless steel and brushed die-cast make for a visually impressive product. The only plastic evident in the business end of the juicer was the top cover which directs the pulp into the bin. Even the feed chute was stainless steel and it was installed with stainless screws. Depending on what you want to juice this machine will get the job done. One of the disadvantages of centrifugal juicers is that they are not effective at juicing green leafy vegetables. So if you are exploring the benefits of those green leafy vegetables like spinach and kale juice, you need to look elsewhere. But for everything else, this juicer won't let you down and it's worth every bit of the asking price of $300.
This very popular centrifugal juicer has an automatic pulp ejection mechanism.
So it is fast, convenient, little mess, quick clean up while the screen will have to be replaced at some point, it is noisy, and not juice a wide range of ingredients, fibrous greens will yield less juice.
The yield seems pretty good, except for juicing super juicy things like tomatoes or pineapples which leaves the pulp feeling a little wet like it has a lot of juice left in it. I would only juice the carrots and beets. This machine only has a one-year warranty compared to the much longer warranties given by other manufacturers.
Check here today's best price for the Breville 800JEXL Juice Fountain Elite Juicer
Summary
As it was mentioned already all 4 types of juicer delivers approximately the same yield for juicing apple and pear, for this reason, we take into consideration other juicer parameters to select the best machine for juicing fruits.
Undeniably, the vertical single auger Kuvings Whole Slow Juicer EVO820 is the best option if you plan to juice apples, pears, and the selection of other fruits including citrus, tropical, and even berries. The Kuvings EVO820 wide moth allows juice many ingredients without pre-cutting, range of additional attachment – citrus reamer, blank screen, and screen – expand its functionality to juicing citrus without peeling and making smoothies, nut butter, frozen treats, and other homogenizing tasks. Besides, it delivers high quality and low oxidation tasty juice with a long shelf-life. Alas, it has a bit high cost but it worth it because of the quality and functionality of this machine.
The horizontal single augers Omega NC1000HDS Juicer is the second-best option for the juicing apples, pear, pineapples, and other fruits. It delivers the similar vertical Kuvings EVO820 juicer apples and pears fruits juice yield and also handles well pineapple and citrus fruits. With regards to multi-functionality and handling a variety of different ingredients, this machine is very similar to Kuvings, however, it has a narrow 1.5 x 2 inches feeding opening (compared to Kuvings 3.2 inches), so it requires some time and effort for ingredients preparation for juicing. The same as Kuvings it delivers high quality and low oxidation juice with 48 hours shelf-life.
Although the centrifugal Breville 800JEXL Fountain Elite Juicer is as multitasking juicer as vertical and horizontal masticating machines and does not deliver the best yield still 5-10% less than the masticating juicer. I also do not output as high juice quality as other masticating juicers. But it is very quick and easy to use. Thus, the centrifugal Breville 800JEXL Fountain Elite Juicer will suit best to the people with a busy lifestyle but want to incorporate fresh juice into their diet.