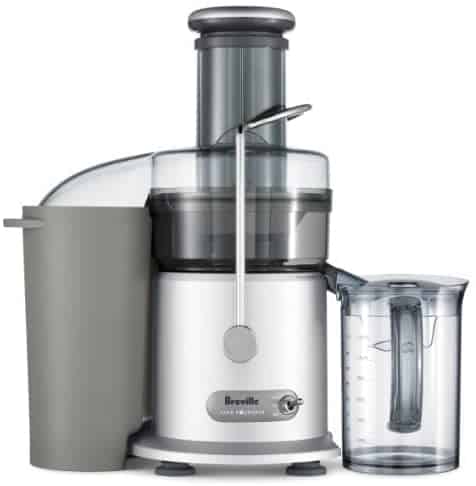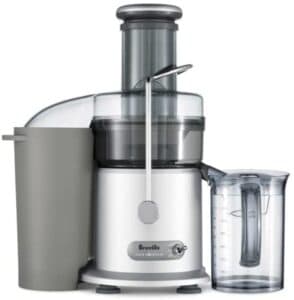 Bre­ville is one of the most inno­v­a­tive brands in small kitchen appli­ances and a well-known man­u­fac­tur­er of good-qual­i­ty cen­trifu­gal juicers. It cov­ers a wide range of cen­trifu­gal juice extract­ing machines for all bud­gets and needs.
The JE98XL Juice Foun­tain Plus Juice Extrac­tor is a non-expen­sive Bre­ville juicer and is mar­ket­ed as an entry-lev­el cen­trifu­gal machine. The JE98XL mod­el is a beast of a machine that could you juice one of the best juice yields for a vari­ety of ingre­di­ents across all Bre­ville cen­trifu­gal machines.
Let us have a good look at the highs and lows of the Bre­ville JE98XL Juice Foun­tain Plus juicer before you decide if it will be a good addi­tion to your kitchen counter.
Dis­clo­sure: As an Ama­zon Asso­ciate, we may earn an affil­i­ate com­mis­sion for pur­chas­es you make when using the links on this page.
Read More: Lex­en GP27 Man­u­al Healthy Juicer Review — The Most Afford­able Man­u­al Slow Juicer
Functionality
Despite the fact that the cen­trifu­gal juicers are not as ver­sa­tile as mas­ti­cat­ing, they out­put a high­er than mas­ti­cat­ing juicers yield for some of the ingre­di­ents. While the JE98XL Juice Foun­tain Plus excels at most of them, show­ing one of the best juice yield results for the range of prod­ucts, the cen­trifu­gal Juicer is designed to juice. To be pre­cise, the JE98XL Juice Foun­tain shows the fol­low­ing results:
It extracts one of the top juice to yield results for firm veg­eta­bles like beets, car­rots, gin­ger, and oth­er roots juice;
It also tops at juic­ing celery;
It out­puts not the best but still decent results juic­ing firm fruits like apples and pear juice;
It also can juice cit­rus fruits with a decent result.
Out­put aver­age or low­er than aver­age results for juic­ing most of the soft veg­gies like cucum­ber, pineap­ple, grape, mel­on, and tomatoes,
It is almost use­less for juic­ing leafy greens. And not suit­able at all for juic­ing wheatgrass.
Like all the cen­trifu­gal juicers, Bre­ville tends to oxi­dize juice, and thus such a prod­uct must be con­sumed immediately.
Parts and Design
Start­ing with the design, The JE98XL Juice Foun­tain Plus motor unit is made of heavy-duty and durable poly­mer and has a nice sil­ver fin­ish to it.
The Juicer comes in three major parts: the machine itself, the push­er to push ingre­di­ents into the feed­ing chute, the juice col­lec­tor, and the pulp con­tain­er inte­grat­ed into the body unit to min­i­mize the machine foot­print. The machine is con­struct­ed with the fol­low­ing part that must be assem­bled before use and dis­sem­bled for clean­ing – Body Unit with Inter­lock­ing Safe­ty Arm, Fil­ter Bowl, Fil­ter Bas­ket (Nutri Disc), Juicer Cov­er with an inte­grat­ed Feed­ing System.
Base Unit
The motor embed­ded is pow­ered with an 850W motor that spins the bas­ket blades with a fast speed of 6,500 — 12,000 rpm and deliv­ers excep­tion­al per­for­mance extract­ing the max­i­mum amount of juice from most of the prod­ucts as indi­cat­ed by the left­over dry­er pulp.
We do not like the plas­tic motor-to-bas­ket blade cou­pling, mak­ing the motor con­stric­tion not very durable.
Though the Juicers are equipped with a few safe­ty features:
For exam­ple, the safe­ty Lock­ing Arm pre­vents the Juicer from oper­at­ing if the cov­er does not lock prop­er­ly into place.
The Over­load Pro­tec­tion Sys­tem does not allow over­heat­ing of this machine and auto­mat­i­cal­ly will shut off if it is overloaded.
Control Panel and Operation
The JE98XL Juice Foun­tain Plus is straight­for­ward to oper­ate. The Juicer is built with the facil­i­ty to go at two speeds and is equipped with a met­al switch with Low-Speed / Off /High-Speed functions.
The Low Speed is oper­at­ed at 6500rpm and designed for pro­cess­ing soft­er fruits and veg­gies, while the High Speed oper­ates at 12,000 Rand and is used for firmer fruits and vegetables.
Chute and Produce Feeding
LIKE MOST MODERN CENTRIFUGAL JUICERS, the JE98XL Juice Foun­tain Plus machine has a 3 inch­es round shape feed tube open­ing that is large and wide.
There­fore, less­er cut­ting of the ingre­di­ents is need­ed before juic­ing them. For exam­ple, the spout can take whole car­rots and small to medi­um-sized beets with­out pre-cut­ting them. Like­wise, there is no trou­ble feed­ing medi­um-sized apples or peeled orange into it, and no chop­ping is necessary.
The cen­trifu­gal Juicer's wide chute allows you to feed ingre­di­ents very fast and save a lot of time usu­al­ly spent on juicing.
Filter/Juicing Bowl
The Bre­ville fil­ter bowl accom­mo­dates the fil­ter bas­ket and holds the juice and pulp before being eject­ed. The fil­ter bowl thus fea­tures the juice out­let and pulp out­let. The bowl is made of trans­par­ent BPA-free plas­tic and does not have any mea­sur­ing marks that indi­cate the juic­ing bowl's capacity.
Juicing Basket/Filter Basket
The Bre­ville JE98XL Juicer has typ­i­cal for most cen­trifu­gal juicer fil­ter bas­kets. It has tita­ni­um-rein­forced stain­less steel razor blades at the cen­ter of the shred­ding disc and stain­less steel micro-mesh fil­ter screen on the perime­ter of the shred­ding disc.
The shred­ding disc cuts and chops the whole veg­gies, then the small shred­ded parts are cen­trifuged against a screen where the juice is strained via the fil­ter while the pulp is "eject­ed" into a pulp col­lec­tion con­tain­er. The entire juic­ing process is fast and effort­less, it does not jam even the firmest pro­duce, and you almost do not need to use a pusher.
Containers
The Juicer fea­tures a 34 fl. oz. /1000ml juice con­tain­er with black grad­u­a­tions in ounces and ml and a remov­able froth sep­a­ra­tor. Like all cen­trifu­gal juicers, the Bre­ville JE98XL tends to cre­ate a lot of froth when juic­ing. Thus, with the froth sep­a­ra­tor, the user can remove it or leave it as it is in the juice.
The machine also has unique cen­trifu­gal juicers that inte­grate with the Juicer to cov­er the pulp col­lec­tion con­tain­er, which will keep tidy all juic­ing process­es and pre­vent the pulp from splash­ing around. The pulp con­tain­er is quite large, with a capac­i­ty of 100 oz. /2850 ml. and built to fit a reg­u­lar plas­tic gro­cery bag to catch all the pulp for a trou­ble-free cleanup (this proved nice).
Cleaning and Assembling/Disassembling
Assem­bling a cen­trifu­gal juicer is usu­al­ly quite easy. First, place the fil­ter bowl on the base unit, fit the fil­ter bas­ket on the motor cou­pling, fix the juicer cov­er on top of the pulp con­tain­er, and lift the safe­ty lock­ing arm to a ver­ti­cal locked posi­tion. Now it is ready to operate.
All the cen­trifu­gal juicers are quite labo­ri­ous to clean com­pared to oth­er juicer types because they pro­duce a lot of mess dur­ing the oper­a­tion and usu­al­ly leave many residues on the juice cov­er and juic­ing bowl. Besides, Bre­ville JE98XL Juicer has a large fil­ter bas­ket screen, which is the most labo­ri­ous part to clean and usu­al­ly takes about 3 min with a spe­cial brush that comes with the juicer set. Thus, the entire Bre­ville JE98XL Juicer clean­ing pro­ce­dure may take up to 5–6 min altogether.
For­tu­nate­ly, the stain­less steel fil­ter bas­ket, juice jug, and lid are top-shelf dish­wash­er safe, while the juice cov­er and food push­er are not dish­wash­ers safe. It should be men­tioned that you bet­ter clean the fil­ter bas­ket man­u­al­ly or at least scrub the sticky fiber with a brush since the dish­wash­er will not do it efficiently.
Accessories and Replacement Parts
This Juicer does not have an option­al attach­ment avail­able. How­ev­er, you can buy a replace­ment part from the man­u­fac­tur­er's website.
Noise
LIKE MOST CENTRIFUGAL JUICERS, Bre­ville JE98XL Juice Foun­tain Plus Juicer is a loud machine. It releas­es approx­i­mate­ly 75 dB of noise (sim­i­lar to an aver­age vac­u­um clean­er), and though it is a safe lev­el for human health still could be dis­turb­ing for some people.
Warranty
The Bre­ville JE98XL Juice Foun­tain Plus Juicer is cov­ered under a one (1) year lim­it­ed man­u­fac­tur­er's war­ran­ty against man­u­fac­tur­ing defects start­ing from the orig­i­nal date of purchase.
The man­u­fac­tur­er's cus­tomer ser­vice is polite and quick to respond; how­ev­er, it is not the best indus­try. The war­ran­ty card that comes with the set includes a list of online con­tact details, toll-free phone num­bers, and phys­i­cal address­es for con­tact­ing Bre­ville USA, and Canada.
Set Includes
Motor Base with 850 Watts motor;
Fil­ter Bowl;
Juic­ing / Fil­ter Basket;
Juicer Cov­er with Feed Chute;
Juice Con­tain­er;
Pulp Col­lec­tion Container
Push­er;
Clean­ing brush;
Use a man­u­al that also includes some recipes.
Dimensions
Bre­ville JE98XL Juice Foun­tain Plus Juicer is a large machine with a size of 13.2 x 16.5 x 18.2 and weighs 9.92 pounds; it will occu­py a large space on your counter and will not fit under the stan­dard kitchen cabinet.
How­ev­er, it has a pow­er cord that wraps around the bot­tom of the machine stop­ping the cable from poten­tial hazards.
Pros and Cons
Pros:
Out­puts one of the best juice yields across all cen­trifu­gal juicers mod­els for most of the ingredients;
Pret­ty robust and powerful;
Great safe­ty features;
Two speeds – one for soft and the oth­er for hard fruit/veggies
The jug is handy for stor­ing juice in the refrig­er­a­tor subsequently;
Froth sep­a­ra­tor – Prac­ti­cal inclu­sion to a jug for avoid­ing too much froth;
Cons:
Con­sumes a rea­son­able amount of kitchen countertop;
Might spray some of the pulp about, although it is designed to move into the pulp bin attached;
Short war­ran­ty.
Price
Bre­ville mar­kets the JE98XL Juice Foun­tain Plus juicer as a bud­get cen­trifu­gal juicer, and it does come at the bud­get price. How­ev­er, it is still one of the best Bre­ville juicers that shows even bet­ter results for some ingre­di­ents than the brand's pre­mi­um machines.
Summary
The Bre­ville JE98XL Juice Foun­tain Plus juicer is no doubt a great machine that excels at juic­ing cel­ery and the most com­mon firm fruits and veg­gies. Although this machine will not han­dle most soft fruit and veg­eta­bles well and is almost use­less for juic­ing leafy greens or wheat­grass, it is a superb option if you juice quick­ly and with­out much effort most com­mon produce.
Just remem­ber, the juice it process­es is high­ly oxi­dized and has a short shelf-life; thus, it must be con­sumed imme­di­ate­ly. Besides, it is very noisy sim­i­lar to the blenders, very messy, pro­duces rather wet pulp, and leaves many resid­u­als inside the machine. It also has a very short 1‑year war­ran­ty, and plas­tic motor cou­pling, and is not as durable as slow juicers with much longer warranties.
Nev­er­the­less, it has a very appeal­ing price and deliv­ers superb results for cel­ery and beets, car­rots, and oth­er root ingredients.