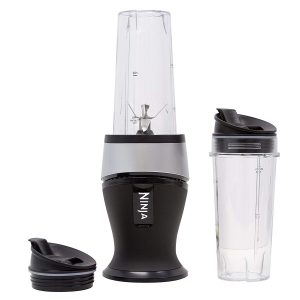 The Ninja Fit Personal Blender 700-Watt (QB3001SS) is one of the most desirable personal blenders at the market currently. The gadget presented in commercials as very versatile that will make smoothies, crush ice, and process other your favorite recipes. Overall, it sounds promising… but how it performs in the real-life kitchen environment?
It is the most basic Ninja personal blender.
Functionality and Versatility
Smoothie:  The blender makes good quality smoothies from soft ingredients like banana, mango, cored pear, or apple. But the process you must expect some greediness when you throw into the container leafy and hard ingredients like carrots, kale, or spinach. Nevertheless, it still makes decent quality green smoothies.
Berries, nuts, and seeds will leave little bits of unprocessed food and berry seed residues.
Frozen ingredients:  The gadget handles ice and frozen ingredients with minimum liquid. However, it hardly able to shave ice cubes to make snow cones but perfectly suits for making the smoothie, shakes and iced alcoholic drinks with some liquid added.
Juices: This machine is able to process fairly smooth smoothies, but it will make rather gritty "whole" juice.
Pureeing: It will handle only cooked vegetables to puree them, the more liquid you add the better it will process.
Chopping/food prep: The gadget is good for the light-duty job and with just a few pulse bursts it will chop vegetables for salads, salsa, and salad dressings. It also chops well nuts, grate cheese, or crumbs.
This machine is not designed for such challenging tasks as making nut milk or nut butter, process hot ingredients (containers are not high temperature proofed), or even for grinding coffee beans, herbs, or milling even soft grains.
Speed Settings and Programs
Ninja Personal Blender (QB3001SS) 700-Watt does not have a classical control panel. It is operated using the only one-speed pulse function, which is activated by pressing down the top of the cup in short intervals. The user must keep pressing until achieving the desired consistency of ingredients. For the best result, you may use short 1 second pulses.
Despite a primitive control function, the user can adapt this for a variety of blending tasks. It just needs some learning efforts from you
Ease of Using and Cleaning
Assembling and operating: The Ninja Personal Blender (QB3001SS) is not very difficult to assemble it for use. It has the removable blades and thus involves few steps to set it up and make ready to run.
Fill the cup with ingredients in the appropriate order as instructed in the recipe up to the max fill line. Screw on the single-serve cup assembly. Turn the cup upside down and keep pressing the top of the cup until desired consistency.
Cleaning: The containers, blades, and attachments are dishwasher safe. While handwashing is preferred if you blended thick and sticky ingredients.
However, handwashing is a challenge because the blades are sharp and should be handled with care. The cups and lids are also troubled to wash as cups are small in circumference and lids have many grooves and cavities.
The self-cleaning is probably the easiest way – fill the container halfway with water, add few drops of detergent, and pulse for few seconds. Then rinse thoroughly and dry.
Base Unit and Motor Power
The Ninja Fit Personal Blender QB3001SS is equipped with 700 watts of power motor what is reasonable enough for the personal type of blender.
The weak side of this machine is the plastic blade shaft and blade to a motor drive coupling what assumes the quick-wear out of the drive parts and very long life expectancy of the machine.
Container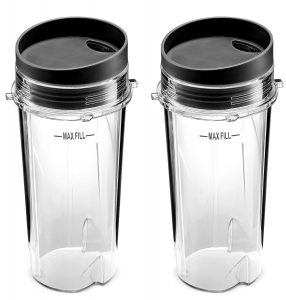 This machine comes with two 16oz. single-serve cup for blending drinks on the go. The cups are quite thick and made from BPA-free polycarbonate material and have a MAX line and measuring marking for 200 ml and 400 ml on one side and 8oz. and 16oz. on another.  
The set also includes two sip and seal travel lids. The lids seem airtight and do not leak.
However, the cups have sometimes trouble to unscrew when you tight them firmly to the blade assembly. While you do not tighten them properly they may leak. Nevertheless, it is typical problem for the majority of upside-down personal blenders.
Blades
This machine comes with a removable set of blade assembly that has the usual single-serve blades design. The 4-prongs blades are made of stainless steel and very sharp but have a problem of dulling usually within 1 year of use. The plastic parts are also not very durable and wear out also within 1 year of use. Fortunately, Ninja sold the replacement for the blades.
Special Features
Colors: The machine comes in dark gray with silver trimming color only.
Certified Refurbished: There is a certified refurbished model available for the Ninja Personal Blender (QB3001SS) and it priced usually $10 cheaper than an original version.
Use in countries outside of USA/Canada: This machine comes with a 110-120 voltage system and suitable for operation in the USA/Canada and the regions with an appropriate voltage. The customers from the countries with the 220-240 volts system should buy the blender from local distributors. Although, it could be operated over via the voltage adapter but not recommended for the extended use by a manufacturer and will void the warranty in this case.
Set Includes
700 Watts power base with pulse technology;
Two 16 oz. (2 cups) single-serve cups;
Two seal and sip lids;
Blade assembly;
User manual; 
The 50 recipes cookbook.
Warranty and Customer Service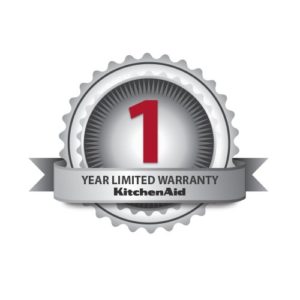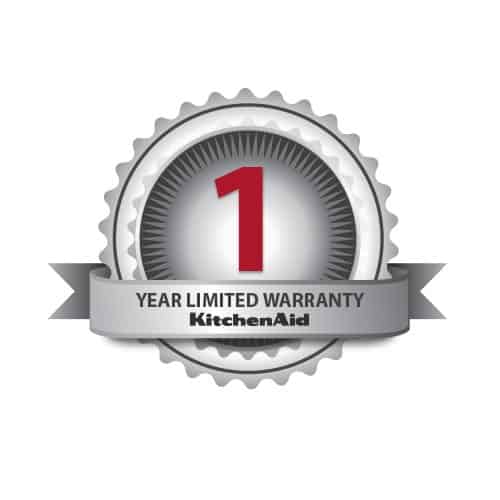 Ninja Personal Blender 700-Watt (QB3001SS) comes with a 1-year limited warranty which means the customer must pay the shipping cost for repaired or returned units. The manufacture may also charge the extra fee for some repairs or replacement parts. Overall, customer service does not have a good reputation among the consumers, however, it is improving over the last years.
As a salutation for short warranty, Amazon offers extended warranties of up to 4 years. So this option is worth considering if you decide to go for this blender.
Noise
This machine is quite noisy and outputs definitely something around 90 decibels despite its very low power motor. The standard advice to reduce the noisiness of blenders is to place a rubber mat underneath of the base unit.
Optional Accessories and Attachments
Ninja blender does not have interchangeable attachments and there are no extra accessories available to buy for this model. However, all replacement parts are could be bought from manufacturers or other online retailers.
Dimensions
The machine has quite a small footprint of 5.91 inches x 9.45 inches thus the motor base will not occupy much space on the counter and with the height of 13.7, it fits under all the kitchen cabinet. It also very light and weigh only 4.63 pounds, so it could be taken on travel. The unit comes with 1.75 ft. long cord.
Pros and Cons
Pros:
The blender makes fairly decent smoothies;
It pulverizes ice fairly well;
It is very compact and will not occupy much of your kitchen counter space;
It is not tall and fits under all kitchen cabinets;
Cons:
Blender takes an effort to assemble and disassemble;
The gadget is not easy to clean because of sharp blades parts;
Non-durable plastic motor drive to blades coupling;
Comes with an only 1-year warranty and not durable;
Ninja Personal Blender (QB3001SS) Consumer Reviews
There are some complaints from the customers regarding a few issues. The major one that it may leak if not tightened properly and may be difficult to unscrew when tightened firmly. Another one that the blades usually getting dull over time and need to be replaced at least once in the year. The plastic gear does not contribute to the life expectancy of the blender.
Nevertheless, this machine has mostly excellent reviews at most of the online resources. Nothing surprising though as Ninja blenders are very popular among the consumers and keep a substantial share in the personal blenders segment.
This particular model well deserved it as it is compact, perform well for making smoothies and light food prep task, and has a reasonable price.
Amazon rating – 4.6
Ninja 700 Watts Personal Blender Price
This blender is available from many retailers with a price of $49-$59. Although the price seems reasonable. Amazon also offers an extended warranty for an additional up to 4 years for the price up to $10.
Check here today's best price for the Ninja Personal Blender 700-Watt (QB3001SS)
Summary
The Ninja Personal Blender 700-Watt (QB3001SS) has a number of excellent reviews and outstanding popularity. And I can certainly recommend this machine to the people who are looking for an affordable compact personal blender that is designed to perform light-duty tasks for the solo person or small household. Although, it is not the very versatile machine but quite powerful and able to make very decent smoothies including the green ones, chop veggies, make salsa and dressings, chop nuts and bread scrambles very well. In addition, it is small enough and will take little room in your cupboard. And most importantly it is available at a very reasonable price.
Alternatively, check here our articles the Best powerful but affordable personal type's blenders.