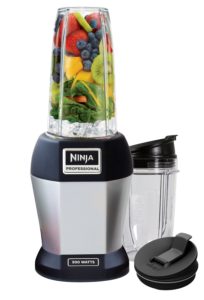 The Nutri Ninja Pro BL451, BL456, and BL455 are the most basic models in the Ninja personal blender product line. They come in 3 different packages – Nutri Ninja Pro BL451, BL456, and BL455 – which differ by number and the capacity of cups and recipe books included. These gadgets are very popular among consumers due to the professional advertising campaign. But do they really perform that well and have all of those incredible features that the Ninja claims in the advertising?
Here is our honest review, which reveals all of the good and bad sides of these popular blenders.
Would you like to look at alternative options? Check here our articles the Best powerful but affordable personal type's blenders and NutriBullet 600 watts Blender vs Nutri Ninja Pro BL450/BL451/Ninja BL456 Nutri Edge.
Functionality and Versatility
Smoothie: This blender makes decent drinks, including the green smoothies. It obliterates well not only fruits but also leafy and tough ingredients like kale, chard, or carrots. This machine is also able to handle strawberry or blueberry seeds and pulverizes them in the drinks without any residue left. It also will blend nuts and oats to mix them with the drinks, but some nuts do need pre-soaking. It may, however, leave some small chunks of very tough ingredients but, in general, it does an excellent job.
Ice crushing, frozen desserts: It does crush ice very well in the drinks. Moreover, this is the only personal blender in the price range that processes ice without any liquid added into the snow like consistency. This is also a perfect machine for making various frozen desserts or shaving ice for margaritas and other drinks.
Juicing: This machine will not squeeze classic style juice by separating the fiber from a liquid, but it is able to make a creamy enough drink with liquid added to process "whole juice" or smooth smoothie.
Nut milk: This gadget is powerful enough to make decent nut milk from a variety of nuts.
Hot food: As stated in the user manual, Nutri Ninja Pro gadgets are not designed to handle hot food. If you require liquefying ingredients for soup, you will need to cool them to room temperature before putting in the Ninja. This machine is also not suited for processing bulletproof coffee.
Nut Butter: This blender is barely able to produce decent nut butter, probably only a mixture of very coarse consistency. In general, the bullet type blenders are not good for this purpose, because it is quite difficult to process nut butter without mixing ingredients and removing air pockets during blending.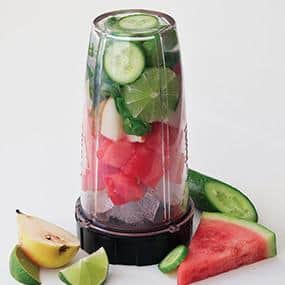 Pureeing and chopping and mixing: Although this machine operates with only one pulse function, it is able to produce a simple variety of vinaigrette, salad dressings, dips, and sauces. It will homogenize not very tough vegetables into a fairly smooth puree. It will chop quite well, and turn all type of nuts into very good nut powder.
Grinding and milling: This blender is capable of simple grinding such as powdering coffee beans, herbs, or oats, but it cannot mill baking quality grain flours.
Dough kneading: The machine is not designed to knead the dough. However, it will make quite decent cookies and pancake batter.
Although a majority of personal blenders are designed to handle a quick and simple range of tasks, the Nutri Ninja Pro is a quite versatile machine and is able to produce a variety of recipes. The only drawback of this machine design is that it is not able to handle hot liquids.
Check here the best today's deal for the Nutri Ninja Pro BL456 Blender
Speed Settings and Programs
The Nutri Ninja Pro BL451, BL456, BL455 do not have a typical control panel, speeds choice, or on/off switch. They are operated on one speed with a pulse function by pressing down the top of the cup against the base unit in short intervals. The user must hold and push the cup during operation until the desired food consistency is reached. This type of operation is common for personal type blenders. Although, it does not allow a lot of flexibility during the blending process, many people like this type of gadget because it is so easy to use.
Ease of Using and Cleaning
Using: The Nutri Ninja Pro is a very easy machine to use. Add the ingredients into the cup, screw the blade assembly until there is a good seal, flip it over and place on the base unit, turn it clockwise and it is ready to use. When blending is finished, just unscrew the blade from the cup and replace it with the sippy lid. The operation is also a simple task, and blending is activated by the push of the top part clockwise on a base.
The blender is not supposed to be run longer than 1 minute in one go, but that is the usual case for a bullet, pulse type machines. Usually, you have to keep an interval of a few seconds before initiating another push for running.
Cleaning: This machine is also very simple to clean. The cups and blade assembly are dishwasher safe. However, some people report cups edges melting and sealing damage after cleaning in the dishwasher. So, hand washing is probably preferable for this gadget, which also is an absolutely simple task. Just rinse out with soap and water or fill the cup with water and few drops of soap and run the blender for a few seconds. The self-cleaning is effective for thorough cleaning of the blender because it removes even the tiniest food residue from all blade assembly cavities.
Base Unit and Motor Power
For a personal blender, the Nutri Ninja Pro has a very powerful 900-watt (BL451 and BL456 models) and 1000-watt (BL455 model) motors. The motors are equipped with a safety system that shuts off the machine automatically in case of overloading and prevents motor damage. The machine requires 30 minutes of cooling time before the gadget will be ready to use again.
But it has a weak point; the blade to drive connection is made with fragile plastic, and this makes the machine not very durable.
Containers
The blender comes with 18 oz., 24 oz. (all models) and an extra 12oz. (BL451 model only) BPA-free polycarbonate cups. According to the user's manual, the cups are not temperature resistant and may melt and develop cracks if used with hot liquids. The cups are also not stress-resistant and may also crack if often exposed to heavy loads. They often have problems being unscrewed after use since they may accumulate extra pressure inside of the container during the blending. This also may cause the cup to crack. So the quality of the polycarbonate the containers are made of is not the best, and this obviously contributes to the limited durability of this machine.
Blades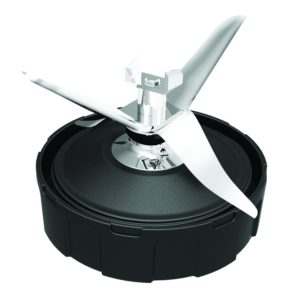 The unit is equipped with one blade assembly, which is attached to the appropriate cup when needed. The assembly comes in one piece and is not supposed to be disassembled for cleaning or other purposes. The blade is made of stainless steel and is 4 pronged (2 faces upward and 2 downward). Although the blade is made of steel, it is reported to dull within a few months of regular use, but replacements are easily available. The rest of the assembly is made of plastic which is weak, and could easily break or wear out. The most vulnerable part of the assembly is the rubber ring, and this needs to be replaced more often than desirable.
Special Features
Colors: This gadget is available only in black and silver in general, but there are exclusive editions for various retailers in other colors that are priced more expensively than the black and silver models.
Certified Refurbished: The refurbished version is available for the BL450 model only which comes with the two cups and 30 recipes book. The refurbished machine is priced $20 cheaper than the original one.
Voltage system and use outside of USA/Canada: The Nutri Ninja Pro BL451, BL456, and BL455 is sold in many countries around the world and has a voltage system that is relevant to the particular region. The machines sold in the USA come with a 110-120 voltage system for the USA and Canada. So, for regular use in countries with a 220-240 voltage system, it is better to buy from local retailers. For occasional use abroad, the blender could be run with a voltage transformer. Check here the 220-240 volts models for Nutri Ninja Pro BL450, BL451, BL456 sold via UK retailers.
Noise
The Nutri Ninja Pro is a noisy machine that produces over 100 decibels. To reducing the noise coming from the gadget, the user may put a rubber mat underneath of the base unit, and this noticeably dampens the sound.
Warranty and Customer Service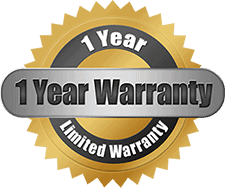 These blenders come with only a one-year Limited warranty that means that any repairs and replacement parts shipment will be subject to extra charges. The user also has the option to buy the various extended protection plan from Amazon and other retailers.
The SharkNinja customer service does not have a very good reputation and they often try to avoid performing the warranty obligation. Therefore, buying the unit from reputable retailers who will perform the warranty obligation is a reasonable solution for potential customers. The extra protection plan is another good solution in this situation.
Optional accessories
The majority of extra accessories and parts are not interchangeable between all NinjaShark blenders. However, some cups from BL480, BL482, BL482Z model will suit this model. It is also possible to buy the replacement parts from various retailers for this machine, such as 
Set Includes
900 Watt Motor Base Unit;
One Blade Assembly;
Nutri Ninja Cups; 
Sip and Seal Lids;
Instruction book;
Recipe and wellness guide.
Dimensions
The Nutri Ninja Pro BL451, BL456, and BL455 are the personal type blenders that are supposed to be compact so they have quite a small base footprint of 4×4 inches and they are only 14.8 inches tall. The unit easily fits under any standard kitchen cabinet. However, with weight around 8.2 lbs. these blenders are not very light, so they will be the perfect compact gadget for a small kitchen but probably a bit heavy for taking on travel.
Pros and Cons
Pros:
The Nutri Ninja Pro is a powerful blender that produces decent quality drinks and handles green smoothies without any effort.
This is the only personal type blender in the price range that is able to crush ice without liquid added to the snow consistency.
The machine is quite versatile and is able to perform a reasonably good range of tasks for a personal type blender that is priced under $100.
Cons:
This machine is not durable due to the many designed faults such as having an all-plastic blade to drive connection, low-quality containers, and a quite fragile blades rubber ring.
The blender comes with only a 1-year warranty and does not have helpful customer service.
This machine, although quite powerful, is a bit overpriced for a bullet type blender.
Nutri Ninja Pro BL451/BL455/BL456vBlender Consumer Reviews
The Nutri Ninja Pro is a very popular blender, with many favorable reviews from consumers. The durability problems are not usually reflected in the review probably. The flashy and professional commercials have the power to influence the consumer, and they refuse to notice faults in oversold products.
Rating: 4.5
Price
The price for these blenders is getting lower over time and it is normally under a hundred dollars unless there is a special offer when you can grab this gadget at very attractive price.
Check here the best today's deal for the Nutri Ninja Pro BL456 Blender
Summary
This machine does a decent job and produces very good quality smoothies, including the green ones. Despite the fact that Nutri Ninja Pro BL451/BL455/BL456 is probably an overpriced personal blender, however, still a good choice for someone who is looking for a single-serve gadget to crush ice and blending smooth drinks. Just remember, this is not the most durable machine.
Alternatively, check here our articles the Best powerful but affordable personal type's blenders and NutriBullet 600 watts Blender vs Nutri Ninja Pro BL451/BL455/BL456.