Pomegranate juice is a healthy type of juice that most people opt to take especially in the morning. It is not only delicious but also contains antioxidants and other nutrients which assist kick off your day. However, juicing pomegranate can be cumbersome to you, especially if you do not know the most appropriate juicer to use.  Red cluster gem-like seeds found in this fruit make it challenging to juice it using any juicer at your reach. There are two commonly known juicers that one can use to process pomegranate, these are; masticating juicer and pomegranate/ citrus press juicer. These juicers are popular since they are multifunctional and have the capability of working on the hard or soft materials to give high-yield juice. Other juicers like the centrifugal juicers are not suitable for pomegranate juicing since they produce low yield juice. Therefore, pomegranate/citrus juices and masticating juicers are the best for your juicing purposes for they give you the value of money you spent on buying the fruits.
Juicing Pomegranate with Citrus/Pomegranate Press Juicer
 It is worth noting that not all citrus juicers are powerful enough to extract high- quality juice from the pomegranate. This is because the fruit requires a lot of force during extracting compared to other soft fruits like grapes and oranges. Pomegranate press juicer juices fruit manually by pressing fruits material through a cantilever action. Such extraction action allows the user to apply little force on fruits and produce high-yield juice at a go.
Moreover, this method enables you to juice pomes without deseeding. It enables you to save your time especially if you have a tight timetable. Always bear in mind that, you need to reseed your pomes while juicing with an electric juicer. The citrus press juicer cuts the cost you require to run it and ensure that your kitchen is less messy for it is easy to use. However, while juice, half of the pome with pith is extracted. Juice containing pith has an acerbic or bitter taste which might not suit everyone. On a positive note, the pith in the juice is quite essential to your health since it contains a lot of nutrients. Cleaning the juicer also requires little effort.
Commercial Grade Can-Can Manual Citrus Press – Pomegranate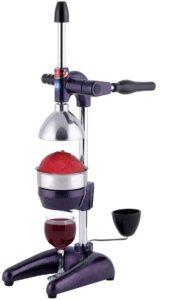 The Can-Can Manual Citrus Press is a commercial-grade citrus juicer with some specific design adjustments to handle well pomegranate fruits. It is produced in Turkey by a reputable company with a history going back as far as 1958.
Functionality: This press is designed to juice pomegranate and all range of citrus fruits including oranges, grapefruits, oranges, lemons, limes, satsumas, and others.
It excels at squeezing juice from pomegranate with the yield rate approaching 95%
Design and parts, base, press cone, handle: The juicer is well constructed with an iron cast body, rubber pads on the base for stability, stainless steel strainer, and an inner press cone part, while the upper part of the press cone is aluminum.
A large 4.5″ /114.3mm diameter bowl allows the user to squeeze large pomes or citruses. The strainer is fixed with clamping clamps on the sides of the bowl that does not allow the strainer to be raised while pressing fruits.
The most unique feature of the Commercial Grade Can-Can manual pome juicer is the presence of a short pull lever on the right and handle on the left side which you can hold to ensure extra stability when pressing a stubborn pomegranate. The juicer is also equipped with the swing-out plastic cup that is designed to catch the falling juice drops after juicing.
The press is not designed to unscrew, however, it is easy to clean with a soapy wet cloth and you can rinse with clean water afterward. 
Dimensions: It has an 11.42 x 7.87 footprint with 21.65 inches in the down position and 25.75 inches/65 cm in the up position.
Strength and Weaknesses:
Pros:
Comes with about 4.5 inches bowl to handle large fruits;
Short lever requires less effort while pressing;
The additional handle ensures extra stability
Well-made and deliver high pomegranate juice yield;
Cons:
The press system nor removable nor adjustable;
The strainer has a shape that makes it better to filter the juice form smaller fruits;
Expensive.
Summary: If you require a juicer model that can be of great use in an intense kitchen this is your must-have brand. This is because this juicer model has a clamping system that makes it more efficient. A citrus juicer is also constructed in a sturdy and stable form. Therefore, during pressing the juicer does not move back and forth on your kitchen counter. It also allows intuitive juicing hence, anyone can use it. Materials that make up this juicer model are strong, of high quality, and super durable.
Commercial Grade Can-Can Manual Citrus Press, via Amazon
ROVSUN Commercial Grade Citrus Juicer – Pomegranate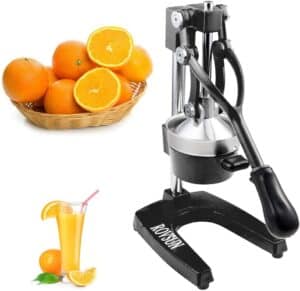 This is another manual citrus press juicer that at dealing well with pomegranate. While this citrus press is manufactured in China and distributed under an unknown brand which is owned by Chinese company Fujian Zongteng Network Co., Ltd. Though, it has a good quality, squeezes well pomegranate juice and available at a very affordable price.
Functionality: This heavy-duty citrus press juicer is juicing pomegranate, a wide variety of fruits like limes, oranges, grapefruits, and lemons using this single device.
Design and parts, base, pressure cap/dome, container: The main body of the juicer is made of cast iron. A cast aluminum material is used to make the exterior bowl and upper dome of this model. Other parts like a strainer, funnel, and vertical support shaft is made from stainless steel. The bowl has a 4.72″ / 12cm diameter that is suitable for large fruits and you can easily fit there a large pomegranate.
A strong and long lever with an ergonomically rubberized handle does not require much effort for operating this press and exerts superior leverage for maximum extraction of juice.
The upper part of the cone is not designed to unscrew but you can do it at your risk. While you can wipe it with the wet cloth or the user can tilt the juicer over the sink and clean it properly with the sponge and running water.
The space under the bowl allows the user to fit the 5 inches tall cup under the device to catch the juice.
Dimensions: The juicer is rather big with an 8.66 x 7.09 footprint and 14.57″ with handle down and 28″ handle up. It weighs about 13.5 lbs/6.1kg, so it is stable during operation.
Strength and Weaknesses:
Pros:
Comes with the 4.72" bowl to handle all fruits sizes;
Affordable price;
Cons:
Not enough space to fit a large cup under the device for juice collection;
The height of the juice bowl is not adjustable.
Summary: The juice can be prepared without the need for a high force for pressing. During pressing, the device does not destabilize. Using the foot that prevents slipping, the device sits perfectly on the worktop and keeps it in a comfortable squeeze position.
The removable juicer parts are also dishwasher safe. Although it comes with only a 1-year warranty it is a durable device and has long juicing service.
ROVSUN Commercial Grade Citrus Juicer, via Amazon
Juicing Pomegranate with a Slow Mastication Juicer
Pomegranate is not only extracted using a citrus press juicer but can also be juiced using a slow/masticating juicer. Although this model takes a longer time to juice, it has an auger that crushes and squeezes materials against a chamber to obtain the juice. Deseeding should be done when using this model unlike when using citrus press juicer. Slow juicers are well-performing and multifunctional brands that one can use to make other food products like nut milk, sorbets, and nut butter.
Particularly, the main reason for opting to use the masticating model to juice pomegranate is to retain the flavor and nutrients in fruits.  When using the slow juicer to extract juice from pomegranate or other fruits, you should feed its chute with small chunks. This ensures that the juicer does not clog or jam the gear. To prevent this you need to cut fruits into small pieces hence you require a longer time prep which is a drawback of this juicer. If you are much concerned with 100% healthy juice, this the best option since it does not affect the heat-sensitive enzymes in fruits. Moreover, it can easily work on both hard and smooth food ingredients.
Hurom H-AA Slow Juicer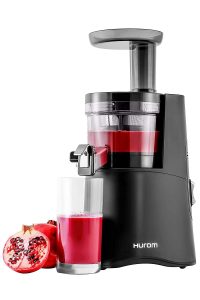 It is a 3rd generation vertical single auger masticating juicer manufactured by the reputable South Korean Hurom manufacture. Although it does not has the latest design, however, it is tested to handle very well pomegranate fruits.
Motor and power: The juicer has a single-phase induction 150 watts motor with exceptional torque this why it is very efficient at juicing the pomegranate. The motor rotates the auger with a speed of 43 RPM which is typical for vertical single-auger slow juicers. This ensures that the fruit juice retains its natural nutrients and flavor which are essential to your health.
The juicer comes with an automatic overheating system and a cooling fan that ensures this machine's long life span.
Design, feeding chute, and chamber:
This juicer body unit has a streamlined design with smooth curves and modern beauty. It comes with the 17 oz./500 ml juicing chamber that is made from BPA-free Eastman Tritan copolyester material.
The juicer gas a crescent shape 1.5 X 2.5 inches feeding chute and will require to pre-cut most of the ingredients, however, it does not affect the pomegranate as you have to deseed it before feeding into the masticating juicer.
Notably, the Hurom H-AA Slow Juicer has a pulp control lever where the user can adjust the pressure depending on the type of the ingredients.
Auger: It comes with a single auger made from GE Ultem polymer which is the extra strong material and efficiently process pomegranate.
Screen/strainer: The juicer comes with a fine and coarse strainer where the frame is made from Ultem polymer and stainless steel meshed part. You should use the coarse screen to juice pomegranate for maximum juice yield.
Containers: The juicer comes with 36 oz./100 ml juicing and pulp containers.
Functionality: The vertical juicers are the most versatile masticating machines and can work on a wide variety of food ingredients – firm and soft fruits and vegetables, leafy greens, wheatgrass, citrus fruits. The juicer set includes the coarse and blank screens that allow this juicer to make frozen treats, nut butter, tofu, and baby food.
Summary: This is the very efficient Hurom juicer and known to deliver one of the highest juice yield forms most of the ingredients. So if you buy this machine for juicing pomegranate you will get the high quality one of the most versatile juicers on the market that will handle a wide variety of ingredients for juicing and food processing. Besides, Hurom H-AA Slow Juicer comes with 10 years warranty on the motor and 2 years on the parts.
Hurom H-AA Slow Juicer, via Amazon
Omega J6006HDS/J6008C Masticating Slow Juicer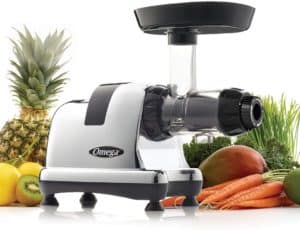 It is a 5th generation horizontal singles auger masticating juicer by well-known Omega. Although it is not the latest design Omega horizontal juicer it the best Omega to handle pomegranates.
Motor and power: It is equipped with a powerful 200 Watts motor and has a slow rotation speed of 80 revolutions per minute. This low-speed motor minimizes oxidation and heat buildup which might eventually lead to loss of healthy enzymes.
The juicer is also equipped with an automatic overheating system to extend the machine life expectancy.
Design, feeding chute, and chamber: Furthermore, the Omega 6006/6008 juicer has a BPA-free Eastman Tritan copolyester transparent drum and circular shape 1.5 inches feeding chute.
Besides the juicer has five- settings adjustable end cap which increases juice yield and production of very dry pulp.
Auger: This juicer comes with the single auger made from extra strong GE Ultem resin material.
Screen/strainer: Moreover, this juicer has a dual-stage screen where both parts are made from stainless steel that makes this juicer more suitable for the pomegranate juice extraction than the newer Omega CN800/CN900 models.
Containers: The Omega J6006HDS/J6008 set includes juice collection and pulp containers.
Functionality: This juicer is a very versatile juicer that can do a lot more than only juicing pomegranate juice, it also very good at extraction juice form leafy greens including wheatgrass, citruses, soft and firm fruits, and vegetables. Besides, it comes with an extra attachment that allows users to expand this machine functionality to making frozen treats, nut butter, baby food, extruding pasta, or whipping soy milk. All these can be done in a flash using this single device.  
Summary: The Omega Omega 6006/6008 is not only very efficient at extracting pomegranate juice but also handles very well most of the ingredients for juicing. This machine is very easy to use and easiest across all types of juicers to clean. Besides, the manufactures of this brand offer 15-years coverage on both performance and juicer's parts.
Omega J6006HDS/J6008C Masticating Slow Juicer, via Amazon
Super Angel Juicer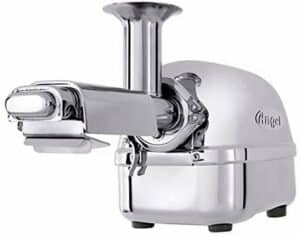 In all honesty, the Super Angel Juicer is the best premium Twin gear masticating juicer found in the juicer market. While it is enormously expensive, we decided to include this machine in our list of best pomegranate juicer just because it the only twin gear juicer that can safely handle juicing pomegranate.
Motor and power: The juicer features 180 watts powerful motor with 82 RPMS twin gear rotational speed.
Design, feeding chute, and chamber: It is an exceptional juicer with a range of unique features. While the most unique feature of this juicer that it is 100% made from stainless steel. It has unique for the twin gear machine the design that includes a screen, feeding chute, and drum in one single piece that makes this juicer relatively easy to use and clean when compared to other twin gear juicers.
Besides it has the widest among all twin gear juicer the 1.7 inches/43 mm feeding chute that makes the food juicing preparation task much easier.
Gears: The twin gear juicer crushes the produce with closely rotating two gear that has a very narrow gap between them. The ingredients such as pomegranate may not process properly and cause jamming unless the gears are made entirely of stainless steel.
The Super Angel the only juicer on the market that has its twin gear set 100% made from stainless steel, thus it makes this juicer the only twin gear model that will handle pomegranate safely.
Containers: The Super Angel Juicer comes with glass juice and plastic pulp containers.
Functionality: This juicer does not handle every single ingredient the other juicer do but also it delivers the 10-20% more juice yield for most of those ingredients. To be precise it juice firm and soft veggies and fruits, celery, leafy greens, including wheatgrass, variety of sprouts, citruses, pomegranate, and much even such exotic ones as pine needles.
Summary: Super Angel Juicer is made of stainless steel which is a durable and safe metal that cannot leach chemicals. If it comes to versatility, this model is among the topping brands. It can efficiently juice veggies, fruits soft berries, pomegranates, or even wheatgrass. The model is not only known for easy cleaning but also easy to operate and obtain high-yield juice. Ease of cleaning and operation make it suitable for daily use. To assure you a long juicing service the juicer comes with 10 years warranty.
Super Angel Juicer, via Amazon
Final Thoughts
Lastly, how to select the best pomegranate juicer from the list above? They come in varying types, each model has its strength and weaknesses. Their functioning also differs in terms of juice quality, time is taken when juicing, and juice yield.
If you intend to juice mostly pomegranate and citrus fruits than you better select the citrus press juicers depending on your budget. The CanCan Citrus Press is the premium device that will deliver an excellent pomegranate juice yield. While if your budget is tight then Rovsun juicer is also will do a decent job. Although it is China made but it is a very good quality device and will perfectly extract delicious pomegranate juice.
If you plan to extract juice from a wide range of ingredients including the pomegranate than the slow masticating juicer will be an excellent option. We listed the Hurom H-AA Slow Juicer and Omega J8006HDS/J8008C not out of the box or because they are bestsellers, each of these two juicers is truly handled very well pomegranate while one of the best machines within their juicer styles.
Thus if you want to buy the multifunctional machine that juice not only pomegranate well but the widest range of ingredients while you do not mind some food preparation for juicing than you should go for the Hurom H-AA Slow Juicer. While if are looking to buy no brainer machine that is easy to use and clean while you can compromise on slightly lower juice yield for firm fruits and vegetables then you should consider Omega J8006HDS/J8008C option.
Finally, if you intend to become a true juicing enthusiast or you require a juicer for health reasons then twin gear Super Angel Juicer is truly not only the best twin gear machine on the current juicer market.