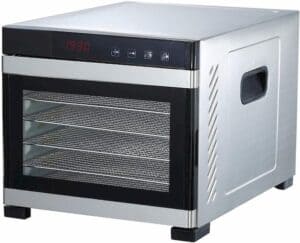 This very popular stainless steel dehydrator comes under the 3 brands – Samson, Cosori, and Magic Mill – and available with a different number of trays. Even though, the dehydrators are marketed under different names and brands they have similar technical parameters and exterior designs and are manufactured in the same production facilities in China.
So, the technical parameters and the differences between the dehydrator models are separately discussed below.
Horizontal Technology
Notably, the dehydrator features a horizontal or parallel air flow circulation system. It has a seven (7) inches fan and the heating element behind the fan, where the heating coil heats the air and the fan pulls air through all levels of trays. Therefore, promoting even dehydration of foodstuffs. For safety reasons, the dehydrator fan is separated from the chamber area by a stainless steel grid guard.
The parallel airflow technology is present only in horizontal dehydrators and provides the most efficient foodstuff drying that does not require frequent tray rotation during dehydration.
Exterior Design and Wattage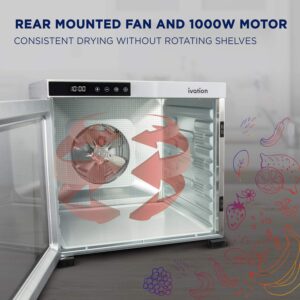 Exterior design: Notably, the outer unit shell is made from stainless steel thus its exterior design will look sharp on any kitchen counter. It also has two handles on the sides and the user can easily pick it up and move around.
The interior walls and bottom of the dehydrator are made of galvanized steel. All other parts that come in contact with the food are made of stainless steel. The only plastic elements of the dehydrator design are the removable drip tray and meshed plastic tray inserts. The drip tray goes straight in the base of the machine and prevents dripping the particle and liquids to the bottom and meshed plastic inserts are designed for dehydrating small pieces of food.
A glass door is another dehydrator smart features further simplify the working of this device. With this see-thru glass door, the user can frequently supervise the dehydration progress without opening the dryer's door. The glass door is also easy to clean and cannot affect the flavor or nutritional value of food.
Motor and Wattage: Any dehydrator model requires sufficient electrical power to run its motor and supply the high temperature needed to kill harmful food micro-organisms. Specifically, Samson 10 trays dehydrator has a 600 watts motor. The entire power system is mounted at the back of this unit- a feature that improves its safety since no food dripping fall on it.
Besides, this machine is also equipped with the safety shut off system that will automatically stop the dehydrator if it is overheated. The device is designed only for 24 hours of continuous operation. After 24 hours you have to stop it for 30 min for cooling before resuming its operation if needed.
Number of Trays and Square
Apart from having an efficient power system, this dehydrator models come with six (6), seven (7), or ten (10) removable stainless steel trays. Additionally, the stainless steel that makes up the trays is food-safe; hence it guarantees you chemicals-free food. Moreover, the stainless steel is a sturdy and durable material that assure you a long dehydrating service.
Each tray has a dimension of 12'' by 13'', making a total internal space of 15.6 sq. feet with the 1 ¼ '' space between the trays. If you are dealing with thick food items that might not completely fit within trays, you can eliminate many trays to accommodate them. Removable trays improve the efficiency of dehydration of some large food pieces.
Besides, the dehydrator models also come with two (2), four(4), or ten (10) semi-flexible clear plastic mesh liners depending on the model, which are essential for dehydrating small food items. These mesh liners ensure that the drying food ingredients like the herbs do not fall through the trays in the entire drying process. A BPA-free material is used to make these mesh liners to ensure that your food is toxic-free.
Control Panel

This dehydrator has a digital control panel with an LCD screen and only four (4) buttons – the ON/OF buttons, temperature and time setting button, and decrease (-) and increases (+) buttons.
Temperature control: Its temperature setting ranges from 95ᵒF/35ᵒC to 165ᵒF/74ᵒC with the 9 degrees steps, so it has only 167, 158, 149, 140, 131, 122, 113, 104, and 95 temperature options you cannot select the temperature in between. Nevertheless, it is still enough for efficient dehydration of a variety of food. The higher temperature range is essential, especially while drying meat, while the lower range is vital for most vegetables and herbs.
Timer: Furthermore, the control panel also has an up to 24-hour countdown timer with 30 minutes intervals settings. The dehydrator will shut off automatically at the end of the cycle. The timer is a very useful feature in dehydrators, especially when you need to leave foodstuff that takes a long time to dehydrate overnight.
Using and Cleaning
The Dehydrator control panel has only 4 buttons to operate thus it is fairly easy to use.
 Using: This dehydrator does not have a power switch or button and ones you plugged it in the machine beeps and all power buttons start illuminating. Now press the on/off buttons and the "temp/time" button and it will show 158F, now it is ready for setting the temperature parameter by using the "-"and "+" buttons. The temperature setting has only 167, 158, 149, 140, 131, 122, 113,104, 95, options, you cannot set it to a precise degree.
After you set the temperature, you press again the "temp/time" button for setting the time parameter. The user sets the time with the precision step of 30 min by pressing the "-" and "+" buttons. After the user sets the temperature and time the unit will start running automatically within 2 seconds. The timer will automatically shut off at when at the end of the set cycle.
Cleaning: After the use of any dryer model, what comes in our mind is the issue of cleaning. Since the trays of this dehydrator are made from stainless steel, cleaning of these trays is easy. You can opt to clean the trays, mesh liners, and the bottom drip trays manually using warm clean soapy water or in the dishwasher as all the trays and accessories are dishwasher safe. 
Food Preparation and Functionality
Food dehydration in this model is efficient, allowing you to dry your herbs, nuts, vegetables, fruits, spices, berries, meat, and other food items due to maximum airflow within its unit.
There are a care and instruction manual where you will find useful information that guides you on how to dry a variety of food and the best heat range for each type. The guide has 40 different food from grapes, nectarines, apples, and a variety of meats. It explains what pieces size you should cut for best results and how much time it will take to dehydrate the food to the right condition, how to identify if food is ready for storing it, and does not have an excess of moisture.
Generally, the food preparation for dehydration does not need much knowledge, and every item should cut to the thinnest possible size, so it will dry faster. The thick pieces are not good for drying them in a dehydrator and could even mold during the dehydration process.
The dehydrator also could be used for raw food dehydration, the user just has to keep the temperature for this purpose below 118 degrees. In case a very high temperature is used to dehydrate the food nutritional value might decrease.
But, if a user uses a lower temperature range to dehydrate meat, some micro-organisms might remain in it. Such organisms will eventually decrease the shelf life of the meat. Here, you need to understand the correct temperature range to dehydrate a particular type of foodstuff to prevent using the wrong heat range.
Dimensions
Furthermore, this dehydrator even 10 tray model has a compact size and, therefore, can fit properly in most kitchens or can be moved within the dehydrating area with ease.
Samson 6 trays have a size of 17.75" deep X 13.5" wide X 12.25" high and 18.5lbs of standing weight;
Samson 10 trays have a size of 17″ L x 21″ W x 16.5″ H and weight of 40.8 lbs.;
COSORI Premium Food Dehydrator Machine with 6 trays has the similar to the Samson 6 trays size of 17.75" deep X 13.5" wide X 12.25" high  and weight – 18.5 lbs.;  
Magic Mill Food Dehydrator Machine with 7 trays has a size of 17.75" deep X 13.5" wide x 17" high and weight of 19.5 lbs.
Optional Accessories
The only additional accessories you may need to buy for your dehydrator are the mesh tray insert for dehydrating the smaller items such as nuts or herbs and sheet inserts for dehydrating liquid ingredients for making fruit leather or crackers.
Usually, the dehydrator will include the mesh inserts in the set, however, not all of them come with the inset for every tray, so you may wish to buy additional ones. The sheet insets are rarely included in the set and if you plan to make fruit leather they could be a great option to buy to expand your dehydrator functionality.   
Here are the mesh inserts and sheet inserts that are compatible with the dehydrators above:
Baking Mat Teflon Dehydrator Sheet; 
BPA-Free Dehydrator sheets for Jerky Mesh Screen;
Fruit Roll Sheets, BPA-Free Dryer;
Special Features
Color: All dehydrator models come in one stainless steel color with some black trimming in front.
Operation outside of the USA/Canada: The dehydrators sold via the USA distributors have the 110-120 voltage system and not compatible with the 220-240 voltage system that is used in most of the European, African, Asian countries and Australia. When buying a dehydrator you should pay attention to the machine voltage system and opt for the one from the local distributor or from the countries which have the appropriate voltage system.
Noise
Mainly, this dehydrator brand is known to have a silent internal mechanism and emits only 48 dB – 52dB noise from working fan; hence you need not bother yourself by dragging it to your laundry or the garage. This feature also makes it one of the suitable device for people living in limited square footage or where neighbors are noise sensitive. You will not be limited from using your device at a certain time of the day, such as early in the morning. It means you can decide to wake up at dawn and proceed with your dehydrating activities without minding much about your sleeping family members.
Warranty
The manufacture of the device gives a five (5) year warranty for heaters, fan, motor, and the control panel.
Pro and Cons
Pros:
Stainless steel body and trays ensure the health-friendly environment for dehydration
Drip tray provides easier cleaning;
Count down timer with automatic shutdown does not require baby the machine;
The temperature control allows a wide variety of food dehydration;
Glassdoor allows to observer the dehydration process;
Parallel dehydration technology provides even cleaning for foodstuff;
 Cons:
Does not has a power switch button and start to draw the electricity ones the machine plugged in;
Temperature pre-sets has only 9 degrees increments, the user cannot set to the 1 degrees precision temperature.
Cosori Premium vs Magic Mill vs Samson "Silent" Food Dehydrators vs NutriChef NCDH6S.5 Electric Countertop Food Dehydrator
Notably, the Cosori Premium, Samson "Silent", and Magic Mill Food dehydrators are all produced in China, have very similar technical parameters and exterior design, though, available under different brands. If Cosori and Magic Mill are very new brands that were recently established and sold all China manufactured products, Samson is the USA brand that specialized in the manufacturing juices and other health-related appliance and their production facilities are located in the USA or South Korea. However, this practice is common when reputable brands outsource the production of some of the brand products in China, usually for the budget models, and sell under its name while providing the models with a good warranty.
However, these three (3) brands models have some minor differences and you may learn about these differences here.
The Samson "Silent" Dehydrator is available in two models that come with 6 trays and 10 trays. These models have identical technical parameters and exterior design but differ by the number of trays and the dehydrator unit height and weigh. Both models come with 5 years warranty covered by Samson Company and sold at a slightly higher price than other brands of this machine.
The COSORI Premium Food Dehydrator has the same as Samson with 6 trays, identical size, and weight, technical parameters with the Samson 6 trays dehydrator while the slightly different design of the doors and different order of control panel buttons than Samson dehydrator. The Cosori machine comes with a 1-year warranty and available at a slightly cheaper price than Samson 6 trays version.
 The Magic Mill Food Dehydrator Machine comes with 7 trays, has the similar technical parameters with the Samson and Cosori models, similar footprint, but slightly heavier weight than Samson 6 tray model and Cosori and comes with a 1-year warranty. Thus it has a price close to the Cosori model.
Price
The Samson, Casori, and Magik Mill stainless steel dehydrators are the budget models and come at very affordable prices. The Cosori and Magic Mill are cheaper than the Samson model that is explained by the shorter warranty they have.
Samson"Silent" Stainless Steel Food Dehydrator (10 trays), via Amazon
Samson"Silent" Stainless Steel Food Dehydrator (6 trays), via Amazon
COSORI Premium Food Dehydrator Machine (6 trays), via Amazon
Magic Mill Food Dehydrator Machine (7 trays), via Amazon
Set includes
Dehydrator Unit;
6, 7, or 10 stainless steel trays depending on the model;
Plastic mesh inserts (Samson has 6, Cosori 1, and Magic Mill 2 inserts);
Fruit leather inserts (Samson has 0, Cosori1, and Magic Mill2 sheet inserts);
Plastic drip tray;
Instruction Manual;
Warranty Card;
Summary
To conclude, the Samson "Silent", Cosori Premium, and Magic Mill stainless steel dehydrator models stand out among the many dehydrators in the market due to its numerous features that are essential during any food drying activity. For instance, they run quietly and can be a better option to places where silence is key. Theirs 10 trays will enable any user to dry a lot of food ingredients per trip. You can also dry your favorite food ingredients and continues with other household activities because the dryer has a timer. By setting the timer correctly, the device will shut-off itself automatically after the set time. For efficient dehydration, there is a glass door where you can check the drying process visually. Furthermore, the materials that make up this kitchen appliance are food-safe, and therefore your health is guaranteed. Other accessories like mesh liners and the drip tray are also essential parts during dehydration. In case you are unsure about the dryer to go for, you can check the features of this very model.