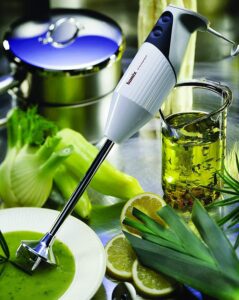 The Bamix is an original immersion blender that was invented and patented in 1950 since then manufactured in the same Switzerland factory. All other immersion blenders on the market just dupe the Bamix model. It remains the number one immersion blender for professional chefs for many years.
Here we review a very popular Bamix Gastro 200 model to examine all pros and cons of this legendary machine and make it easier for you to decide if this gadget worth adding to your kitchen gadget collections.
Functionality
The Bamix Gastro 200 blender comes with a single shaft and four (4) interchangeable blades that are designed to perform the following tasks.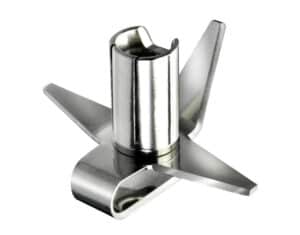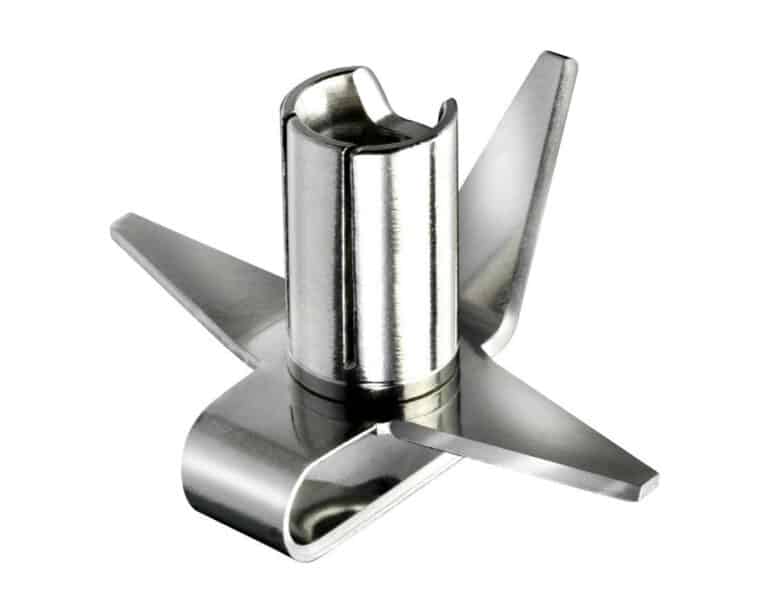 Multi-Purpose Blade (C-blade) – is designed for cutting, crushing and chopping and used for 90% of all tasks, it can handle small (the liquid must cover the blade head only) and large batches of food (up to 1 gallon/5L of liquids, and soups, up to 2.65 quarts/3L of sauces)
Cuts, chops, and purees raw or cooked vegetables, fruit, or berries;
Make slushes and iced alcoholic drinks;
Perfect for bullet-proof coffees;
Blends smoothies;
Blends soups, the metal guards of the shaft head protect the cookware from scratching;
Chops and crushed cooked meat;
Blends nut milk;
Makes a variety of baby food recipes;
Crushes ice cubes and frozen fruits and veggies even without liquid added and makes frozen treats such as ice cream, or sorbets;
Mixes cake and pancake batters.
Perfect for mincing, puréeing, straining and stirring any thick mixtures;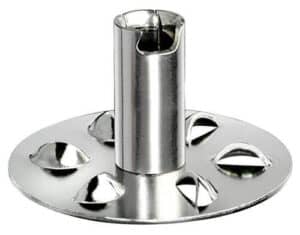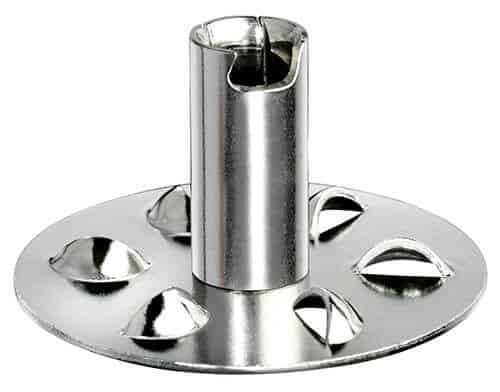 Whisk blade (A -blade) – it is designed to stir and mix shakes, drinks, purees, and able to handle up to 2.65 quarts /3 L of liquids, 1.8 quarts/2 L of salad dressing, and  0.45 quarts/0.5 L of maximum batches. This blade must be run only at speed 1.
It is ideal for emulsifying liquids, sauces, creams, dressings, mayonnaise, or any oily ingredients;
Perfect for whipping a thick or creamy consistency;
Mashes potatoes;
Mixes light doughs;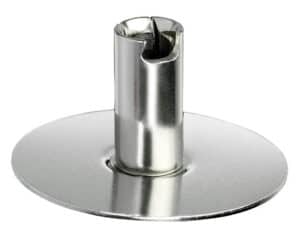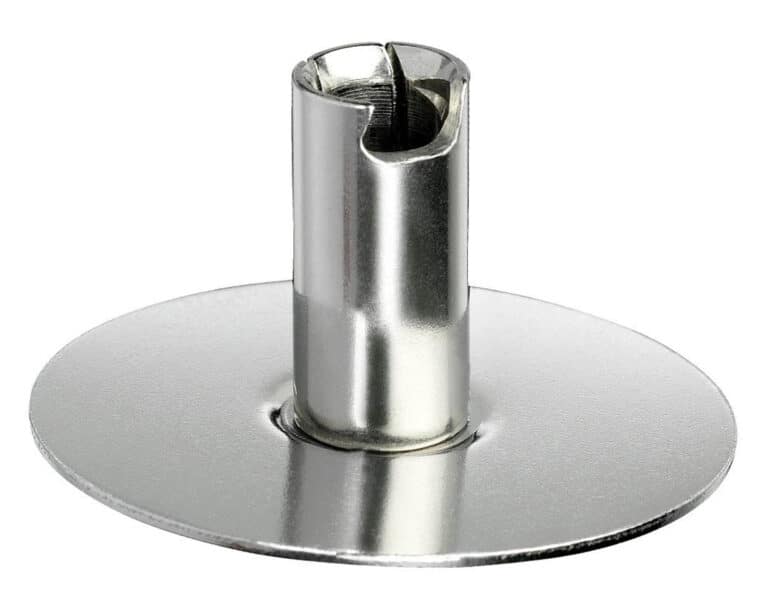 Beater/aerating blade (A – blade) – this blade also could be called a beating or aerating blades, and used for all recipes that need to be light and fluffy. The blender with B-blade handles maximum batches of up to 1 gallon/5 L Liquid,1.8 quarts/2 L of sauce, 5 eggs whites, or 0.45 quarts/0.5 L of cream.
Beats, aerates, blends egg-white and cream;
Makes perfect meringue;
Ideal for frappes, etc.;
Whip even low fat (1%) and non-dairy milk like oat or nut milk but the milk must be very cold just out of the freezer;
The whipped cream recipes may even contain fresh lemon juice and stay solid without curdling;
Motor Unit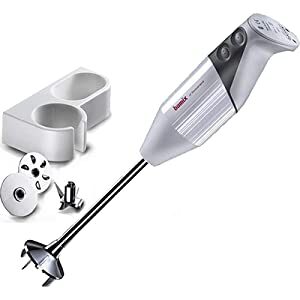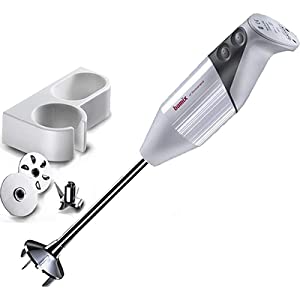 The blender handle is made of soft shatterproof nylon which strong and durable and comfortable to hold. It is equipped with only two (2) speed buttons and is designed to operate with one hand.
However, the key features of the gadget are 200 watts, 120V 60Hz AC motor, and US-plug and have an effective power of about 1HP. Despite having only 200 watts it endures a very powerful torque. So the blender will retain a constant even when blending ice or other thick mixtures. It has all copper wiring and all-metal drive connections. It is balanced to reduce vibration and ensure quiet operation.
The high quality of the motor is not surprising as it is assembled in several stages in the Bamix factory located in Mettlen, Switzerland. Due to the going through precise balancing procedure the blender does not vibrate during operating and thus does not heat the hand while operating at the high speed. Finally, all Bamix blender undergo a final 10-minute continuous run quality test, and only after the human test it is decided if it meets the standard.
Besides, the Bamix motor is designed for up to 5 minutes of continuous use which is unlike any other immersion blender on the market. While most of the immersion blender can run-up to the 1 min of continuous operation.
Design and Shaft
The Bamix is the original immersion blender and thus has a unique design. Unlike any other hand blenders on the market which have removable shaft and attachments (such as whisk shaft, multifunctional blade shaft, or mashing shaft), it comes with irremovable shaft-body construction and interchangeable blades. The blades are designed to connect to the end of the shaft and are intended for different tasks.
The Gastro 200 has a nylon body and chrome-plated brass shaft, the body nylon is not only heat resistant but also seals the internal parts so its 1.8 inches/4.5cm part could be submerged into liquid safely. Also, the nylon arear that is designed to submerge made of food-safe material that will not leach any harmful chemicals into your blending.
Speed Settings
The Gastro 200 blender comes with two (2) speed buttons where the speed (1) runs at 12000 rpm and designed for all light, airy dishes, and small food batches while the speed two (2) runs at 17000 RPM and intended for all viscous, firm ingredients and large food batches. There is no other immersion blender on the market that has a high speed of 17000 RPMs even those that come a much more powerful motor of 800 Watts.
Attachments and Accessories
Shaft and blades: The Gastro 200 feature an irremovable shaft and a set of interchangeable blades. The 9.8 inches/25 cm shaft is made from chrome coated brass with 1.8 inches/4.5 cm of the motor base that is safe to submerge in the liquids and extends the immersion section of the blender and allow the blender to be used in very deep containers. There is no "leaded brass" material used in blender construction, all wiring made from copper thus no lead leaching into the food.
The set of blades include – Multi-Purpose Blade (chops), whisk (blends), and beater (aerates). All blades are made from 18/10 stainless steel and blunt by design (s-blades slightly sharpened though) thus very safe to handle them. Blades are very high-quality workmanship and fit precisely into the shaft.
Wall holder – the wall holder is designed for storing the blender and blades neatly, it also could be screwed to a wall.
Extra Attachments and Accessories
There is a range of optional accessories available to buy for this blender:
Grinder – 1 cup grinder for wet and dry ingredients.
Processor – 1 cup capacity mincer and grinder for wet and dry ingredients.
SliceSy – 3 cups mini food processor that handles wet and dry food.
Slicing blade (S-blade) – this blade does exactly the same job as the multipurpose blade (C-blade) but able to cuts, chops and minces cooked or uncooked meat and fish, and firm vegetables. It is also perfect for baby food that contains meat, fish, or raw vegetables. It can handle a maximum of up to 1.1. lbs/500 g of meat or veggies per batch.
Set of 1.7 cups/400ml and 2.5 cups/600ml beakers.
Assembling, Dissembling, Using and Cleaning
Assembling/disassembling: The Bamix Gastro 200 is very easy to assemble and disassemble. Since all blades are blunt (with only S-blade slightly sharpened) it is safe to handle them. The each Gastro blade connected to the shaft by simply snatched it hollow rid side over the drive shaft stub, the hollow rod has a little recess while the stub has a little pin when they the pin engage into the recess the connection made secure.
To remove the blade, just pull it from the stub and slightly turning to the side to disengage the recess from the pin.
Cleaning: No Bamix Gastro parts are dishwasher safe. However, it so easy to clean the user do not even require to clean in the dishwasher. The user requires just to submerge the shaft with the blade into the jug with clean water and run the blender for a few seconds, then rinse it under the running water and remove the blade. It is also possible to wash blades removing them first. Since the Bamix shaft and body are oil and smell repellent, it does not even require the soap to clean the blender.
Noise
The Gastro 200 blender is very quiet and releases a noise of only 50-60dB depending on the processing ingredients.
Warranty
The Bamix Gastro 200 comes with Lifetime Motor Guarantee, 1 Year Warranty on Parts and Accessories starting from the date of purchase. However, this gadget is very durable and easily will last for over 15-20 years.
Dimensions
The Gastro 200 has a moderate size of 15.5"/39.5cm x 2.5"/65cm x 3.3"/77cm considering immersion depth of 10.6"/27cm. With weights of only 2.2lbs /1 kg, it is the lightest professional blender on the market.
Country of Production
The Bamix Gastro 200 Blender's all parts manufactured and assembled in the Mettlen Switzerland. Moreover, a human quality check is carried out for every blender before it is released from the factory.
Set Includes
Motor base and shaft;
Multi-Purpose Blade (C-blade);
Whisk (B-blade);
Beater (A-blade);
Wall holder;
User manual;
Recipe Book.
Pros and Cons
Pros:
High torque motor with low wattage safe energy;
All-metal drive connection that ensures exceptional durability of the blender;
Copper wiring and chrome-plated shaft do not allow any chemical and lead leaching into the food;
Long wand and 1.8 inches of body unit safe for liquid submerging than make easy operating blender and extend the shaft length;
The very small size of attachments (only blades) that do not occupy much storage space;
Lightest immersion professional blender on the market;
Ergonomic handle;
The 1.8 inches of the motor body is safe to be exposed to the liquids;
Very high speed of operation;
Blender is repairable;
A long warranty on the motor;
All material is environmentally friendly and safe to contact with the food;
The shaft and blades are smell and oil repellent that makes it easy to clean;
100% manufactured in Switzerland;
Cons:
Expensive;
The shaft is not removable.
Price
The Bamix Gastro 200 blender is a premium gadget and has a high price tag.
Bamix G200 Gastro Pro-2 Hand Blender, via Amazon
Summary
The Bamix Gastro 200 is a truly versatile and unique immersion blender. It is not only a recognized kitchen tool by most of the professional chefs but genuinely can do its job to the level no other immersion blender on the market can do. It is very durable easy to use and clean and takes little storage space as it does not include any bulky attachments but only interchangeable blades.
Besides, it is energy-saving (200 Watts motor produce up to 17000 RPMs speed) and environmentally friendly gadget that built with 100% food-safe material.