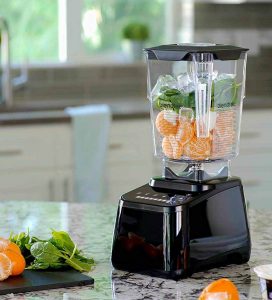 The Blendtec Designer 625, 650, and 675 models are a mid-level and mid-priced Blendtec series of blenders' commercial grade blenders for home use. They feature a sleek design and equipped with more than Blendtec Classic series units control features.
Designer 625, 650, 675 blenders are a perfect combination of Blendtec power and a good look. These models are identical by exterior and functionality but slightly differ by a selection of speeds and pre-set programs, the motor power, and color finish options.
Do you want to find out which Blendtec Blender suits you best? Go to our Vitamix Blender Guide article and reviews.
Read our comprehensive review to learn more about these fantastic blenders.
Functionality and Versatility
Smoothie: The blender makes perfect quality fruit smoothies, green smoothies, and shakes from soft and hard ingredients obliterating every bit of food into homogeneous consistency. The Smoothie (60 sec) and Whole Juice (65 sec) pre-set programs both able to perform those tasks. However, Whole Juice pre-set probably slightly better processes the green smoothies from tough ingredients like carrots, celery, or berries (strawberry, blackberry, and raspberry, kiwi, etc.).
Shakes or smoothies from frozen ingredients may require an additional cycle or 15-20 seconds manual run on the highest speed. Use cold water or ice cubes when processing hard ingredients, like the Blendtec heat ingredients with friction fairly fast.
Ice Crushing and Frozen Treats: The blender is designed to make ice-cream, frozen desserts, and sorbets. You just have to load the jar with ingredients according to your recipe and hit the Ice Cream pre-set program, the blender will run and automatically shut off when the frozen dessert is ready. You must serve your dessert immediately or store it in the freezer.
Juice: The blender will not make the textbook juice that separates liquid from the fiber, but is designed to make so-called the whole juice aka very smooth smoothies. So, you will not waste the healthy fiber and pulp that the juicers remove. For the textbook juice, you would need to strain out the pulp.
Soup/hot recipes: The blender can heat ingredients via friction and can bring them to the boiling temperature if the process for longer than 5 minutes. All Blendtec Designer models equipped with Hot Soup pre-set program that runs for 180 sec, so to bring your soup the temperature to the boiling hot you have to repeat the pre-set program for 2-3 times. The Hot Soup cycle also suitable for hot bullet-proof coffee, chocolate, syrups, fondue, and others.
Chopping/food prep: The blender easily chops vegetables like carrot, onion, celery, or mince garlic, makes salad dressings, sauces, dips including pesto, hummus. It also can perform a whipping task for your dessert recipes. The Batter pre-set (only 650 models), Pulse function, or/and low manual speed are designed for this kind of task.
Pureeing and baby food: It can easily puree any food raw or cooked, so it is perfect for processing baby food. For best results use batter pre-set, pulse, or manual mode low speed.
Nut milk: Just run the machine on the highest speed for around 60 sec and you get the perfect dairy alternative milk from nuts or soya. The Hot soup pre-set works well for soya milk. For the best result, you may use a nut bag to strain the liquid from the fiber.
Nut butter: This blender powerful enough to make delicious homemade nut butter from any kind of nuts. Although, it does not have the tamper and suggest buying the special twister jar for processing nut butter or thick recipes but using a combination of low and medium speed still capable to make perfectly creamy nut butter just in under 2-3 minutes of your efforts.
Dough/batter: The Batter cycle (Designer 650 only model) is designed for mixing pancakes or cookies batter and kneading the bread or pizza dough. The other models have to use slow to medium manual speed for the task.
Grinding/milling: The blender is designed to grind coffee beans, herbs, or to mill the baking quality flour from any grain or legumes. It can make perfect flour even from the tiniest grains like quinoa and amaranth. The meat grinding is another task the machine performs well.
Control Panel, Speed Settings, and Programs
The Blendtec Designer 625, 650, and 675 blenders control panel completely flat without any protruding control buttons. It is made of glossy plastic material and responsive (without lags) capacitive touch control like a smartphone. The controls become visible only when the blender is turned ON and disappears when it is OFF. It all gives the blender a sleek and futuristic look.
Designer 625, 650, and 675 models control panel features:
A digital display that counts blending time, number of cycles run by the blender(display on for three seconds following power On) and error messages;
ON, OFF and PULSE controls;
Pre-programmed setting buttons;
Manual speed capacitive touch slider.
However, the models differ by manual speeds and pre-set cycle options.
Blendtec Designer 625 Blender has a six-speed touch slider and 4 Pre-Programmed Cycles:
Smoothie (for fruit smoothies, green smoothies, milkshakes – 60 sec),
Ice Cream (for ice cream, frozen yogurt, sorbets – 65 sec),
Whole Juice (for juices, green drinks – 65 sec),
and Hot Soup (for soups, hot chocolate, syrups, fondues – 180 sec).
Blendtec Designer 650 Blender comes with an 8-Speeds touch slider and six pre-programmed cycles:
Batters (for sauces, dips, dressings, batters – 23 sec),
Ice Crush (for mixed drinks, milkshakes, crush ice, margarita drinks – 35 sec),
Smoothie (for fruit smoothies, green smoothies, milkshakes – 60 sec),
Ice Cream (for ice cream, frozen yogurt, sorbets – 65 sec),
Whole Juice (for juices, green drinks – 65 sec),
Hot Soup (for soups, hot chocolate, syrups, fondues – 180 sec).
Blendtec Designer 675 Blender has the same as 650 models 8 manual speeds touch slider and 6 pre-programmed custom cycles:
Smoothie (for fruit smoothies, green smoothies, milkshakes – 60 sec),
Ice Cream (for ice cream, frozen yogurt, sorbets – 65 sec),
Whole Juice (for juices, green drinks – 65 sec),
Hot Soup (for soups, hot chocolate, syrups, fondues – 180 sec),
Clean (automatic cleaning cycle – 23 sec),
and +10 button (adds 10 seconds to your pre-programmed cycles or can also be used as a stand-alone 10-second cycle ).
The soup pre-set program runs only 180 sec, so it will not bring to the boiling hot temperature, to heat the soup blending you have to repeat the Hot Soup program 2-3 times. You also should not add very hot ingredients (over 115°F /46°C) just directly to the jar as it handles them best when they heated gradually.
The key concept of Blendtec blender is the automatic pre-set programs for the majority of blending tasks that allow users to hit a button and walk away. The pre-program settings are designed for various tasks and will run at various speeds and stop at the end of the cycle.
The program cycles work for most tasks but not perfect and sometimes require to continue blending after the pre-set program is completed. On these occasions, the user may use manual mode to bring the job to the desired result.
Manual Mode is activated with the capacitive touch slider by simply sliding with your finger to the right to increase the speed or the left to decrease speed. The manual mode will only operate for 50 seconds and the blender shuts off automatically at the end of the cycle. To run manual mode again you have to simply start it again. 
The Pulse function is used for quick tasks such as mixing, chopping, whipping, or other. The Pulse setting runs at speed 7 while the Pulse control is pressed. When the icon is released, the motor shuts off.
Using and Cleaning
Assembling/Operating: The blender is very easy to assemble/disassemble and clean since it has the blades permanently inbuilt into the jar. The machine also does not has any jar –unit base locking mechanism and sits freely on the top of the base unit.
To start using it you just have to load the jar with recipe ingredients in proper order. For the reducing cavitation and air, pockets load the liquid ingredients fist, following with soft solids (peanut butter, bananas, and other soft fruits, powders) and then hard, dense, or frozen items.
Attach the blender lid firmly to the jar, place it on the top of the base unit, press the power button then the pre-set program or the chosen speed with a slider for manual control and it will run.
For the best cleaning results, you must clean the jar immediately after blending.
Cleaning: The Blendtec machine cleaning is super easy, just put about a half jar of warm water and few drops of dish soap and run the Clean cycle (675 models) or manual mode for 15-40 seconds depending on the type of food you blended. Rinse with clean water and cloth dry. You may also use a dish brush to remove the most stubborn ingredients. The base of the WildSide+ jar is wide and flat, so removing sticky stuff is very convenient, moreover, since the blades are blunt you have not to risk to injure your fingers.
Although, the blender jar is safe for the dishwasher I do not recommend cleaning it this way because the jar may become cloudy over time.
Base Unit and Motor Power
The all Blendtec Designer (625, 650, and 675) models a motor base made of molded plastic and has a rounded shape without any sharp edges. It has an improved large vented channel to keep the motor cool.
The good quality and durable plastic housing contain the computerized electronics and a very powerful 13 amps/1560 watts for 625 and 650 and 14 amps/1675 watts/the 675 models. It has a very well made metal drive socket which couples the jar with the motor to turn the blade assembly. A Blendtec Blender equipped with the armature carbon steel ball bearings motor technology and transfers power directly from the motor to the blade via all metal to metal the intervening parts. This approach results in a quieter blender functioning that allows for higher speeds (up to 28,000 rpm) and increases reliability and the life expectancy of the blender.
Besides, the unit is equipped with the automatic detection of the overload, overheat and blade blockage by very thick food, the Control panel digital display shows an appropriate error message and alerts the user to take appropriate action.
Container
All Blendtec Designers models (625, 650, and 675 jar assembly consist of the 90 oz. WildSide+ jar, irremovable blade assembly, and lid.
The jar has made of durable BPA-free, lightweight, clear as glass, impact and temperature resistant (up to 212°F, 100°C) Eastman Tritan copolyester material. It has a patented square shape design, a nice wide bottom that accommodates a 4" blades and a narrow fifth "wild" side that is supposed to help to create a better vortex and prevent cavitations. The square shape also allows for easy jar food loading and extraction. Although the blender has a capacity of 90 oz. but has marked for only 36 oz. ( measuring volume units in oz., cups, ml, and cl.) and recommends loading no more than 2/3rds full. Otherwise, since lid suctions on flat it may be pushed off by fluid increased pressure during processing. The square shape of the jar at the brim allows the user to pour with minimal dripping from three corners.
The jar is designed for processing wet and dry ingredients with equal success. However, the grinding tasks will leave in its 1/3 of its bottom some scratches that will result in a cloudy appearance. This is the standard problem and compromise for the polycarbonate and copolyester containers but manufactures cannot use the glass jar for the commercial-grade blenders as they will not withstand the load these blenders are exposed to. Some herbs release the chemical that may make the jar cloudy. So to keep your main container aesthetic you may be advised to buy an extra jar for performing the grinding tasks.
Lid design. The blender comes with a vented rubber latching lid, it has a plastic insert at the center that allows releasing an excess of pressure when blending hot ingredients and also allows adding extra ingredients while the blender runs without removing the lid.
Small batches. The 90 oz. WildSide+ jar has a wider bottom and larger 4" blades are best suitable for processing large batches of food (4-6 people). The minimum liquid volumes it can process properly is about 8 oz. At the same time it handles well thick recipes like bread/pizza dough and batter, the wide bottom is very good for this kind of task. If you process often small food batches you are advised to look at the FourSide, Mini Wildside +, or twister jar options.
Blades
All Blendtec blenders including the Designer 625, 650, and 675 models come with the blades system permanently inbuilt into the jar. This is a standard design for the powerful commercial type blenders. The WildSide+ Jars are equipped with the cold-forged ultra-hard stainless steel very thick blades with 4 inches patented vertical wingtips and precision angles design. The jar and blades are suitable for wet and dry blending tasks.
The blade design makes ingredients to fall down and thus creating proper vortex for efficient and cavitation free blending.
Optional Accessories and Attachments
The Twister jar with a capacity of 37 oz. (measurements up to 16 oz.) is designed for thick and smaller blends. It has come with a twister lid, gripper lid, and spatula.
The twister lid has spikes that are turned during processing and prevent ingredients from sticking to the jar walls. It is intended for easy and efficient thick recipes blending such as nut butter, dips, hummus, baby food, thick shakes, and dressings, and others.
The gripper vented lid is designed to handle smaller portions of the standard Blendtec blending task.
FourSide Jar has a capacity of 75 oz. (with markings up to 32 oz.). It is a classic an older version of a standard Blendtec jar. It has a smaller 3" blades size and narrow jar bottom and performs all typical Blendtec task but able to handle smaller batches of food than the WileSide+ jar.
The mini WildSide+ jar just a smaller size of WildSide+ with a capacity of 46 oz. (measurements up to 24 oz.). It has a smaller size blade and narrower bottom and designed to handle small batches of normal wet and dry blending jobs. Suites for small households and people who often make small size recipes like baby food, salad dressing, and others.
The Blendtec GO is a personal blender attachment. It is equipped with two single travel bottles (30 oz. and 24 oz. capacity), a single-serve blade system (Blendtec GO micronized base), and two grab-and-go travel bottles lids.
Warranty and Customer Service
The Blendtec Designer Series 625, 650, and 675 models equipped with the typical for Blendtec 8 year warranty. The warranty covers all parts of the unit including the jar and lid. This fantastic warranty confirms the quality of the machine that is engineered and manufactured by the family-owned USA Company.
Although, the customer service used to have some issue in the past now it is on the best of the best in the industry (while Vitamix proudly keeps the number 1 position). You do not need to keep safe your proof of purchase and register your unit for warranty providing to customer service serial number that is located on the base of the unit, date of purchase, and the retailer you purchased it from. The Customer Service will usually readily repair and replace any faulty part of the blender free of charge. However, you may be asked to pay for the shipping cost one or both ways depending on the terms and conditions of the retailer you have bought your unit from.
The Blendtec also has a policy of full refund within 30 days (minus shipping costs) if you are not like the blender and make a decision to return it.
Check here today's best price for the Blendtec Designer 625 Blender (in a bundle with mini WildSide+ jar)
Check here today's best price for the Blendtec Designer 650 Blender
Set Includes
Designer series blender base unit;
WildSide+ jar with lid;
Blendtec 101 booklet;
Customer Service and Warranty Registration Card.
Various retailers often sell the Blendtec blenders in a bundle with other accessories like spatula of the extra container (twister jar, mini WildeSide+ jar, Blendtec GO).
This spiral-bound book is a proper guide on the functionality and capabilities of the Blendtec blender. You can also watch online the Blendtec 101 booklet videos.
You can also find on their website extra information on Blendtec recipes. 
Blendtec set does not include a user manual which you can download from here. 
Special Features
Colors: The Blendtec Designer 625, 650, and 675 blenders are available in the following a variety of colors:
626 – black, polar white, pomegranate, and slate grey;
650 –black and pomegranate;
675 – premium painted finish in Champagne, Charcoal, and Dark Roast.
 Use in countries outside of USA/Canada: The manufactures do not advise using 110-120 voltage blenders sold in the USA or Canada feature in regions with 22-240 voltage system as it may compromise the functionality of blender(although it will work with the voltage transformers). The 110-120 V machines are suitable for operation in North and South America region, Taiwan, Japan, Saudi Arabia and other countries with the 110-120 voltage system
However, manufacture also not cover with a warranty the units shipped to the countries where it does not have local distributors.
Regions with the 220-240 voltage should buy for the gadget locally or nearest countries. The UK has the best selection and price for the Blendtec blenders.
Certified Refurbished: The Blendtec website offers only 625 models in reconditioned conditions with a little discount of only $100. However, Amazon has it now for a very limited time for only $275.
Noise
Blendtec Designer models are slightly quieter than the Classic series models machine, they release 93-100 dB depending on blending ingredients (ice and frozen fruits of cause the noisiest).
People sensitive to noise are advised to place a rubber mat under the base unit that will dampen some noise. The professional sound enclosure for Blendtec blenders that will reduce sound to the 65 dB are expensive and may cost you around $200. 
You may also check our article about the best blenders for home use with sound enclosures.
Dimensions
All Designer Series models have identical dimensions.  It has fairly large footprint of 7" wide x 15.5" tall x 9.25" but modest profile of 15.5". So it easily fits underneath the majority of kitchen cabinets.
Although, Blendtec Designer blenders are not very light 9.25 lbs the 3HP power make them shake and move around the counter during processing. You may be advised to place it on the rubberized mat to make it more stable and additionally it will reduce the noise coming from the blender.
It also comes with feet 35 inches/3 feet/91 cm very thick cord with a sturdy Velcro wrap attached to it for cord management.
Pros and Cons
Pros:
Powerful – pulverize anything you put into the jar;
Multitasking – it is not only a smoothie maker but handles anything from frozen desserts to hot soups;
Comes with 6 speeds, 4 programs/8 speed, and 6 programs and pulse function;
Very sleek and attractive;
Fits easily under kitchen cabinets;
Very easy to clean and use;
Equipped with a fantastic 8 years warranty.
Cons:
Heats ingredients quickly;
Tends to splash lots during processing;
Travels around the counter;
Consumer Reviews
The Blendtec Designer blenders are innovative models of one of the market leaders for the Commercial type blenders for home use. The customers who decided to invest in the expensive machine usually make a well-judged decision. However, such multi-functional blenders require need time and effort to get familiar with.
There are some complaints from the customers. Some people complain that it heats the ingredients fast, others do not like that it travels over the counter, few people talk about unsecured container lid.
No doubts, most of the customers are very happy with the blender that can make not only smoothies but frozen desserts and soup and think it is an indispensable piece of equipment for people who follow a healthy lifestyle.
Amazon rating – 4.0
Price
The Blendtec 625 model is the simplest one with 6 speed and 4 pre-set programs and it has a price of $499.95. The 650 and 675 models are almost identical, they both have 8 speeds and 6 pre-set programs, the 4 pre-set are the same while 2 of the pre-set are different. However, the 675 model has a slightly more powerful motor and panted finish color option, thus it is priced considerably higher at $549.95 than the 650 model – $449.95.
Fortunately for customers, Amazon has a very attractive pricing policy for Blendtec designer blenders.
Currently, it runs a special offer for the 625 models where you can grab at as little as for $350 (in a bundle with an extra container) and a certified refurbished model for only $375. The 650 models are offered by amazon at an attractive price of $380. While the most expensive 675 models for $500.
Check here today's best price for the Blendtec Designer 625 Blender (in a bundle with mini WildSide+ jar)
Check here today's best price for the Blendtec Designer 650 Blender
Summary
The powerful commercial type of blenders are expensive, they will worth every penny for people with a healthy lifestyle, who intend to use the blender on daily basis for smoothies and other healthy recipes or experiment with professional recipes. Moreover, it is a very durable unit and has a fantastic warranty, so most likely it will be the last blender you buy. While this an expensive powerhouse is overkill for those who will use it occasionally.
Another point for those who cannot decide between Blendtec and Vitamix. The Blendtec is designed mostly on its automated modes for blending your food. The benefit of that is you can simply hit the smoothie button and walk away. Certainly, it will not work 100% and you may need to use manual mode sometime for tweaking your recipes but the concept works most of the time. For those who prefer control and use manual speed the Vitamix probably a better option.
Do you want to find out which Blendtec Blender suits you best? Go to our Vitamix Blender Guide article and reviews.