The dehydrator will definitely compliment any modern healthy kitchen. They have been used widely to dry food to increase their shelf-life. However, it is troublesome to identify and purchase a well-performing model. Challenge in the selection of reliable brands of the dehydrator in the market is due to the presence of many Chinese knockoffs that are poorly built. For this reason, we have keenly selected the best dehydrators in the market, leaving out the Chinese counterfeits. The chosen models are the most reputable and meet quality standards.
How We Selected The Best Dehydrator
To come up with the best performing dehydrators, we rated them on various parameters. First of all, is the ability of a model to distribute heat evenly through the trays for complete dehydration of food. We also checked on the amount of food that a particular model can dry at a go within a given time. Other factors include the ease of operation, which involves the simplicity of setting and controlling the whole dehydration process. The ease of cleaning and maintaining these brands was also considered before rating each among the best. More importantly, these dehydrators are from manufacturers who have a long history and great experience in making kitchen appliances.
Excalibur 3926TB 9-Tray Electric Food Dehydrator
Excalibur 3926TB is a mid-range dehydrator model manufactured in the USA by a well-known company that specializes in the production of health-related products since 1973. No wonder, the Excalibur dehydrators is very popular among the USA consumers and around the world and appreciated for their great quality and efficient foodstuff dehydration.
Design: The dehydrator is equipped with the parallax horizontal air-flow and Hyperwave fluctuation systems. The parallax horizontal air-flow enables even and faster food dehydration without frequent checks and tray rotation.
While the Hyperwave fluctuation system makes the temperature inside of the unit vary from higher to lower and vice versa that ensures the uniform dehydrate surface and deep levels of food.
Power: Excalibur Food Dehydrator has a 7-inch fan that blows a lot of air to increase the rate at which air is circulating in the unit. The fan is powered with the 110 Volts, 600 watts motor, which makes it a friendly power consumption model.
Trays: Excalibur 3926TB 9-Tray Electric Food Dehydrator has nine (9) 15'' X 15'' trays that are made from BPA-free polypropylene and provide a 15 square feet food drying space. Such a wide space enables you to dehydrate different kinds of your favorite food.
This model comes with additional accessories like a flexible non-stick mesh trays inserts which allow the small pieces of food drying without fallen down.
Controls: It also has a 26-hour timer that can automatically switch off the unit at a specific set time. Moreover, it has a thermostat that ranges from 105 ºF – 164 ºF / 41ºC – 74ºC. The thermostat can be set at a low temperature while dehydrating food containing heat-sensitive nutrients and active enzymes. Food that requires high temperature like jerky meat can also be preserved by increasing heat amount.
 Warranty: Excalibur 3926TB 9-Tray Electric Food Dehydrator comes with a very generous 10 years manufacture warranty, which is one of the best in the industry.
Summary: The model is known for the excellent quality of dehydration and this dehydrator is widely regarded as the best among the raw foodist community. Since it is not extremely complicated, it is easy to use. Users require to have a basic understanding of how to modify their settings to suit the dehydration of specific food types. The large capacity of trays is suitable for large families. Excalibur dehydrator is a high-quality brand, and therefore, the manufacturer gives ten years of limited coverage, which guarantees you trust in its making.  
Excalibur 3926TB 9-Tray Electric Food Dehydrator, via Amazon
Tribest Sedona Express SDE-S6780-B Digital Food Dehydrator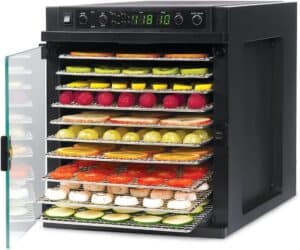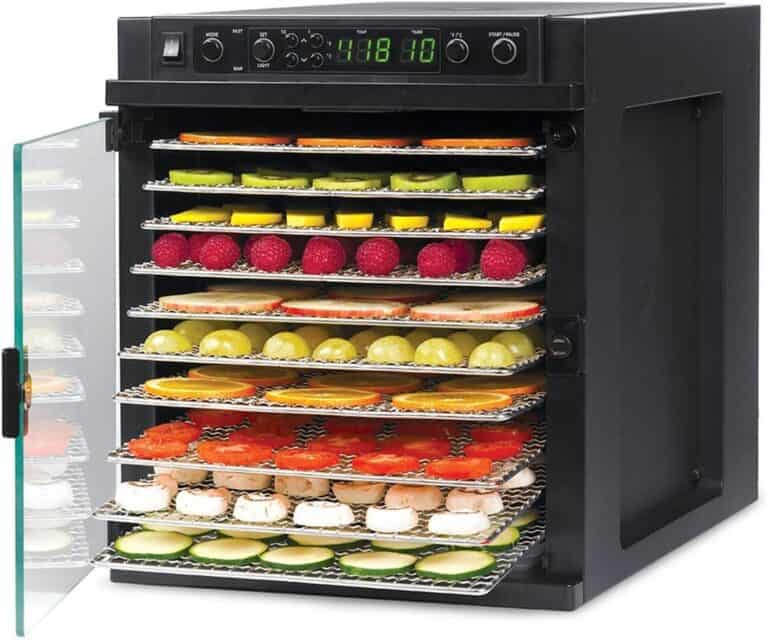 The Tribest Sedona Express model is a premium domestic dehydrator that is overfilled with a range of advanced features.
Design: The Tribest Sedona Express is built with a horizontal air-flow distribution that ensures even and quick dehydration. It has a glass hinged door and LED light inbuilt inside of the chamber that eases monitoring of the food progress. 
This model also comes with a BPA-free plastic drip tray at the bottom of the drying chamber that will catch crumbs that fall from the trays above. This construction will simplify cleaning the dehydrator after use and keep it tidy drying the operation.
 Power: The model also has a 470 watts 7-inch diameter single fan at a center of the unit back that blows hot air evenly throughout the unit for efficient dehydration. It is also equipped with a washable and reusable Air Filter to provide clean air circulation inside of the drying chamber.
Trays: Furthermore, it has 11 stainless steel trays with size 10 inches X 13 inches and a drying capacity of 9.9 sq. ft./ 1430 sq. in.. That allows users to dehydrate large volumes of food in one cycle.
Controls: This dehydrator has an all-digital control panel with very advanced temperature and timer settings. Therefore, it is quite complicated and elaborate with many buttons to push for regulating temperature and timer settings.
For example, it not only has straightforward temperature settings from 77°F/25°C to 167°F /75°C or a timer for up to 99 hours and additional continuous mode for up to 120 hours. Besides, it has 3 additional temperature-timer modes – 1) sequential two-stage dehydrating options that allow to start the process at high temperate and then automatically reduce to low; 2) high-temperature cycle that does not allow the temperature to drop that is useful for dehydrating meat; 3) low temperate mode that does not allow to go temperature high that is useful for raw food rehydrating.
Warranty: This Tribest Sedona Express SDE-S6780-B Dehydrator comes with ten (10) years warranty from the manufacturer.  
Summary: It is a premium dehydrator and thus comes at a premium price. However, it has a range of outstanding features that certainly justify its price. It is not only has a most advanced control setting but also designed to quietest dehydrator on the market tested at only 45 decibels and suitable for noise-sensitive individuals or in an environment where silence is key. Besides, despite handling the large volume of food for drying, it has a modest footprint and total size of 12 in x 19.6 in x 14.5 in that allows users to minimize the storage and saving the counter space.
Tribest Sedona Express SDE-S6780-B Food Dehydrator, via Amazon
NESCO FD-75A, Snackmaster Pro Food Dehydrator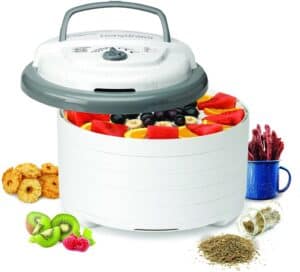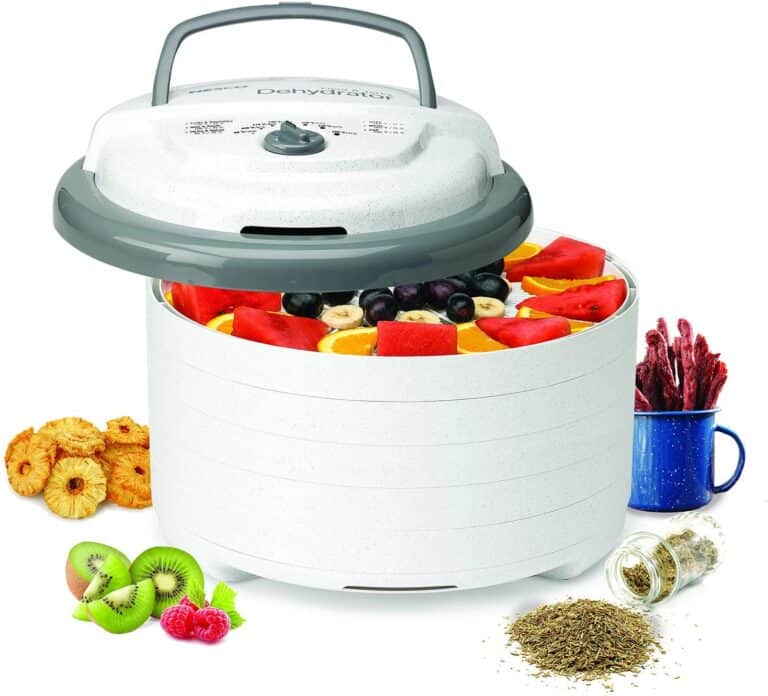 NESCO FD-75A, Snackmaster Pro Food Dehydrator
Nesco FD-75-A dehydrator is a budget vertical-style dehydrator manufactured by the USA based Nesco Limited Company, which produces a wide range of kitchen appliances.
Design: The model is special since it has a top-mounted fan that blows air downwards, not necessarily through trays but exterior pressurized chamber. This hot air is then blown horizontally across all trays, hence allowing even, fast and nutritious dehydration of food.
Another distinct feature is the presence of an opaque Vita-Safe exterior that obscure harmful light, which is destructive to food nutrients.
Such innovative design allows the Nesco FD-75-A dehydrator to dry the foodstuff evenly and efficiently which is rare in vertically stackable dehydrators.
Power: This dehydrator is powered by the 600 watts motor that is located on the top cover. Such type of design is very wise since it keeps the motor safe from any liquid drop and leaks inside.
 Trays: NESCO Snackmaster Pro dehydrator comes with 5 BPA-Free plastic trays. Besides, the user can add 7 extra trays to expand it to 12 trays. Each expandable tray of this model has a diameter of 13.5 inches. This feature allows one to dehydrate a large quantity of food at a go.
Controls: It also has an adjustable thermostat with a temperature range of 95 ᵒF / 35 ᵒC – 160 ᵒF / 71 ᵒC (with 10 ᵒF – 15 ᵒF increments). Such temperature flexibility allows the user to dry food, which requires low temperatures like fruits, vegetables, and delicate herbs. Also, it gives a higher temperature range to dry food like fish and jerky meat, which require much heat.
Unfortunately, this dehydrator does not come with the timer, so if the user needs to set time for automatic shut off at the end of the cycle he/she should buy the separate timer device.
Warranty: Nesco FD-75-A dehydrator comes with a 1-year Limited Warranty.
 Summary: The Nesco FD-75-A dehydrator is a very popular machine not only because it has a very affordable price but also because it is able to dry food very evenly despite the vertical design which is known to dehydrate food not as efficiently as a horizontally designed dehydrator. Besides, cleaning this model is quite easy since it has a top-mounted fan, and dripping food liquid does not reach into the heater chamber.
NESCO FD-75A Snackmaster Pro Food Dehydrator
Samson "Silent" Stainless Steel Dehydrator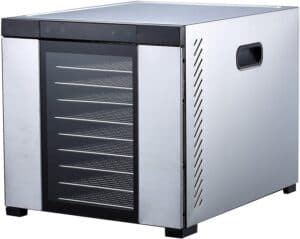 Samson "Silent" Stainless Steel Dehydrator is available in 2 models with 6 and 10 trays. Although it comes under the Samson brand the well-known manufactures of masticating and hydraulic press juicers and other healthy kitchen appliances, the dehydrator is manufactured in China.
Design: The dehydrator has a parallel air circulation system, that releases the heated air from the back of the unit, and then the air is distributed across all trays. Such drying technology is known as very efficient that tend to dry food evenly.
Besides, the entire dehydrator unit is made of stainless steel. It also has a glass door to give you a clear visual observation of the dehydrating food without necessarily altering the process.
Additionally, it has a drip tray at the bottom, which holds crumbs and other food drippings.
 Power: To enhance air circulation while drying, the dehydrator has a powerful 7 inches fan. In terms of power consumption, this model is 1000 watts.
Trays: It also has 6 or 10 stainless steel trays with a dimension of 12 inches by 13 inches with the 1.25 inches space between the trays. Each gives a wide space to dry your favorite food. For easy dehydration of smaller food material in your kitchen, this model comes with six (6) or ten (10) Bisphenol-A free mesh liners.
Controls: Controlling Samson "Silent" dehydrator is easy since it has 4 digital push buttons and the LCD control panel. The "Temp/time" button sets a thermostat with a temperature range of 95 degrees Fahrenheit – 167 degrees Fahrenheit with 9 degrees increments. Such a wide temperature range enables the user to dry different types of food that require a varying amount of heat.
The same button also regulates a 1 to 24 hours timer which shuts of the machine at the end of the programmed time.
Warranty: Customers are assured of a quality model since the manufacturer give 5 years warranty for the heater, control panel, and fan.
Summary: Although, Samson "Silent" Stainless Steel Dehydrator is rather a simple dehydrator it is worth considering since it is has a reasonable price compared to others for stainless-steel devices. It is very easy to use and clean. Besides, being silent while drying food allows you to use it in noise-sensitive areas.
Samson 10 Tray Stainless Steel Dehydrator
STX International STX-DEH-1200W-XLS Dehydra Commercial Grade Stainless Steel Digital Food Dehydrator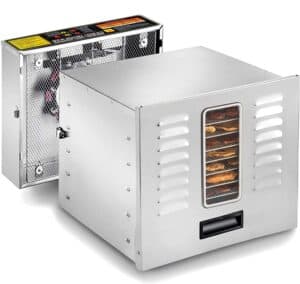 STX International STX-DEH-1200W-XLS Stainless Steel Food Dehydrator is the large commercial device produced by the USA based STX International's Company that specializes in selling home and commercial kitchen equipment.
 Design: Apart from being 100% stainless steel this machine has a unique commercial type design where the front part of the device where the trays are located is separated from the back part where the motor is located for easier cleaning and maintenance.
It is a Horizontal Air-Flow type of Dehydrator with the fan and motor mounted at the back of the unit that pulls the heated air horizontally at all trays levels.
Power: Since it is a horizontal air-flow dehydrator, its 7'' fan blade blows a lot of air evenly towards all drying racks. Additionally, it has a dehydrating power of 1200 watts.
 Trays: Notably, this brand provides a lot of space to dehydrate foodstuff since it has 10 stainless steel drying rack, which has a dimension of 16'' wide by 14.5'' deep each. Every drying rack has 3/8 inch square holes, which can accommodate small-sized food materials.
Controls: The STX Dehydra dehydrator has a 100% digital control panel at the top of the unit. This control panel allows you to control all its operations smoothly. For instance, there is a 15 hours timer that can be set to shut off the unit after a specific period automatically.
At the control panel, there are seven Pre-Set Temperatures, which shows suggestions at which a specific food type should be dried. Its heat temperature ranges from 97 °F / 36 °C to 165 °F / 74 °C. This enables users to dry vegetables and fruits at low temperatures and other kinds of food like fish and crackers at a high temperature.
Warranty: STX International STX-DEH-1200W-XLS Stainless Steel Food Dehydrator is covered with 3 years manufactured warranty.
 Summary: This dehydrator is very large and will suit real dehydrating enthusiast who plans to dry a lot of food or small business. It dries food evenly, easy to use, and clean as the front and back parts of the unit come apart conveniently, it also well-built looks like a tank and will serve its owner many years. Besides, after purchasing this model, you are given a cookbook by dehydrating expert Tammy Ganfloff containing over 270 drying recipes.
STX International STX-DEH-1200W-XLS Food Dehydrator, via Amazon
L'EQUIP FilterPro 6 Tray Food Dehydrator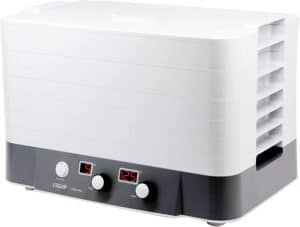 L'Equip Filter Pro Digital Food Dehydrator is manufactured by the reputable South Korean L' Equip Company that is well known as a producer of healthy kitchen appliances
Design: L'Equip Filter Pro Digital is a vertical food dehydrator with the fan located at the bottom of the base unit. The fan circulates the hot air from the bottom to the top through the holes in the tube located in the central part of the machine. This is the typical air distribution for vertical dehydrators with expandable trays.
Besides, the FilterPro food dehydrator is specifically known to have a filter air system that ensures your dehydrated food is free from contaminants. This feature gives you the confidence to consume dried food.
A plastic material that makes it up is BPA free hence ensuring your safety consumption of dried food
Power: The model has a drying system of 530 watts, and this makes it an energy-efficient device.
 Trays: On purchase, the model comes with six (6) rectangular 17″ x 11″ trays, where the two bottom trays are deep for making yogurts and dehydrating large pieces of food. It has a capacity of 15 trays with each tray providing 1.2 square feet dehydrating surface. The trays are made from durable BPA-free plastic.
The dehydrator set also includes six (6) tray mesh inserts and two (2) uniform sheets. The mesh inserts are designed for dehydrating small food items such as herbs to fall via trays holes. While uniform sheets are designed for dehydrating liquid food or fruit leather.
 Controls: Besides, the L'Equip Filter Pro dehydrator is equipped with a digital thermostat with a temperature range from 95 ᵒF / 35 ᵒC to 158 ᵒF / 70 ᵒC. This allows dehydrating a variety of foods like jerky, fruits, vegetable, fish, crackers, and herbs. For auto shutoff, this model has an LED digital 1 – 24 hours timer. Moreover, it has a heat control sensor to ensure consistently and even dehydration of food.
 Warranty: L'Equip Filter Pro Digital Dehydrator comes with a 10-year warranty on base and motor, and 1-year on trays & accessories.
 Summary: To come to the point, the L'Equip Filter Pro Digital Dehydrator is well made affordable machine with a sophisticated digital control panel and manufactured by a reputable company. To assure customers a long drying time, the manufacturer gives a 10-year warranty. Besides, it has an expandable design and will suit for dehydrating small and large food batches. For most of the dehydrating tasks, this is an excellent device, however, it will work efficiently with a maximum of 8-12 trays depending on the type of food.
L'Equip FilterPro Food Dehydrator 528, via Amazon
Hamilton Beach 32100A Digital Food Dehydrator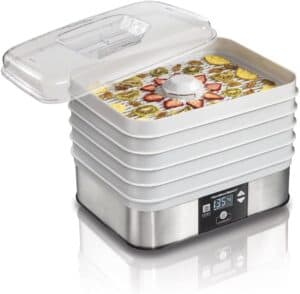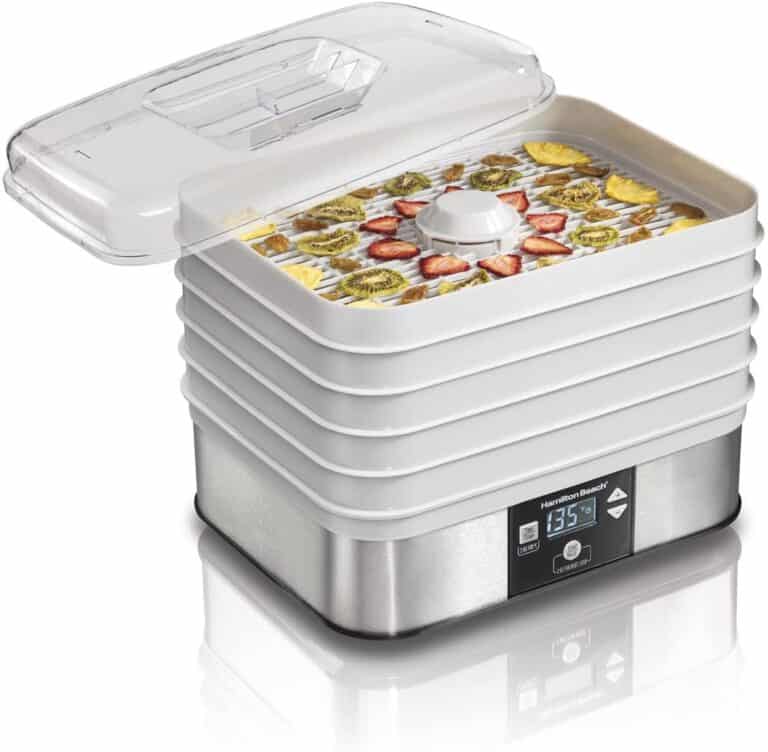 Hamilton Beach is a reputable dehydrator model that has an efficient and continuous air-flow. Such air-flow enables thorough and even dehydration of food without frequent tray rotation. It also has an auto-shutoff 48 hours timer that allows you to dry your favorite food and carry out other activities with no worries. Moreover, it has an adjustable digital thermostat with a temperature control range of 100 degrees Fahrenheit to 160 degrees Fahrenheit. That enables you to dry a wide variety of foods, depending on their heat requirements.
Indeed, it has a capacity of five trays, which offers enough space suitable for drying homemade snacks and other kinds of foods. The model comes with a fine mesh wire sheet which enhances the dehydration of small-sized food materials. For fruit rolls' enthusiasts, this dehydrator comes with a solid sheet to serve the purpose. In terms of energy consumption, the model is energy efficient since its drying system is 500 watts.
Hamilton Beach 32100A Digital Food Dehydrator, via Amazon
Summary
Mostly, deciding on the model of the dehydrator to purchase is cumbersome. However, through keen market research on the features of the dehydrator you need, picking a reputable brand is simple. The above models have special features that make them stand out to be the best. These features include a wide temperature range, low noise level, being energy efficient, even heat distribution, and the presence of an auto-shutoff timer. Such and other features make them your go-to brands.