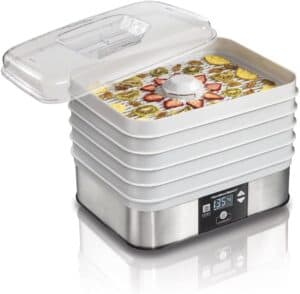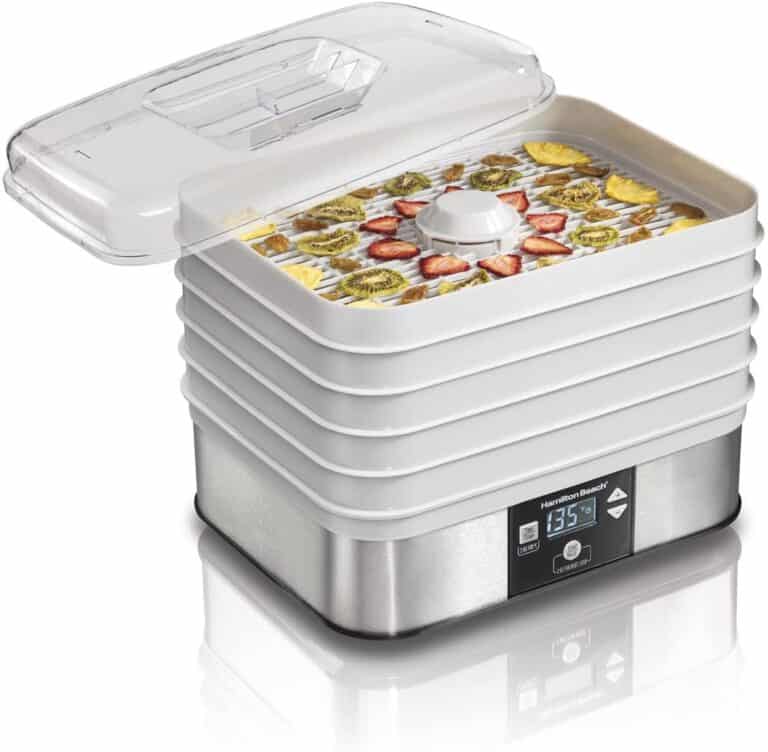 There are many user-friendly food dehydrators in the market today that can help any drying enthusiast make preservative-free foodstuff. Hamilton Beach 32100A food dehydrator is among the common food dryers that you will come across in the dryers market. This dehydrator model is made by Hamilton Beach Company, which invests in the manufacturing and distributing kitchen appliances. Many households in America, Mexico, and Canada have small kitchen devices from this Company. The Hamilton 32100A dehydrator has various features that would enable you to differentiate it from other dryer brands. These features include five drying trays that give a considerable drying space. It also comes with a digital thermostat, a wide temperature range, and a timer. Besides, it comes with a solid sheet to make fruit rolls and a mesh sheet that accommodates small food ingredients. Also, the model is known to be lightweight and has an easy-to-use control panel. Here, we will go deeper into these and other features to enable you to decide whether this dryer is suitable for your kitchen dehydrating activities.
Vertical Technology
Information about the device's airflow design is essential since it determines the efficiency of dehydration of various foodstuffs. This dryer model has a vertical airflow design that incorporates a fan that rotates to push hot air vertically throughout the trays containing the food ingredients. Here, the fan need not work very hard because the hot air will naturally rise. Both the fan and heating elements work together to ensure there is continuous airflow throughout this unit. The continuous airflow maintains the uniform temperature in the unit and improves the efficiency of drying and even dehydration of different food items.
Additionally, the continuous airflow within this model eliminates frequent tray rotation that might be time-consuming, especially if the user has other duties to perform. The efficiency of this airflow system is further improved by the presence of a ventilation mesh, which enhances the escaping of moisture. Efficient elimination of moisture in food protect your favorite food items from some harmful micro-organism which might cause spoilage. However, few users have raised some complaints regarding inconsistent heat flow, and therefore you can opt to keep an eye on your dehydrating batches. You can carry out such supervision several times, depending on the drying period of the specific food items.
Exterior Design and Wattage
Generally, food dehydrators have a tendency to consume less electrical power than most convection oven and are therefore preferred for dehydration. Specifically, Hamilton Beach 32100A dehydrator runs at 500-watt of power. This wattage supplies sufficient energy to the heating elements and the fan motor to enable proper drying of a variety of vegetables, fruits, and other food items that require high temperatures like beef jerky. The five trays capacity where the food ingredients are kept matches with the 500 watts of power with no cases of over-drying. Furthermore, this power is not less to put your food at risk of improper dehydration, resulting in the growth of molds and bacteria.
Trays
The capacity of a particular dehydrator is a major factor to consider when choosing a suitable dryer model. One opts to pick a model with a certain capacity depending on the purpose of dehydration, which determines the volume of food items to be dried. This dryer comes with five stackable trays that provide adequate drying space, especially for household consumption. Note that this device is not expandable and, therefore, can only handle a limited amount of food ingredients. All the trays are made from BPA-free plastic materials hence guarantee the user contaminants-free food. 
Notably, the versatility of this dehydrator model is further improved by an additional fine mesh sheet that comes with this device. The availability of mesh sheets is ideal for drying small food items such as herbs, nuts, and seeds, with nothing falling through trays to the bottom of the unit. Also, there is a solid sheet that plays a critical role whenever you need to prepare leather rolls using purees and jams. Both the mesh sheet and the solid sheet are food-safe hence; you need no worries about your health. Besides, the bottom part of the unit is metallic- a feature that gives this device stability when working on kitchen countertops.
Hamilton Beach 32100A dehydrator weighs 8 lbs. and will not bother you much whenever you need to move it from one end to another. Additionally, its dimensions are 11'' by 10.5'' by 13'', making it suitable for most kitchen countertops even where space is limited. You will not bother yourself much when storing it, especially when it's not in use. For proper regulation of temperature without necessarily opening this unit, this dryer model comes with a clear lid. Here, it will be easier for you to check the drying progress visually. During dehydration, ensure that the lid is well fitted.
Control Panel
To increase convenience when in use, the dehydrator features a control panel that bears a number of settings. Basically, this dehydrator's digital control panel is located at the base of the unit. For instance, it has an adjustable thermostat to enable the user to apply the correct temperature range when drying diverse food ingredients. This digital thermostat has a temperature ranging from 100ᵒF to 160ᵒF. Such a temperature range will make you dehydrate vegetables, fruits, herbs, nuts, fish, and even meat, by applying a suitable temperature for each. There is also a timer and a Start/Pause button.
Like most dehydrators in the market today, the timer on the control panel of this model allows you to set the appropriate time for dehydrating certain food items. A timer will always turn off the device automatically when the set time elapses. This ensures your food does not over-dehydrate. Particularly, this dryer model's timer provides up to 48 hours of drying time. It is imperative to use the instruction manual to get comprehensive information about the accurate time to dry specific food items. That means you won't fail to carry out other household chores during the entire drying time.
Using and Cleaning
Since the control system of this model is intuitive, there are no many issues throughout the dehydration process as long as the user follows the instruction given in the instruction manual. The operation of the device is not demanding, and all you need is to prepare the food to be dehydrated before the actual process. Load the trays with the food ingredients and connect it to the power socket. Accurately set the timer and the temperature at which particular foodstuff dries. The manufacturer recommends that one should use the user's manual to know more from the dehydrating recipes.
Supervision of the entire drying process is made simpler by presenting a transparent top lid, where the user can observe the drying process. The Hamilton Beach 32100A dehydrator will enable you to prepare almost every form of foodstuff. Think of banana chips, meat, vegetables, fruit rolls, lentils, herbs, mushrooms, and other food ingredients. With this device, you no longer require to purchase the preserved food items from shopping malls. Food that requires thorough preparation before drying should be considered for consistent results. For instance, fruits and vegetables should be cut into suitable shapes and sizes.
The cleanliness of food ingredients is also essential to ensure that your family consumes hygienic food. On the other hand, the cleaning of the dryer after use is also should be done. The plastic trays are easy to clean manually, using warm, soapy water. Manual cleaning of the trays is mostly done where there are hard stains that require more effort to clean up. However, one can decide to clean the trays in a dishwasher. When cleaning the base, use a soapy damp cloth.
Hamilton Beach 32100A Digital Food Dehydrator, via Amazon
Summary            
To sum up everything, from this dehydrator's features, we can term it as a versatile kitchen. Its five stackable trays make it appropriate, especially for drying food for domestic consumption. Those who need a lightweight and compatible food dryer due to minimal space can opt to purchase this model. The user can also enjoy healthy food from this device since the materials that make it up are food-safe. BPA-free plastic material is used to make up the trays. Additionally, its continuous airflow within the unit ensures efficient food dehydration. The presence of a timer on this dryer is also an essential feature that most users consider, especially when one needs to leave the machine run overnight. However, you should know that the fan of the Hamilton Beach 32100A can be noisy. By having the features of this food dehydrator at hand, you may consider whether to make it your favorite kitchen appliance.