Mod­ern, hec­tic life dic­tates the lifestyle trends, and this Nutri Nin­ja Auto-iQ gad­get fits into this trend, serv­ing the require­ments of busy peo­ple. The machine has quite a few ben­e­fits, despite the quite fishy mar­ket­ing pro­mo­tion for this gad­get. It is not a
nutri­ent extrac­tor as adver­tised
but a pow­er­ful, sin­gle-serve blender with a few advanced fea­tures for its sin­gle-serve device class. It not only has a pow­er­ful motor, but it comes with a prop­er con­trol pan­el, which offers the user more flex­i­bil­i­ty than blend­ing. Nutri Nin­ja Auto iQ offers 4 mod­els for this blender — BL480, BL482, BL487, and BL487T — that dif­fer in the num­ber and qual­i­ty of cups and recipe books included.
Read this review to find out if this blender is worth fit­ting into your busy life.
Would you like to look at alter­na­tive options? Check here our article:
Dis­clo­sure: As an Ama­zon Asso­ciate, we may earn an affil­i­ate com­mis­sion for pur­chas­es you make when using the links on this page.
Functionality and Versatility
The Auto-iQ per­forms very well on many tasks. It pul­ver­izes most of the ingre­di­ents into a smooth con­sis­ten­cy, with no chunks and pieces.
Smooth­ie: This blender makes almost per­fect qual­i­ty smooth­ies from soft and hard food, though the car­rots will come out just a lit­tle tex­tured. It also works very well on many leafy ingre­di­ents such as raw spinach or kale and makes a good qual­i­ty, smooth drink with only small green bits. It dec­i­mates raw nuts and seeds very well in smooth­ies with­out any notice­able bits. The only prob­lem it has with rasp­ber­ry and black­ber­ry seeds is that this Nutri Nin­ja does not break them down well, and often a sec­ond cycle is need­ed to get the accept­able con­sis­ten­cy with the berry seeds.
Ice crush­ing, frozen desserts: This gad­get han­dles crush­ing ice very well and any frozen ingre­di­ents even with min­i­mal liq­uid. It eas­i­ly deliv­ers chunks of free smooth­ies from frozen food and shaved ice to make decent qual­i­ty snow cones and oth­er frozen desserts using a pre-set pro­gram to process frozen food.
Juic­ing: This machine will not squeeze text­book juice that is sup­posed to sep­a­rate the liq­uid from the fiber. But it is per­fect­ly capa­ble of pro­duc­ing a fair­ly smooth smooth­ie, aka "whole juice."
Puree­ing and chop­ping: Equipped with two pre-set pro­grams and a pulse mode, it purees any raw or cooked food and chops veg­eta­bles and grat­ed cheese. It also makes per­fect qual­i­ty sal­sas, dips, and sauces. How­ev­er, it is unable to make nut butter.
Hot ingre­di­ents: This machine can­not be used with hot ingre­di­ents and does not have heat­ing ele­ments, so it will not make any hot soups. The blender is not suit­able for prepar­ing bul­let­proof coffee.
Grinding/milling: This blender comes only with one set of blades that is intend­ed for liq­uid food pro­cess­ing, so it does not per­form very well when grind­ing and powdering.
This blender is a great entry-lev­el gad­get for peo­ple who want to make indi­vid­ual smooth­ies to take out with them in the sim­plest pos­si­ble way. It is a com­pact and easy-to-store machine that does not take up much room in your kitchen, and it is designed to serve one or two peo­ple at most. But it is not a ver­sa­tile machine that han­dles all of the func­tions a coun­ter­top blender does. As with all per­son­al blenders, it is also not flex­i­ble in terms of adding ingre­di­ents dur­ing blend­ing because the jar is posi­tioned in an upside-down fash­ion dur­ing food processing.
Speed Settings and Programs
The Nutri Nin­ja Auto iQ con­trol pan­el offers a time dis­play and 4 but­tons — Start/Stop but­ton, Pulse but­ton, iQ Ultra-Blend pre-set pro­grams, and iQ Blend. These two pre-set pro­grams are an advanced fea­ture for a sin­gle-serve blender, allow­ing more flex­i­bil­i­ty to the user than just blending.
The Auto iQ Blend pro­gram lasts for 45 sec­onds and is typ­i­cal­ly used for nor­mal smooth­ies, while the Auto iQ Ultra-Blend pro­gram lasts 60 sec­onds and is used to blend ice, frozen and hard ingre­di­ents. The pre-set pro­grams cycle times the blend­ing, paus­ing, and puls­ing to make sure all of the ingre­di­ents are pushed down to the blade. The pulse func­tion is intend­ed for man­u­al con­trol oper­a­tion, and it puls­es until you press it down with the timer, count­ing up by sec­onds. The Start/Stop but­ton starts for con­tin­u­ous run­ning for up to 60 sec­onds once you push it down. It stops when you push it again.
Ease of Using and Cleaning
Set­ting up and oper­at­ing: Nutri Nin­ja Auto iQ is very easy to set up for run­ning. Fill the cup with ingre­di­ents and liq­uid up to the MAX line. Screw in the blade assem­bly to the cup tight­ly enough to pre­vent leak­ing, but not too tight; oth­er­wise, you will have the pain to remove it. Turn the cup upside down and turn it clock­wise to fix it to the base unit. Press the appro­pri­ate but­ton to run. Once the Nutri Nin­ja is fin­ished blend­ing, you remove the blade cap, then pop on a sip­py lid, and it is ready to be tak­en away with you.
Clean­ing: With this blender, rou­tine clean­ing is not dif­fi­cult. If you blend­ed thick ingre­di­ents, soak the blade assem­bly imme­di­ate­ly after use and fol­low with a clean water rinse. Please do not allow the blade assem­bly to dry because it will be hard­er to clean. If you blend­ed watery ingre­di­ents, it would be fine to rinse them with water. The blade assem­bly and con­tain­ers are dish­wash­er safe.
Still, from time to time, you will need to dis­man­tle the blade assem­bly for a prop­er clean­ing in order to pre­vent dirt build up between the blade and the plas­tic cap adden­dum. And it is a very chal­leng­ing task since you can only remove the blade from the plas­tic cap with a thin, dull knife or an awl. Anoth­er prob­lem is that the o‑ring that seals the blade and cup adden­dum from leak­ing tends to wear rapid­ly if you dis­man­tle it often.
Base Unit and Motor Power
The Nutri Nin­ja Auto iQ has a pow­er­ful 1000 watt motor and a 21,000 RPM blade that, as already men­tioned, blends each job very well. How­ev­er, some of the dri­ve gear parts are made of rub­ber and plas­tic rather than steel. This affects the dura­bil­i­ty of the motor construction.
The base unit is also made of plas­tic, but it looks quite mod­ern and nice. Under­neath, it has some bot­tom pads instead of suc­tions cups, and the machine tends to trav­el or turn around dur­ing oper­a­tion. So keep an eye on it to pre­vent it from falling down.
Container
The Nin­ja BL480 mod­el comes with a small 18 oz., reg­u­lar 24 oz. and a large 32 oz. BPA-free poly­car­bon­ate con­tain­ers and three sip and seal plas­tic lids ready to be tak­en out­side if need­ed. The Nin­ja 482Z mod­els include two 24 oz. pre­mi­um Tri­tan poly­car­bon­ate cups, see the Set Include table for details on dif­fer­ent mod­els cups options. All cups have a MAX line to ori­ent the user with the vol­ume of food need­ed to be filled. Cups, lids, and blade assem­bly are all dish­wash­er safe. How­ev­er, the cups are not very durable, and their screw thread may wear out with­in 1 year of blender usage, and you will have to buy replace­ment cups. Make sure you use them care­ful­ly and learn to tight­en them cor­rect­ly so they will have a longer lifespan.
Blades
The Nutri Nin­ja Auto iQ uses one 4‑prong blade assem­bly. The blade is made of stain­less steel and is very sharp. The blad­ed disc and the post are made of plas­tic and nylon. Plas­tic parts reduce the qual­i­ty and dura­bil­i­ty of the blades. The seal­ing part of the blades also has a prob­lem and may start leak­ing with­in 1 year. There are also some prob­lems with the blades wear­ing out, even though they are stain­less steel. They may devel­op pecky dam­age over time.
Nutri Ninja Auto iQ 480 Special Features
Col­ors: The Nutri Nin­ja Auto iQ blender comes in one black and sil­ver col­or and is avail­able in four dif­fer­ent sets — BL480, BL482, BL487, and BL487T. All sets have exact­ly the same motor and base unit but dif­fer in the num­ber of serv­ing cups and recipe books. Look at the table for more details.
Cer­ti­fied Refur­bished: The refur­bished mod­els are also avail­able on Ama­zon; check here for the best price for the refur­bished BL480 mod­el.
Use in coun­tries out­side of USA/Canada: The Nutri Nin­ja Auto iQ sold in the USA comes with a 110–120 volt­age sys­tem which could be used only in the USA, Cana­da, most Cen­tral and South Amer­i­can regions, Japan, Tai­wan, and Sau­di Ara­bia (coun­tries sup­port 11–12- volts sys­tem). The machine could be used through a volt­age adapter, prefer­ably for a short peri­od. How­ev­er, this machine is avail­able in many coun­tries around the world and is bet­ter to be bought via local retailers.
Nutri Nin­ja Auto iQ BL480, via Ama­zon
Noise
The Nutri Nin­ja Auto iQ with its 1000 watt motor pro­duces a lot of noise. It out­puts 100 dB (deci­bels). A hand drill pro­duces 98 deci­bels of noise lev­el to bet­ter under­stand what that means, and a motor­cy­cle will out­put 100 dB. For those who can­not tol­er­ate this loud­ness for 45–60 sec­onds, I rec­om­mend that you place a rub­ber­ized table pad under­neath the blender, which should notice­ably reduce the noise output.
Warranty and Customer Service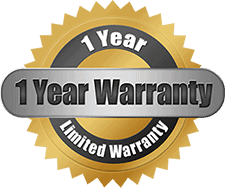 The Nutri Nin­ja Auto iQ blender has a typ­i­cal for this brand 1‑year LIMITED War­ran­ty which means you pay for replace­ment parts and ship­ping costs if you need a repair or replace­ment. Ama­zon sells the extend­ed war­ran­ty for 2 or 3 years for this machine for a rea­son­able price of $5 to $7. This blender war­ran­ty is not trans­fer­able and must be reg­is­tered with­in 10 days of pur­chase. It is valid only with the orig­i­nal receipt, so keep it safe in case you need it. The Nin­jaShark brand cus­tomer ser­vice does not have a good rep­u­ta­tion and is not very helpful.
Optional accessories
There is a few extra acces­sories and attach­ment avail­able for this machine:
Set Includes
The Nutri Nin­ja Auto iQ BL482 comes in four dif­fer­ent packages.
1000 Watt Motor Base Unit;
One Blade Assembly;
Nutri Nin­ja 18 oz., 24 oz., 32 oz. Cups (selec­tion of cups depend­ing on the package);
Sip and Seal Lids for Each Cup;
Get­ting Start­ed Guide with Prod­uct Tips and Recipes;
75 Recipes Book (over 200 pages) by Rachel Beller(only Bl482).
Dimensions
This com­pact blender does not take up much kitchen counter space with a 6 3/4 inch­es X 6 1/4 inch­es foot­print, and it fits under tra­di­tion­al kitchen cab­i­nets with 8″ inch­es in height. It also could be eas­i­ly stored in a cab­i­net or drawer.
This gad­get's ship­ping box is 15.8 x 12.8 x 7.9 inch­es, with a weight of 10.5 pounds.
Pros and Cons
Pros:
The Nin­ja is a pow­er­ful blender, and it makes a good qual­i­ty smoothie.
It is very com­pact and does not take up much of your kitchen space. It is also easy to store in any cab­i­net or even a kitchen draw­er. The blender takes up less than 36 square inch­es of counter space.
This com­pact blender's main ben­e­fit is that it could be tak­en straight out­side in the same blend­ed cup with the sip­ping lid with­out any extra hassle.
Cons:
It is over­priced for a small per­son­al blender that serves one or two peo­ple, maximum.
The war­ran­ty is only for 1 year, and cus­tomer ser­vice is not very help­ful. The short war­ran­ty term means that the pro­duc­er does not stand behind nor believe in its qual­i­ty. Dura­bil­i­ty is an issue, and this gad­get lasts, on aver­age, only 1- 1.5 years. Many parts of the motor and blade assem­bly are made of plas­tic; the blender also has leak­ing and chip­ping blade problems.
The base tends to move or twist on the countertop.
It requires that you screw the blend­ing cup to the blade assem­bly very tight­ly, and some­times it is very dif­fi­cult to remove the blade from the jar after use.
It is a very loud blender.
Price
The iQ BL482 pack­age offers the best val­ue for mon­ey but fluc­tu­ates with­in a range of 10–20% with dif­fer­ent retail­ers. The iQBL482Z is usu­al­ly priced high­er by 15% than the BL482; this incor­po­rates a val­ue of two 24 oz. Tri­tan cups. The price for BL480 and BL481 mod­els is usu­al­ly only 5–10% cheap­er than BL482. Ama­zon often offers the best price for this unit and may drop to a very rea­son­able price.
Nutri Nin­ja Auto iQ BL480, via Ama­zon
Nutri Ninja Auto iQ BL480 Consumer Reviews
Many con­sumers fall in love with this blender despite its poor dura­bil­i­ty, and they like­ly still love it even when it breaks, and cus­tomer ser­vice is reluc­tant to replace it. It might be adver­tis­ing, but peo­ple rate it very high­ly despite the many cons of this product.
Summary
The Nutri Nin­ja Auto iQ is a pow­er­ful blender, and it makes a good qual­i­ty smooth­ie. How­ev­er, it is over­priced for a gad­get with lim­it­ed ver­sa­til­i­ty and speed con­trol that is serv­ing only one or two peo­ple max­i­mum. Cer­tain­ly, it has its ben­e­fits, and it will suit peo­ple with kitchen space issues or some­one who trav­els a lot and needs a portable and an easy to store blender.
Alter­na­tive­ly, check our articles: