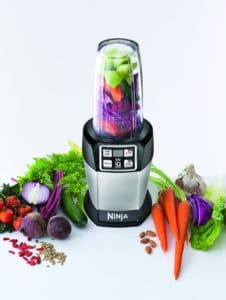 Modern, hectic life dictates the lifestyle trends, and this Nutri Ninja Auto-iQ gadget fits into this trend, serving the requirements of busy people. The machine has quite a few benefits, despite the quite fishy marketing promotion for this gadget. It is not a nutrient extractor as advertised, but a powerful, single-serve blender with a few advanced features for its class of single-serve devices. It not only has a powerful motor, but it comes with a proper control panel which offers the user more flexibility than blending. Nutri Ninja Auto iQ offers 4 models for this blender – BL480, BL482, BL487, and BL487T – that differ in number and quality of cups and recipe book included.
Read this review to find out if this blender is worth fitting into your busy life.
Would you like to look at alternative options? Check here our article: 
Functionality and Versatility
The Auto-iQ performs very well on many tasks. It pulverizes most of the ingredients into a smooth consistency, with no chunks and pieces.
Smoothie: This blender makes almost perfect quality smoothies from soft and hard food, though the carrots will come out just a little textured. It also works very well on many leafy ingredients such as raw spinach or kale and makes a good quality, smooth drink with only small green bits. It decimates raw nuts and seeds very well in smoothies without any noticeable bits. The only problem it has with raspberry and blackberry seeds is that this Nutri Ninja does not break them down well, and often a second cycle is needed to get the acceptable consistency with the berry seeds.
Ice crushing, frozen desserts: This gadget handles crushing ice very well, and any frozen ingredients even with minimal liquid. It easily delivers chunks free smoothies from frozen food and shaved ice to make decent quality snow cones and other frozen desserts using a pre-set program to process frozen food.
Juicing: This machine will not squeeze textbook juice that supposed to separate the liquid from the fiber. But it is perfectly capable of producing fairly smooth smoothie aka "whole juice".
Pureeing and chopping: Equipped with two pre-set programs and a pulse mode, it purees any raw or cooked food and chops vegetables and grated cheese. It also makes perfect quality salsas, dips, and sauces. However, it is unable to make nut butter.
Hot ingredients: This machine cannot be used with hot ingredients and does not have heating elements, so it will not make any hot soups. The blender is not suitable for preparing bulletproof coffee.
Grinding/milling: This blender comes only with one set of blades that is intended for liquid food processing, so it does not perform very well when grinding and powdering.
This blender is a great entry-level gadget for people who want to make individual smoothies to take out with them in the simplest possible way. It is a compact and easy to store machine that does not take up much room in your kitchen, and it is designed to serve one or two people at most. But it is not a versatile machine that handles all of the functions a countertop blender does. As with all personal blenders, it is also not flexible in terms of adding ingredients during blending because the jar is positioned in an upside-down fashion during food processing.
Speed Settings and Programs
The Nutri Ninja Auto iQ control panel offers a time display and 4 buttons – Start/Stop button, Pulse button, iQ Ultra-Blend pre-set programs, and iQ Blend. These two pre-set programs are an advanced feature for a single-serve blender, allowing more flexibility to the user than just blending.
The Auto iQ Blend program lasts for 45 seconds and is typically used for normal smoothies, while the Auto iQ Ultra-Blend program lasts 60 seconds and is used to blend ice, frozen and hard ingredients. The pre-set programs cycle times the blending, pausing, and pulsing to make sure all of the ingredients are pushed down to the blade. The pulse function is intended for manual control operation, and it pulses until you press it down with the timer, counting up by seconds. The Start/Stop button starts for continuous running for up to 60 seconds once you push it down. It stops when you push it again.
Ease of Using and Cleaning
Setting up and operating: Nutri Ninja Auto iQ is very easy to set up for running. Fill the cup with ingredients and liquid up to the MAX line. Screw-in the blade assembly to the cup tightly enough to prevent leaking, but not too tight, otherwise, you will have the pain to remove it. Turn the cup upside down and turn it clockwise to fix it to the base unit. Press the appropriate button to run. Once the Nutri Ninja is finished blending, you remove the blade cap, then pop on a sippy lid and it is ready to be taken away with you.
Cleaning: With this blender, routine cleaning is not difficult. If you blended thick ingredients, soak the blade assembly immediately after use and follow with a clean water rinse. Do not allow the blade assembly to dry because it will be harder to clean. If you blended watery ingredients, it will be fine to just rinse it with water. The blade assembly and containers are dishwasher safe.
Still, from time to time, you will need to dismantle the blade assembly for a proper cleaning in order to prevent dirt build up between the blade and the plastic cap addendum. And it is a very challenging task since you can only remove the blade from the plastic cap with a thin, dull knife or an awl. Another problem is that the o-ring that seals the blade and cup addendum from leaking tend to wear rapidly if you dismantle it often.
Base Unit and Motor Power
The Nutri Ninja Auto iQ has a powerful 1000 watt motor and a 21,000 RPM blade that, as already mentioned, blends each job very well. However, some of the drive gear parts are made of rubber and plastic rather than steel. This affects the durability of the motor construction.
The base unit is also made of plastic, but it looks quite modern and nice. Underneath it has some bottom pads instead of suctions cups, and the machine tends to travel or turn around during operation. Keep an eye on it to prevent it from falling down.
Container
The Ninja BL480 model comes with a small 18 oz., regular 24 oz. and a large 32 oz. BPA free polycarbonate containers, and three sip and seal plastic lids ready to taken outside if needed. The Ninja 482Z models include two 24 oz. premium Tritan polycarbonate cups, see the Set Include table for details on different models cups options. All cups have a MAX line to orient the user with the volume of food needed to be filled. Cups, lids, and blade assembly are all dishwashers safe. The cups are not very durable, and their screw thread may wear out within 1 year of blender usage, and you will have to buy replacement cups. Make sure you use them carefully and learn to tighten correctly so they will have a longer lifespan.
Blades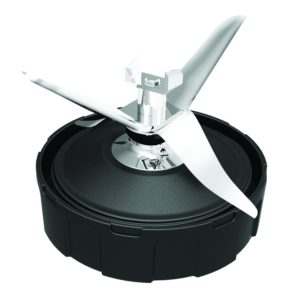 The Nutri Ninja Auto iQ uses one 4-prong blade assembly. The blade is made of stainless steel and is very sharp. The bladed disc and the post are made of plastic and nylon. Plastic parts reduce the quality and durability of the blades. The sealing part of the blades also have a problem and may start leaking within 1 year. There are also some problems with the blades wearing out, even though they are stainless steel. They may develop pecky damage over time.
Nutri Ninja Auto iQ 480 Special Features
Colors: The Nutri Ninja Auto iQ blender comes in one black and silver color, and is available in four different sets – BL480, BL482, BL487, and BL487T. All sets have exactly the same motor and base unit but differ in the number of serving cups and recipe books. Look at the table for more details.
Certified Refurbished: The refurbished models are also available on Amazon, check here the best price for the refurbished BL480 model.
Use in countries outside of USA/Canada: The Nutri Ninja Auto iQ sold in the USA comes with 110-120 voltage system which could be used only in the USA, Canada, most Central and South American regions, Japan, Taiwan, and Saudi Arabia (countries support 11–12- volts system). The machine could be used through a voltage adapter preferably for the short period. However, this machine is available in many countries around the world and better to be bought via local retailers. 
Check here the best today's deal for the Nutri Ninja Auto iQ BL480
Noise
The Nutri Ninja Auto iQ with its 1000 watt motor produces a lot of noise. It outputs 100 dB (decibels). For a better understanding of what that means, a hand drill produces 98 decibels of noise level and a motorcycle will output 100 dB. For those who cannot tolerate this loudness for 45-60 seconds, I can recommend that you place a rubberized table pad underneath the blender, and that should noticeably reduce the noise output.
Warranty and Customer Service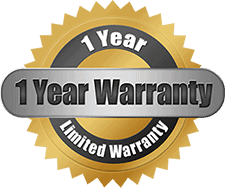 The Nutri Ninja Auto iQ blender has a typical for this brand 1-year LIMITED Warranty which means you pay for replacement parts and shipping cost if you need a repair or replacement. Amazon sells the extended warranty for 2 or 3 years for this machine for a reasonable price of $5 to $7. This blender warranty is not transferable and must be registered within 10 days of purchase. It is valid only with the original receipt, so keep it safe in case you need it. The NinjaShark brand customer service does not have a good reputation and is not very helpful.
Optional accessories
There is a few extra accessories and attachment available for this machine:
Set Includes
The Nutri Ninja Auto iQ BL482 comes in four different packages.
1000 Watt Motor Base Unit;
One Blade Assembly;
Nutri Ninja 18 oz., 24 oz., 32 oz. Cups (selection of cups depending on the package);
Sip and Seal Lids for Each Cup;
Getting Started Guide with Product Tips and Recipes;
75 Recipes Book (over 200 pages) by Rachel Beller(only Bl482).
Dimensions
This compact blender does not take up much kitchen counter space with a footprint of 6 3/4 inches X 6 1/4 inches, and it fits under traditional kitchen cabinets with 8″ inches height. It also could be easily stored in a cabinet or drawer.
The shipping box for this gadget is 15.8 x 12.8 x 7.9 inches, with a weight of 10.5 pounds
Pros and Cons
Pros:
The Ninja is a powerful blender and it makes a good quality smoothie.
It is very compact and does not take up much of your kitchen space. It is also easy to store in any cabinet or even a kitchen drawer. The blender takes up less than 36 square inches of counter space.
The main benefit of this compact blender is that it could be taken straight outside in the same blended cup with the sipping lid without any extra hassle.
Cons:
It is overpriced for a small personal blender that serves one or two people, maximum.
The warranty is only for 1 year and customer service is not very helpful. The short warranty term means that the producer does not stand behind nor believe in the quality of their product. Durability is an issue and this gadget lasts on the average only 1- 1.5 years. Many parts of the motor and blade assembly are made of plastic, the blender also has the leaking and chipping blade problems.
The base tends to move or twist on the countertop.
It requires that you screw the blending cup to the blade assembly very tightly, and sometimes it is very difficult to remove the blade from the jar after use.
It is a very loud blender.
Price
The iQ BL482 package offers the best value for money but fluctuates within a range of 10-20% with different retailers. The iQBL482Z is usually priced higher by 15% than the BL482, this incorporates a value of two 24 oz. Tritan cups. The price for BL480 and BL481 models are usually only 5-10% cheaper than BL482. Amazon often offers the best price for this unit and may drop to a very reasonable price.
Check here the best today's deal for the Nutri Ninja Auto iQ BL480
Nutri Ninja Auto iQ BL480 Consumer Reviews
Many consumers fall in love with this blender despite its poor durability, and they likely still love it even when it breaks and customer service is reluctant to replace it. It might be advertising, but people rate it very highly despite the many cons of this product.
Rating: 4.6
Summary
The Nutri Ninja Auto iQ is a powerful blender and it makes a good quality smoothie. However, it is overpriced for a gadget with limited versatility and speed control that is serving only one or two people maximum. Certainly, it has its benefits and it will suit people with kitchen space issues, or someone who travels a lot and needs a portable and an easy to store blender.
Alternatively, check our articles: