The Vitamix and Blendtec are true competitive brands in the niche for high-end professional type blenders for home use. Normally, it is a challenge for customers to choose between the two brand blenders. Each brand has numerous models and a few product lines that make the choice even more confusing.
 What is true, that the comparison should be made between the appropriate Vitamix and Blendtec models the one that ranges from the basic to the top brand models.
Here we will compare budget Vitamix and Blendtec models that perform all the key Vitamix and Blendtec tasks but do not have the typical for premium models "bells and whistles" features. For this purpose, we selected the Vitamix Explorian E310/E320 and the Blendtec Total Classic Original blenders.
Vitamix Explorian E310/E320 Blender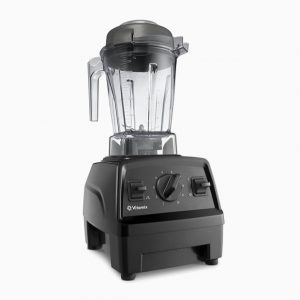 The Vitamix Explorian blender is available in two models E310 and E320 (refurbished only) that differ by the jar option only.  
Motor: The both Vitamix Explorian blenders have similar base units design and powerful 2.2 HP/ 1440 watts (= 12 Amps X 120 V) motors.  It is constructed with durable all-metal to metal blades to motor coupling.  As all machine Vitamix, the base unit is heavy and sturdy and comes with a cooling fan and automatic overheat and overload protection system that shut off the unit automatically and prevents the motor from burning out. 
The Vitamix Explorian blender pack contains:
Base unit with 2.2 HP motor;
64 oz. (E320) or 48 oz. (E310) Container with lid;
Tamper;
User Manual;
Cook Book.
Container and blades: The both E310 and E320 models feature the premium quality shatter and temperature resistant containers. However, the jars are differed by capacity and design. The E310 unit comes with the 48 oz. narrow bottom jar with 3" inbuilt blades jar while the E320 blender has a 64 oz. wide bottom jar with 4" inbuilt blades.
Both jars are equipped with signature Vitamix tamper to help to process thick blending mixtures.
Although, 48 oz. and 64 oz. container blades differ in size 3" (for 48 oz.) and 4" (for 64 oz.) but have absolutely identical semi-dull design and both handle wet and dry food.
Control Panel: Both models have a very simple and minimalist control panel. It is equipped with ON/OFF and Pulse levers and 10-speed dial knob. The lowest speed 1 spins between 1,400 and 1,600 rpm while the highest speed spins at 23,000 – 28,500 rpm (depending on the blades size 3" or 4" while delivering the same blending result). The true low speed and good option of speeds allow the user a lot of control over the blending process.
The blender is designed to run 10 min without stopping after 10 min if unattended blender will shut off.
Functionality: So, this machine designed to execute the following tasks:
Makes flawlessly smooth and free of chunks drinks from soft, hard and berries seeds ingredients;
Crushes the ice into the impeccable snow, can produce perfect snow cones, ice cream, and slushy drinks;
Creates smooth smoothies aka "whole juice";
Designed to handle hot ingredients, able to process hot liquid for soup, make bulletproof coffee, heats liquid with frictions and within just 7 minutes delivers steaming hot liquid;
Prepares perfect quality sauces and dips including hummus and pesto, chops veggies and nuts;
Puree raw and cooked fruits and veggies and perfectly suits for making baby food;
Powerful enough to process nut milk;
Without efforts makes nut butter from any nuts type without adding oil, the tamper is great to help in this task;
Kneads faultless dough, prepares batter;
Grinds spices, flax-seeds, powdered sugar, or ground coffee, makes a baking quality flour from any grains and seeds.
Warranty: The Explorian E310 comes with the 5 years and E320 (reconditioned) with the 7 years FULL WARRANTIES that cover all machine parts from top to bottom. The Vitamix warranties are transferable, so it continues to apply even to the second hand Vitamix owner. 
Check here today's best price for the Vitamix Explorian E320 (refurbished) unit
Blendtec Total Classic Original Blender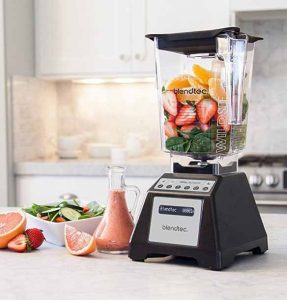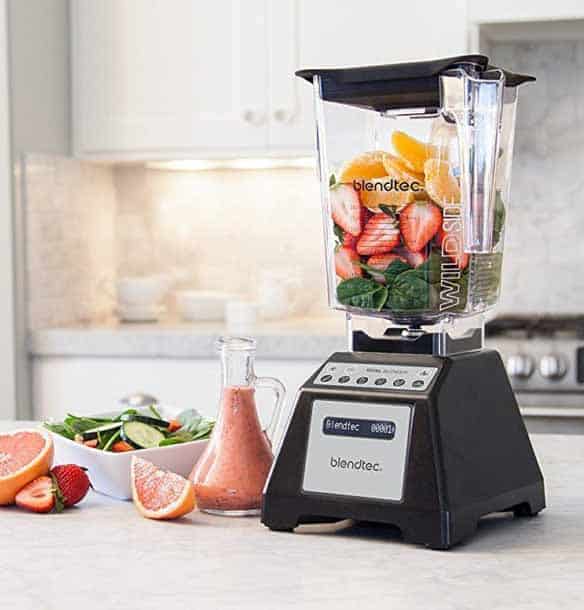 Blendtec Total Classic Blender comes with 90 oz. WildSide and 75 oz. FourSide+ jars and both available in refurbished condition.
Motor: The Total Classic model has a compact and rather lightweight base unit that houses powerful 1560 Watts (= 13 Amps X 120V) that features long-lasting metal drive socket and coupling. The unit also equipped with a motor protection system that automatically shuts off the machine when it id overheated, overloaded, or jammed.
So the packages for this machine include:
Motor base;
70 oz. FourSide or 90 oz. WildSide container with lids;
Recipe book with over 200 recipes(for new models only);
User Manual.
 Container and blade: The Total Blender available with a 75 oz. FourSide+ jar with markings up to 32oz. and 90 oz. WildSide+ jar with markings up to 36oz. Both containers made from heavy-duty shatter and temperature proofed Eastman Tritan co-polyester material. The 75oz.
FourSide jar has a square shape and narrow bottom with 3" inbuilt blades. While the WildSide+ jar with wide bottom and 4" inbuilt blades though looks very similar to the square FourSide container but has a 5th side that according to the Blendtec is supposed to perform even better. 
Both jars have blade systems permanently inbuilt into the jar. The wing-tip cold-forged stainless steel blades are absolutely blunt.
The gadget does not include tamper, so it has some hassle to process thick mixtures and may require to stop it during the blending for mixing ingredients.
Control panel: The Total blender control panel has 9 buttons to manage 6 pre-set programs  – Ice Cream/Frozen Yogurt, Ice Crush/ Milkshakes, Soups/Syrups/Fondues, Sauces/Dips/Dressings/Batters, Whole Juice, and Smoothies – Pulse mode, "+" and " –" buttons for selecting 10 incremental speeds. The lowest speed 1 is spun at ~ 4100 rpm while the highest speed 10 rotates blade at 29,000 RPMs. Each speed cycle stops automatically after 50 seconds.  The longest Soups/Syrups/Fondues pre-set runs 90 sec.
Functionality: This machine is designed to accomplish the following duties:
Makes outstanding fruit, vegetable, and green smoothies from fresh and frozen food, fibrous ingredients and ruptures berry seeds;
Process ice or frozen fruits into ice cream, sorbet or frozen yogurt; shaves ice for snow cones or frozen drinks;
Outputs velvety smooth so-called the whole juice;
Handles hot ingredients for hot soup or bulletproof coffee, heats liquids via blade frictions in 3-4 soup cycles;  
Chops raw and cooked veggies for salads, salsa, and dressings;
Purees any fresh and cooked food for baby food;
Pulverize any nuts and liquid to make nut milk;
Makes excellent nut butter, though it will involve some re-blending and scraping since the blender has no tamper;
Mixes batters and kneads dough;
Makes baking quality flour from bean and grain, grinds coffee, or spices.
Warranty: Blendtec Total Classic Original Blender comes with 8-year Limited Warranty. While Certified Refurbished model has only 3 year's limited warranty. Although, the warranty covers the entire machine and all parts from top to bottom but will be expected to pay for return shipping if it sent for repair.
Check here today's best deal for the Vitamix Blendtec Total Classic Blender
Vitamix Explorian E310/E320 Blender vs Blendtec Total Classic Original Blender Comparison
 

Vitamix Explorian E310/E320 Blender

Blendtec Total Classic Original Blender

Motor

1440 watts, all-metal the blade to the motor connections;

1560 watt, all-metal  motor to the blade coupling;

Blades

3" or 4" permanently built into container 4-prongs semi-sharp stainless steel;

3" or 4" irremovable totally blunt wing-tip stainless steel;

Containers

Tritan copolyester shatter and temperature resistant 64 oz. and 48 oz. with vented lid;

Tritan copolyster shatter and temperature proofed 90 oz. (36 oz. marking) and 75 oz. (32 oz. marking);

Using & Cleaning

Very easy to assemble, use and clean; dishwasher safe;

Very easy to assemble, use and clean, dishwasher safe;

Control panel

10 speeds dial knob, pulse and on/off switches;

Touchpad with 6 pre-sets programs,10 speeds, and pulse buttons;

RPMs

1,400 – 1,600 rpm – 2,3000 – 2,8500 rpm

4,100 rpm  -29,000 rpm

Warranty

5-year full warranty for the new model;

3-year Full Warranty for the reconditioned model;

8-year Limited Warranty for the new model;

3-year Limited Warranty for the reconditioned model;

Performance

·        Blends excellent drinks including green smoothies;

·        Makes whole juices;

·        Pulverizes frozen food and ice easily, makes snow cones;

·        Handles hot liquids;

·        Designed to process nut butter;

·        Purees, chops and mixes food;

·        Makes easily nut butter;

·        Mills flours and grinds beans;

·        Kneads dough.

·        Produce perfect quality smoothies and green smoothies;

·        Process whole juices;

·        Crushes ice and frozen food in drinks;

         Make snow cones;

·        Able to process hot liquids;

·        Purees, mixes, and chops;

·        Makes nut butter;

·        Makes flours, grinds herbs and coffee beans;

·        Kneads dough;

Dimensions

11 in x 8 in x 17 in, fits under standard upper cabinets.

7 in x 8 in x 15 in fits under all kitchen cabinet.

Price

Original ~ $300 – $400

Refurbished ~ under $300

Original with FourSide ~ under $300, Refurbished with FourSide ~ under $250

Original with WildSide+ ~ normally above $400, Refurbished with WildSide+ ~ under $300
How to Choose Between the Two Blenders
Both blenders come with heavy-duty durable and powerful motors. While Blendtec Total Classic unit has a slightly more powerful one but the difference is such a negligible that it does have any impact on blending outcome.
Both blenders are able to perform the same blending functions with the perfect final result, though the Vitamix slightly easier process thick mixtures such as nut butter and hummus because it is equipped with the tamper while Blendec is not designed to use the tamper. The Vitamix also chops better because it has the blades more suitable for this function.
The Blendtec has 6 pre-set programs as the Vitamix comes only with 10 speeds. However the Vitamix lowest speed is lower than Blendtec's one, so the Vitamix allows slightly more flexibility while blending.
The Blendtec has a longer warranty than Vitamix, however, the Vitamix has a Full Warranty as opposed to the Limited for Blendtec. So, the Blendtec customers are eligible for paying some repair shipping fees while Vitamix customers do not pay any shipping at all. In addition, Vitamix has a transferable warranty while Blendtec does not. The Vitamix Customer Service is slightly more reputable, although both companies have excellent service.
The Blendtec is a shorter and lighter machine, so it will definitely fit under any kitchen cabinet but it travels over the counter while Vitamix does not. But the light unit is more convenient to take with you when you travel. Because the Vitamix is a heavier machine it also 1-2 Decibels quitter than the Blendtec blender.
Check here today's best price for the Vitamix Explorian E310 unit
Check here today's best deal for the Vitamix Blendtec Total Classic blender
Summary
There is no winner in the battle between the Vitamix and Blendtec, both blenders are awesome. Both machines are very versatile, able to accomplish similar functions with outstanding performance for all of them. Both blenders are easy to use and clean. Which one is better is very specific and depends on personal preferences.
For example, someone who finds very convenient the idea of pre-programmed settings and just wants to press the appropriate button and go away will go for the Blendtec Total Blender machine. No doubts, the pre-set programs usually work very well when you follow the recipe in the cookbook.
However, if you stray and prefer more experiments in the kitchen than the Vitamix Explorian minimalist speed dial knob will certainly allow more flexibility. You also may keep in mind that rotary speed dial has definitely longer life expectancy than the electronic touchpad control panel.
In addition, there are some more Vitamix and Blendtec parameter that could be matter to you – slightly longer warranty for Blendtec but better Customer Service for Vitamix, smaller and lighter Blendtec unit that fits under all kitchen cabinets but travel over the counter during the blending process or larger and sturdier Vitamix Explorian blender with less noise released to the surrounding.
With all of said above, you are who will make your final decision and choose the machine that will best suit you.
Check here our article Which Vitamix to Buy? – Vitamix Models Explained for models clarification guide.

Or visit the Vitamix Certified Refurbished Blenders – Are They Worth to Consider? page to find out about bargain options.

Check the Best Blender for Smoothies and More article for more options.