Choosing the best blender that fits your budget can be quite a challenging task. It is easy to get lost with such a vast variety of models and brands available on the market. Advertisements also deliver often confusing information, insisting that you can buy a blender of Vitamix quality or better, for the price of around $100. To be honest, that is absolute nonsense, but it is possible to find a decent blender for an affordable price of under $100 that will make your blending experience pleasant. Read this article to find out about the 7 best blenders you can buy without breaking the bank.
How the Ratings Were Assigned
Before applying our criteria, we selected 15 of the most popular blender models between $50 and $100 on Amazon and Walmart. Then we studied various sources such as the manufacturer's product manuals, the motor construction specs, compared pitchers, blade types, read a number of reviews on few retailers' sites, and studied product reports tests. We then evaluated blending quality of different ingredients from videos, photos, and customer reviews and came out with the best deal with a price range between $50 and $100. The results are quite interesting.
#1 Oster Pro 1200 Blender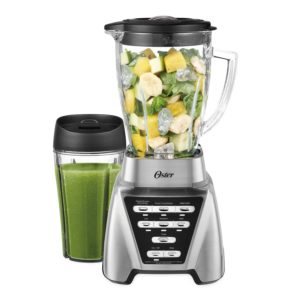 This machine comes with a large pitcher, personal size cup, and assembly for single-serve blending, combining two blenders into one. It also has a few other nice features. First of all, it is equipped with a very powerful motor of 1200 Watts, all metal drivetrain, and others gear stripping. It makes the Oster motor very sturdy and durable. Another good feature is the resistant-to-thermal-shock glass container.
This blender is very easy to set-up and clean, and also has 7 speeds to control the blending process. Most importantly, it makes perfectly smooth smoothies, even from hard fruits and vegetables, crushes ice very well, and even makes flour of reasonable quality. You have the option to buy this machine with the food processor attachment. Altogether, it is a very versatile and good-quality gadget in our selection of under $100 deal.
Read the full Oster Pro 1200 review.
In addition, Oster Pro 1200 comes with 3 years limited warranty, with 10 years limited warranty for its motor. The Oster customer service is polite and helpful.
#2 Black+Decker BL6010 Blender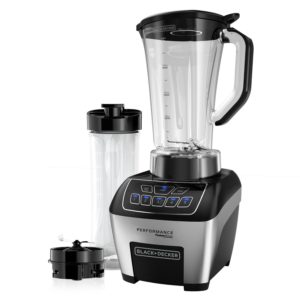 Black+Decker BL6010 also combines two blenders into one and comes with a main 64 oz. jar and single serve container and assembly. This gadget's powerful 1100 Watts motor has all metal drive parts, but rubberised plastic gasket underneath the main pitcher that connects the blades to the motor. It has a very heavy base unit with rubber feet that noticeably limits any vibration and noise. This machine is confirmed by most customers as one of the quietest. Altogether, it is certainly huge and sturdy gadget and stays very stable during running.
This machine has inbuilt blades and hence is very easy to set-up and clean. The pitcher is made of polycarbonate, the premium Tritan type. It has 5 speeds and a pulse mode that allows enough control during blending. Overall, Black+Decker BL6010 performance is impressive, it makes perfectly smooth drinks and has no problem pulverizing hard vegetables. It crushes ice perfectly, mills flour and grinds seeds and herbs.
The blender comes with a reasonable 3-years limited warranty and has good customer service.
Amazon rating – 4.5
#3 KitchenAid KSB1575 Diamond Blender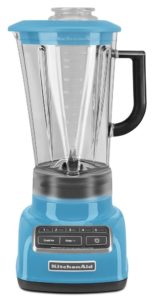 KitchenAid KSB1575 comes with a 670 Watts motor, which is one of the lowest in our selection. However, it has all metal and sturdy motor and coupler that adds durability to this machine. The gear that connects to the base is coated for quiet operation. This machine altogether is solid and looks durable with the die-cast metal base unit.
This machine is easy to use and clean. The container is made of polycarbonate, the blade is inbuilt and not removable. It is operated with 5 speeds, crush ice and pulse modes. Pulse mode is applicable to all speeds for jolting ingredients during blending. This gadget makes good quality smoothies, just slightly textured, especially when frozen berries are used, but it chops and grinds well.
This machine has 5 years limited warranty and 1-year replacement warranty. The gadget is available in a huge variety of colors, with metallic chrome being the cheapest at $71.
Amazon rating – 4.4
#4 Montel Williams HealthMaster Elite Blender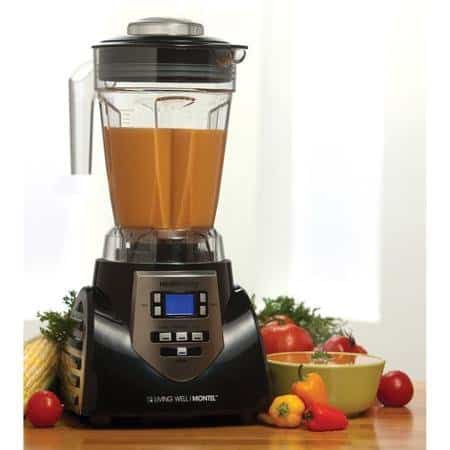 Although this machine is advertised as a juicer, blender and food processor, it is, in fact, only a blender with a powerful 1200 Watts motor. It does not include food processor or juice extractor attachments. It looks very big and sturdy.
This powerful gadget makes perfect quality smoothies even from hard ingredients. With such a powerful motor, it has no problem crushing ice. It also chops everything that you put into the container well, and it performs some limited food processing tasks efficiently. It will even heat soups from friction.
This HealthMaster Elite machine is very easy to use and includes tamper for better processing thick and frozen ingredients. It has the 8 speeds and a pulse mode that allows good control over the blending. The pitcher is polycarbonate. Blades are not removable, which makes it easy to use and clean. This gadget set includes a very good-quality recipes book.
It has only 60 days limited warranty for the machine and a lifetime warranty for the motor. Customer service is polite but not helpful.
#5 Oster Reverse Crush Blender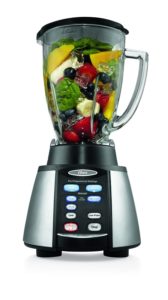 This Oster model also has quite a powerful 1000 Watts motor. As all the models in this brand, it comes with a durable, all-metal motor drive coupling. With a metal-painted base unit, it looks nice and sturdy. Oster Reverse Crush Blender has a quality shock-resistant glass pitcher and stainless steel blades.
This machine is very easy to use and versatile. Its control panel has 3 speeds, along with pulse function for two of them and 2 pre-set program, making it 7 in total. It is also possible to buy extra accessories that are all interchangeable between different Oster.
This gadget makes perfect-quality fruits and greens smoothies without any lumps. It is also great for crushing ice. Overall, it does its job very well.
Read here the full Oster Reverse Crush BVCB07-Z00-000 Blender Review.
This Oster blender also comes with 3 years limited warranty for the blender, and 10 years limited warranty for the motor.
Amazon rating – 4.2
#6 Ninja Pro 610 Blender
Ninja 610 is the most expensive gadget in our selection; the prices fluctuate depending on the retailer. It is around $100, and competitive amazon often keeps the price lower or close to this margin. Since this gadget is very popular and has one of the highest rating of 4.4 we decided to include it in our selection.
Ninja has a powerful 1000 Watts motor, but it is not the most powerful in our selection. This gadget does not look sturdy, and customers have complained that it wears off, on average, within 1.5 years. This machine has a lot of plastic parts such base unit housing, the part which locks container to the base, and partly-plastic blades, which makes this gadget fairly fragile. This machine is also very loud.
This gadget is very difficult to set up for running and to dismantle after use. It has a complicated secure lid lock, very sharp blades, which is not safe for a user to take out and clean. It has a modest 3 speed and the pulse setting. Ninja containers are made of polycarbonate. Most importantly, this machine makes quite chunky smoothies, especially when processing greens and hard vegetables, but it crushes ice relatively well.
Read the full Ninja Pro BL610 review.
In addition, it has only 1 year of limited warranty and very poor customer service.
#7 Ninja Kitchen System Pulse BL201 Blender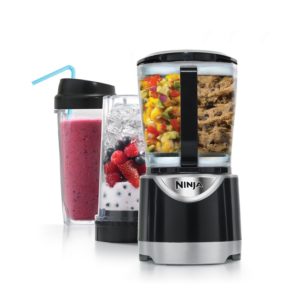 Ninja Kitchen System Pulse is currently one of the most popular gadgets in the market, in the under $100 deal range. It comes with a 550 Watts motor, which is the lowest in our selection. The base unit and blades connections have a lot of plastic parts. Hence, the blender looks not sturdy and quite fragile.
On the positive side, it includes a few attachments—it has a single-serve assembly to use it as a personal blender and has accessories for kneading. It comes with a polycarbonate container, but not of premium quality. This machine is operated only with pulse mode and does not have any speed settings that substantially reduce the power of user over-blending process. The blender comes with a bulky blade and is not easy to use or clean.
This gadget makes average-quality smoothies with a chunky consistency, all other functions are also performed not to a high standard.
It comes with 1-year warranty and unhelpful customer support.
Summary
If you expect from your under $100 gadget high-quality blending, versatility and sturdiness, we think you should consider the Oster Pro machine. However, the Black+Decker BL6010 only marginally loses to the Oster. Basically, they are the two best machines on the market for this price. Oster Pro wins because of its most powerful motor, glass pitcher, all metal motor and coupling stripping and long warranty. Black+Decker, with the same perfect-quality blending as the Oster, is the quietest and most stable machine in our selection.
Surprisingly, the Oster Pro, Ninja 610 and Ninja Kitchen System Pulse are the major bestselling competitors on amazon these days. Ninja has the highest rating and more reviews than any other machine in our list. However, our research shows that Ninja does not even come close to the quality of blending that Oster or Black + Decker offer. The durability and construction parameters of Ninja are much weaker than the other blenders in our list.
It seems that most people do not do a thorough research before making the decision to purchase this kitchen gadget, instead relying heavily on aggressive advertisement campaigns, which Ninja conducted in recent years.
However, by now, with the help of our research, you should understand all the pros and cons of the under $100 blenders, and make your personal, independent decision.