The Kitchenaid, Oster, Hamilton Beach, Cuisinart, and Waring are the manufacturers known to produce blenders with glass or stainless steel jars. Yet, it is a challenge to find a truly powerful and versatile blender with a glass container since the glass material is fragile and there is no proven technology to produce shatterproof glass that able to endure the high loads the high-end blenders deliver. As a result, most of the blenders with glass containers are equipped with a motor power below 450 watts which is rather low for the demand of modern lifestyle consumers. When choosing a glass blender, the consumer must make a tough choice between the power of the gadget and the ecology of the glass jar.
In the past, even such an industry veteran as a Vitamix manufacturer produced all its machines with the metal pitcher. The Company refused from this practice due to an aesthetic reason. Now, most of the high power blenders come with Eastman Tritan copolyester (premium polycarbonate) pitchers because copolyester can withstand the high loads of high-end blenders and look transparent as the glass.
Nevertheless, a few health-conscious and allergic to plastic consumers are in a search of a non-plastic jar blender with functionality comparable to top-end blenders. This article will try to solve this challenging task and offer a list of the blenders that can deliver a relatively heavy-duty job and at the same time comply with the requirements of the most health-conscious consumers. We keep in mind that the health-conscious consumers are looking not simply for the blender with a glass jar but also for the all-metal blades mounting that will guarantee no food contact with the plastic during processing.
P.S. In July 2020 Vitamix released a new Stainless Steel Container compatible with all full-size Vitamix Models.
How Research Was Done and the Ratings Were Attributed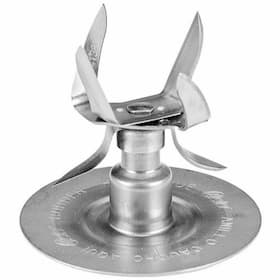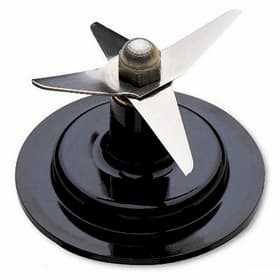 In our hunt for the right type of gadget, we selected a list of 14 blenders with glass or stainless steel (Waring) jar and power of 700 watts and over. Our list included Cuisinart, Kitchenaid, Electrolux, Oster, Black & Decker, Frigidaire, Omega, and Waring machines.
To shortlist the best nominees, we applied a list of following criteria to the gadgets – blade assembly, motor power and RPMs, functionality and performance, price, control panel and speeds, warranty and customer service, consumer, ratings, and many reviews.
After thorough research of the manufacturer's product manuals on selected machines, it became clear that only 5 blenders passed the all-metal blade assembly criteria – two Oster models, Tribest, Magimix (European brand that is not available in the USA), Tribest Glass Personal Blender with Vacuum Jar, and Decen blender. This criterion is the most important one in our research as it ensures the food placed in the blender will not contact the plastic material while processing. Whilst the majority of glass jar machines come with plastic blade couplings.
We also do not include into our list another two popular glass jar blenders with heating elements – Instant Ace Nova /Ace plus Cooking Blender and Ninja Foodi Cold & Hot Blender (HB152). These blenders both do not comply with the no food–plastic contact requirement.
Instant Ace Nova/Ace Plus Cooking Blender looks perfect at first sight, however, after careful observation we found the plastic coating around the blade shaft. And this plastic coating may even melt from the heat it is exposed to (according to the customer's report).
While Ninja Foodi Cold & Hot Blender (HB152) has plastic details inside of the jar also and they are even more obvious than the Instant Ace models.
Assessing the rest of our criteria against our shortlist turned out to be an easy job, as we had a chance to test all of the blenders in our shortlist. It must be mentioned, two Waring models (Waring 700S and Waring Commercial BB900G) that come with the metal/glass jars and all-metal blade dropped out from our shortlist because they have such a low motor wattage that they do not have enough power to crush ice or pulverizing hard or leafy vegetables.
Here are the short reviews on the best powerful blenders with a glass jar, after the rest of our criteria were applied. And we believe, our selection below is the most comprehensive what exists on the market.
#1 Oster Pro 1200 Blender – Number One Glass Jar Blender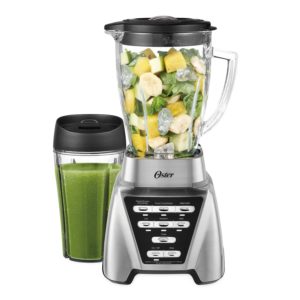 This popular glass jar blender is the most powerful with the best performance against most of the selected criteria/parameters.
Motor: The machine comes with an impressive 1200 watt (1.6HP) at peak motor that delivers the effective power of 900 watts and 19,000 rpm. With an all-metal drive connection, this gadget is very durable and is likely to serve its customers for many years. It has a heavy and very stable base and quite a sleek, modern look.
Control panel: The blender control panel is equipped with 7 speeds – the low, medium, high speeds, pulsing mode, and 3 pre-set programs for a smoothie, crushing ice, and chopping – and this allows good control over the blending job.
Container, blades: It comes with a stress and temperature resistant silicate glass 6 cups (48 ounces) pitcher. The glass pitcher and the all-metal blade mounting ensures that the food has no contact with plastic when blending and thus will satisfy most of the strict requirements of health-conscious people who are looking for a non-plastic jar blender. This machine does not include a tamper to help with pushing the food down to the vortex, and this is probably the only downside of this blender.
Functionality: Oster Pro 1200 is quite versatile and performs many tasks very well. It makes an almost perfectly smooth drink from soft fruits, decent frozen and green smoothies, chops food, and makes many different salsas, mixes, and salad dressing recipes. It is also able to make decent frozen desserts. And, most importantly, although with a great effort but it can make nut butter. This machine does not have enough power to heat liquid or mill quality flour. But it will grind herbs, nuts, and other softer ingredients.
Warranty: The gadget comes with a good 3-year limited warranty for blender parts and a 10-year limited warranty for the all-metal motor and drive connections.
Summary: No doubt this machine came out to be number one as the best powerful blenders with a glass jar. It has very decent functionality and, most importantly, it comes at a very reasonable price.
Read the full Oster Pro 1200 review here.
Amazon rating – 3.9 with nearly 2300 consumer reviews.
Check here today's best price for the Oster Pro 1200 Blender
#2 Tribest DB-950 Dynablend Clean Blender – Second Best Option for the Glass Jar Blender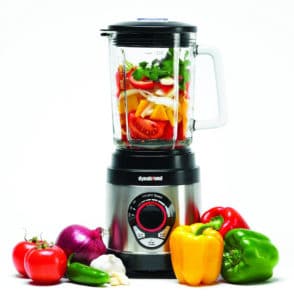 This model is an upgrade to Tribest DB-850 the initial brand attempt to produce all non-plastic blender. The newer DB-950 model has the same as the DB-850 version, a fairly powerful 1.1HP (820 watts) motor, and able to attain a 23000rpm.
Motor: This machine has the same as the 850 version, a reasonably powerful 1.1HP (820 watts) motor and delivers at the highest speed a sizable 23000rpm.
Container, blades: The Tribest DB-850 gadget had the problem that the majority of glass jar blenders have – it is equipped with a glass jar, but has plastic blade mounting. This DB-950 Dynablend Clean model comes with a successfully resolved blade mounting issue and it has a total glass container with silicone sealing gasket and all-metal blade and coupling. It comes with (64 ounces) 1800ml thick heavy-duty glass pitcher and includes a metal scoop that has the role of tamper and can be used for pushing or stirring thick ingredients during blending or as a measuring scoop.
Control panel: Its control panel has 5 variable speeds and two pre-set programs – 30 seconds pulsing mode and 60 seconds high-speed blending mode. That allows enough control for the user to perform many blending tasks.
Functionality: This gadget usually makes a very decent quality smoothie, although sometimes it is a little textured. It handles frozen ingredients well, or ice cubes, when using blending at the high-speed 60-second cycle. The machine will chop different vegetables well, and nuts using the pre-set pulse mode or variable speeds. It will do a decent herb grinding job, but milling grains is a bit challenging for this gadget. This machine does not deliver enough speed to heat soup from friction. With considerable effort, this machine can make nut butter, but you will have to run 8-10 high-speed cycles to achieve a smooth consistency. Overall, it can perform a wide range of blending tasks with good quality.
Warranty: Most importantly, this blender is backed by the highest 10-year warranty that means that the manufacturer stands by the product and its durability.
Summary: In general, this is a decent blender that is powerful enough to make decent smoothies, crush ice, and produce other quality blending tasks. However, this machine has one drawback: It is still a bit pricey.
Amazon rating – 3.4 with over 30 customer reviews.
Check here today's best price for the Tribest DB-950 Dynablend Clean Blender
#3 Magimix 11610 Blender- The Best Glass Jar Blender for Europe
(Only available for European consumers)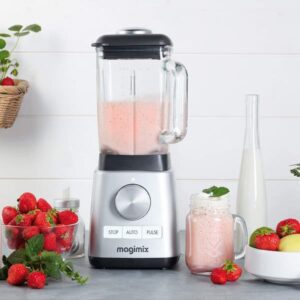 This blender produced in France and currently available only to European consumers. It comes with a powerful 1200 watt at peak motor and operational power of around 600 watts.
Control panel: This machine control panel has 4 variable speeds, 4 pre-set programs (ice, smoothie, soup, and desserts), and pulse mode. The variable speed delivers amplitude ranging from 600 RPMs at lowest to 15000 RPMs at the highest speed.
Container, blades: Magimix 11610 comes with 1800ml (64 oz.) heat and cold resistant borosilicate glass jar. It includes a very convenient tamper that allows for stirring stubborn ingredients during blending for effortless processing. Most important, it has an all-metal blade assembly that ensures no food contacting plastic during blending.
Functionality: This machine makes very good quality smoothies from soft fruits and leafy vegetables. It process well ice and frozen ingredients and its user manual include few recipes for frozen desserts. This machine comes with an additional grinding ball and blade assembly, so it can grind herbs or chop nuts quite well. This Magimix blender will not heat liquid from friction but makes pancake batter. It is also possible to expand its versatility by buying additional food processing attachment compatible with this blender.
Warranty: Magimix 11610 Blender comes with a reasonable 3 years warranty. The producer has a good reputation as it is well-known in Europe for the popular Food Processors product lines.
Summary: Overall, it is a very sturdy and versatile gadget with all metal and glass jar and blade assembly. It is priced and performs very similarly to the Tribest blender. So European health-aware consumers when choosing between those two blenders may base their decision on brand loyalty or design preferences.
Amazon UK rating – 4.6 with nearly 400 consumer reviews.
Check here today's best price for the Magimix 11610 Blender
#4 Decen Blender (Aicok brand) – The Best Budget Option for Glass Jar Blender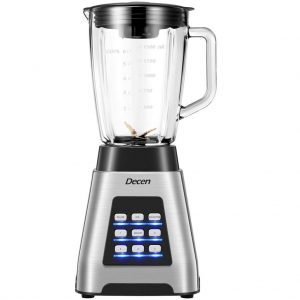 The Decen BL-126C blender was released at the beginning of 2018. It is marketed by Aicok (trademark registered in 2016), which owned by Changchun Chengji Technology CO., LTD.
Motor: The gadget equipped with powerful 1000 watts motor and a stainless steel housing and exterior similar to Oster 1200 Pro.
Control panel: The control panel is equipped with 5 speeds, Ice, Smoothies, and Pulse pre-set programs and on/off buttons that give the user enough control over the blending process. It is very easy to use, after the jar installation and locking, the control panel blue line starts to flash with blue light and indicates that it ready to operate.
Container, blades: The machine comes with removable all-metal and titanium-plated 6-prongs blades. The blades are very sharp and their design was copied from the Oster 1200 pro blender blades. Despite this fact, the blade system is good quality, blades are extremely sharp and remain sharp through its use. The 64 oz (1800 ml) jar is made of durable heat-resistant borosilicate glass 64 OZ glass. The jar is graduated with ml, cups, pints, and ounces.
Functionality: It makes impressive smoothies, turns ice into perfect snow, and able to blend ice cream and ice drinks like margaritas, daiquiris, and others. The machine can blend dressing, puree, dip/salsa, and chop vegetables.
Warranty: The Decen BL-126C comes with a two-year warranty and lifetime technical consultation, the customer service is available only via email and must reply within 24hours.
Summary: Overall, it is good value for money blender. It produces a good quality drink and performs a range of other functions. It has a strong motor that is equipped with heat protection technology but barely warms up during use. A good bonus, it is not noisy. The only drawback, it is a newly released machine and thus hard to gauge its durability. It is also manufactured by the unknown manufacture and nobody knows how long it will stay on the market and whether it will serve the promised warranty.
Amazon rating – 3.8 with 10 consumer reviews.
Check here today's best price for the Decen Blender
#5 Oster Reverse Crush Counterforms Blender – The Best Glass Jar Blender for Crushing Ice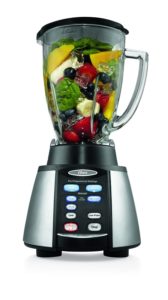 This machine very popular with the fans of frozen ingredients smoothies as it is designed to crush ice well.
Motor: It comes with a powerful enough 1000 at peak watt motor that outputs effective 600 watts when working continuously or crushing ice.
Container, blades: Most important, this Oster model satisfies no plastic inside of pitcher requirements. It has an all-metal blade and mounting assembly and has a very well built the durable motor. It comes with a solid and stable unit base that does not travel over the counter when working.
Control panel: This machine has low, medium, high speeds, low pulse, and high pulse modes and two pre-set programs for making frozen drinks and chopping ingredients that allow fairly decent control over blending.
Container, blades: It comes with a 6-Cup (48 oz.) Boroclass silicate Glass jar. The glass is stress and temperature resistant and shatters proof. This machine has no tamper and will require you to stop and to stir sometimes.
Functionality: Oster Reverse Crush blender has limited functionality and is dedicated to processing frozen ingredients mostly. Still, it is possible to make a fairly smooth smoothie, with some effort. If you use hard ingredients, it will probably have to be run on more than one cycle on pre-sets, or 2-3 minutes on high speed. It will chop vegetables fairly well and can produce salsa or salad dressings. This machine has limited grinding abilities, and it will not make nut butter.
Warranty: As the majority of Oster blenders do, it comes with a 3-year machine limited warranty and a 10-year limited warranty for its motor parts.
Summary: Generally, this gadget performs very well for limited tasks such as smoothies and making and crushing ice. It will do other jobs to various degrees of perfection. However, this machine has a very attractive price of around $60.
Read here the full Oster Reverse Crush BVCB07-Z00-000 Review.
Amazon rating – 4.0 with over 2,000 consumer reviews.
Check here today's best price for the Oster Reverse Crush Counterforms Blender
#6 Tribest Glass Personal Blender and Glass Vacuum Blender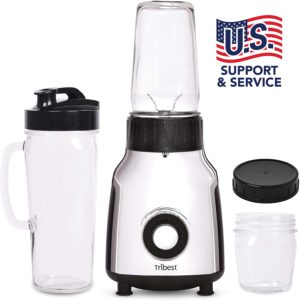 It is another South Korean Tribest Glass Jar Blender that perfectly meets our criteria and has zero plastic parts in contact with food. This machine available in two packages 1) PBG-5050 which includes a set of single-serve glass jars and 2) PBG-5001-A which has single-serve glass jars and vacuum lid glass jars that allows to blend the drinks with minimum food oxidizing.
Motor: The blender has a sleek design, powerful enough 500 Watts/0.67 peak HP motor, and the turbo cooling fan and automatic overheat protection system.
Control panel: The gadget equipped with four (4) variable speeds dial knob and the touch Pulse button makes that allow enough control over the variety of blending tasks. The control panel has a speed display which shows if the container is properly installed.
Container, blades: The model with only personal blender cups includes three (3) mason style tempered glass 8 containers with the capacity of oz., 16 oz., and 24 oz.
The set with a vacuum jar includes one 16 oz. Mason type glass jar and 42 oz. tempered glass upright container with vacuum lid.
The blender comes with removable 6-prongs all stainless steel blades and a silicone sealing ring.
Functionality: The blender is very effective and capable to make good quality smoothies from both wet and dry ingredients, it crushes ice fairly well, grinds coffee and herbs though not very fine, able to make even nut milk. And no doubt it is more than capable to be used for bulletproof coffee.
Warranty: The Tribest Personal and Vacuum models are equipped with a good 5-year warranty and polite and helpful customer service.
Summary: The Tribest Glass Personal Blender is a pricey machine and thus not for everyone.
Nevertheless, it perfectly satisfies all the no leaching chemicals requirements and capable enough for the little 500 Watts machine. The blender is compact with a moderate footprint and profiles 5.7" x 5.7" x 15" (147 mm x 143 mm x 384 mm) and weighs only 5.5 Ibs (2.5 kg).
Amazon rating – 3.6 with UNDER 100 consumer reviews.
Warning: The Tribest Glass Jar Blender PBG-5050 and PBG-5001-A blender is designed to be used only with containers included in the set (replacements are available) and NOT with the standard Mason jars.
Check here today's best price for the Tribest Glass Personal Blender and Vacuum Blender
Summary
According to our research based on criteria:
1. All-metal blade system,
2. Motor Power,
3. Performance,
4. Durability, and
5. Price
The Oster Pro 1200 Blender is the best blender with a glass jar. The Tribest DB-950 Dynablend machine shows a very similar performance to the Oster Pro 1200. Both make good smoothies, handle frozen desserts well, though with efforts but can make nut butter but the Oster is almost 2.5 times less expensive than Tribest. Yet, Tribest DB-950 Dynablend has a nicer design and comes with the tamper/measuring spoon.
Although the Decen machine performs better then Oster Pro 1200 and Tribest DB-950 Dynablend, it crushes ice better, processed nut butter with fewer efforts than the other two machines, however, it is manufactured by an unknown Chinese producer and has questionable durability and quality.
Apart from another powerful and "healthy" Oster Reverse Crush Counterforms, there are a couple of other Oster models with at peak power of around 1000 watts, but they have only two or three speeds and thus the user has limited control over the blending process.
The Tribest Personal and Vacuum Blender is not as powerful as all machines above and has the highest price tag compared to other blenders on our list. But it is an option for those who are looking for the Personal Glass or the Vacuum Glass Blender.
While people who are looking for the best blender with a non-plastic jar have to decide among the Oster Pro 1200, Decen, Tribest DB-950 Dynablend Clean, Tribest Personal Glass and Vacuum blender, and Oster Reverse Crush Counterforms blenders depending on their priority – better performance but not reputable manufacture and questionable durability, nicer appearance, and tamper but more expensive. The European customers will decide between the very similar performing and identically priced Tribest DB-950 Dynablend and Magimix 11610 blenders.
P.S. It should be mentioned while selecting the best blender with the glass jar our main criteria was the all-metal blade system. The performance and functionality of the gadget had the second-order priority. Hence the blenders in our list are not the high-end machines and have many issues with their performance but they meet the health safety criteria.
We still desire to unveil a high-end blender with the non-plastic jar and all-metal blades. It surely must be a machine with a stainless steel container since the glass will not tolerate such high loads. And we even believed we disclosed the one – the Waring Commercial MX1000XTS/ MX1200XTS Xtreme Hi-Power. Unfortunately, the machine stainless steel canister leaks out the Teflon black specks and plastic flecks. We reported to manufacture about the problem and hope the Waring will resolve the problem in the future. Then the health-conscious consumer will have their chance to obtain a perfect healthy non-plastic container high-end blender.
In fact, you can find a perfectly healthy stainless steel container blender –Harrexco Mixer – with no Teflon in blades assembly and 3000rpms–32000rpms blade speed (thus able to process ice and heat liquid with frictions), sadly, this perfectly healthy blender is available only from German Amazon and very expensive.
Meanwhile, Vitamix made a great surprise to its customers and other health-aware consumers who are in search of the powerful high-end blender with glass or stainless steel container. In July 2020 the long waiting Vitamix stainless steel container was introduced to the market, check here our review for the new Vitamix jug.
Check the Best Blender for Smoothies and More article for more options.