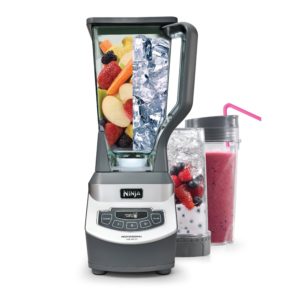 Ninja Professional blender rapidly forced its way into the market in recent years and quickly won one of the leading positions among the powerful countertop blenders for home use selling for under two hundred dollars. This blender has a very modern looking and innovative design and has a few truly unique features. It is very popular among customers and became one of the most wanted blenders in many parts of the world.
Read this review of Ninja Professional (BL660) to get some insight into the details and features and to decide if this blender is really as good as the producer and advertisers declare.
Thinking about the alternative option? Check here our article Best Countertop Blenders under $100.
Functions
The Ninja BL 660 is essentially two blenders in one, the countertop blender with a 72 oz. large pitcher and the personal blender with a small 16 oz. cup.
Smoothies: Large Ninja pitcher makes a decent smoothie only from soft fruits. Apples and pears should be cored before blending, otherwise, the consistency will be slightly rough. If you add some nuts to your drink for protein, then you can expect small pieces of nuts in the smoothie. This machine also has trouble pulverizing vegetables and greens very well, and the smoothie made from greens will be a little textured with around 85% solution. To achieve a smoother consistency, try to play with the proportions of liquid and greens.
Single-serve Ninja cup assembly, according to many customers, pulverizes fruit and green smoothies to a finer consistency than the 72 oz. pitcher.
Ice crushing/frozen desserts: This gadget is capable of crushing ice and handles frozen fruits and vegetables fairly well.
Nut butter: Ninja is able to make nut butter, but not good quality. This challenging task generally requires a tamper to push down ingredients and this gadget does not have the one. For a reasonable result, you have to soak the nuts for a few hours before blending and add some water before processing. Also, using the pulse mode helps to achieve the desired fineness. However, it is quite tricky to remove the nut butter from the container and especially from the blades.
Purees: The blender makes a fine puree from soft ingredients, like boiled vegetables, but chunky from raw vegetables. If you intend to use Ninja for baby food, just remember you can make the fully homogenized puree using cooked ingredients only.
Chopping/food prep: It is able to chop vegetables well on the pulse speed.
Hot ingredients: This machine does not heat the liquid and it is not suitable for kneading dough.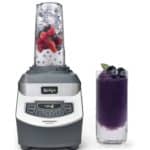 Grinding/milling: It also grinds coffee, herbs, and chops nuts, turning the ingredients into an excellent quality powder. The single-serving assembly works the same way as the grinder and it uses the one pulse speed for operating.
Altogether, Ninja is a reasonably versatile machine with the great concept of countertop and personal blender in one, it is capable of a variety of tasks. This machine will suit those who do not intend to spend more than one hundred fifty dollars on this kind of gadget and plan to use it for morning smoothies, baby food, and some limited food processing tasks. The personal blender accessory is a great addition to people who are going to make a lot of sports shakes or plan to take smoothies outside.
Operating and Cleaning
Setting up to run the 72 oz. the container can be quite a complicated task. Since this machine has a sharp removable blade construction, it requires a very secure locking mechanism for the container and lid. The pitcher must be placed on the base unit first, then twisted clockwise until you hear a click. To close the lid, the user aligns the white arrows of the lid with the white arrow of the container handle. Then the lid handle must be pushed down to close until you hear a distinct locking sound. The machine will not run if you assemble it incorrectly and it will signal with a flashing red light on the power button.
It is also quite complicated to disassemble the 72 oz. container after use. The biggest problem is the lid, which is tight. You must press the release button, then lift the handle up to a 90° angle to the lid. The blades must be removed very carefully, as they are very sharp and can injure the user easily.
You cannot place easily any ingredients into a pitcher while blending, for this purpose you have to stop the blender and follow all procedures to open the lid, place extra food and then close it to continue. It is also not very convenient to fill the pitcher with ingredients as you have to put the pylon blade first into the pitcher and then fill the ingredients.
Setting up the single-serving container is a much easier mission. It is designed like most personal blenders and it requires only that you screw the blade attachment on to the single-serve container and turn the cup upside down. Put on the base and it is ready to go. It is operated by a separate single-serve button. The single-serve cups do not have any capacity marks on the sides and for measuring the MAX line the special measuring cup is provided.
Cleaning can be a chore with this gadget. The removable blades are very sharp and difficult to wash. There is a chance you can cut yourself. The lid has some little crevasses which are difficult to clean but it is dishwasher safe, as are the containers. The single-serve cup has a simple design and it is very easy to clean.
Speed Settings and Programs
This machine has 3 speeds and a pulse button to operate the big container, so four speeds in all. The single-serve assembly is operated with a separate pulse speed button. The pulse button must be held during operation. The three other speeds run until you turn them off.
Motor and Power
Ninja has 1100 Watts Professional performance Power. The base is made of aluminum with a rubbery plastic mounting and locking parts for the containers. The rubbery plastic is quite fragile and usually wears out within one to one and a half years.
Ninja Professional Blender (BL660) Containers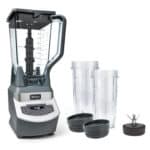 The Ninja 660 comes with one 72oz. polycarbonate container and two 16oz polycarbonate single-serve cups. The container with lid looks very innovative and it has amounted spigot to pour the drink in after blending and before removing the lid. The single-serve cups both can be used as a part of the assembly for the personal blender or as a ready-to-go container. The ready-to-go lids are not spilled proof, so you cannot place them in a lunch bag.
The user manual specifies that both containers are BPA free, but does not disclose any information about the BPS content. This polycarbonate material is definitely not a premium quality material and looks quite cheap. The bottom of the container is also made of rubbery plastic which is not durable, according to customers.
Blades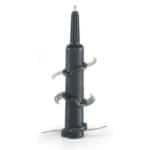 The blade construction for the 72 oz. the pitcher is very unique. There is a plastic pylon that goes from the top of the blender to the bottom, with three 2-prong steel blades interposed around the pylon. The blades are very sharp and can be removed for cleaning. The single-serve container has sharp stainless steel, 6-prong blade.
The blades are made of stainless steel as per the user manual that is rust-proof and dishwasher safe. However, customers complain that the blades become dull over time. The single-serve blades assembly also has a durability problem with the rubber o-gasket.
Special Features
Ninja 660 professional blender comes in one color. There are other packages for this blender available with extra ready-to-go cups, and the price difference between this and the standard model is around $30.
There are Certified Refurbished blenders available for this kitchen gadget. However, they have such bad reviews that they should not be considered for purchase.
Noise
This machine is very noisy, and with the 1100 watt motor, this is to be expected. However, this depends on what you are blending. Crushing ice is obviously noisier then blending your morning smoothie.
Warranty and Customer Service
The Ninja comes with a one-year LIMITED Warranty that must be registered within 10 days of purchase. LIMITED means the customer is charged twenty dollars for one way replacement shipping even if the item arrives defective. According to current Ninja customers, Customer Service will try to charge you for any and everything possible. It is also difficult to convince customer service that human misuse was not involved so that there is coverage under the LIMITED warranty.
Optional accessories
No extra accessories are available for this model. There are replacements for all cups, blades, lids, and pitchers and they can be purchased from the website at http:// ninjakitchen.com/products.
Set Includes
User manual, base unit, 72 oz. container, blade mechanism for 72 oz. container, two 16 oz. single-serve containers, a blade assembly for 16 oz. cup, cup measure (single-serve cups do not have measuring marks needed to fill to required MAX volume), 1 sipping lid. Each of the 16 oz. containers are suitable for the sipping lid or for the blade assembly.
This machine does not include a recipe book. However, you can find some recipe ideas on the Ninja website.
Dimensions
9.2 x 12 x 16.4 inches with 10.8 pounds of shipping weight.
Pros and Cons
Pros: It is a versatile, two-in-one blender. It includes ready to go containers which are very trendy now and fit well into a hectic lifestyle.
This machine is powerful for the price range and capable of crushing ice quite well.
Cons: The quality of blending is not perfect, green smoothie and hard vegetables come out in chunky consistency.
It has an unusual design and is not simple to set up, to use, or to clean. The sharp blades can cause the user injury.
The production of the machine is outsourced to China and it is not durable. On average, the Ninja lasts about 18 months if it is used on a daily basis. It has a few weak or prone to break parts: the blades get dull; the main blade bottom knob wears out within a year to a year and a half and makes the blade useless; the rubber gasket for the single-serve container also wears out quickly; the containers are made of cheap plastic and are not durable, either; and, the rubbery plastic part of the base and bottom of the container is relatively fragile and do not last long.
Also, poor Customer Service and the Limited Warranty do not help.
Ninja Professional Blender (BL660) Consumer Reviews
The 1800 reviews on Amazon show that customers are generally happy with the blender as long as it does not break after the warranty period.
Rating: 4.5
Price
Amazon offers a really competitive price for this blender. It fluctuates within a twenty dollar range and sometimes the price drops under one hundred dollars.
Check here today's best price for the Ninja Professional 660 Blender
Summary
Ninja Professional 660 is an excellent choice for those who are not looking for a durable gadget and consider it as a temporary option. It gives you the opportunity to try it and to decide if you really need a powerful blender on your kitchen countertop. It is a good machine with a nice concept of two blenders in one, and it also gives you a chance to test a trendy personal blender gadget. But if you are looking for a blender that lasts for years, then you will have to consider other alternatives.
Thinking about the alternative option? Check here our article Best Countertop Blenders under $100.