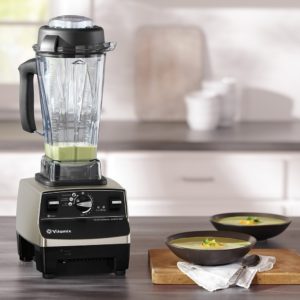 Vitamix is a well-known brand but manufactures very expensive products. So, customers want to find the answers to all their questions about this machine before making the decision to buy it.
Here we address some of the most frequent questions about Vitamix blenders.
What makes Vitamix so popular?
The Vitamix is the family-owned business with a factory located in Cleveland, Ohio since 1921 and produces blenders since 1937.
It has a long history with patented motor, blades containers. Vitamix produced commercial blenders for many years before they have introduced commercial standard blenders for home use.
It manufactures now benchmark blenders for commercial and household usage.
What is the difference between the Vitamix commercial units and blenders for home use?
The blenders for commercial and home use both have the same motor and blades design. However, commercial blenders are constructed for heavy use in bar/restaurants where they run a 100 and more cycles a day. Some of them have programmable functions for most used bar/restaurant recipes. Thus, they usually come with shorter 1-3 years Limited warranty.
While the home use blenders are engineered with versatility in mind and often have pre-set programs such as soup or dips/salsa that is expand tasks variety of the unit. The home-use Vitamix blenders usually cost considerably cheaper and have 5-10 years Full warranty.
What are the cheaper Vitamix alternatives?
The major competitor of Vitamix is Blendtec Company that produce is not considerably cheaper than Vitamix blenders. Sometimes both companies Vitamix and Blendtec run special offers for some model and if you are lucky you can grab the true high-end blenders for just a bit over $200.
The Waring and KitchenAid also have the commercial type of blenders for home use that are comparable in quality with Vitamix but they are also not cheap. All high-end blenders have approximately the same price in a range of $350-$700 depending on the model.
Vitamix has certified refurbished models that usually 25-30% cheaper.
However, there is some cheaper alternative, but they are certainly inferior quality to Vitamix and often the Chinese dupe of the high-end machines from well-known brands. Among the most popular models are the Blendtec, Oster, and Dash blenders.
Check our article "Best Blender under $200 – Cheaper Alternative to Vitamix 2019 Guide" to find out more details about cheaper Vitamix alternatives.
How does the same Vitamix unit can make ice cream and steaming hot soup?
The ice cream recipes are usually made within 30-45 seconds and load the jar with mostly frozen ingredients. The Vitamix patented blades are able to homogenize the frozen food in seconds so they do not have time to melt away.
While for the hot soup it takes 6-8 minutes to blend the liquid up to the 180-200F. It is possible because of the very high speed of the Vitamix blades, so high that the liquids inside of the jar are heated from the blades frictions.
Are there any Vitamix models available with glass or stainless steel containers?
All Vitamix models come with BPA-free Eastman Tritan Copolyester material which is the USA produced special heavy-duty plastic.
Glass: There is no such a glass that is able to withstand the heavy-duty impact that Vitamix blenders are exposed to during blending.
Stainless steel: In July 2020 Vitamix released a new Stainless Steel Container which you can buy separately.
The standard for commercial blending changed since the Vitamix had the blenders with a stainless steel container. Nowadays it is not very popular in the commercial industry to use stainless steel jars. The stainless steel container does not allow us to observe what is going on inside of the blending jar. What is not matching the current commercial blending industry standards.
However, some brands such as Waring still manufacture the commercial types of blenders with stainless steel containers.
What is the difference between the Vitamix wet and dry blades containers?
All Vitamix models come with standard 64 oz. high profile, 64 oz. low profile or 48 oz. low profile wet blades containers. The vortex the wet blades create is designed to pull ingredients down to the blades to ensure their perfect emulsification.
The dry blades are engineered to push ingredients up for more efficient grinding, milling, and kneading job.
Wet blades containers are designed to perform all standard Vitamix tasks such as blending smoothies, nut milk, making nut butter, and frozen desserts. The wet blades also easily perform the dry blades tasks such as milling flour, kneading dough, and grinding ingredients.
You do not need dry containers but if you do milling and grinding it will make the wet container look cloudy. So, for the aesthetic purpose, it is nice to have the dry container as an extra container for more efficient milling, grinding kneading, and to keep your jar look nice and clear.
What is the difference between the Vitamix 64 ounces 48 ounces and 32 ounces wet containers?
The Vitamix makes the following Classic series containers which differ by the ability to handle large and small batches of food:
64 oz. wet blades high profile – handles large and small batches of food;
64 oz. wet blades low profile – handles better large batches of food;
48 oz. wet blades – handles small batches of food;
32 oz. wet blades – handles small batches of food;
32 oz. dry blades – designed for dry tasks such as milling, grinding and kneading.
The Vitamix makes the following Smart System series containers which differ by the ability to handle large and small batches of food:
64 oz. low profile wet container- handles better large batches of food;
48 oz. wet blades container – handles small batches of food;
48 oz. dry blades containers – designed for dry tasks such as milling, grinding and kneading.
Are the Vitamix containers interchangeable between different blenders for Home Use?
The Vitamix try hard to make all its containers interchangeable but with the release of Smart Series Ascent Blenders this becomes impossible because the Ascent series blenders containers are self-detect and Classic series containers are not.
Read "Vitamix Ascent Series Containers Explained" for more details about the Smart System Ascent series containers.
So, the Vitamix manufactures a separate range of containers for Classic Series models and for the Ascent Series models. All classic series containers are interchangeable between its models, all the Smart System containers are interchangeable between all Ascent blenders but Smart series and classic Series containers are not interchangeable between each other.
Does Vitamix produce a Personal type of Blender or Personal Blender attachment?
Vitamix used to manufacture Personal Blenders Series S30, S50, and S55 but discontinued at the end of 2019.
However, it produces Personal Blender attachment called Personal Cup Starter Kit for Smart System Blenders that are compatibles with Ascent A2300, A2500, A3300, A2500, and Venturist models.
For the Classic Series Vitamix produces Personal Cup Adaptor Kit that is compatible with all Classic models.
Why Vitamix blender is designed with the tamper/plunger? Is Vitamix unable to process food without the help of tamper?
The tamper is a very convenient Vitamix tool, however, it does not mean that you are supposed to use it all the time. Most of the recipes the bender process without tamper involvement. For example, blending smoothies, whole juices, hot soups, grinding tasks, and others usually do not require any tamper help.
It is helpful while blending the thick recipes such as nut butter, hummus, or pesto when the cavitation and air pockets are most likely to occur.
How to decide which Vitamix to choose?
It is not an easy task as Vitamix produces currently 15 different models.
Look at our comprehensive guide "Which Vitamix Blender to Buy?" for more details.
Which Vitamix Blenders are fitting under standard kitchen cabinets?
All Smart System Vitamix Blenders and Pro Series 750, Vitamix 7500, 5300, 6500, and 780 Classic models will fit under your kitchen cabinet. The only blenders that will not are Vitamix Classic 5200 and Standard program units.
 Is it worth to buy Vitamix Certified Reconditioned blender?
Certified Reconditioned Vitamix machines are a good option if you want to buy a high-end machine at a discounted price.
Read our article "Vitamix Certified Refurbished Blenders – Are They Worth to Consider?" for more details.
Is a blender's wattage/horsepower the most important parameter of high-end blender like Vitamix?
No. Wattage/Horsepower is just a measure that indicates the motor power, however, it is not guaranteed you the high-end blender performance.
For, example a few blenders on the market like Ninja or Hamilton Beach models have a motor power of 1500 Watts and more, while classic Vitamix 5200 model has only 1380 Watts motor. However, the performance of Vitamix 5200 and Ninja Mega Kitchen blender are not comparable, the Vitamix 5200 is able to make a steaming hot soup just via friction while Ninja Mage Kitchens is not.
The Vitamix has a world-class motor, ball bearing blades assembly technology, patented container, and blades that allow the blender to deliver top quality blending results.
How can I remove the Vitamix blades for sharpening?
You can use the special Vitamix retainer nut tool to remove the blades. However, its blades are not losing sharpness over time, so they do not need sharpening.
Why the Vitamix container has no locking system? Is it secure that the container moves slightly during the blending?
Yes, it is secure. The container in fact has a locking mechanism that is not very obvious. It is locked via coupling to drive socket connection. The container also rests on a rubber mat and rubber stoppers that also keeps container secure in place.
Can the Vitamix replace a juicer?
It can to some extent. The Vitamix will not make textbook juice that separates the fiber from the liquid. But Vitamix will homogenize all ingredients to such a degree that you may treat it as a juice or so-called "Whole Juice". The whole juice even healthier option than a textbook juice because it has valuable fiber.
Will the Vitamix blender be suitable for vegan, gluten-free, or/and raw-food recipes?
Vegan/gluten-free: The Vitamix is a multitasking machine. It is designed to prepare a wide range of recipes from healthy smoothies to steaming hot soup. It can even mill any grain into baking quality flours that make the Vitamix blender an indispensable tool for any gluten allergic person. It is certainly a perfect addition to the vegan and/or gluten-free kitchen.
Raw: The Vitamix blender heats the liquid inside of containers via the friction. The steaming hot soup (up to 200F/94C) is heated within 6 minutes in the jars with 4" blades and within 7.5 minutes in the jars with 3" blades. The blender will not noticeably increase the liquid temperature inside of the container in the first minute of blending and if blending under 3 minutes it should maintain the temperature within the raw food allowance of 118F/48C.
So if you blend you ingredients under 3 minute than any of your recipes will abide by the raw food standard. Thus, the Vitamix machine is perfectly suitable for preparing a range of vegan raw recipes.
What shall I do if the Vitamix blender will have performance issues or I decide to return the blender?
The Vitamix has the best customer service in the industry and one of the best length of warranty. The Vitamix customer service will repair or replace any part of the machine within the warranty period free of charge and free shipping both ways. The Vitamix has a transferable warranty and it covers your machine even if you bought it second hand, but in this case, your warranty starts from the initial purchase day of the original owner. The warranty (and usually free shipping) are applicable to any authorized retailer.
If you buy your Vitamix blender and do not like it for some reason, you can return it within 30 days of purchase no question asked. The Vitamix will pay even shipping costs for you if you decide to return your machine.