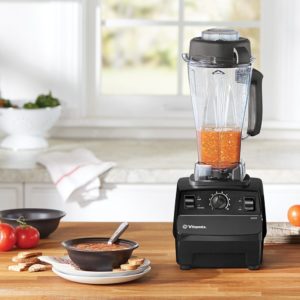 Despite the fact that Vitamix 5200 model is a baseline of Vita-Mix Corporation blender and was first released at the end of 2007, it is still remains its best selling model. Its exceptional quality and durability were tested with the time thus it still remains one of the most popular high-end blenders on a market. Since 2007 Vita-Mix released over 20 new models. Only 5200 was available in 11 packages which come with identical technical parameters by having different options of jars, recipe books, and additional accessories. By the end of 2019 manufacture eliminated majority of similar models and 5200 alone with Standard Programs and 5300 models represents the former C-series blender that is now known as the Classic Vitamix Series.  
Read the rest of the Vitamix 5200 review to get a better idea of this popular model.
Are you also interested in alternative Vitamix blender options, check our article Which is Best Vitamix to Buy? – All Models Comparison.
Vitamix 5200 Functionality and Versatility
Smoothie:  This machine easily makes the perfect quality fruits and vegetable drinks in only 15-20 seconds using a high speed. It disintegrates any hard to blend ingredients, including leafy ones, cored pineapples, carrots, cored apples and even able to pulverize the avocado seed without many efforts. So the blender is perfect for blending green smoothies. It easily pulverizes any nuts, flax seeds, strawberry and blueberry seeds added in drinks without texture or residues left.
 Juices: This machine will not squeeze the textbook juice because it is a blender and does not include any juice squeezing attachments. However, it is so powerful that will easily blend any ingredients into silkiest consistency smoothies aka "whole juice".
Frozen ingredients/desserts: This machine is perfect for crushing ice or frozen fruits in smoothies. It easily shaves ice for producing Margaritas, Pina Coladas, and others. It handles ice and frozen ingredients even without any liquid added and makes the most delicious snow cones, fruit sorbet, frozen yogurt or ice cream by switching on high-speed and blending for less than 30 seconds and using a tamper to push down the frozen ingredients.
Nut milk: People on a non-diary diet will greatly benefit from owning this machine as it can be used to make high-quality, dairy-free milk out of nuts or shredded coconut.
Pureeing: The blender makes fantastic velvet-like mashes, hummus and other spreads and dips. It also perfect for making baby food.
Soup/ hot ingredients: This blender heats liquids via frictions to the steaming hot temperature in 5-6 minutes using high speed. People on a vegan raw diet may find this function is a very useful as it can warm any liquid, to the allowable 100 F (or 40 degrees Celsius), in just 3 minutes or less. It is also more than capable to produce bulletproof coffee.
Chopping/food prep: This machine is equipped with the excellent range of speeds and very low RPMs low speed so it makes without any efforts guacamole, salsa or any salad dressings. It also capable of chopping and mincing cabbage, onions, and carrots for coleslaw and other recipes.
Nut butter:  5200 model makes silkiest quality nut butter, with the help of a tamper to push down the ingredients and ensure that the motor does not overheat. I also grease the blades with walnut oil to ensure that the butter comes out easily.
Grinding/milling: It grinds without any efforts any herbs or coffee beans. It mills baking quality flours equally well from hard grains like rice or the tiny like amaranth.
Dough/batter:  This machine kneads dough even with wet blades container at low-speed. However, the dry blades container is also available to buy for those who will use the machine often for flour milling and dough kneading. Some Vitamix 5200 packages come with extra dry blade container and baking recipe book.
If you do a lot of food preparation or cooking at home – such as making baby food, preparing breakfast in the morning, baking with self-made flour, because you have gluten allergic members in your household – then you will benefit greatly from having such a powerful machine in your kitchen. If your children love ice-creams, then Vitamix will certainly make them happy, as you can experiment with different ingredients and recipes to create some lip-smacking ice creams.
Ease of Using and Cleaning
Operating: It is a very easy-to-use blender; you can just pop the container (with the built-in blades) onto the base, fill the ingredients, fix the lid and switch it ON. There are removable plug seats on the lid of the container, making it hassle-free to add ingredients or liquid while blender is running. This function works particularly well with the Vitamix 5200. Other latest models with low-profile containers tend to spill out the liquid if you try adding ingredients while the blender is on turbo speed.
Cleaning: This machine is also very easy to clean. Often, it is enough to just rinse it with hot water, or add a few drops of soap into the water-filled container and blend it on turbo speed mode for 10-30 seconds. The vortex it creates will clean the blades and the sides of the container. To keep the container clear and uncloudy, wipe it dry with a towel or cloth after rinsing.
Control Panel and Speeds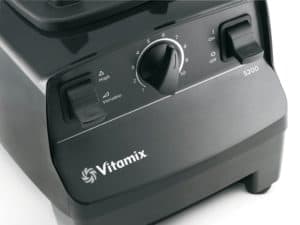 This model control panel has one high/variable switch, 10 variable speeds dial in the center and one on/off switch. The 10 adjustable speeds dial allow users a lot of flexibility on how finely the food needs to be blended. The high mode is designed to handle heavy-duty jobs such as breaking an ice and making ice creams, liquidizing smoothies quickly, making nuts milk or making hot soups. So, in total, this blender has 11 speeds – 10 on a variable dial and 1 high speed on the switch.
This model does not have any Pre-Set Programs. It does not have the pulse mode either but can easily perform pulsing jobs with the use of the on/off switch or the variable dial, by increasing the speed gradually.
Check here the best today's for the Vitamix 5200 Blender
Base Unit and Motor Power
The Vitamix 5200 motor is powerful; it is designed as an industrial blender and will raze anything that gets into its container. It has 2HP which equals to about 1500 Watt at a peak. The machine's blades make 37,000 RPM (revolutions per minute), which corresponds to a rotational speed of 11-240 MPH (miles per hour).
The blender motor has a ball bearing design, which is probably much more important information than its wattage and RPM. This design lessens friction of all the construction parts, increasing the efficiency and service life of the motor. All the motor parts are made of metal and thus have very high durability.
The blender motor also has an advanced cooling system which cools it during operation and, if the motor gets overheated, this system will automatically shut off to save it from burning.
Container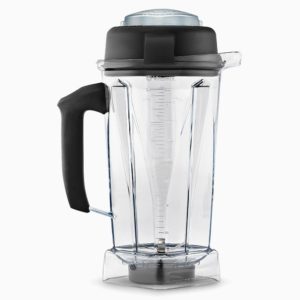 The blender comes with a 64 oz. (2000ml) high-profile container and a footprint of 63.4 sq. inches. It will not fit under an average kitchen cabinet as it is 20" tall when it seats on the base with its lid on the container (without the lid it will be 17.5″). However, as a benefit, this high-profile container processes smaller batches of food with better quality than the low-profile models. This means that you do not need to waste your money, buying a separate 32 oz. or 48 oz. container to process smaller batches.
This pitcher is made of the copolyester, an impact resistant type polycarbonate. The copolyester was developed and produced by the USA-based Eastman Tritan Company. It is a new, advanced material, free of bisphenol-A (BPA) and BPS and thus free of oestrogenic (EA) or androgenic activity (AA). Copolyester is approved by FDA for food and drinks containers.
The container seats on a rubber pad that helps reduce vibration of the machine during operation. As a result, the Vitamix 5200 is a very stable machine when compared to other powerful brands.
It is worthwhile to mention that all commercial grade blenders are designed with polycarbonate or metal containers. The glass is not proofed for high-power loads to which the powerful blenders will be exposed to. The Vitamix is a reputable company and uses good-quality, advanced copolyester that is free of BPA and BPS.
Blades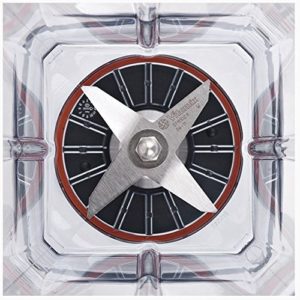 It comes with the wet type, 3-inch and 4-prongs hardened stainless steel blades built in the pitcher, which can only be removed with a special wrench. You don't have to worry about the blades getting blunt with use because the blades are dull as a butter knife by design.
There is an option to buy a 32 oz. a pitcher with dry blades. Although the wet blades perform all the Vitamix functions such as blending, making soup, frozen desserts, milling, grinding and kneading, the dry blades can mill flour, grind coffee and knead dough with even better quality. The dry blades are designed to push the vortex up, thus preventing caking of flour and making kneading easier. So it is totally worth it to invest in the dry blades container if you are likely to do a lot of milling and kneading of dough.
Special Features
Color: This model comes in 5 different colors – black, red, white, brushed stainless and platinum. The stainless steel and platinum colors will cost you $50 more.
Certified Refurbished: There are a Certified Refurbished Vitamix 5200 machines available for those who are looking for a cheapest Vitamix option. It will cost $100 -120 less than the new one and it comes with 5 years' warranty. The certified refurbished blender has a brand-new container, blade, lid with plug, and tamper, and comes with a used base that has been tested by the manufacturer under strict standards.
Operation outside of USA/Canada: All Vitamix blenders sold via USA retailers are equipped with 110-120 voltage system and could be operated only in with appropriate voltage. The machine could be for the limited period of time via the voltage transformer but extended use is not recommended as it can compromise the functionality of the gadgets and also void the warranty. Thus the consumers from regions with the 220-240 voltage system are advised to buy this machine through local retailers. However, the best prices and choice of Vitamix 5200 220-240 volts machines are available via UK distributors.  
Packages: Vitamix used to sale four (4) 5200 blender packages with different sets or/and volumes of containers and additional recipe books (thus with the higher price) – Vitamix 5200, 5200/Compact Container (with 48 oz. jar), 5200 Super Healthy Lifestyle and 5200 Deluxe Complete Kitchen. Plus seven (7) additional packages of 5200 model (Professional Series 200, Professional Series 200/Compact Container, Professional Series 200 Deluxe, CIA Professional Series, CIA Professional Series/Compact Container, Creations II and TurboBlend VS) were available which had absolutely identical parameters but come with a professional recipe book, included/excluded addition accessories or differed by the volume and sets of containers. However, all the models apart of flagship 5200 were retired by now. Nevertheless, the owners of the retired models still can buy spare parts for their blenders.
To find out about current range of Vitamix models check here our Which is Best Vitamix Blender to Buy – All Models Comparison article.
The 5200 model in a Canada and UK is named as Vitamix TNC (Total Nutrition Centre) while the 5200 models are known in these countries as Vitamix Aspire.
Noise
This model has a noise level of 89-95 dB (decibels) according to information received from the Customer Service. To give you a better idea of how much noise that is, here's a quick comparison: whispering produces noise of 15 decibels, a normal conversation – 60 decibels, and a lawn mower – 90 decibels. That means that the blender at its loudest performance will output noise just a little quieter than a lawnmower.
It is worth mentioning that the turbo speed usually produces more noise than processing at low speed.
Bonus tips: a rubber mat placed under the base of a machine will help cut down the noise.
Warranty and Customer Support

It is a well-built machine and comes with 7 years' FULL warranty. The FULL warranty means that the Company covers all issues (including shipping costs for repair) unless they are due to human misuse. You can activate your warranty on the Vitamix website online or by ringing Vitamix's Customer Support and providing the serial number located on the base of your machine.
I can vouch for Vitamix's excellent Customer Support, from my personal experience. They are quick to answer and are always helpful and very polite. If you have any problems, they troubleshoot it with you over the phone, and if the machine has to be sent in for repair, they provide free delivery to the service center and back. They even covered some of the issues that I faced due to my misuse, free of charge.
Vita–Mix Corporation has a 30 days money back guarantee for all their products if you do not like them for some reason.
Optional accessories
As it was mentioned above, the dry blades container can be bought on Amazon or from the company website. You can also buy a small 32 oz. or 48 oz. container with wet or dry blades to process small batches of foods.
Vitamix released in 2017 the Personal Cup Adapter – a single serve blender attachment for Classic Blender models.
Packages include
| | |
| --- | --- |
| Model/Parameters | Vitamix 5200 |
| Motor | 2HP |
| Colors | black, red white, platinum, brushed stainless |
| Containers | 64 oz., soft grip |
| Tamper | classic tamper |
| Getting Started Guide | yes |
| DVD | yes |
| Recipe Book | Whole Food Recipes |
| Accessories | no |
| Warranty | 7 years |
Dimensions
This machine has a footprint of 8.75 inches x 7.25 inches and 20 inches is the height of the entire gadget with the pitcher and lid on top of the base. Be aware, that this machine does not fit under the traditional kitchen cabinet.
This gadget power cord is 6 ft. in length and the unused section of it is conveniently stored under the base.
Shipping weight is 16.1 pounds including all the accessories, user manual, and cookbook.
Pros and Cons
Pros:
This machine is a very powerful blender and will break up anything that gets into the container.
It is very versatile and performs many functions such as blending, grinding, milling, making frozen desert, chopping, kneading a dough, and making hot soups, turning your food preparation and cooking to rival that of a master chef.
It is very easy to use and clean, with a 10-speed control dial and high speed, providing you with excellent control over your blending.
This blender is a very sturdy and durable machine, manufactured in the USA, and comes with excellent Customer Support.
This blender is not only powerful, capable of heavy duty loads machine but has a long service life. I know people who have owned the older model of Vitamix for 15 years, and it is still in perfect working condition.
The Vitamix 5200 model can process smaller batches of food better than the latest model of the Vitamix products line. Wherein other models, with low-profile containers, might spill out the contents, the Vitamix model allows you to add liquids to it while the machine's still running.
All Vitamix containers suit any model and base and are interchangeable.
Cons:
It is expensive when compared to other brands, but you can save some money if you opt for the refurbished version.
This blender is not the newest model of Vita-Mix Corporation, but it costs $200-300 lesser than the latest model and performs to the same standard, with some additional benefits over the latest models.
Vitamix 5200 Customer Reviews
It has high ratings on Amazon, with over 1000 reviews (if you combine all the packages and colors of this model).
Amazon Rating: 4.8
Price
Amazon has a few different listings for the same product at different prices and some of them are lower than what the manufacturer website offers. FREE shipping is applied when order from Amazon, the same as from manufacturer website. Find here the best Amazon deal for this gadget that is regularly updated. I also advise you to check the price of the Certified Refurbished Vitamix 5200 model which could be a good budget solution.
Check here the best today's deal for the Vitamix 5200 Blender
Summary
The Vitamix 5200 is a powerful, very well-made, sturdy and durable blender. This machine perfect for people who do a lot of home cooking or have special diet requirements (gluten free, allergies or vegan raw diet). It could be a great option for those wish to buy a versatile and powerful commercial-type blender but are not keen splurging on the latest model of the Vitamix brand. Although, it is the pricey machine (although one of the cheapest Vita-Mix model) but still worthy of every penny that you pay for it.
Do you want to find out which Vitamix blender suits to you best? Go to our Vitamix Blender Guide article and reviews.